This post and recipe was created for #HalloweenTreatsWeek! I was sent samples by some of the sponsor companies but as always opinions are 100% mine.
This page contains affiliate links. For more information please read my Disclosure Policy.
Forget the plastic wrapped tube, make your own slice and bake pumpkin sugar cookies with an adorable pumpkins at the center of every cookie. These soft and sweet sugar cookies have an optional spiced flavor to go with the season and are an easy, fun project to bake with kids.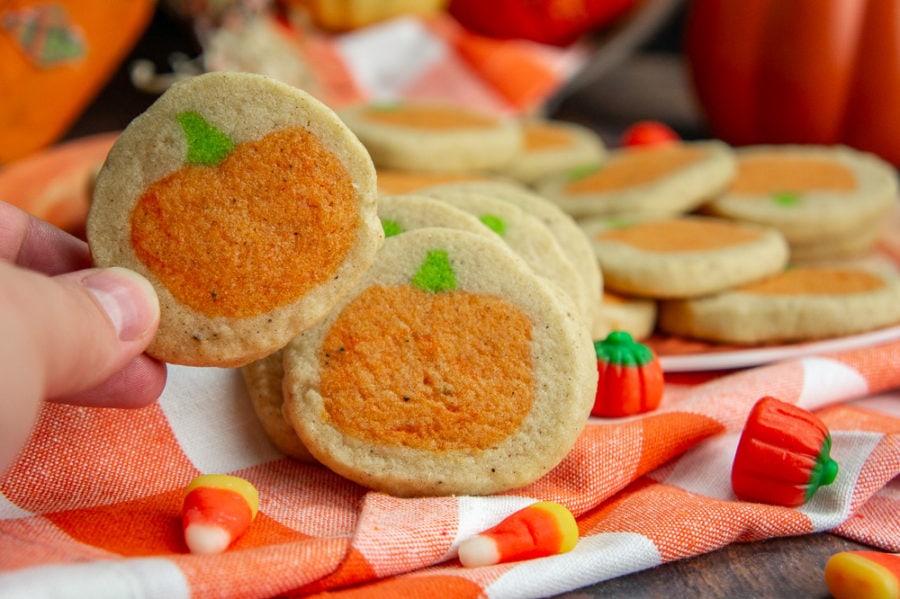 I think it's one of those iconic American treats, that tube of cookie dough with hidden pictures waiting inside. It's easy to understand why, with no extra effort decorating, you and your kiddos get to have fun festive cookies, what's not to love?
While I love the concept, I do pretty much always find that homemade knocks the socks off of any store bought cookie, cute pictures included. So I set out to create our own festive slice and bake cookies made with a dough that uses recognizable ingredients and flavored just the way we like them.
Ingredients for SLice & Bake Cookies
You may be wondering if it takes a special kind of dough to make slice and bake cookies. It actually doesn't! Just a good sugar cookie recipe is all you really need. I went for my never fail Crisco Sugar Cookie, that I usually make for Christmas time.
Using a shortening based cookie let me work with and then chill my dough with a lot less concern about melting gooey butter.
The ingredients for these cookies is a simple combo of flour, sugar, shortening, egg, vanilla, baking powder, salt, and milk. Be sure to check out the sugar by my sponsor Dixie Crystals Sugar for really tasty cookies!
Take a look more spooky Halloween recipes from our #HalloweenTreatsWeek Bloggers today:
Halloween Cookies & Bars:
Halloween Cakes & Cupcakes:
Halloween Pies & Tarts:
Halloween Breakfast:
Chilled Halloween Treats:
Halloween Snack Mix and Candy:
No Bake Halloween Desserts:
For the pumpkin and stem some orange and green food dyes are all you really need. You can use the dye you have, I've used the standard boxed Easter egg style dye with no issue, but the dough gets a little softer with the addition of so much. For best, easiest to work with results, I recommend:
Powder based food dye – I used these for this recipe and it worked great. Vibrant, and no additional liquid to make the dough too soft to form.
High concentrated dyes – I love and keep these on hand so I can dye pretty much anything. It takes a lot less than standard dyes and works well.
Just for fun, and because it's so easy, I spiced up the dough with the same winter spice combo I love so much in my spiced shortbread and my spice cupcakes. It made it seem like I was eating a pumpkin spice cookie while I bit into the pumpkin! Cinnamon, nutmeg, clove, and allspice is the magic combo! (Or, leave the spices out, it's up to you!)
The All Important Shaping
Rather than spend a lot of time on the mixing and baking of these cookies, let's chat about the more important piece, how to get that perfect pumpkin in the middle!
Nothing about this cookie is complicated. The dough is mixed using the creaming method with the shortening and sugar, then egg, milk, and vanilla are added, followed by flour, spices, salt, and leavening. Boom dough.
The baking is similiarly simple, once the shaping and chilling are done, just slice, lay on a parchment lined baking sheet, and bake for 10 to 12 minutes. Boom cookies.
The middle steps, shaping and chilling, aren't too much more complex, just more unfamiliar. Let me show you how easy it is after all!
Start by separating your dough to color it. I used just 1 ounce for the green pumpkin stem, and 9 ounces for the orange pumpkin. That's about 1 heaping tablespoon of dough for green, and 1 shallow cup for orange.
Gently work in your dye until you've got colors you like.
Roll out the uncolored dough into an 8 x10 rectangle about 1/4 inch thick on a piece of parchment paper set on plastic wrap. Square off the long edges and save the small scraps.
Shape the orange dough into a log 9 inches long. You want it maybe a quarter to half an inch shorter than the rectangle.
Set it along one long edge of the rectangle and make an indent along the top. I used the back of a butter knife! This is the track for your green stem.
Roll the green out thin and set it in the indent of the orange pumpkin. Use your fingers to press and pinch the green stem into a triangle along the top of the pumpkin.
Next use the scraps of plain dough to box in the stem, I even cut a strip from the opposite long edge of the dough to get what I needed. Make sure the stem has plain dough along both sides.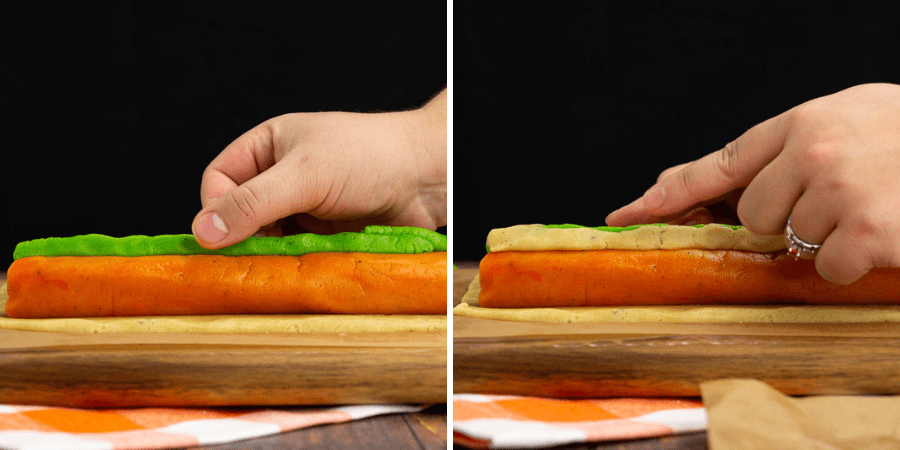 Start rolling up the dough, starting at the long edge with the pumpkin. Roll tightly, but don't press down on the dough. Slide out the parchment paper.
When you have a long, gently fold in the edges, crimping them down in a circle and pinch off the seam.
Tighten the plastic wrap around the dough log and twist off the ends as close to the dough as possible, then gently roll the log to make it a uniform smooth log. Press against the ends gently every few moments to keep the thickness uniform from the middle to the ends.
Once you have a smooth log, stick it in the fridge for 30 minutes, up to 24 hours! This makes for easy slicing and baking.
That's really it! As you slice you may find that the dough wants to go flat against your cutting surface. You can roll the log as you slice to battle that, but usually I just use my sharpest knife, a swift motion, and shape any oddball ones gently with my finger on the baking sheet.
Storage and Freezing
One thing I love about cookie dough is having it ready to go in my freezer. This dough works just as well! I recommend you slice and freeze the cookies individually rather than freeze the log. As the entire log would need to thaw for cleanly sliced cookies, it'd be easier just to pop a few out and bake directly from frozen.
For frozen cookies, just bake them at 350°F for 12 to 13 minutes.
Once baked these cookies last fairly well for 3 to 4 days in an airtight container at room temperature!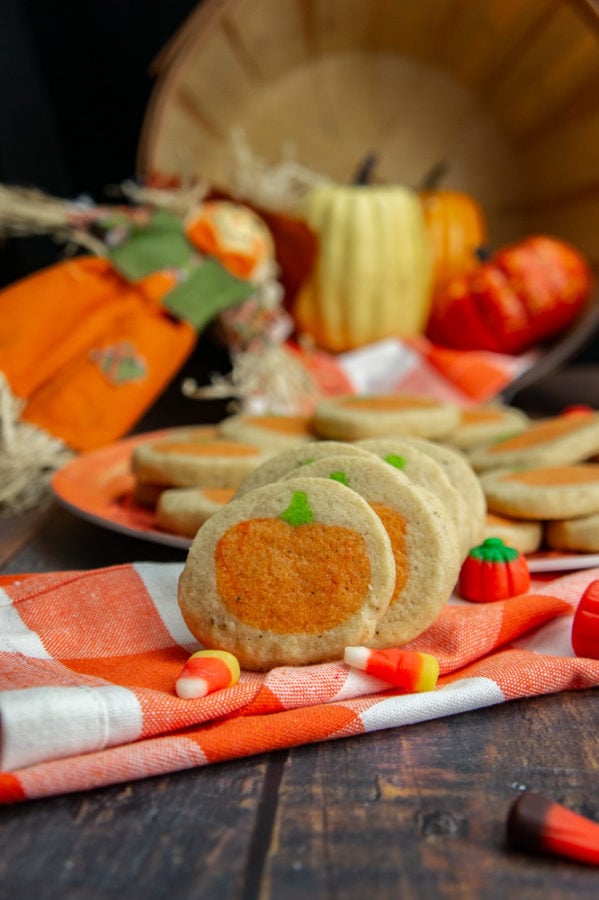 I hope you like this homemade version of pumpkin slice and bake cookies. This is my first slice and bake cookie, but now that I've got the process and dough down, I'm really excited to see what other shapes I can create in the middle! Have fun baking these in the meantime!
Don't forget about my other fabulous cookie recipes!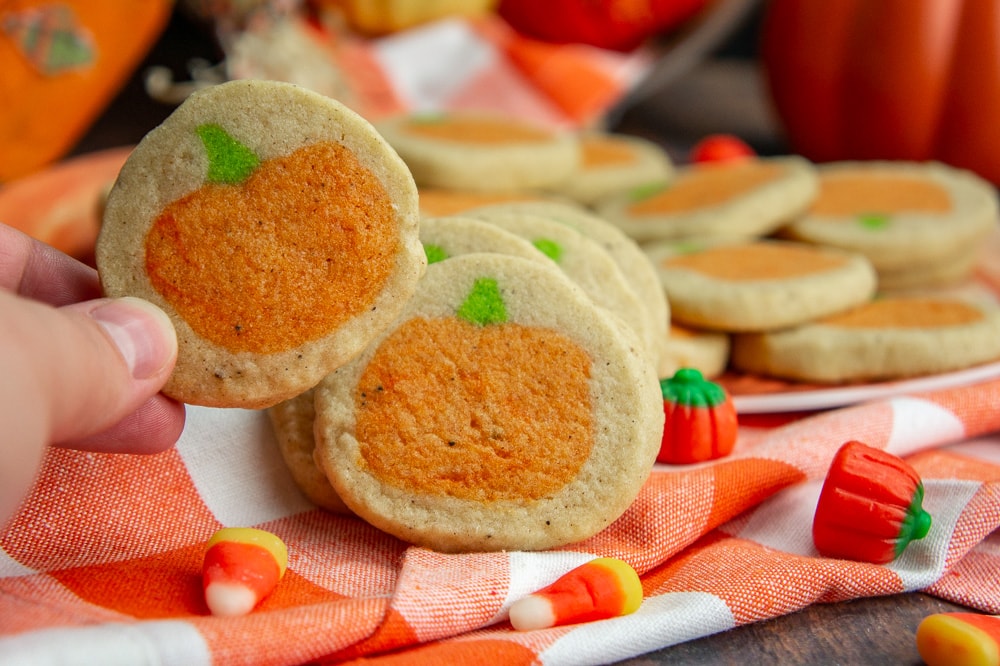 Ingredients
2/3

cups

shortening

4.7 ounces

3/4

cups

granulated sugar

5.75 ounces

1

teaspoon

vanilla

1

large

egg

4

teaspoons

milk

2

cups

all purpose flour

9 ounces

1/2

teaspoon

baking powder

1/2

teaspoon

cinnamon

optional

1/4

teaspoon

nutmeg

optional

1/8

teaspoon

clove

optional

1/8

teaspoon

allspice

optional

1/2

teaspoon

green powder dye*

1

tablespoon

orange powder dye**
Instructions
Making the Dough
Cream together shortening and sugar until creamy and smooth. 3 to 4 minutes.

Add the egg and beat until well incorporated, then add milk and vanilla and beat to combine.

Measure the flour, spices, salt, and baking powder into another bowl and sift it into the shortening mixture.

Gently mix until a uniform dough forms. Separate into 3 pieces in the following sizes: 1 ounce, 9 ounces, 12 ounces (or whatever remains).***

Add 1/2 teaspoon of green food powder dye into the 1 ounce portion and fold to combine until dough is uniform green color.

Add 1 tablespoon of orange dye to the 9 ounce portion of dough and blend until dough is a solid orange color. (See notes for liquid dye tips).
Shaping the Cookie Log
Lay parchment paper on a sheet of plastic wrap and roll out the plain dough into a 8 x 10 inch rectangle, about 1/4 inch thick. Trim the long edges to make an even straight line and set trimmings aside.

Form the orange dough into a 9 inch pumpkin log. When round and even, place near the bottom long edge of the dough rectangle, leaving about 1/2 inch on either end.

Use a butter knife to make a gentle indent along the top of the pumpkin log.

Roll the green dough into a thin, 9 inch rope. Place along the indent on the top of the pumpkins, gently pressing it down into the orange while pinching off the tip to create a triangular shape. Trim off excess if needed.

Use the white dough trimmings and line either side of the pumpkin stem to help it hold its shape during rolling.

When ready, carefully begin rolling the dough by lifting up the edge of the parchment and pulling gently away from yourself. Take your time and smooth the log as you go, keeping the roll tight.

Pull the parchment away and pinch the seam of the dough together gently. Fold in the edges of the dough like wrapping a Christmas present to close the log.

Wrap the plastic wrap tightly around the dough and roll it gently against a firm surface, like your clean counter to form a smooth log. You'll need to pause and press the ends in every few rolls to keep the log width uniform.
Baking Cookies
Preheat your oven to 350°F and line a baking sheet with parchment paper.

Remove cookies from fridge and slice with a sharp knife into 1/4 inch thick coins. You may need to gently reshape the cookies as you go to keep them round.

Place on cookie sheet 1 inch apart and bake for 7 to 9 minutes, or until edges are set and they no longer look wet.

Remove, allow to cool for 2 minutes on the pan, the move to a cooling rack. Enjoy!

Store cool leftovers in an airtight container for up to 4 days.
Notes
*Use up to 6 drops of liquid green food dye, and up to 6 yellow and 4 red drops of food dye to make the orange if you don't have the powdered dyes.
Nutrition
Calories:
175
kcal
|
Carbohydrates:
22
g
|
Protein:
2
g
|
Fat:
9
g
|
Saturated Fat:
2
g
|
Cholesterol:
12
mg
|
Sodium:
6
mg
|
Potassium:
34
mg
|
Fiber:
1
g
|
Sugar:
10
g
|
Vitamin A:
17
IU
|
Calcium:
11
mg
|
Iron:
1
mg
I'd love to hear what you think, feel free to tag me on Instagram @theflourhandprint so I can see how it went! Until next time, Happy Eating!
Happy Halloween!
Spooky Season is here and it is time for 2020's #HalloweenTreatsWeek event! #HalloweenTreatsWeek is a yearly Halloween blogging event that is hosted by Angie from
Big Bear's Wife
& its a creepy and haunting week-long event is filled with some amazingly wicked Halloween treats, recipes and some frightfully fun giveaways.
"When witches go riding, and black cats are seen, the moon laughs and whispers 'tis near Halloween."
For the 3rd annual #HalloweenTreatsWeek event we have 30 hauntingly talented bloggers that are sharing their favorite Halloween recipes throughout the week! Follow the hashtag #HalloweenTreatsWeek on social media and look at the bottom of each post to see all of the Halloween recipes that we're sharing!
Plus, don't forget that we have some great giveaways for you this week thanks to our amazing sponsor and bloggers this year!
Prize #1 from Dixie Crystals
OXO Good Grips 3-Piece Stainless-Steel Mixing Bowl Set
Prize #2 from Angie at BigBearsWife
Ninja OP301 Foodi 9-in-1 Pressure, Slow Cooker, Air Fryer and More, with 6.5 Quart Capacity and 45 Recipe Book, and a High Gloss Finish
Prize #3 from Nicole Taggart's Origami Owl Jewelry Bar
Origami Owl Locket and Halloween Charms
Prize #4 from Kathy at Lemon Blossoms
6 Quart Instant Pot Duo 7-in-1 Electric Pressure Cooker
Prize #5 from Terri at Our Good Life
Young Living's Thieves Mints ($50 Value)
Pop a Thieves Mint into your mouth for cinnamint-fresh breath after meals. Made with naturally derived ingredients and free of artificial sweeteners, dyes, and preservatives, Thieves Mints are a choice you can feel good about. Created with Young Living's Thieves essential oil blend, these mints deliver minty coolness with a hint of warm, sugar-free sweetness. Thieves Mints come in a conveniently sized container that is great to take on the go!!
Prize #6 from Julie at Back To My Southern Roots
1 Copy of – The Peanuts Family Cookbook: Delicious Dishes for Kids to Make with Their Favorite Grown-Ups
Prize #8 from Peabody of Sweet ReciPEAS
1 Copy of her new cookbook "Holy Sweet! 60 Indulgent Recipes for Bigger, Better Desserts"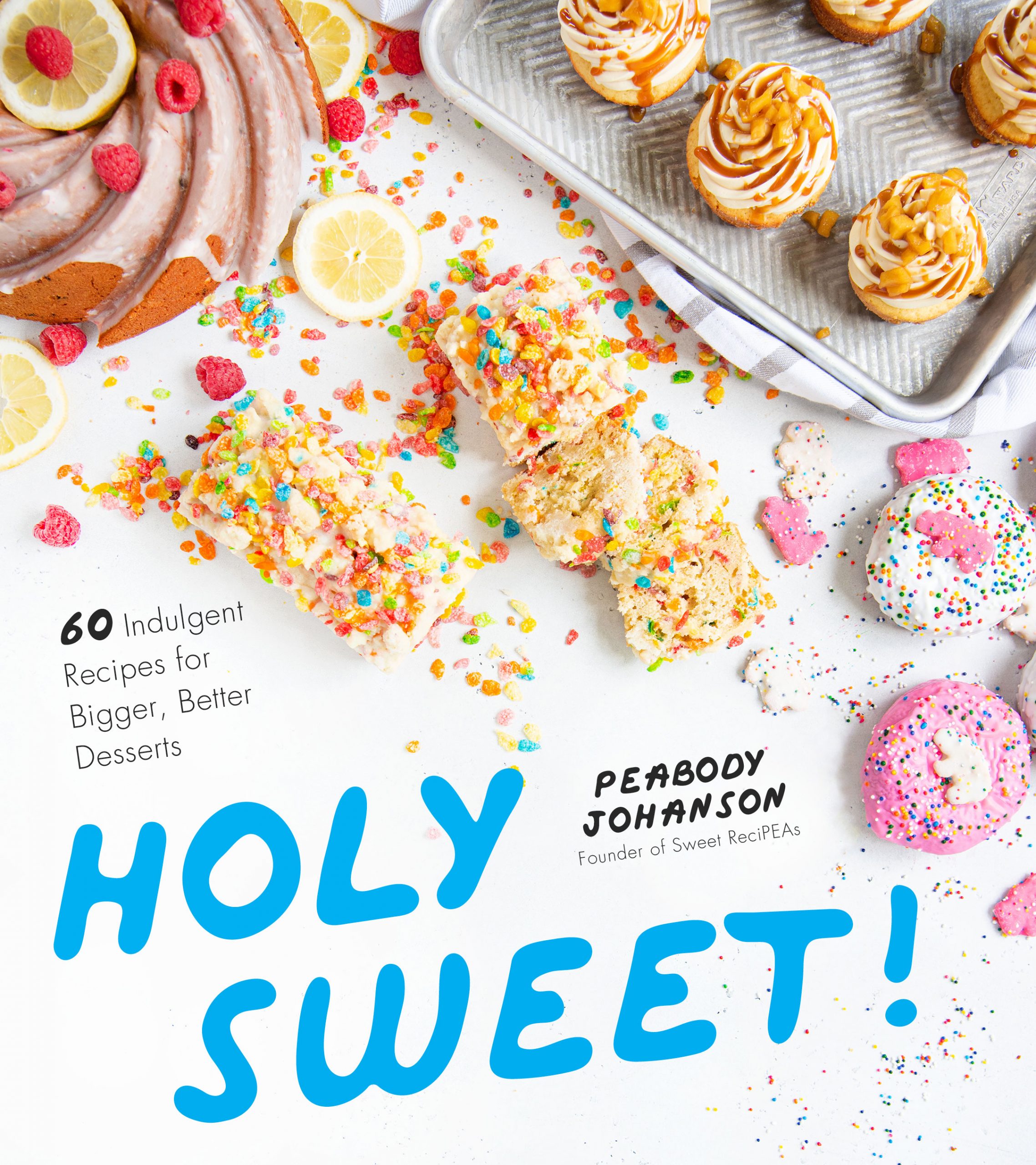 Prize #9 from Megan of Strawberry Blondie Kitchen
1 Copy of her cookbook, "Incredible One-Pot Cooking: Easy, Delicious Recipes for Exciting Meals Without the Mess"
Prize #10 from Nicole of For the Love of Food Blog
1 Copy of "Friends: The Official Cookbook"
Prize #11 from Michaela from An Affair from the Heart, Jennifer from Take Two Tapas and Michele from West Via Midwest
ONE (1) $75 Amazon gift card
Prize #12 from Shanaka from It's Shanaka
ONE (1) $25 Amazon gift card
Prize #13 from Ashley from Cheese Curd In Paradise
1 Copy of her cookbook, " The Serial Killer Cookbook: True Crime Trivia and Disturbingly Delicious Last Meals from Death Row's Most Infamous Killers and Murderers"
Prize #14 from Amy from House of Nash Eats
ONE (1) $100 Amazon gift card
a Rafflecopter giveaway
Giveaway open to US Residents 18 years or older. All entries will be verified. No PO Boxes Please. Prizes will be sent directly from sponsors to winners, bloggers are not responsible for prizes. This giveaway runs from October 5th – October 10th at 11:59PM EST. Winners will be selected soon afterward and contacted by e-mail. Winners will have 48 hours to respond or a new winner will be chosen. There are a total of 14 prizes and therefore we will have a total of 14 winners. No purchase necessary. Void where prohibited by law. Disclaimer: These posts and recipes are part of the week-long event, #HalloweenTreatsWeek but all opinions are 100% mine! We would like to Thank our amazing brand sponsors:
Dixie Crystals
that provided a prize pack for our giveaways and also sent some samples and products to the #HalloweenTreatsWeek bloggers to use in their recipes. We would also love to give a huge thanks to our Halloween Treats Week bloggers because a lot of them also donated prizes for the giveaways, including
: Angie of BigBearsWife , Nicole of Nicole Taggart's Origami Owl Jewelry Bar, Kathy of Lemon Blossoms, Terri of Our Good Life, Julie of Back To My Southern Roots, Peabody of Sweet ReciPEAS, Megan of Strawberry Blondie Kitchen, Nicole of For the Love of Food Blog, Michaela of An Affair from the Heart, Jennifer of Take Two Tapas , Michele of West Via Midwest, Shanaka of It's Shanaka, Ashley of Cheese Curd In Paradise, and Amy from House of Nash Eats!
Nutrition information and cooking times are provided as a best estimate. Values may vary based upon ingredients and equipment.