This page contains affiliate links. For more information please read my Disclosure Policy.
A simple 4 ingredient homemade hot cocoa mix recipe that will turn you off the store stuff for good. Hot chocolate mix is easy to make and contains simple ingredients you'll recognize while still being safe to store for up to a year! It also makes a great mason jar hot chocolate gift!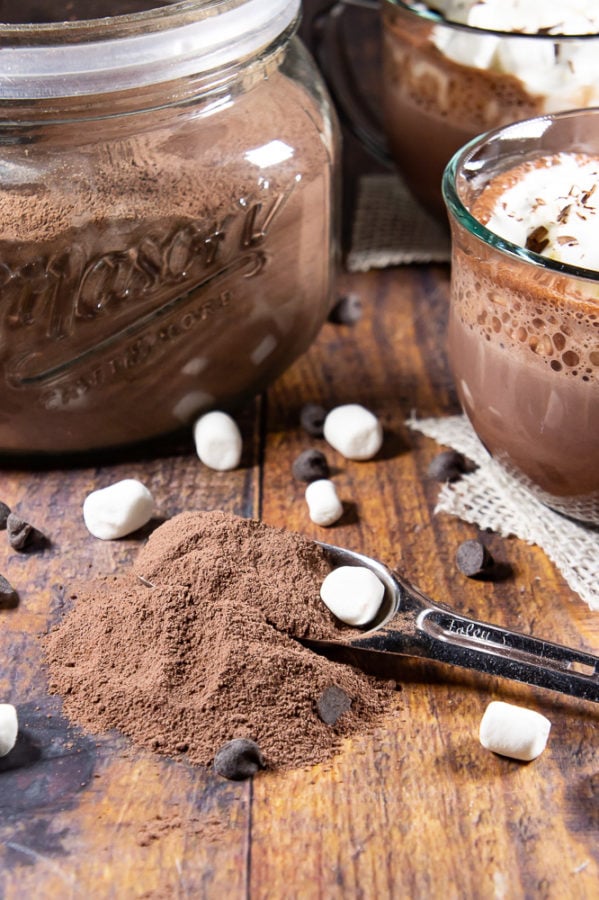 I love hot cocoa, and I know I'm far from alone. A comforting cup of steaming, hot chocolate, what's better this time of year? What I don't love is a store bought mix that promises creamy cocoa and doesn't deliver, which is most of them.
The solution? A homemade hot cocoa mix recipe that can hang out in my cupboard for a long time, and can quickly turn into a creamy, rich cup of hot chocolate. After countless (and I mean a LOT) of taste testing, I found the perfect combination of ingredients for a simple, but flavorful hot chocolate mix that everyone can love.
Why Homemade?
Coming up with a hot cocoa mix recipe is one of those 'why didn't I do this before' things for me. It's so easy and used supplies I already had. I feel absolutely silly that I waited so long. Plus, there are numerous other advantages.
No weird ingredients. My homemade hot cocoa mix is 4 simple ingredients and none of them are hydrogenated oils!
Better flavor. I'm so confident stating that this homemade mix will taste WAY better than any packet or store bought mix. The first words out of my husbands mouth when I had him try a cup was exactly that, 'well this is better than the packet stuff'. Creamy, better chocolate flavor, and less sugar.
Comparative cost. You may be thinking but boxed chocolate is so cheap, why make it? Honestly, I priced out my mix versus swiss miss and they came out fairly equal, about 25 cents per cup. Even using premium, organic ingredients, it's still only about 48 cents homemade. Considering the better flavor and the lack of strange ingredients, I'd happily pay that.
Hot Cocoa Mix Recipe Ingredients
It took 5 different hot chocolate mix combinations, plus various liquid option taste tests to come up with the proper ratio and set of ingredients. The winning combination had the perfect balance of sweetness, chocolate, and creaminess.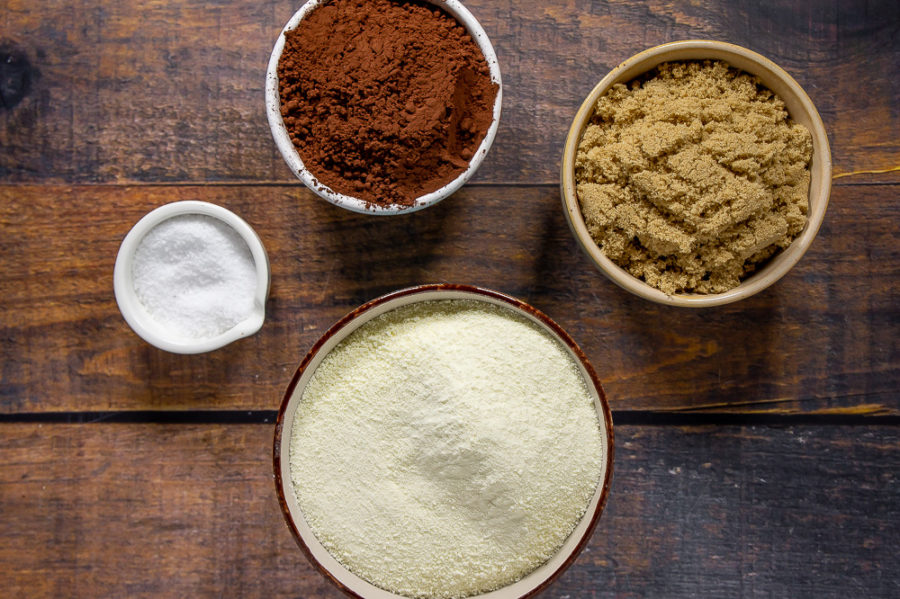 Cocoa Powder – The magic ingredient. Without cocoa powder homemade hot cocoa mix would be sugar milk. You can use either dutch processed or natural cocoa, just choose a cocoa powder you like, and you'll be happy! (Read more about choosing cocoa powders here!)
Brown Sugar: I adore brown sugar, that molasses touch is just scrumptious. It was the clear winner for the hot cocoa taste test. It pairs beautifully with chocolate, and wasn't a sickly sweetness like the powdered or white sugar.
Dry Milk: This is the key ingredient for creaminess, and possibly the one ingredient not everyone has on hand. As a bread baker, it was something in my pantry, and honestly, is a cheap addition to yours. A $5 pouch will make you a double batch (40 cups) of homemade hot cocoa mix, and it's really essential for that creamy final product. I use nonfat dry milk, but if you end up with whole fat, that's quite fine too!
Salt – Salt, when added in the proper ratio actually enhances the flavors of the ingredients its added to, especially cocoa. Adding just a small bit of salt will not make your hot chocolate salty, it will simply heighten the cocoa flavor.
The average packet hot cocoa mix contains up to 70% sugar. Considering the other ingredients, that doesn't leave much room for cocoa in there. In my homemade hot cocoa mix, chocolate is 20%, sugar is 30%, and milk is 50%. The amount of salt is negligible. That's it, 100% recognizable and delicious ingredients.
Making Hot chocolate mix
The process is as simple as the ingredient list, and there are two ways to go about it. I made my most recent batch (having already burned through the first) in 10 minutes. That was while holding a cranky, just finished napping baby, and working one handed. I'm willing to bet it takes you 5 or less.
Blender Method
Using the blender was my mom's idea, and when she told me how simple it was I smacked myself on the forehead, talk about a time saver! You will need a decent blender for this, I use my Ninja, and it works great.
Measure all the ingredients into a blender. Turn onto high and let it do it's thing.
After a minute or so either remove the blender jar and give it a few good shakes, or open it and stir everything around gently.
Continue blending until all the ingredients have combined and there are no streaks in the hot chocolate mix.
Store in an airtight, dry, clean container for up to a year. Oh, and make yourself a cup ASAP!
Easy, right? Maybe 5 minutes, measuring and storing included. One caveat, with brown sugar it can clump in the blender. So do NOT skip the step of shaking the mix or stirring before blending again, it makes sure you have a uniform hot cocoa mix.
Sieve MEthod
Get two bowls and a medium mesh sieve or flour sifter.
Measure all your ingredients into one bowl and gently stir them around to lightly combine them.
Spoon the hot cocoa mix into the sieve set over the second bowl and use a spoon to work the mix through the sieve. This breaks down any chunks and helps the ingredients incorporate smoothly.
When all the mix as gone through the sieve, stir to remove any lingering white streaks or uncombined ingredients.
Store in an airtight, dry, clean jar for up to a year, and don't forget to make a cup!
Regardless of the method you choose, simple stir your hot chocolate mix a bit before using in the future. To make a cup of hot cocoa the ratio is 1/4 cup of mix per 8 ounces of hot milk. Pour hot milk over the mix and stir until combined. Then enjoy!
Hot Cocoa Mix REcipe Flavor Variations
As delicious as a classic flavor of hot cocoa is, it's also fun to change it up! Here are some of my favorite ways to jazz up my hot chocolate mix.
Cinnamon – Add 2 tablespoons of cinnamon during the sifting stage of your mixing. Or, add 1/4 teaspoon to your cup before adding milk. (Plus maybe a dash after!)
Spiced Chocolate – Add 2.5 teaspoons of cayenne pepper to your mix during the sifting stage. Or, add 1/8 teaspoon to your cup before adding milk.
Espresso – Add 3.5 tablespoons to your mix during the sifting stage. Or, simply add a heaping 1/2 teaspoon to your cup before adding milk.
Double Chocolate – Add 1 heaping cup of chocolate shavings, crushed chocolate chips, or mini chocolate chips to your mix after sifting. Stir to incorporate. If gifting, a layer of chocolate on top looks great. This can be any flavor chocolate – semi, dark, white, or butterscotch chips, but small or crushed chocolate incorporates better.
The beautiful part about these variations is they're entirely customizable. Add some nutmeg in with your cinnamon. Combine the espresso and cinnamon, or the cayenne and cinnamon. Whatever makes your taste buds tingle.
FAQ's
Can I use non dairy milk or water to make hot cocoa with this mix?
YES! After many, many taste tests of many liquids, I found that for my tastes whole milk produced the most balanced cup of chocolate and creaminess. BUT, I have also made it with water, coffee, 2% milk, and both coconut milk (the beverage not the can!) and almondmilk. You can even use half and half if you want a really decadent treat.

Use whatever HOT liquid works for you. It will affect overall flavor but I've found that it's often in a pleasant way.
What's the best way to store this?
All these ingredients have a really long shelf life, so simply storing in an airtight container will keep your mix good for up to a year (It is safe after that, it simply may begin to lose some flavor). Just pop your container in a cupboard, away from any heat, and you're good to go.
Is there a difference between hot chocolate and hot cocoa
Here in the U.S. not really. Regardless of which you request, you'll end up with a similar beverage made from hot liquid and powder. In some other countries, hot chocolate refers to something called sipping chocolate, which is a very thick (delicious!) liquid chocolate drink. It's catching on here in the U.S., but it's usually referred to as sipping chocolate, not hot chocolate.
Make Some Mason Jar Hot chocolate Gifts!
As if all these perks of better ingredients, long shelf life, and better flavor weren't enough to convince you to try this hot cocoa mix recipe, here's an added bonus. Just whip up a double batch and you can EASILY make anywhere from 5 to 10 Christmas (or whatever holiday) gifts.
All we did was get some 8 ounce mason jars, and placed two servings (1/2 cup) of mix into them and topped it with mini marshmallows. Place some festive fabric under the band and tighten, then tie with a ribbon for a pretty and easy Christmas gift. Pair with a fun mug or place with some other homemade food gifts for an awesome gift basket!
For a bigger jar, I fit 6 servings in my pint jars! You can even tie on a little card with the recipe so they can make more when they've finished it! Bonus, since it stays good for SO long, you can easily make these in advance.
More DIY Food Gifts
Other Chocolate Posts you may ENjoy
So it's really that simple, and I'll never go back to store bought mix. I feel good knowing what's in my cup. And, since the shelf life is longer than it will ever last in my cupboard, I see no point in dealing with the hydrogenated oils of packet mix. Whenever our tastes demand it I can easily customize our homemade hot cocoa mix, or even gift mini jars to friends and family.
So take five minutes, throw this mix together, and then snuggle up with a creamy cup of homemade cocoa. Don't forget the marshmallows!
Homemade Hot Cocoa Mix
Print Recipe
An easy homemade replacement for store bought hot cocoa mix. Makes the creamiest hot chocolate you'll crave time and time again!
Ingredients
2.5

cups

powdered milk

1.5

cups

brown sugar

1

cup

cocoa powder

1

tsp

salt
Instructions
Blender Instructions
Combine all ingredients into blender and pulse on high speed for 10 to 15 second intervals until all ingredients have combined.

Give the blender carafe a few shakes, or open and stir, then blend further if you continue to see streaks in the mix after 2 minutes.*

Transfer to a clean, dry, airtight container and store until ready for use.
Sieve Instructions
Measure ingredients into a bowl, give them a quick couple of stirs to combine slightly.

Scoop ingredients into a sieve over a second bowl and press through to get rid of any clumps.

Stir to make sure ingredients are well combined (no streaks of white).

Transfer into clean, dry, airtight container and store.
To make Hot Cocoa:
Add 1/4 cup of mix to cup, pour 8 oz of hot milk** over top and stir until combined.

Enjoy!
Notes
*I recommend a stir and re-blending in any case, to avoid any clumps of brown sugar.
**Can also be made with water or non dairy milk
Nutrition
Serving:
1
g
|
Calories:
152
kcal
|
Carbohydrates:
25
g
|
Protein:
5
g
|
Fat:
5
g
|
Saturated Fat:
3
g
|
Cholesterol:
16
mg
|
Sodium:
181
mg
|
Potassium:
300
mg
|
Fiber:
1
g
|
Sugar:
22
g
|
Vitamin A:
149
IU
|
Vitamin C:
1
mg
|
Calcium:
165
mg
|
Iron:
1
mg
Originally published 2/20/2019, Updated 11/12/2019
Nutrition information and cooking times are provided as a best estimate. Values may vary based upon ingredients and equipment.