Pumpkin cupcakes with Maple Frosting
This post and recipe was created for #HalloweenTreatsWeek! I was sent samples by some of our sponsors but as always opinions are 100% mine.
This page contains affiliate links. For more information please read my Disclosure Policy.
Whip up a batch of light Pumpkin Cupcakes and top them with an whipped maple frosting for a satisfying, sweet fall dessert. Treat your family to this small batch pumpkin spice cupcake for a sweetly snack that celebrates the flavors of the season.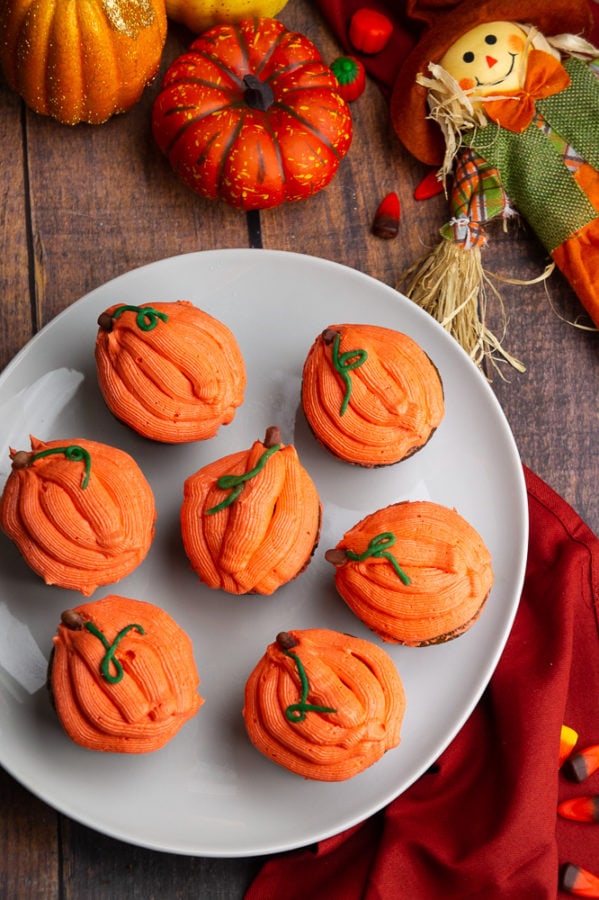 I don't think there's any question why I made this, it's fall, we eat pumpkin, enough said right? When fall comes, it's that specific combination of warm spices and pumpkin baked into a delicious package that I really crave.
These cupcakes are everything I love about pumpkin bread, but lighter. Instead of dense and sticky they're light and fluffy, but still sweet. Pipe on some whipped maple frosting in pumpkin shape and you've got the perfect fall treat.
Take a look more spooky Halloween recipes from our #HalloweenTreatsWeek Bloggers today:
Halloween Cookies & Bars:
Halloween Cakes & Cupcakes:
Halloween Brownies:
Halloween Pies:
Halloween Breakfast:
Halloween Drinks:
Chilled Halloween Treats:
No Bake Desserts:
INGREDIENTS
You may find the ingredients on this list to look oddly familiar…maybe like your favorite pumpkin bread? You're not wrong! See the recipe card for full ingredients, but here are a few tips for the key ones.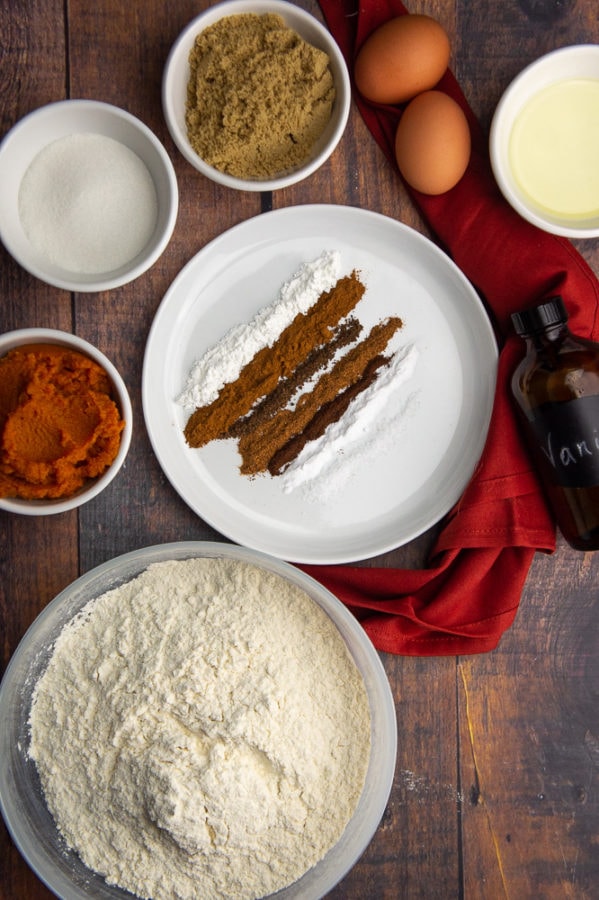 Pumpkin Puree – I used canned here, but you're welcome to use homemade pumpkin puree, just make sure it's well drained.
Oil – I've always found a neutral oil like Canola or Vegetable oil works best with pumpkin recipes.
For sugar, I know you have choices, but my sponsor Dixie Crystals is a great one!
HOW TO MAKE PUMPKIN SPICE CUPCAKES
Ready to learn the secret to fluffy pumpkin cupcakes? It's the same method I used to produce a light Olive Oil Cake, and requires just one additional step before beginning your batter. Those 5 extra minutes are the secret to a recipe that yields a perfect small batch of 9 fluffy cupcakes (feel free to double!).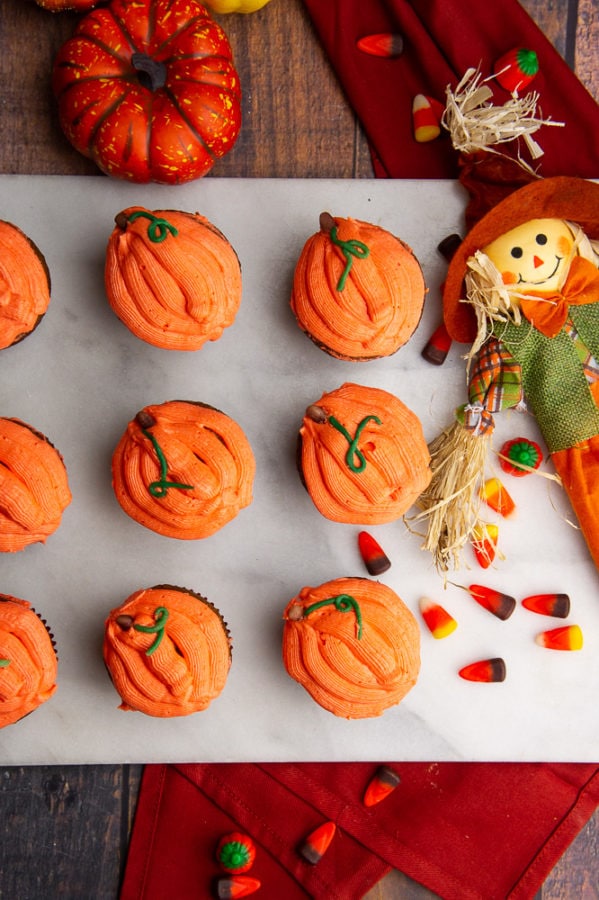 Warm the eggs with the sugar in a large bowl set over a pot of simmering water. I do this with my stand mixer bowl, and just lightly stir it around with a rubber spatula.
When the eggs and sugar reach 100°F begin beating them on low, then medium speed until the eggs have tripled in volume.
Sift in all your dry ingredients and slowly fold into the batter until no dry streaks remain.
Alternate dropping in spoonfuls of pumpkin and drizzling in the oil with the mixer running on low until both are combined.
Scoop into 9 lined muffin cups and bake at 375° for 12 minutes.
When springy to the touch, or a toothpick comes out clean remove from oven. Let cool one minute then carefully lift cupcakes out of the pan and onto the cooling rack.
TIPS FOR MAPLE BUTTERCREAM PERFECTION
The buttercream really is as simple as mixing the ingredients together, but I have some tips to make sure it comes out perfectly for you every time.
Make sure all your ingredients are at room temperature, not cold.
If your buttercream appears separated or broken, Gently heat the bowl over simmering water then beat until the mixture is smooth.
If your buttercream looks melted or watery, stick it in the fridge for 10 to 15 minutes and beat until smooth.
To color your buttercream, choose high intensity food dyes or powders so you don't water down the frosting.
Use these reusable piping bags instead of disposable ones for less waste!
Pipe your cupcakes however you like, I alternated piping curved lines from the outside in to create a layered pumpkin look.
Chill after one hour at room temperature, keep chilled until 30 minutes before serving.
DEcorating Tips
There are so many ways to make these cute if you're good at that sort of thing. I can bake up a storm but when it comes to decorating, I'm usually left floundering a little.
Thankfully there are fun and helpful guides from those who are better than me! I used this fun guide on 8 ways to pipe a pumpkin cupcake, you could choose the style that suites you best!
I've seen a lot of ways to finish that 'pumpkin effect' too, for me its all about flavors that make sense with the cupcake. I chose marzipan, it's easy to work with and widely available in the baking section of most grocery stores.
I just shaped out the stems and vines like I was making play doh shapes with my son. Then I used a clean soft paintbrush to brush on
FAQ's
Can I make these mini? You bet! Just line or grease and flour a mini cupcake tin and scoop it in, about 3/4 full. Then bake for 10 minutes!
Are These Easy to Store and Freeze? The cupcakes freeze very well with no frosting, and will store in an airtight container at room temperature for 5 days. Once frosted, they must be kept covered in the fridge for up to 3 days.
Freeze them separately if you want to prep frosting ahead. Thaw and mix the buttercream and decorate the thawed cupcakes as usual. They'd be good in the freezer for 2 to 3 months.
Enjoy these with a hot cup of coffee!
Who doesn't love a freshly baked, homemade cupcake? These fluffy beauties are a fabulous fun treat for the autumn season, and I highly recommend you give them a go soon. Even better, pair them with a warm homemade maple latte or a cup of hot cocoa made with homemade mix and you'll be a happy, cozy camper. Don't forget to let me know how it goes!
While you're here, check out these other fabulous recipes!
Pumpkin Cupcakes with Maple Buttercream
Print Recipe
A fluffy pumpkin spice cupcake topped with a creamy whipped buttercream flavored with maple.
Ingredients
Pumpkin Cupcakes
4

ounces

all purpose flour

1 cup, spooned and leveled, with 1 tablespoon removed.

1

teaspoon

baking powder

1/2

teaspoon

baking soda

1

teaspoon

cinnamon

1/2

teaspoon

nutmeg

1/4

teaspoon

allspice

1/8

teaspoon

cloves

3

ounces

brown sugar

1/2 cup, lightly packed

2.5

ounces

white sugar

1/3 cup

2

large

eggs

1

teaspoon

vanilla

4

ounces

pumpkin puree

1/2 cup

2

ounces

vegetable oil

1/4 cup
Maple Buttercream
4

ounces

butter, softened

1/2 cup

2

tablespoons

maple syrup

1 1/2

cups

powdered sugar, sifted

1/4

teaspoon

maple extract

2

tablespoons

heavy cream
Decorations As Seen
5

drops

yellow dye

4

drops

red dye

1 1/2

tablespoons

marzipan

1/2

teaspoon

brown food powder paint*

1

teaspoon

green food powder paint
Instructions
Pumpkin Cupcakes
Set a small pot with 2 inches of water over high heat, reduce to low once boiling to maintain a simmer.

Line a cupcake tin with 9 cups and preheat oven to 350°F, moving one rack to the top 1/3 of the oven.

Sift together the flour, baking soda, baking powder, spices in a bowl and set aside.

Combine the eggs and sugars in the bowl of your stand mixer or other large bowl and set over the simmering water.

Stir lightly as the eggs begin to heat and sugar melt. Monitor until it's warm to the touch or 100°F. Remove from the water and begin beating at medium speed, working up to high until the eggs have tripled in volume.

Gently fold in the dry ingredients.

With the mixer running on the lowest speed, alternate drizzling in oil and spooning in pumpkin until both are combined and the batter is uniform and smooth.

Divide between 9 muffin cups, about 3/4 of the way full and bake in the top third of your oven for 21 minutes.
Maple Buttercream
Beat the softened butter on medium speed until light and fluffy.

Add the maple syrup, extract, and begin mixing on low. Add in the powdered sugar 1/2 cup at a time on low to avoid a mess.

Once combined, turn mixer up to medium and drizzle in the heavy cream.

Turn up to high speed and beat until fluffy and smooth, 1 to 2 minutes.
Optional for Decorating
Add food coloring to buttercream and beat until combined and uniform.

Add to a piping bag fitted with desired tip and pipe 5 semi-circles following the shape of the cupcake, starting on the outside and working your way in.

Mold marzipan into small cylinders and thin ropes and brush with edible food powder. Stick the stem in the top and wind the vine from there as you like it.
Notes
Links to the specific dyes I used for the marzipan and frosting are linked in the 'Tips for Maple Buttercream' section above, along with information on alternatives.
Nutrition
Serving:
1
cupcake
|
Calories:
381
kcal
|
Carbohydrates:
51
g
|
Protein:
3
g
|
Fat:
19
g
|
Saturated Fat:
13
g
|
Cholesterol:
73
mg
|
Sodium:
173
mg
|
Potassium:
122
mg
|
Fiber:
1
g
|
Sugar:
40
g
|
Vitamin A:
2385
IU
|
Vitamin C:
1
mg
|
Calcium:
51
mg
|
Iron:
1
mg
I'd love to hear what you think, feel free to tag me on Instagram @theflourhandprint so I can see how it went! Until next time, Happy Eating!
Nutrition information and cooking times are provided as a best estimate. Values may vary based upon ingredients and equipment.