Homemade Spaghetti Sauce Recipe
This page contains affiliate links. For more information please read my Disclosure Policy.
This easy to prepare homemade spaghetti sauce recipe will replace that jar in your cupboard for good. Making homemade meat sauce is a simple, delicious way to stretch pantry staples like canned tomatoes and a pound of ground beef into many meals. Saucy, flavorful, versatile and a great freezer sauce!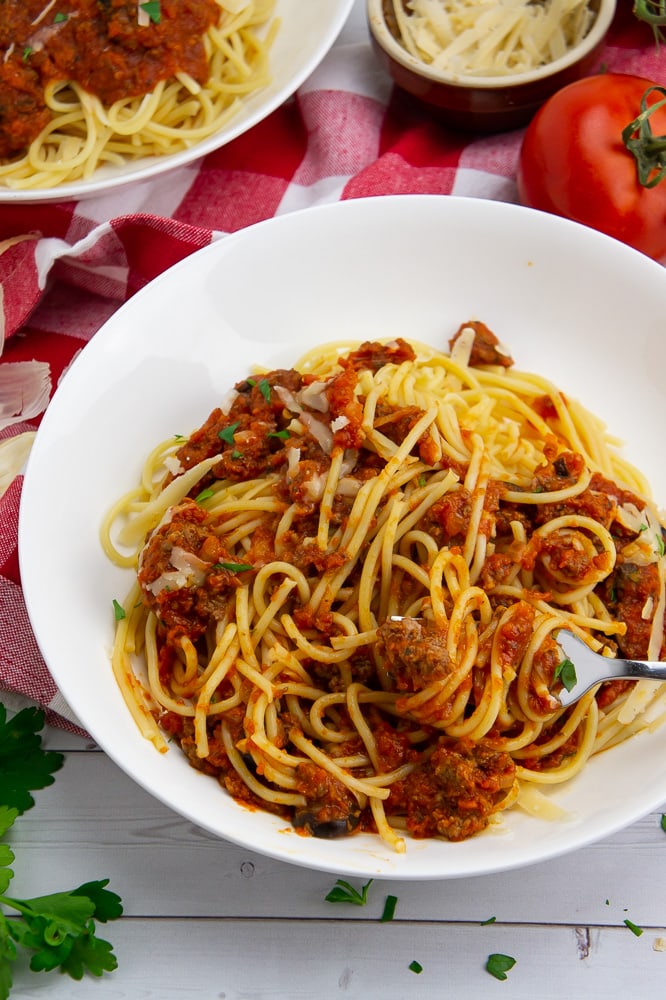 I am SO happy to have this recipe finally back up on the blog. This was actually one of my very first recipes I ever shared so many years ago…and let's just say you could tell I was a newbie at that point. Now that I can do this recipe justice, I figured it was just about time to get it back up. Especially since cooking with canned goods has become such a issue for so many during this period of quarantine.
Truthfully, I've been making this homemade spaghetti meat sauce…well forever. It was one of the first recipes I ever learned, courtesy of the spaghetti sauce master, my mom. While years have changed the way I make this slightly, the sauce is as good as ever, and I finally got around to writing it down to share.
Cooking with Cans
If you're a returning reader, you know my approach to food is made from scratch whenever possible and sensible. In no way does this exclude canned foods! While fresh produce is always delicious, canned ingredients make our kitchens flexible, varied, and frankly often cheaper.
Before you go for the cheapest of canned tomatoes though, let me chat at you another second. When choosing your canned goods, it's always ideal to choose quality whenever possible.
Look at the ingredient list. Tomatoes should say…Tomatoes. While many canned tomatoes will list citric acid (a preservative) and salt, always double check that what you're purchasing is what you think it is. Tomato puree made from tomato paste and water has a different flavor that straight up pureed tomatoes.
Buy unseasoned when you can. I buy everything without seasoning, down to unsalted butter. A key to from scratch cooking is holding the power to season in your hand, literally.
Improvise! I've often opted for blitzing whole canned tomatoes in the blender to make puree when a decent puree wasn't available to me.
Even though a better quality canned good can be more expensive, canned tomatoes are still cheaper than buying the equivalent fresh in most instances. With these simple tips you can be guaranteed a flavorful homemade spaghetti sauce from scratch, made with just pantry staples and a few common ingredients.
Ingredients
As promised, the ingredients you'll need here are either found in your pantry, or are common enough I think you'll likely have them on hand.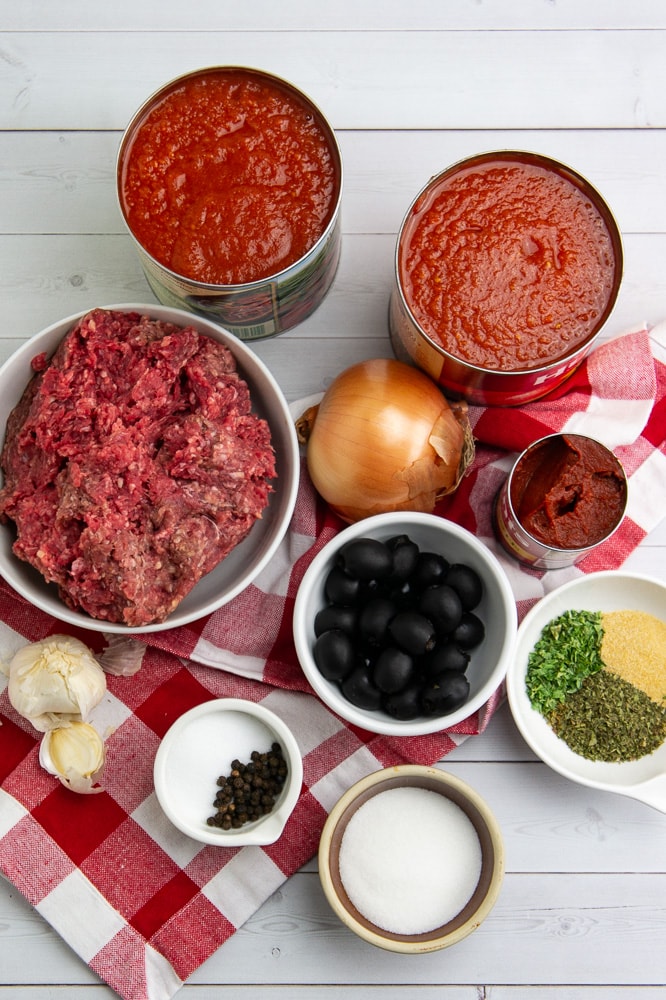 Ground Beef – I almost always make spaghetti sauce with ground beef, but you can also use ground turkey, chicken, or pork here if that's your preference.
Tomato Puree – two large cans of good puree, or whatever alternate (puree whole, diced, or crushed tomatoes), to equal a full 56 ounces.
Tomato Paste – Just a teeny can of this one!
Black Olives – A whole can, sliced.
Onion – I prefer yellow, my mom prefers red, you go with your favorite and it will be just perfect.
Garlic – Fresh garlic, chopped or pressed finely.
Sugar – This is the 'secret' ingredient that seriously transforms your sauce. I now prefer mine a little less sweet than I grew up making it, so there's some flexibility here.
Bay leaves – Having dried bay leaves on hand can add a fabulous herbal note to many dishes, this included.
Dried Basil – One of the key herb flavors.
Dried Oregano – If there's one herb you really need for this, it's this one.
Garlic Powder – Another layer of garlic will make your mouth happy.
Salt & Pepper – Because we're cooking of course!
Mushrooms – I'm tacking this on the ingredient list last because I pretty much never add them, but this sauce always had them when I was a kid. If you like mushrooms, feel free to add between 1/2 to 1 cup.
Here's the truth of this recipe, I make it just slightly different than my mom does, and she made it just slightly different than she was taught. Heck, she doesn't even measure! To make this spaghetti meat sauce as good as possible, it is KEY that you taste and are willing to adjust flavors.
Different cans, different brands of herbs, the age of your spices, all those things can and will affect flavor. Sometimes I need a dash more garlic, sometimes a touch more sugar.
Pro Tip: This is a GREAT recipe for sneaking in some extra veg for your kiddos (I do!). Add one of these and your kids will never know!
1 cup finely shredded carrot or zucchini (just grate it very finely right into the pot!)
1/2 cup roasted red pepper, pumpkin or winter squash, pureed first
How to Make Homemade Spaghetti Sauce from Scratch
The hardest part of this whole recipe is just a little chopping and stirring. While this sauce works best when given an hour or more to simmer, this takes ZERO extra effort from you, other than stopping yourself from sneaking tastes as you walk by. To make it even simpler, you can also make it in a slow cooker! Regardless of your method, it makes a hearty portion that will easily feed 12, so suggest freezing half!
To begin, place a large pot that has a lid over medium high heat, lid off. Then dice your onions and mince your garlic, set to the side.
When your pot is hot, add in your ground beef, breaking it into largish chunks and allowing it to caramelize. As your beef begins to brown, give add in your onions and stir. Keep stirring every minute or two to allow the onions to soften, for about 3 to 4 minutes. If using mushrooms, add them at this point to allow a bit of caramelizing as well.
Reduce the heat to medium low. Add your garlic, quickly stir and cook for 30 seconds or until fragrant, then add your tomato puree. Stir to incorporate.
Now add everything else, the pasta, herbs, salt, pepper, sugar, garlic powder, tomato puree, and olives. Stir to combine. If you're adding a veggie like carrot, do that now.
Let the mixture come to a bubble. I say bubble not boil because tomato sauce tends to spit and pop violently when hot, not boil traditionally.
Cover, reduce heat to lowest setting, and let cook at least 30 minutes, up to as long as you like, stirring every 20 minutes or so. I generally like to give the sauce 2 hours total, it gets better as it simmers!
After the 30 minute mark, TASTE YOUR SAUCE! You may need to add additional sugar or salt, and sometimes I like a touch more garlic, at this point. Then serve or allow to continue to cook.
Want to use a slow cooker instead? It's easy! Simply brown your meat, onions, garlic, and mushrooms if using in a large pan on the stove, then dump it into your slow cooker with everything else. Stir to combine and set on low for as long as you like, all day is fine!
Pro Tip: If you're using a leaner ground meat, like chicken or turkey, add a tablespoon or two of oil to prevent scorching and sticking.
When you're ready to eat, cook up some spaghetti noodles in well salted water (this makes such a big difference in the way a pasta dish can taste!
Then serve up your noodles with a generous helping of sauce. Make it as saucy, or not saucy as you like! I like to sprinkle on grated Parmesan and fresh parsley when I have it and serve it with some bread like Asiago Bread or Garlic Rolls.
After dinner, when you're ready to store any extra, I prefer to store it separately from the any leftover cooked pasta. To freeze the sauce, simply transfer desired amount into a freezer safe container and allow to cool completely. Then cover and pop it in the freezer for up to 6 months.
For my family of 3 (really 2 1/2, since one of us is less than 2 years old), we get two dinners and a lunch, plus another 2 dinners and a lunch out of the half we freeze. It's so easy to get dinner on the table knowing I have some in the freezer. Go ahead and double to batch if it suits you! To thaw, simply place the frozen sauce in a pot, cover and cook on low, stirring occasionally until thaw and hot, then serve over fresh pasta!
FAQ's
I like a chunkier tomato in my pasta sauce, can I use crushed or diced tomatoes?
Crushed tomatoes are the easiest replacement, as they contain enough liquid to keep the recipe working the same way. You can use diced, but you may need to add a can of puree anyway.
Can you taste the hidden veggies if you add them?
You will get a little sweetness from pureed squash (that's why I only add 1/2 cup). Carrot and zucchini basically disappear into the sauce, and red pepper can add a little flavor, but it's a yummy, roasty pepper sweetness flavor, so don't let that stop you!
What's the difference between spaghetti sauce and marinara?
Marinara is traditionally a very simple (often uncooked) tomato sauce with limited additional ingredients. Spaghetti sauce is an sweeter, deeper tomato based sauce that often contains other veggies and meat, and benefits from a slow simmer for flavor. Technically, the meat sauce used for spaghetti noodles isn't called spaghetti sauce at all, but bolognese. However, since this is a totally Americanized recipe, I'm calling it Spaghetti sauce like my momma taught me.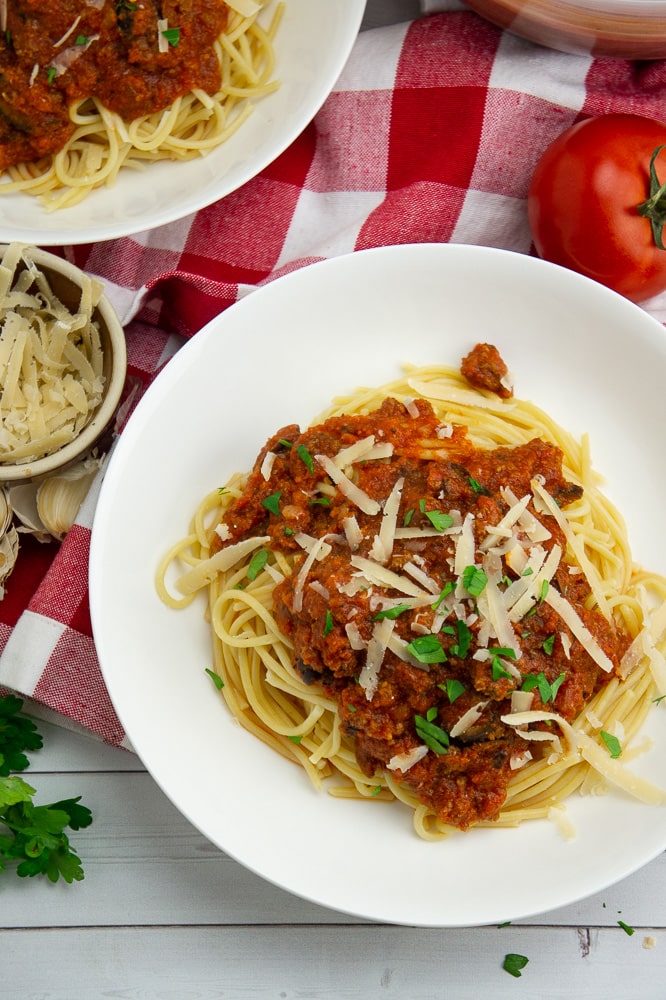 Eat & enjoy
I am super glad to have this pantry staple recipe back on the blog for your year-round enjoyment. Please have fun making it, remember to taste and adjust as needed. Soon you'll be making this sauce every few months like myself and I think you'll find your own perfect flavor profile for homemade spaghetti sauce. Until next time, Happy Eating!
Enjoy these other dinner recipes!
Homemade Spaghetti Sauce Recipe
A flavorful, rich tomato meat sauce that uses canned tomatoes and pantry staples to build a hearty pasta sauce the entire family can enjoy.
Ingredients
1

lb

ground beef

56

ounces

tomato puree

6

ounces

tomato paste

1

medium

onion, diced

1 cup

3

cloves

garlic, minced

1 tbs

14

ounces

black olives

drained and sliced

2

bay leaves

2

tbs

white sugar

up to 4 tbs*

1

tbs

garlic powder

1

tbs

dried oregano

1

tbs

dried basil

1

tbs

salt

to taste*

1

tsp

pepper

1/2

cup

mushrooms

optional
Instructions
Place a large pot over medium high heat while you dice your onions and mince your garlic.

Add your beef to the pot when hot, breaking it into large chunks and allowing it to brown. When it begins to caramelize, add in your onions, mushrooms if using, and a teaspoon or so of salt.

Cook, stirring every minute or so for about 4 minutes, or until onions are softened. Turn heat down to medium low and add your garlic and stir, cooking until fragrant, about 30 seconds.

Pour in your tomato puree and stir to incorporate fully with the meat. Then add remaining ingredients except for 1 teaspoon of salt, stirring until completely incorporated.

Bring to a bubble then reduce heat to lowest setting, cover, and let cook for 30 minutes.

After 30 minutes, stir the sauce and taste. Add remaining salt if needed. This is also when you can add more sugar if the sauce isn't sweet enough for you, 1 tablespoon at a time.

Serve, or allow to continue to simmer (this is ideal, longer the better) for several hours until ready to serve. Stir every 20 to 30 minutes and taste frequently.

Store leftover sauce in the fridge for 4 days, or in the freezer for 6 months.
Notes
*Depending on your preferred sweetness, and the natural sweetness in the canned tomatoes you're using, you may need to add an additional 2 tbs of sugar. Wait until after the sauce has cooked for at least 30 minutes before adding more.
*Some canned tomato products have more salt than others. I usually add up to 3 tsp, but add less, and taste after the 30 minute mark to see if you need the full amount.
*Want to add some nutrition? Add 1 cup of finely grated carrots or zucchini when adding the herbs and spices.
Nutrition
Calories:
223
kcal
Carbohydrates:
20
g
Protein:
10
g
Fat:
13
g
Saturated Fat:
4
g
Cholesterol:
27
mg
Sodium:
1272
mg
Potassium:
886
mg
Fiber:
5
g
Sugar:
11
g
Vitamin A:
1021
IU
Vitamin C:
18
mg
Calcium:
64
mg
Iron:
4
mg
Nutrition information and cooking times are provided as a best estimate. Values may vary based upon ingredients and equipment.