Spice Cupcakes with Cream Cheese Frosting
This page contains affiliate links. For more information please read my Disclosure Policy.
Soft, fluffy, and sweet spice cupcakes with cream cheese frosting are easy to make and even easier to eat! Simple but scrumptious spice cake cupcakes will be a hit at any fall or winter gathering, especially a holiday party. Step by step instructions and an easy recipe can have these ready to eat in an hour.
There's something so enticing about the combination of cinnamon, clove, and nutmeg. Every year as soon as the hint of fall weather hits the air I can't resist tossing them into almost everything I bake. All the delicious flavors during those months are enhanced by them, pumpkin, apple, pear…but sometimes, I really just want that spice combo to shine!
These spice cupcakes are exactly that, a celebration of warm winter spices, in scrumptious mini cake form. And…since you can't have spice cake without a delectable icing, I topped these cupcakes with cream cheese frosting that's ready to pipe in 5 minutes.
What are Winter Spices?
I'm sure you've heard the term before, but what exactly are the winter spices that are needed to make delicious things like spice cake cupcakes?
Winter, or warming spices, are exactly that, a collection of spices that are known to produce warming flavors when added to food. Why winter? Well, when the big flavors of fresh produce go out of season in colder months, they've been historically replaced with the bold flavors of dried spices like the ones we use today.
While there are many different spices that fall under the category of a warming spice (cardamom, ginger, cinnamon and so on), it takes the perfect blend of 4 to make spice cupcakes.
Cinnamon – A sweet and woody spice harvested from the inner bark of several different trees that belong to the Laurel tree family. It's an ancient spice, used in Roman times, and popular still today for its recognizable and versatile flavor.
Nutmeg – The inner seed of the Indonesian nutmeg tree (the outer seed becomes mace!). It's intensely flavored, and can impart warm, spicy flavors into both sweet and savory dishes. Ground nutmeg loses flavor quickly, while whole nutmeg has a long shelf life and a very intense flavor.
Allspice – Once believed to be a combination of many spices, allspice actually comes from 1 single cured berry from a Jamaican evergreen tree. It's got big flavor and well loved by many cultures in both sweet and savory dishes. Look for deep colored allspice with intense aromas.
Clove – The dried flower bud from another Indonesian tree, these spices can be pierced into foods (like your ham) like little nails for big flavor and pretty presentation. You want whole cloves that still have the little round ball on top, and for optimal flavor, it's best to grind your own! (You can use a coffee grinder)
What's in Spice Cupcakes?
Aside from those few essential spices, there are a couple more vital ingredients that are necessary to make these tasty treats.
Flour – All purpose does the trick here, no need for cake flour.
Brown & White Sugar – The perfect balance of brown and white sugar amplify the flavor of the spices and create a beautiful texture in the finished cupcake.
Winter Spices – Wouldn't be much of a spice cupcake without them!
Baking powder – The leavening agent needed for that perfect fluffy texture.
Salt – Always!
Eggs – A few large, room temperature eggs provide structure to the cupcake so you end up with nice round tops.
Butter – Flavor, fat, texture, yum!
Milk – the sugar and the proteins in milk are also helpful for the overall structure of the cake.
Vanilla – Rarely do I bake a cake without it!
As always with my baking recipes, though I provide a volume measurement option, I recommend a kitchen scale as an inexpensive, but highly effective tool to ensuring consistent baked goods.
How to Make Spice Cupcakes
The process to make spice cake cupcakes follows the creaming method. It's a simple, two bowl technique that can have cupcakes baking away in 10 to 15 minutes. After 18 minutes in the oven, you'll have a dozen beauties cooling on the counter. This batter makes a total of 18 cupcakes.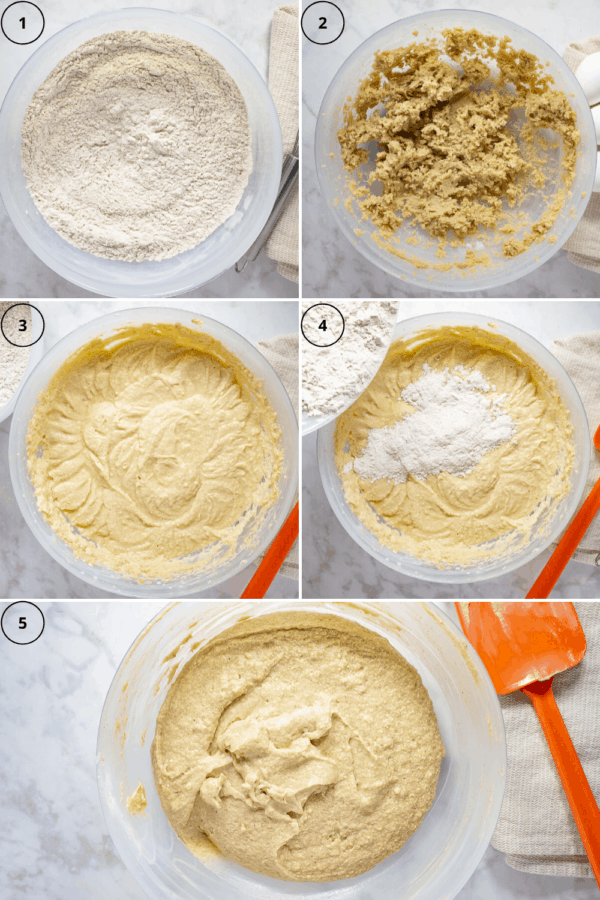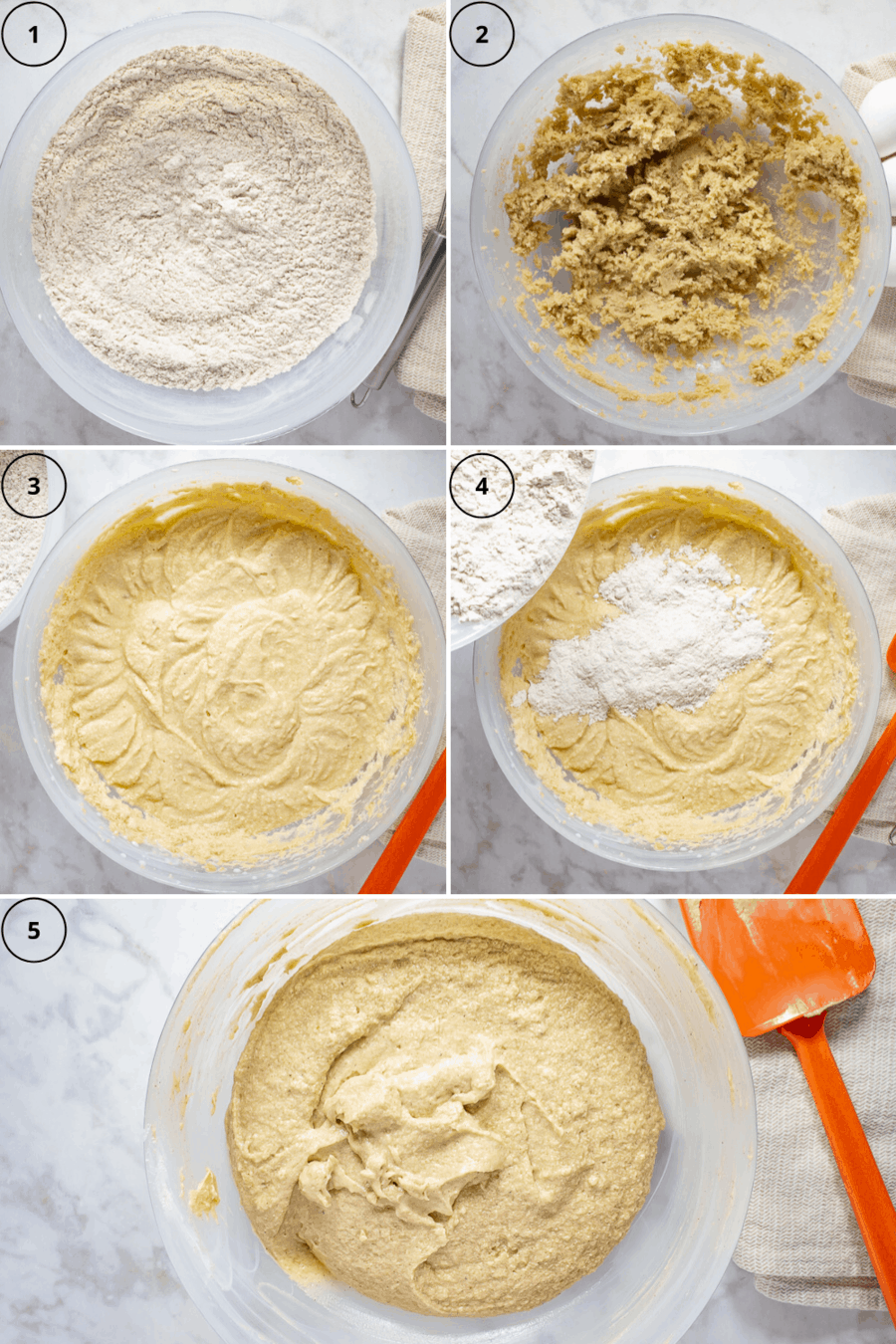 First preheat your oven to 325°F and line a muffin tin with liners. Then I like to measure out all my dry ingredients and whisk them together. Set that aside for when you need it.
Next combine the sugars and softened butter in a large bowl and beat until thoroughly combined and fluffy. Just a few minutes on medium speed will do.
Begin adding the eggs, one at a time until thoroughly combined. Then beat in the milk and vanilla. You should have a fluffy, pale brown batter.
Add in all of your dry ingredients, no need to do this in steps. Then begin to fold it in gently, using a silicone spatula to lift, fold, and repeat. Be sure to scrape the sides and bottom of the bowl. It's essential not to over work it at this stage, so don't continue to use an electric mixer.
Only mix until all the flour is incorporated, this should be a thick brown batter. Then you're ready to portion into a muffin tin, I recommend a cookie scoop for consistent size in all your cupcakes. Don't fill more than 3/4 of the way.
Bake for 18 minutes, or until the tops are lightly golden brown, and spring back at a gentle touch. You can also use a toothpick in a center muffin to see if it comes out clean.
When the cupcakes come out, move them out of the muffin tin onto a cooling rack. Don't let them sit in the pan. This can cause overcooked cupcakes and the wrapper to stick to the outside of the cupcake rather than pull away clean. Allow to cool completely before frosting or storing.
As this batter makes 18 spice cupcakes, you'll have batter left, it's perfectly okay to sit on the counter while the first batch bakes.
Spice Cake Frosting
There isn't a question for me as to which frosting belongs on spice cake, it's cream cheese all the way! You can of course frost your cupcakes with whatever you choose, but if you're like me and want yummy cupcakes with cream cheese frosting, follow these simple steps:
Cream together 4 ounces of softened cream cheese and 4 ounces of softened butter with a teaspoon of vanilla and a pinch of salt.
Beat in 4 1/2 cups of sifted powdered sugar, one cup at a time (obviously the last addition would only be a half cup).
Add to a piping bag and decorate cool cupcakes!
I love this decorating kit, and the reusable piping bags that came with it are fantastic!!
FAQ's
How do I store these?
Frosted cupcakes are safe to store at room temperature for several hours. If serving the next day or later, place in an airtight container in the fridge and pull out a few hours before serving to let them come up to room temperature again.

Unfrosted cupcakes are safe to store at room temperature for 1 to 2 days, or up to a week in the fridge before they lose they're textural quality. Keep in an airtight container.
Can these be frozen?
Cake freezes very well, yes! Keep tightly wrapped in the freezer for up to three months. I would not freeze frosted cupcakes.
Can I double the batter?
Yes, I've done it and it works without a problem!
Can I bake this as a cake instead?
Yes, I've done this in mini springform pans (2 4 inch rounds and 12 cupcakes). For a standard 9 inch round cake pan I would double this recipe and get two round cakes from it.
Other Recipes you may Enjoy
Do you LOVE fall and winter flavors in your cupcakes? Check out these other amazing cupcakes…
Looking to up your baking game? Check out these guides:
Spice Cupcakes with Cream Cheese Frosting
Fluffy and sweet spiced cupcakes with an easy to make cream cheese frosting are perfect for the fall and winter seasons
Ingredients
Cupcake Ingredients
8

ounces

all-purpose flour

1 3/4 cups

1 1/2

tsp

baking powder

1/2

tsp

salt

1

tsp

cinnamon

1/2

tsp

allspice

1/2

tsp

nutmeg

1/4

tsp

cloves

6

ounces

unsalted butter, softened

3/4 cup

6

ounces

brown sugar

3/4 cup

3

ounces

white sugar

a shallow 1/2 cup

4

large

eggs

3

tsp

vanilla extract

4

ounces

milk

1/2 cup
Cream Cheese Frosting
4

ounces

unsalted butter, softened

1/2 cup

4

ounces

cream cheese, softened

1/2 cup

1

tsp

vanilla extract

pinch

salt

4 1/2

cups

powdered sugar, sifted
Instructions
Baking the Cupcakes
Preheat your oven to 325°F and line a muffin tin with cupcake liners.

Combine all the dry ingredients: flour, spices, salt, and baking powder, in a bowl and whisk to blend. Set aside.

In a large bowl beat the sugars and butter together until blended and fluffy, about 2 minutes on medium speed.

Add one egg at a time, beating each addition into the sugar/butter mixture completely before adding the next one.

Add in the milk and vanilla and beat until completely incorporated as well.

Add the dry ingredients into the wet batter and using a rubber spatula or spoon, fold the flour into the mix. Continue to gently lift and fold, scraping down the sides and bottom of the bowl until all the flour is incorporated and no dry spots remain.

Scoop into the cupcake liners so they're 3/4 of the way full. Place in oven and bake for 18 minutes. When the tops are golden brown and spring back against a gentle touch, or a toothpick inserted comes out clean, remove from the oven.

Take baked cupcakes out of the tin and onto a cooling rack to cool, then repeat with the remaining batter.

Allow the cupcakes to cool completely before frosting or storing. Store unfrosted cupcakes in an airtight container for 2 days at room temperature or in the fridge for 1 week.
Making the Frosting
Beat together cream cheese, butter, salt, and vanilla until well blended and creamy.

Add one cup of sifted powdered sugar at a time, beating between each addition until all the powdered sugar is added and you have a creamy, sweet frosting with no lumps.

Add to piping bag or decorate cool cupcakes as desired.

Store unused frosting in the fridge for 1 week, and store frosted cupcakes in the fridge for up to 1 week. Allow to come to room temp before serving.
Nutrition
Serving:
1
cupcake
Calories:
377
kcal
Carbohydrates:
55
g
Protein:
4
g
Fat:
16
g
Saturated Fat:
10
g
Cholesterol:
88
mg
Sodium:
111
mg
Potassium:
96
mg
Fiber:
1
g
Sugar:
44
g
Vitamin A:
556
IU
Calcium:
49
mg
Iron:
1
mg
Nutrition information and cooking times are provided as a best estimate. Values may vary based upon ingredients and equipment.