White Chocolate Raspberry Cookies
This page contains affiliate links. For more information please read my Disclosure Policy.
These white chocolate raspberry cookies are a simple take on raspberry shortbread cookies that feels gourmet without a ton of work. An easy 6 ingredient recipe that can be made in half an hour and produce raspberry cookies you'd be happy to serve to guests…or keep all for yourself.
Shortbread cookies are my 100% go to cookie. They're SO simple, and if you've checked out my Shortbread Cookie guide post, you know that once you have the ratio down, you can pretty much customize them however you like. This is one of the ways I like.
With just a few additional ingredients, your basic buttery shortbread cookie transforms into an elegant little raspberry cookie drizzled with white chocolate that makes a dessert plate or a holiday cookie box look so much prettier.
Raspberry Flavor
A big component to a raspberry cookie is well…the raspberry. But unfortunately adding fresh raspberries to a cookie as simple as a shortbread can really mess with the texture of the dough.
To maintain the perfect ratio for the shortbread cookies (which creates that buttery texture we want), I used freeze dried raspberries instead. These are not a gourmet item, and you should be able to find them on either a baking aisle, health aisle, or near the dried fruits at your grocery store (Target, Walmart, Trader Joes, and Safeway have all had them!). If you can't find them, you can order them from amazon for just a few dollars. They keep forever so it's worth it!
Ingredients
Alright, let's get down to business. To make some tasty, and pretty!! white chocolate raspberry cookies, you need just a few simple ingredients. I'd wager a lot less than your average cookies!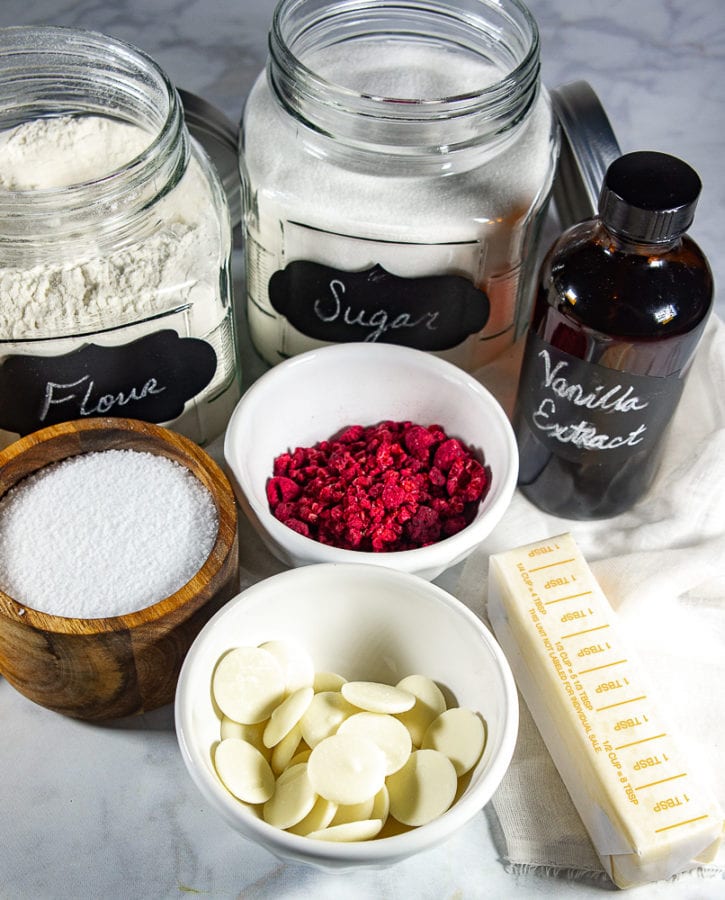 Flour – Just your regular all purpose here folks
Butter – go unsalted, and European if possible (higher fat content = YUM)
Sugar – you'll want white sugar for these, other sugars can be subbed but it will affect flavor and possibly color. (Not stevia or other sugar replacements)
Salt – just a pinch, as always
Vanilla Extract – A baking regular, great for a rounded cookie flavor. (Learn how to make your own vanilla!)
Freeze Dried Raspberries – See above for where to find them, this is the key to the texture of the cookie and the raspberry flavor!
White Chocolate – You don't need much, just a mere 2 ounces!
How to make White Chocolate Raspberry Shortbread
Making shortbread cookies is a really simple process, and these are hardly any more difficult than the classic ones. Just a bit of mixing, cutting, and then baking! After that a quick drizzle of chocolate, and you're ready to eat! This basic recipe makes about 20 1×1 inch cookies, and should only take 30 to 45 minutes, cooling and drizzling included!
Cream softened butter and sugar together in a bowl until light and fluffy. This is essential for the soft texture of the cookies, so don't cut it short! 2 to 3 minutes should do.
Add in the salt and vanilla, then blend briefly until incorporated.
Next add in the flour and stir to combine. When the dough has started to come together, add in the crushed dried raspberries and bring the dough completely together. DO NOT OVER MIX or you'll have crumbly dry cookies.
Turn dough onto a parchment lined surface, or a baking mat (this is baking mat I use, and I LOVE it, seriously use it for rolling out ANY baked good.) Gently roll out dough into a rough square, about 1/4 inch thick.
Using a knife or a bench scraper square off the edges of your dough to make straight even sides. Then cut the square into 20 smaller squares (or as close to that as you can get).
Place cookies onto a baking sheet. If you have a decent amount of dough left, gently reshape and cut more squares if possible. Try not to overwork the dough.
Bake at 350°F for 8 minutes (possibly up to 10, but 99% of the time, 8 mins is perfect). Let them sit on a baking sheet for a few minutes, then transfer to a cooling rack.
While they cool, melt your white chocolate. You can do this in a double boiler, but for such a small amount of chocolate, I prefer just placing it in a microwave safe bowl and heating in 10 to 15 second bursts on half power. Stir between each burst until melted!
Next place your chocolate in a piping bag with a small narrow tip, and slide a piece of parchment or wax paper under your cooling rack (or transfer cookies back to a baking mat). When cookies are cool to the touch, drizzle the cookies with chocolate until you run out!
Let the chocolate set, then transfer to an airtight container for up to 5 days!
Extra Tips
You can shape these any way that you like, I just like the square shapes!
You can also drizzle the white chocolate on using a ziploc bag you've snipped the corner off of, or by making a parchment paper cone, or even just with a spoon!
If you don't want to drizzle, feel free to dip the cookies into the chocolate instead, but this will use a lot more chocolate, double it to be safe!
I often find with shortbread that the dough is more successful when I mix in the flour and add ins by hand. Using a mixer can very quickly lead to overworked dough with such a tender cookie.
FAQ's
How do I know when these cookies are done?
That's tricky with shortbread. Don't bake until they have golden brown edges or they'll be crunchy (unless you like that), instead they should appear set around the edges and feel dry when you gently touch the top. 8 mins should do.
Does it matter which white chocolate I use?
I recommend using a pure white chocolate bar, not a Hershey's cookies and cream for instance. You can also use white chocolate chips or white chocolate melting wafers if that's what you have.

For more info on cooking with chocolate, read my guide here.
How long will these keep?
I've kept these raspberry cookies for a week without any trouble, but I generally advise about 5 days in an airtight container for best quality and texture. They're a great cookie to make in advance!
Can I freeze these?
I always recommend freezing cookie dough unbaked for best quality. Form and cut these cookies then freeze on a baking sheet. Once frozen you can transfer them to an container or freezer bag. Then bake at 350°F for 12 to 14 minutes, and drizzle with chocolate!
I hope you enjoy this recipe, it's one of those easy but addictive types of cookie that just happens to also be pretty to look at! Adding these to your holiday cookie box is an easy win, especially since they can be made a few days in advance. I'd love to hear what you think, and until next time, I wish you Happy Eating!
Other Cookies You may Enjoy
More Desserts to enjoy
White Chocolate Raspberry Cookies
A simple shortbread made elegant with dried raspberries and a drizzle of creamy white chocolate.
Ingredients
2

ounces

granulated sugar

heaping 1/4 cup

4

ounces

butter, unsalted

1/2 cup

1/2

tsp

vanilla extract

1/8

tsp

kosher salt

6

ounces

All purpose flour

1 1/4 cups, plus a tablespoon

2

Tbs

freeze dried raspberries

chopped, or crushed in chunks

2

ounces

white chocolate
Instructions
Cream butter and sugar together until pale and fluffy, 2 – 3 minutes. Add in extract and salt and beat in to mix together.

Add in flour and use a spatula or wooden spoon to begin incorporating. Add in raspberries when dough is mostly, but not completely together.

Continue to mix until dough is completely mixed. Use hands if necessary to bring dough
together without over-mixing.

Roll dough on lightly floured surface (or silicone mat) to a 1/4" thick rectangle.

Use knife to cut dough into squares and move to a baking sheet. Bake for 8-10 minutes. Remove from oven and let cool 2 minutes then move to cooling rack.

While cooling melt white chocolate in microwave in 15 second bursts at half power, mixing between every burst until completely smooth.

Place chocolate into a mixing bag fitted with a small piping tip. When cookies are cool to the touch, drizzle over the cookies. (Can also use a spoon to drizzle but it won't be as uniform.)

Let chocolate set before storing. Store in airtight container for up to 5 days.
Nutrition
Serving:
1
cookie
Calories:
99
kcal
Carbohydrates:
11
g
Protein:
1
g
Fat:
6
g
Saturated Fat:
3
g
Cholesterol:
13
mg
Sodium:
58
mg
Potassium:
19
mg
Fiber:
1
g
Sugar:
5
g
Vitamin A:
142
IU
Vitamin C:
1
mg
Calcium:
8
mg
Iron:
1
mg
Nutrition information and cooking times are provided as a best estimate. Values may vary based upon ingredients and equipment.