Flourless Peanut Butter Cookies
This page contains affiliate links. For more information please read my Disclosure Policy.
These easy, one bowl flourless peanut butter cookies are a dairy-free, gluten free cookie that is quick and delicious. With only 6 ingredients and 20 minutes you can have a batch of soft peanut butter cookies that everyone can enjoy!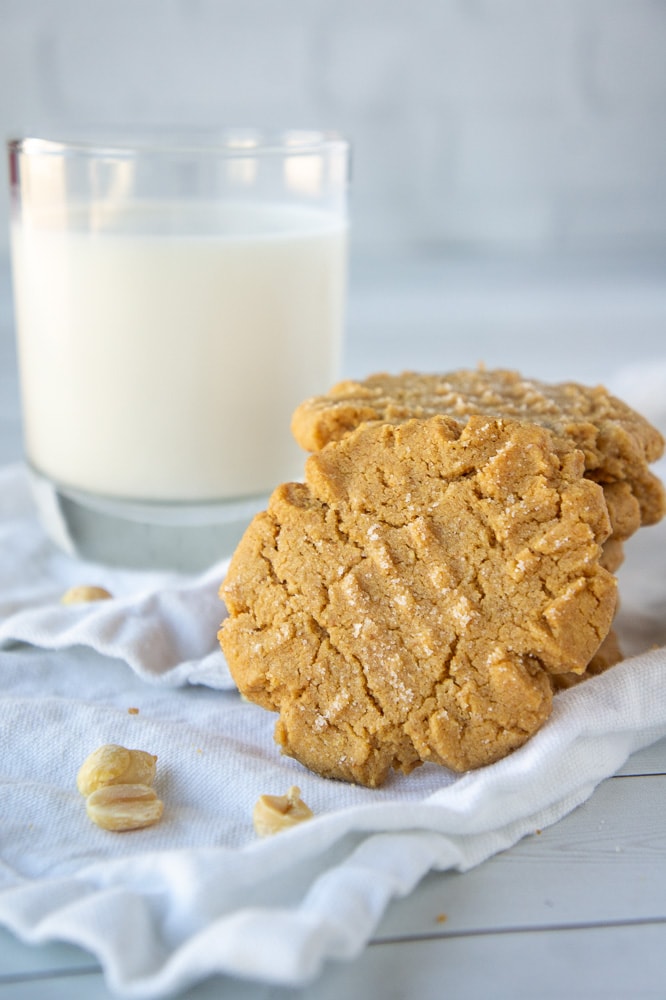 Truth time. This recipe has been in my back pocket for a while. They're delicious, and easily my all time favorite peanut butter cookies (one bowl and 20 minutes, um yea!), but I just never got around to it! With the state of the world currently (writing this during the COVID-19 outbreak), I figured, hey, a 6 ingredient, flourless, dairy free peanut butter cookie might be super welcome right now.
If you are gluten free or dairy free, this will work for you! I've given it out to friends when they're in need of an allergen friendly cookie, and it's been well received, but here's the truth of it…
Even if you love gluten and dairy, you'll LOVE this cookie. It's soft, so quick and easy, and dare I say it, the last peanut butter cookie recipe you'll ever need.
Natural, Homemade, Or Big Brand Peanut Butter
As a quick note, since I highly recommend homemade peanut butter, there are some tips to baking successfully with different types of peanut butter.
Big Brand – I've made this recipe with standard JIF and Skippy peanut butters. The texture is completely fine! As some big brands manufacture sweetened peanut butters, this may result in a sweeter cookie…which isn't really a problem!
Natural – If I buy peanut butter at the store this is what I go with. No added sugar or preservatives, but a good amount of oil separated at the top. This recipe will work with natural peanut butter, but please, please be sure to mix well! You want the oil reincorporated as much as possible before measuring for this cookie.
Homemade – If you follow my how to make nut butters guide (linked above), your homemade peanut butter will work. If you add oil to your homemade nut butter you need to make sure your peanut butter is thoroughly mixed, if it's too oily or thin, you'll have messy, runny cookies.
6 Ingredient Peanut Butter Cookies
There are plenty of 3 ingredient cookies out there, so why use 6? Because they're better. While you can bake an adequate cookie with less, I find that this combo of 6 ingredients is the magic blend that makes not just a good, but a fabulous, delicious, peanut butter cookie that will knock your socks off.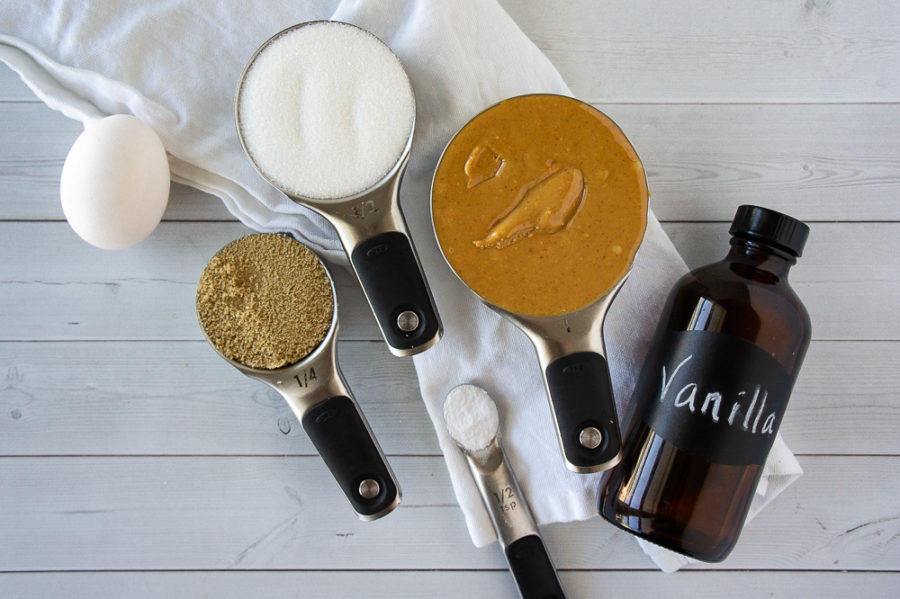 Peanut Butter – Your peanut butter of choice!
White Sugar – Just granulated sugar works best, you'll need maybe a tablespoon extra for sprinkling on top pre-bake
Brown Sugar – A packed quarter cup
Vanilla – make your own vanilla here!
Egg – 1 large egg, or the equivalent liquid egg works just as well!
Baking Soda – Just enough to gift it a teeny rise.
A Note on Salt – I generally add a pinch of salt to my cookies because I like a speck of saltiness in my sweets. Peanut butter often already contains salt and it is by no means a necessary addition to this recipe. However, if you make your own peanut butter without salt, or have one that contains none, or you just like the idea please add a pinch!
How to Make One Bowl Peanut Butter Cookies
One bowl, a hand mixer or stand mixer, and maybe ten minutes max, you're cookies are in the oven no problem. Quick, easy, cookie heaven.
Preheat your oven to 350°F. In a large mixing bowl or the bowl of your stand mixer, measure out your peanut butter, and both sugars. (If you have a kitchen scale, you don't even need to get measuring cups dirty!)
Beat the peanut butter and sugars together until thoroughly combined, maybe a minute or two.
Add in the egg and beat to combine.
Add in baking soda and vanilla (and salt if using) and mix thoroughly. No flour here means no need to worry about overmixing, just mix until the dough can be pressed together and hold it's shape.
Take small balls of dough in your hand and roll between your palms until smooth. Place on a baking sheet leaving an two inches between each cookie.
Place a tablespoon of white sugar into a bowl. Dip a fork into the sugar then press it down on each cookie, creating a cross hatch pattern on the top. Sprinkle with extra sugar because it's delicious.
Bake for 8 to 10 minutes or until set (no longer look wet on top). Remove and let cool on baking sheet for 5 minutes, then remove to a cooling rack.
Store for up to 4 days in an airtight container!
Pro Tip: Pressing the fork down onto the cookies will create a rustic, fragmented edge around them. If this bothers you (you want a perfectly round cookie), press the cookies flat with your palm and then press lightly with the fork to create the cross hatch.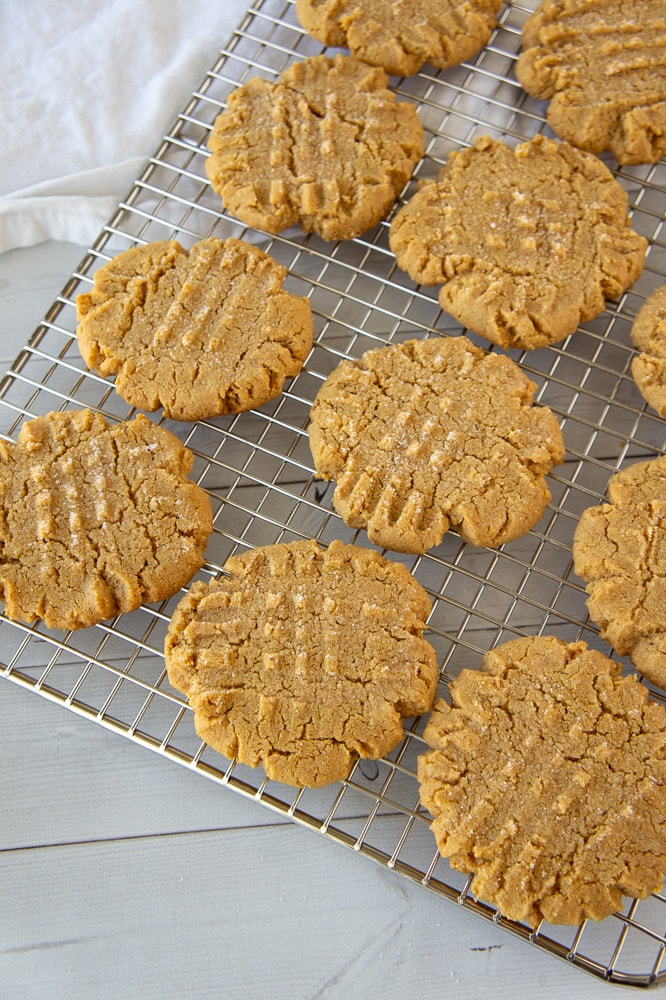 FAQ's
Can these cookies be frozen?
Yes! I recommend forming them to the point of pressing down with the fork so they're flat, then freezing them on a baking sheet lined with parchment paper. Once frozen, place in a bag or freezer safe container. Bake at 350°F for 12 to 15 minutes.
Can I use different nut butters?
Almond butter works great!
Why do I need to create a cross hatch on top of the cookie?
Peanut butter cookies are denser than let's say a chocolate chip. Simply leaving them in ball form won't allow them to bake properly. While the cross hatch is traditional and creates a pretty rustic cookie, you can achieve the same goal by simply pressing them flat.
Can I double this recipe?
Of course, I almost always do!
Can I use an egg replacement?
While I've tested it with liquid eggs (still a real egg product) and it works, I've not been successful using flax egg. Feel free to experiment and let me know the results.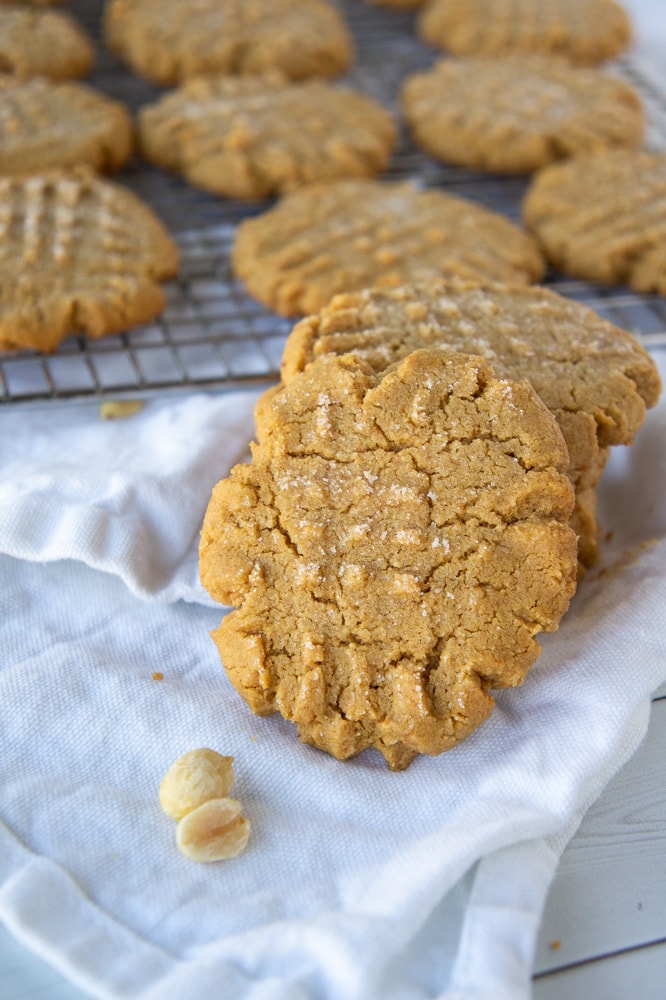 Eat & Enjoy!
These flourless peanut butter cookies are going to be your new go to, I can feel it! It makes about 18 and they get polished off in days in our 3 person household. I hope they satisfy and until next time, happy eating!
If you liked this cookie recipe, you may also enjoy…
Flourless Peanut Butter Cookies
An easy, one bowl flourless peanut butter cookie that bakes up soft and tender with big peanut butter flavor. Quick and delicious every time!
Ingredients
9

ounces

smooth peanut butter*

1 cup

3 1/2

ounces

white sugar

1/2 cup, plus 1 tbs for sprinkling

1 1/2

ounces

brown sugar

1/4 cup, packed

1

large

egg

3/4

tsp

baking soda

1

tsp

vanilla

pinch

salt

optional, see note*
Instructions
Preheat your oven to 350°F and get a large baking sheet out.

In a large bowl or the bowl of your stand mixer add peanut butter and both sugars and beat until thoroughly combined.

Add in egg and mix until thoroughly combined.

Add in baking soda, vanilla, and salt if using, mix until combined and dough comes together. You should be able to press dough together and it hold.

Form one inch balls by rolling dough between your palms. Place on baking sheet, two inches apart.

Place the extra tablespoon of white sugar in a small bowl and dip a fork into it. Press down on the cookies to create a cross hatch pattern. Sprinkle with extra sugar if desired.

Bake for 8 to 10 minutes then remove from oven and let sit on baking sheet for 5 minutes.

Transfer to a cooling rack. Once cool, store in an airtight container for up to 4 days.
Notes
*Big brand, natural, or homemade peanut butters all work. Please be sure to thoroughly mix natural or homemade peanut butters before measuring to reincorporate any separated oil.
*Most peanut butters contain salt. If you have a homemade, salt free peanut butter or want a bit more salt, add a pinch of salt to the dough with the vanilla.
Nutrition
Serving:
1
cookie
Calories:
118
kcal
Carbohydrates:
11
g
Protein:
4
g
Fat:
7
g
Saturated Fat:
2
g
Cholesterol:
10
mg
Sodium:
115
mg
Potassium:
99
mg
Fiber:
1
g
Sugar:
9
g
Vitamin A:
15
IU
Calcium:
10
mg
Iron:
1
mg
Nutrition information and cooking times are provided as a best estimate. Values may vary based upon ingredients and equipment.