Chewy Lemon Poppy Seed Cookies
This page contains affiliate links. For more information please read my Disclosure Policy.
Ah, lemon, the bright citrus splash on your palate. Lemon is a powerful and popular ingredient, and for good reason. It can wake up a sauce, finish that fish just perfectly, and, in this case, balance out the sweetness of a delicious cookie. These chewy lemon poppy seed cookies is actually the very first cookie recipe I ever created and one I happily return too when I start to crave bright refreshing flavors after a long winter of heavy spices.
It was the beautiful result of the experiments I was doing with the basic cookie ratio. Fun fact – there are actually ratios for a LOT of different things. Learning them can free your cooking. It changed my approach from simply following recipes, to creating my own. I love knowing exactly why this chewy lemon sugar cookie bakes the way it does, and how to change it if I want a different result!
If you're interested, there's a book for these magic formulas. It's called Ratio: The Simple Codes Behind the Craft of Everyday Cooking by Michael Ruhlman.
The Cookies
When I started, I had my Great Grandma Ozanne's sugar cookie recipe in my stash and I knew I was aiming for something similar. But, I also knew looking at it wouldn't actually teach me anything. So I baked blind with only the Sugar|Fat|Flour ratio – 1|2|3 – to guide me.
I'm unashamed to admit the first batches weren't perfect. But armed with knowledge of how eggs and leavening agents affect cooking, I was able to adjust and tinker until I had results I liked.
These are perfect chewy but soft lemon cookies, specked with pops of crunchy poppy seed.
The Ingredients + Method
The recipe is remarkably simple. It comes together in a manner of minutes, then hangs out in your fridge for a while before baking.
To get going you'll need sugar, butter, eggs, lemons, flour, baking powder and soda, salt, and poppy seeds.
Part 1 – Wet Ingredients.
These cookies use a very common, and if you've baked cookies before, familiar method – The Creaming Method.
Anytime we start a recipe by beating ingredients together we're aiming to create air bubbles. These are bubbles expand when they hit the heat of the oven, and create a rise that is essential for pleasant textures.
The creaming method, done with solid fat (butter) and sugar, will produce a baked good that has enough air to produce softness but still have a rather dense crumb, or texture. Think pound cake, made with the creaming method, versus angel food cake, made with a very aerated meringue. The textural difference is thanks to these first essential steps.
Which is why it's also essential that you have your butter at the right temp. Melted butter won't create any air, and therefore a hard, flat cookie, and butter too cold won't blend smoothly, leading to inconsistent dough and cookies.
Once you've achieved pale, fluffy butter, add in your eggs, lemon zest, and lemon juice.
Just like that butter, when baking, room temperature eggs are your friends. They incorporate so much better, and can really make a difference in the texture of your dough.
If they're cold when you start, just place them in a bowl, still in the shell, and cover with warm water. By the time you get the butter and sugar all ready, they'll be ready too.
For the zest and juice, I recommend 2 lemons. It takes about two for the right amount of zest, but only one for the juice. With the second zested lemon, you could make a quick vinaigrette for dinner. Check out my post on vinaigrette's here.
On To Part 2: Dry Stuff
Using your kitchen scale dump 15 oz of all purpose flour into a bowl with baking soda, baking powder, and a hearty pinch of salt.
Why both baking soda and powder? The baking soda is there to neutralize some of the acid in the lemon juice. We want the brightness of lemon, not the acidity. A mere quarter teaspoon is just enough.
Adding the double-acting baking powder ensures that after we've chilled the dough to re-solidify some of the fats, the heat of your oven will help these babies rise.
Unless you've added salted butter (which is fine too), do add a good pinch of salt. If using table salt, you'll need less, it's saltier per volume than the kosher salt I use.
Add your dry mixture to the wet ingredients in thirds. You want to fully incorporate the dry and wet, but don't over mix, we don't want tough cookies because we bullied the flour too much.
Once you have a soft, fluffy dough like the picture above, add 1 tablespoon of poppy seeds. I love the color and texture poppy seeds add to baked goods. They're great in cookies, on bagels and homemade buns, or in cakes like this German poppy seed cake. Let the mixer incorporate just long enough to disperse them evenly. That's it. Your dough is complete!
Chill Time
Now it's time to stick it into the fridge for 2 hours minimum. It's fine to simply cover the bowl and pop it in, but I find it so much easier to portion the cookies now – the dough is very soft and scoopable, plus all I have to do is later is place the balls on the baking sheet and bake.
This dough does hold beautifully in the fridge and freezer. Feel free to prep up to 3 days early if storing the dough in the fridge.
If you're like me and will eat the whole batch if you make it, save yourself the cookie shame and freeze some of the dough now. Simply portion scoops onto a cookie sheet and pop it into the freezer uncovered. When the dough is frozen, toss the cookie balls into a freezer safe container.
The dough will hold for 3 months in the freezer, and it means whenever you have a cookie craving, you can pop one or two into the oven for a fresh baked cookie every time. Just add a few minutes to your bake time!
At Last…The Baking!
Once your dough has chilled, preheat your oven to 350°F and pull out two metal baking sheets.
I do really recommend two sheets. One batch goes into the oven, comes out, and the cookies cool while the second batch goes in. The cookies need about 5 minutes before moving to a cooling rack, so one pan means more waiting between batches.
If you like a softer cookie, pull them out just before the edges start to brown. If you're like my husband and like a crunchy edge to your sugar cookie, pull them out when you can see just a bit of golden peeking out from the bottom. Don't overbake them! They'll be puffy and domed, this is what you want!
As these chewy lemon sugar cookies cool, the dome will deflate. Don't panic. This sinking middle creates that irresistible chew that we're looking for.
Once cooled store them in an airtight container and they'll be good for a week at room temperature. If they last that long.
Try Chewy Lemon Poppy Seed Cookies for yourself!
I hope you'll enjoy these cookies, really. That light lemon kiss to the sugary cookie is addictive. I also hope you're inspired to experiment! Baking doesn't have to be the 'get it exact or fail' process that home cooks fear. Precise measurements ensure a consistent result, but changing the ratio doesn't automatically mean failure, it can just mean different.
So head to the kitchen and whip up these really tasty Chewy Lemon Poppy Seed Cookies or maybe, a new cookie recipe of your own!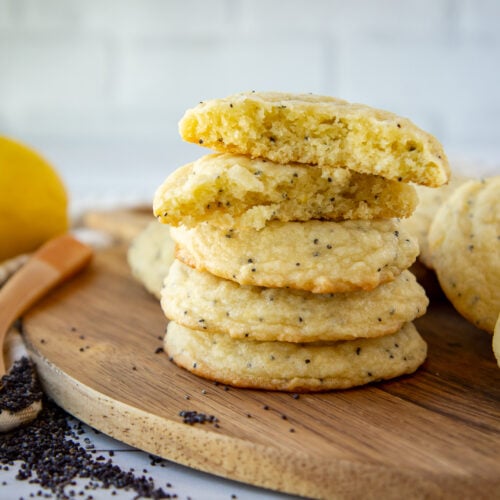 Lemon Poppy Seed Cookie Recipe
A chewy and soft cookie made with a sugar cookie style dough enhanced with poppy seeds and fresh lemon.
Ingredients
454

grams

granulated sugar

2 cups

220

grams

butter

softened (2 sticks)

2

teaspoons

lemon zest*

2

Tablespoons

fresh lemon juice

2

large

eggs

424

grams

All-purpose flour

3 1/4 cups, spooned and leveled

1

Tablespoon

baking powder

1/4

teaspoon

baking soda

1/2

teaspoon

salt

only if using unsalted butter

1

Tablespoon

poppyseeds
Optional Lemon Glaze
2

tablespoons

lemon juice

1

cup

powdered sugar
Instructions
Cream softened butter and sugar on medium speed with a hand or stand mixer for 3 minutes.

Add two tablespoons of lemon juice, 2 teaspoons of lemon zest, and 2 eggs to the creamed mixture and beat until thoroughly combined, about 1 minute.

In a separate bowl combine the flour with the baking powder, baking soda, and salt and give it a quick stir to combine.

Add the flour mixture to the wet ingredients in thirds, mixing gently (folding) between each addition until just combined. Add the poppy seeds in with the final addition of flour.

Chill the dough for 1-48 hour(s).

Preheat your oven to 350°F and line two baking sheets with parchment paper or silicone baking mats.

Use a medium (2 tablespoon or smaller) cookie scoop to portion cookies onto one baking sheet every 2 inches. Return the remaining dough to the fridge.

Place the sheet on the middle rack in your oven and bake for 12-13 minutes, or until the very bottom edge is just starting to brown.

Let the cookies cool on the baking sheet for 5 minutes while you portion cookies onto the second sheet. Then transfer baked cookies onto a cooling rack. Repeat the rotation until all the cookies are baked.
Lemon Glaze Instructions
Make the glaze by whisking the lemon juice into the powdered sugar. Add more lemon juice if it's too thick to drizzle, or more powdered sugar if it appears watery.

When cookies are completely cool use a fork or piping bag to drizzle the glaze over the top.

Let set for 1 hour before transferring to a storage container.

Store glazed or unglazed cookies in an airtight container on the counter for up to 5 days.
Notes
*You'll need two lemons for the correct amount of zest, but only one to get the correct amount of juice for the cookie dough. Use the extra juice to make the optional glaze if desired.
*If using volume measurements (cups), please be sure to fluff the flour and spoon it into your measuring cup, then level the top with a knife to ensure accurate measurements.
*Use two baking sheets to speed the time it takes to bake all the dough and allow each batch to cool on the pan, which is important for them to set correctly.
*Avoid very large cookies, the edges will bake too fast and you'll have underbaked middles.
Nutrition
Serving:
1
cookie
Calories:
159
kcal
Carbohydrates:
26
g
Protein:
2
g
Fat:
6
g
Saturated Fat:
3
g
Polyunsaturated Fat:
0.4
g
Monounsaturated Fat:
1
g
Trans Fat:
0.2
g
Cholesterol:
24
mg
Sodium:
86
mg
Potassium:
57
mg
Fiber:
0.4
g
Sugar:
16
g
Vitamin A:
173
IU
Vitamin C:
1
mg
Calcium:
24
mg
Iron:
1
mg
Nutrition information and cooking times are provided as a best estimate. Values may vary based upon ingredients and equipment.