This page contains affiliate links. For more information please read my Disclosure Policy.
This heritage recipe for Crisco sugar cookies was passed down from my great grandmother and always, without fail produces sweet, soft, sugar cookies. Sugar cookies with shortening make perfect cut out cookies, and can be colored and decorated as gorgeous cookies for Santa.
Today I'm sharing a true family heirloom recipe. My great grandma first made these Crisco sugar cookies and handed it down to my mom, who handed it down to me. These are the sugar cookies I grew up eating every single Christmas, it's the recipe I used to impress my husband before we were dating (it worked!), and I'll be baking these as our cookies for Santa as my son grows up.
Crisco cookies aren't as common now as perhaps they were in my great grandmother's generation, but they're absolutely, hands down, the most perfect sugar cookie I've had. And yes, I've tried others! They're soft, tender, and perfectly sweet. You can color the dough, add sprinkles, or frost them, and even though they're usually a holiday cookie for us, you can cut them out for any occasion.
To put it succinctly, I usually make a double batch (like 40 cookies) and they're gone within three days. If you want a sweet, delicious sugar cookie this year, give these a go.
Why Shortening?
Shortening is a vegetable based fat that can replace butter in baking. It's no secret that it isn't the healthiest product…but since we're talking about cookies, it's kind of a moot point!
In baking shortening can produce a tender, softer product, especially in cookies. It also has a higher melting point than butter, meaning it can be easier to handle when rolling out and can stand up to the heat of the oven without spreading so quickly.
I keep shortening in my cupboard almost exclusively for this recipe, if you have it give it a try, it's a delicious cookie!
Ingredients
There's nothing crazy or difficult about the ingredients needed to make Crisco cookies, in fact I think it's easier than a butter sugar cookie – no softening required!
Shortening – By the name of this recipe you can assume I use Crisco, but I'm sure other shortenings exist. You don't need to get butter flavored, just plain old shortening.
White Sugar – the sugar in sugar cookies! Use granulated white sugar. I have not experimented with other types, and I can't say how they'll work.
All-purpose flour – Just the basics here guys, don't mess with simplicity when it works!
Eggs – just large eggs!
Milk – you can use whatever milk you prefer, though non-dairy milk will affect flavor.
Vanilla – learn how to make your own for baking! It's an essential ingredient.
Baking powder – the leavening agent needed for the soft, tender cookie.
Salt – just a pinch for flavor.
Optional Ingredients
In my house we don't like our sugar cookies layered with icing from edge to edge, but that's really a personal preference! I prefer to instead dye some of my dough as a quick and easy way to bring festivity to my cookie without making them super sweet with frosting. Here are some additional ingredients you may need depending on how you want to decorate your crisco cookies.
Orange zest – The original recipe calls for a bit of orange zest, I almost never have an orange on hand when I bake these so I leave it out. If however you like a bit of orange in your cookies, go for it!
Food dye – for colored sugar cookies just add food safe dye directly to the dough. I used the standard liquid food dye you would use for Easter eggs and it works perfectly. You can also use a number of gel food colorings with great success.
Sprinkles – An easy, go-to decoration in my house. There are years I just dust them with green sparkles and call it a day! They're a particularly fun decoration if you're baking up cookies for Santa with your kids!
Powdered sugar, corn syrup, milk, and vanilla extract – If you like iced sugar cookies you'll need these ingredients to whip up the icing I use. I like just a modest amount of icing to sparsely decorate cookies but the icing recipe I use will certainly work for heavier decorations!
I use the Sugar Cookie Icing recipe from Melissa at Mamagourmand. It's an easy icing that hardens nice and glossy and for a reluctant icing user like myself, has been the easiest, fool proof recipe that looks good and tastes great. Check it out HERE for the specific amounts and recipe.
How to Make Crisco Sugar Cookies
The process of making a cut out sugar cookie recipe is the same as many standard cookie recipes. By use of the creaming method, you get a soft cookie dough that bakes into an equally soft cookie!
Read more about the creaming method in my Guide to Quick Breads.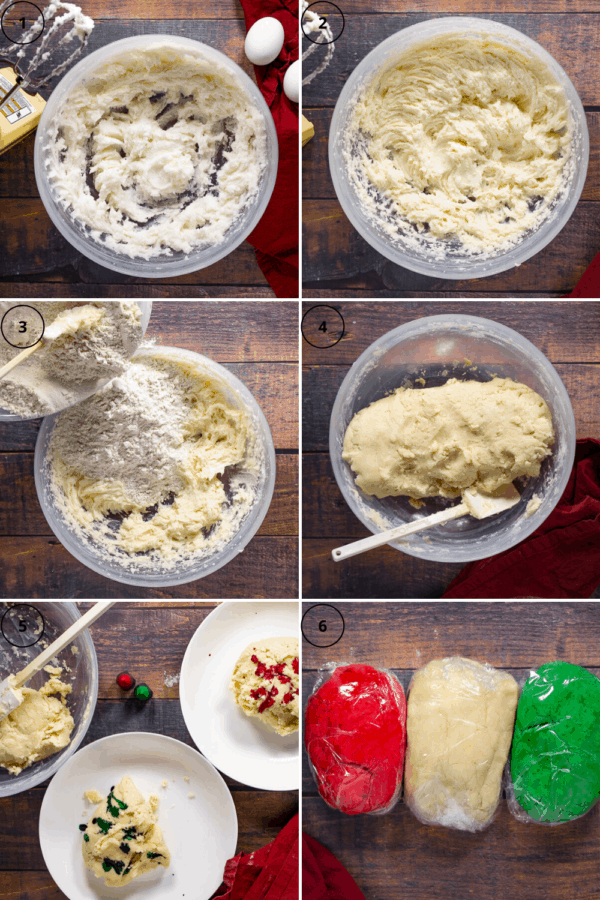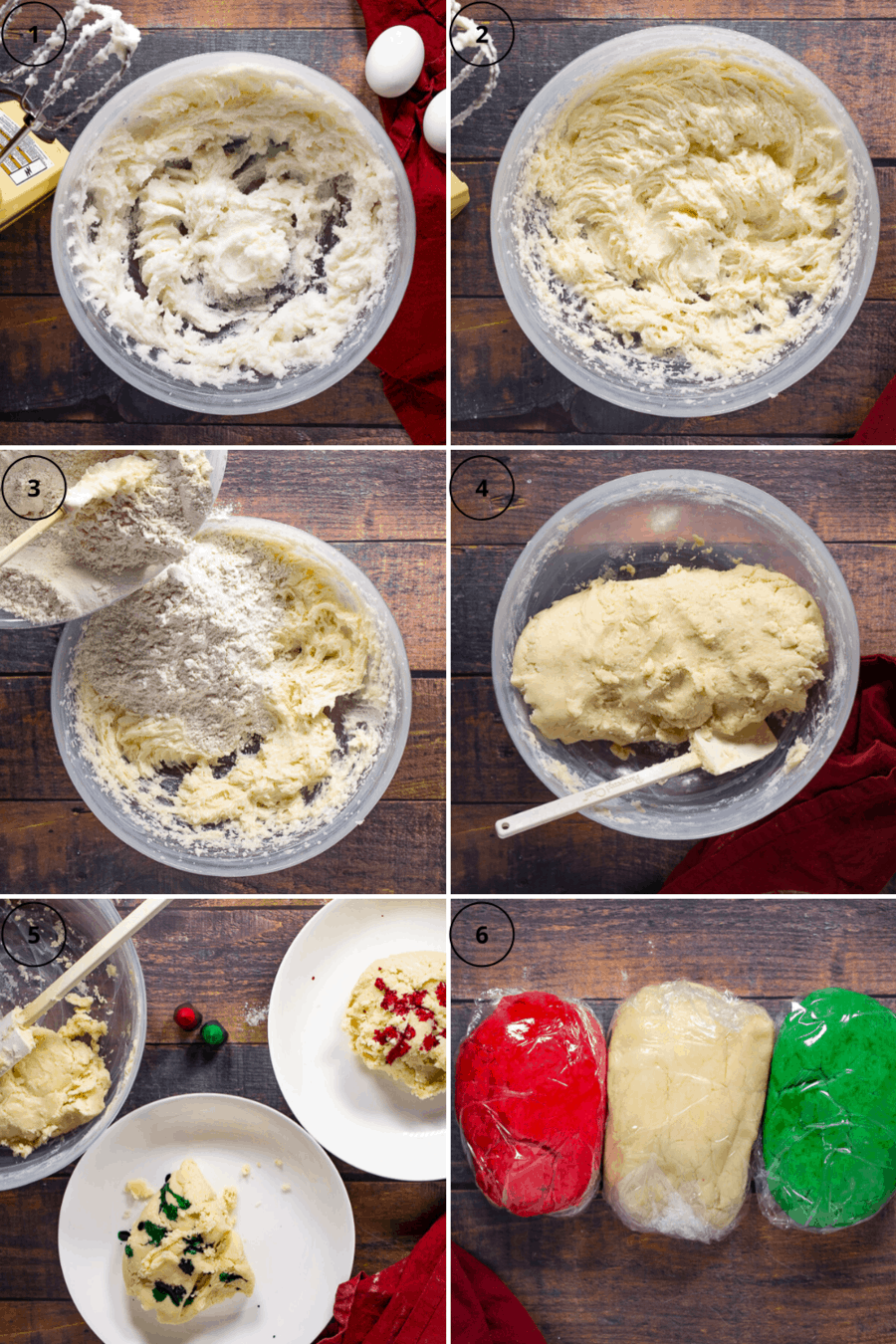 Make your dough
Start by creaming your shortening, vanilla, and sugar together in a large bowl. You really want your sugar to be completely blended in, so give it two to three minutes on medium high speed. I usually use a hand mixer for this, but a stand mixer works just as well.
Next add your eggs. You start incorporating some air here so beat until creamy and fluffy, another 2 to 3 minutes.
In a separate bowl, go ahead and sift together your flour, baking powder, and salt. Once that's done add it into your sugar/egg mixture. You can add it all at once.
Gently mix the dough until all the flour is incorporated. Try not to overmix the flour at this point. I generally do this with a rubber spatula until it begins to come together then finish it by hand. If you choose to use your mixer, mix on low and be sure to pause and scrape the sides often.
If you're leaving the dough as is, separate it into thirds and wrap it up in plastic wrap and place it in the fridge. If you're making colored sugar cookies like I do, then separate your dough into however many chunks you need. Add your dye into the dough and gently work it in until evenly colored. It usually takes between 30 to 40 drops for the colors I want.
Wrap each chunk in plastic and place in the fridge for one hour. This allows the dough to relax and come together. Colder dough also means less spreading of cut out cookies in the oven, so better shape!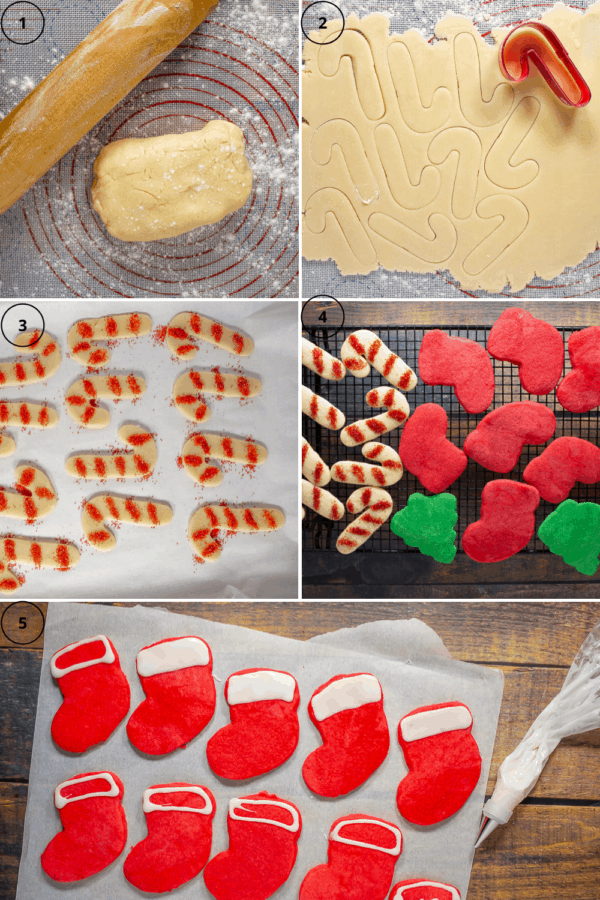 Bake & Decorate
Once you're dough has chilled, go ahead at get ready to roll it out and bake.
Preheat your oven to 350°F and line a baking sheet with parchment paper. Sprinkle a clean dry surface, or a non stick baking mat, lightly with flour and roll out one chunk of dough with a lightly floured rolling pin to between 1/4″ to 1/2″ thick.
With your cookie cutters of choice, begin cutting out the dough. If your cookie cutter sticks at all to the dough, just lightly dip it in flour.
When you've cut out as many cookies as possible, peel away the excess dough and set aside. Then using a lightly floured, thin spatula transfer cut out sugar cookies to a baking sheet. If you're using sprinkles, add them now.
Bake for 7 minutes. They will appear underbaked, but when the edges are set and the tops no longer appear wet, they're done. 7 minutes is usually perfect. Cool on your baking sheet for a minute, then transfer to a cooling rack. Repeat with remaining dough.
Once cool either store, or go ahead and mix up your icing and decorate. I use a piping bag, a small straight piping tip, and a piece of parchment paper to keep the mess contained. Let the icing set (anywhere from 30 mins to a few hours), then store.
Store your cookies in an airtight container for up to 7 days. Layering the cookies between wax or parchment paper can prevent sticking of icing.
Bonus Baking Tips
If you like thinner, crispier sugar cookies (like my husband) roll it to closer to 1/8″ thick. It will be delicate, so transfer to a baking sheet carefully. They will brown slightly during baking.
If you like soft cookies…Do NOT bake until golden brown or you'll have crunchy cookies instead of soft sugar cookies.
Try to avoid excessive flouring of the rolling pin, the work surface, or cookie cutters. It can cause the dough to become too dense and lead to dry cookies.
When re-rolling out your remaining dough, don't knead it, just press together gently with your fingers and roll until flat and smooth.
The number of cookies you end up with will vary depending on the size of the cookie cutters you use (I get way more candy canes than trees for example.)
Using two baking sheets can speed up the process, and prevent melting cookies.

If using one cookie sheet, the sheet can remain hot and lead to puffy cookies in the oven (the dough gets hot before it gets baked), to prevent this place your next batch of cookies on a separate sheet of parchment paper and slide onto the baking sheet then place immediately in the oven.
FAQ's
Can I substitute butter?
There are TONS of butter based sugar cookies out there, but for this recipe no. I have tested this and the flavor and texture is simply not as good. This recipe is specifically for Crisco, or shortening based sugar cookies.
My Sugar cookies taste like flour…
This usually occurs when too much flour has been added to the dough during rolling out, or too much flour has been added during the mixing. Measure flour by spooning it into your measuring cup and leveling it, and be sure to only lightly sprinkle your work surface and rolling pin.
Why did my cookies puff up?
This usually happens when your dough isn't cold enough. This can be prevented two ways.

– Keep dough chilled and roll out separate chunks. I can usually roll out two baking sheets worth before the dough is too warm.
– Don't let unbaked cookies sit on a warm baking sheet. See the final tip in the Bonus Baking Tips above.
Can I freeze crisco sugar cookies?
Yes! You can freeze either cut out, unbaked sugar cookies, baked sugar cookies, or decorated sugar cookies. Freeze on a flat baking sheet until stiff, then store in a freezer safe container.

To bake unbaked frozen cookies, add a few minutes to the bake time.
Do I have to chill the dough?
Because shortening does not melt as quickly or at as low a temp as butter, you may think you can skip this step. I don't recommend skipping it.

Chilling your dough allows for the cookies to set during the baking process before the shortening melts, which means a better shape retention of your cut out shapes.
Will flour show up on my colored sugar cookies from rolling them out?
No, any flour that appears on the dough during the cutting and rolling process will disappear when baked.
My cookies are crunchy, why?
They have been over baked or rolled too thin. Pull from the oven when the edges have set and the top of the cookies are no longer wet looking. They will not be firm to the touch, and the edges should not be golden brown.
Can I half this recipe?
Yes! This recipe is technically for a double batch, but since I NEVER bake a single, and they ALWAYS disappear, I figured I'd share the recipe for the amount I usually wind up making during the holiday season.
Enjoy Making your Cookies for Santa!
I hope you and your loved ones get as much enjoyment out of this recipe as my family has. It's the perfect sugar cookie in my opinion, and I guarantee that they'll disappear at a shocking speed. However you choose to decorate, or if you choose not too, they're delicious no matter what!
But don't Forget the Other Holiday Cookie Occasions!
We usually whip these up in December, but they really do work for any decorated cookie occasion like Valentines, Easter, or Halloween. Just switch up the cookie cutters and colors, and they can be whatever you like!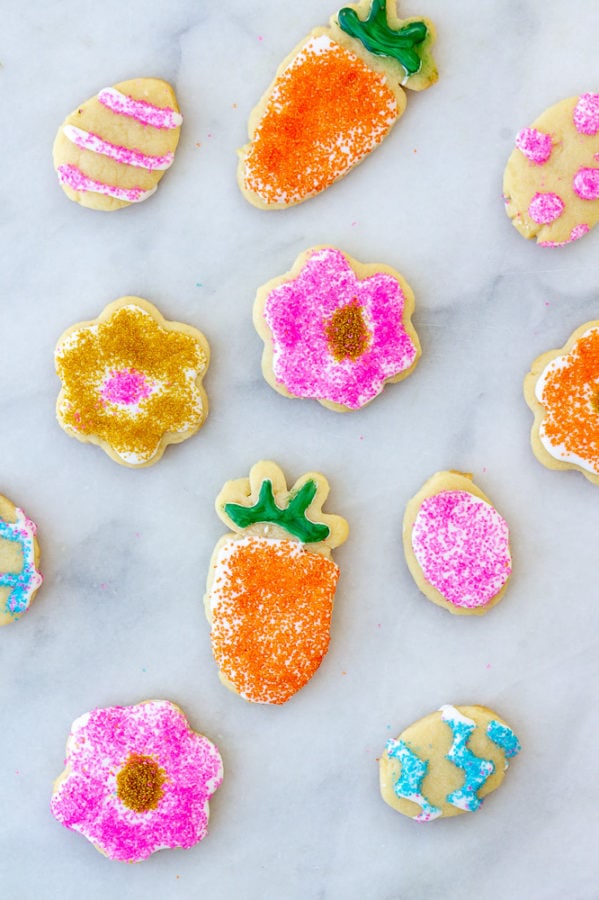 Other Holiday Desserts you may enjoy
Homemade Food Gifts
Crisco Sugar Cookies
Soft, tender sugar cookies that can be colored or decorated and store for up to a week. The perfect cookies for Santa!
Ingredients
1 1/3

cup

Crisco

shortening

1 1/2

cup

sugar

granulated, white

2

tsp

vanilla extract

2

large

eggs

2 2/3

tbs

milk

2 tbs, plus 2 tsp

4

cups

all purpose flour

3

tsp

baking powder

1/2

tsp

salt

1

tsp

orange zest

optional
Instructions
Mixing Instructions
Thoroughly cream shortening, vanilla, sugar, and orange zest if using in a large bowl. 2 to 3 minutes.

Add eggs and beat until light and fluffy, about 2 to 3 minutes. Beat in milk until combined.

In a separate bowl sift together flour, baking powder, and salt.

Stir the flour mixture into the shortening mixture gently until it begins to come together. If not adding color, continue to mix gently until the dough is a soft ball. Then separate into a few chunks, wrap in plastic and refrigerate 1 hour.

If adding color, separate the dough into separate bowls, one for each color. Add in food coloring and mix gently until full incorporated and then wrap each in plastic and chill for 1 hour.
Baking Instructions
After 1 hour, preheat oven to 350°F and line two baking sheets with parchment paper.

Lightly dust a clean surface with flour and take one chunk of cookie dough from the fridge. Lightly dust a rolling pin with flour and roll dough out to between 1/4" – 1/2" thick.

Use desired cookie cutter to cut out shapes, try to get as many cookies out of each roll as possible. Then peel away excess dough and use a lightly floured thin spatula to transfer cookies to baking sheet.

If decorating with sprinkles, add at this stage.

Bake in oven for 7 to 8 minutes. While the first batch is baking, bring together remaining dough and roll out next batch, cut out and place onto second baking sheet.

Remove cookies from oven, the cookies will appear under baked and be very soft to the touch. Do not bake until golden brown or they won't be soft.

Let cool 1 minute on baking sheet then transfer to a cooling sheet to finish cooling.
Optional Decorating Instructions
If you want to ice your cookies, mix up chosen cookie icing (I've linked the one I use both in the post and below).

When cookies are completely cool, place on a sheet of parchment paper or wax paper and fill a piping bag fitted with a narrow straight tip with your icing.

Ice around the edges of cookie then fill in in whatever pattern makes you happy!

For all cookies, decorated or not, store in an airtight container for up to a week. Wait until icing is completely dry before storing, and place wax or parchment paper between layers of cookies to prevent sticking.
Notes
Get the cookie icing recipe I use here.
*If you prefer crisper cookies, roll thinner and bake for the same time. They will brown slightly on the edges.
*If you only have one baking sheet, simply place next batch on a sheet of parchment paper and slide onto baking sheet after you take the first batch off.
Nutrition
Serving:
1
cookie
Calories:
141
kcal
Carbohydrates:
17
g
Protein:
2
g
Fat:
7
g
Saturated Fat:
2
g
Cholesterol:
11
mg
Sodium:
34
mg
Potassium:
49
mg
Fiber:
1
g
Sugar:
8
g
Vitamin A:
17
IU
Vitamin C:
1
mg
Calcium:
18
mg
Iron:
1
mg
Nutrition information and cooking times are provided as a best estimate. Values may vary based upon ingredients and equipment.