This post and recipe was created for #HalloweenTreatsWeek! I was sent samples by some of our sponsors but as always opinions are 100% mine.
This page contains affiliate links. For more information please read my Disclosure Policy.
This elegant pumpkin layer cake is two layers of fluffy pumpkin spice cake frosted with a vanilla mascarpone buttercream and decorated with Marzipan pumpkins and gold sprinkles. It's a homemade showstopper perfect for your adult Halloween parties, or any autumn themed get together.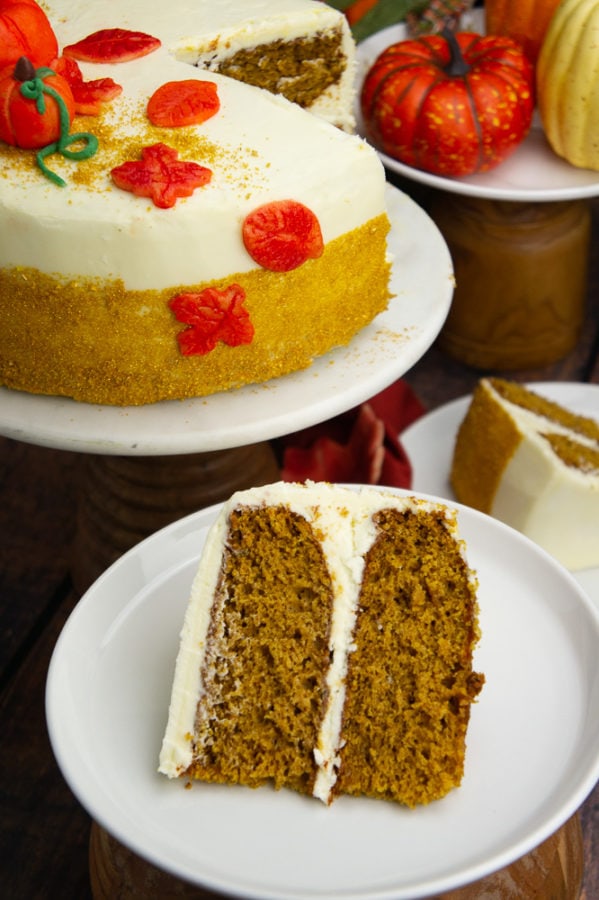 When this time of year comes around, it's pretty hard to resist that pumpkin bread craving. So when I was playing around with the idea of a sophisticated cake for the season, I knew capturing the essence of pumpkin bread in a light and tender cake was something my fellow foodies would love.
Thanks to the simple but effective angel food cake mixing method, that light cake is achieved. Coat that in a just sweet enough mascarpone buttercream and some fairly easy homemade decorations, and you have a from scratch pumpkin layer cake you'll be happy to slice and serve to guests, whatever the occasion.
Ingredients
This recipe uses all the same ingredients as my Pumpkin Cupcakes with Maple Frosting, but in a larger volume to achieve two perfect 9 inch cakes.
Flour – All purpose works very well here!
Spice Blend – I use my go to combo of cinnamon, clove, nutmeg and allspice. It's the magic combo in my spice shortbread and pumpkin slice and bake cookies!
Sugar – Brown and white sugar create balance in this cake. Don't forget to look for my sponsor, Dixie Crystals sugar when you're stocking up for this recipe!
Pumpkin Puree – It's pretty hard to make without this! Feel free to use homemade, just make sure it's well drained first.
Oil – I find that neutral canola or vegetable oil works best with pumpkin based baked goods for a lighter end result.
Vanilla – Learn to make your own vanilla for the biggest, best flavor (also a great DIY gift!)
Eggs – Yes you need 6 room temperature eggs for this. The egg white creates the air in the cake, so it's essential you don't short change this!
Take a look more spooky Halloween recipes from our #HalloweenTreatsWeek Bloggers today:
Halloween Cookies & Bars:
Halloween Cakes & Cupcakes:
Halloween Brownies:
Halloween Bread:
Halloween Drinks:
Sweet Halloween Treats:
Savory Halloween Recipes:
Buttercream & Decoration Ingredients
The buttercream I used for this isn't complex at all, and the flavor pairs so well with the spiced pumpkin cake. You can of course use whatever makes you happy, but I highly recommend a mascarpone buttercream! If you're interested in making the decorations like mine, find details on that here too.
Softened butter – make sure it's unsalted! A high quality butter (less water) always tastes best.
Mascarpone – You'll need quite a bit of this, it creates a luscious creaminess and makes the frosting very white.
Vanilla
Powdered Sugar
Marzipan – I find this in the baking aisle, right near the baking soda and powders usually. Or you can totally make your own.
How to Make a Pumpkin Layer Cake
As with any decorated layered dessert, there are many steps to arriving at the final product. Even though this is a project, none of it is difficult, so long as you follow the steps and take your time.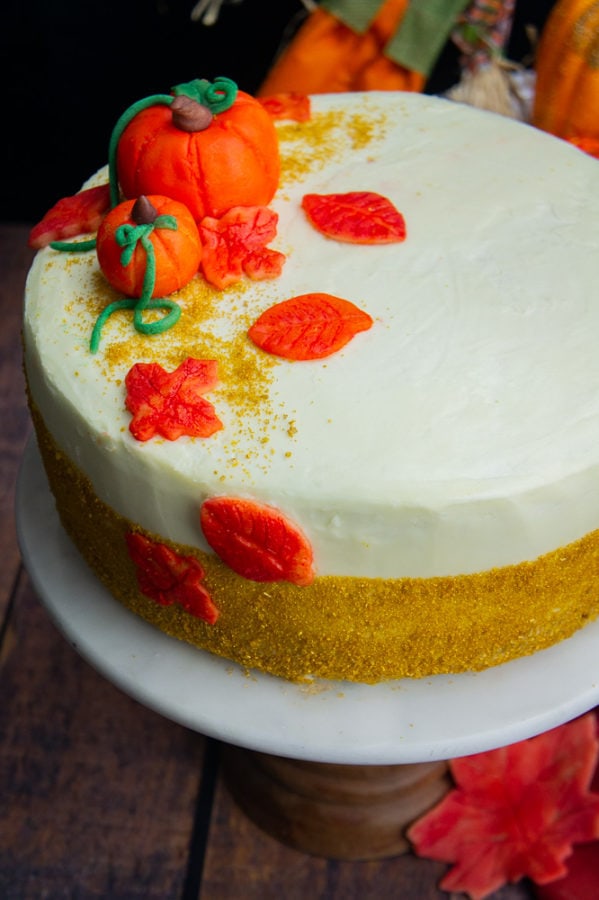 Baking Pumpkin Spice Cake
One of the biggest challenges with pumpkin cake is the texture. It wants to be dense and moist like pumpkin bread. In order to make it as cake-like in texture as possible, I put as much air into as I could by combining chemical leavening and stiff egg whites.
Make sure you sift your dry ingredients after measuring, this makes the flour easier to incorporate.
Have your oven preheated and cake pans greased and floured before you start so there's no waiting when you're ready to bake.
Fold the egg whites in very gently, this may take some time, but you want the batter to be as light as possible.
I let the cakes cool upside down since I knew I would be stacking them this way. This takes advantage of the flat bottoms for frosting.
Making your Frosting
There isn't much to this mascarpone buttercream, it's as simple as making your typical American style one.
Beat the butter with the mascarpone and vanilla until well combined.
With your mixer on low, add the sifted powdered sugar 1 cup at a time until all is added. Then turn up your mixer to medium for a minute or so, until light and fluffy.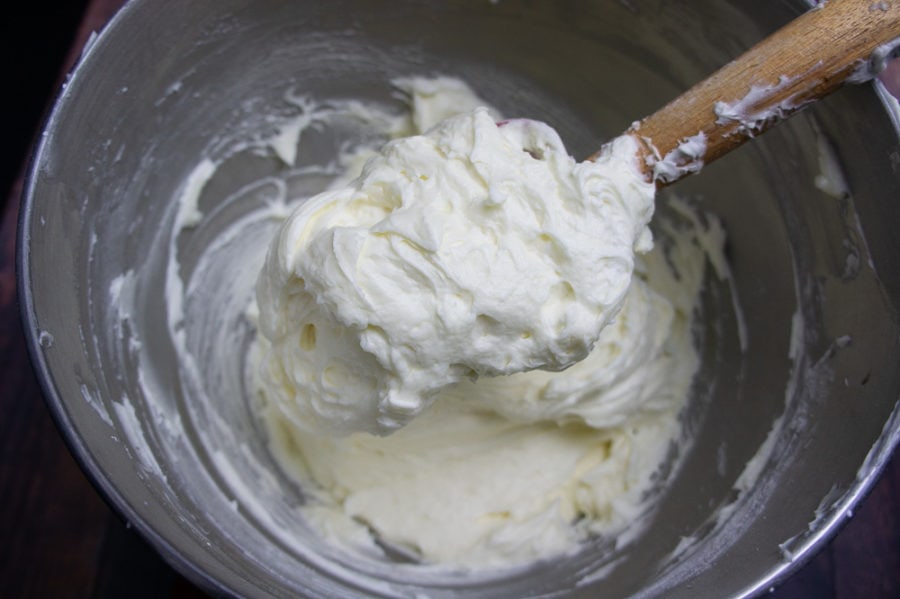 Layer & Decorate
Once your cakes are cool (you can put them in the fridge or freezer to speed this along) you're ready to stack and decorate. Here are all the tips and tricks you need for making this as smooth as possible.
Use a lazy susan cake decorator if you have one, or an elevated surface you can work around if you don't.
Work on top of parchment paper or wax paper you can easily pull away for easy clean up of frosting smears later.
You can level the cakes if necessary by using a knife or a cake slicer, but I simply flipped them over so the level bottoms of the cake were my working surfaces.
Start by frosting a border around the diameter of your bottom layer, then fill it in with frosting. I did this with a piping bag with no tip, and frosted my border a bit higher than the middle to ensure the flipped top cake sat level.
Add the top cake layer, then apply a thin coat of buttercream all around it. Don't worry about cake peeking out, this is just the 'crumb coat' or base coat.
After the first 'crumb coat' of frosting, pop the cake in the fridge to chill. This sets the frosting and allows the top layer to go on smoothly.
While your cake is chilling, work on your marzipan decorations! I used small leaf cookie cutters, fondant tools for making the indents on the leaves, and rolled the vines out by hand.
For the pumpkins, shape two marzipan balls, then press your thumb and forefinger along the top and bottom to create the pumpkin shape. Gently use a knife or fondant tool to create the indents.
Brush all the decorations with colored food powder and set aside for decorating.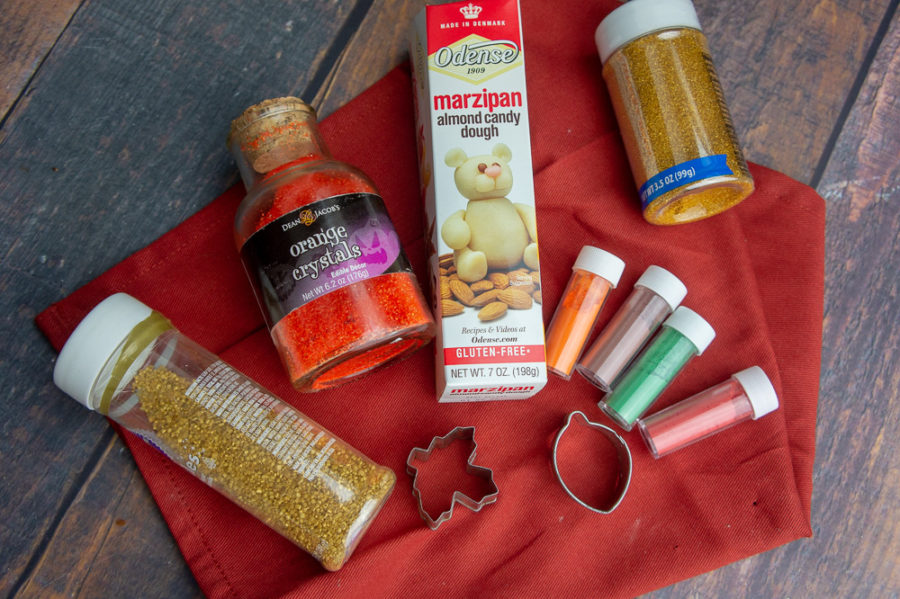 When your cake is chilled add the final layer of frosting, apply it heavily and use an offset spatula or cake scraper to smooth it out. I found warming my tools under hot water helped create the smoothest finish. Be sure to dry them before touching the cake!
For the sprinkle ring, gently wrap a strip of parchment or wax paper around the top of the cake then press the sprinkles against the bottom half. This is messy, so best to do it over a baking sheet to catch sprinkles. (you could also use orange sprinkles!)
Remove the parchment, spread some sprinkles as 'dirt' on the top of the cake and arrange your pumpkins and leaves! Chill until 30 minutes before you're ready to serve!
Storage, Freezing, & Variations
When all is said and done and you and your guests have enjoyed a hearty slice of your gorgeous pumpkin layer cake, what about leftovers?
Good news, cake freezes incredibly well. Freeze wedges or individual slices. I recommend about 3 to 4 months at most.
You can also freeze before frosting if you prefer to get the cakes baked weeks in advance of when you plan to decorate.
To store short term, keep it covered in the fridge once frosted. A mascarpone buttercream is not good at room temp for longer than an two hours.
If you're wondering about using different flavors or extracts, here are a few variation suggestions I thought of while testing!
Swap maple for vanilla for a maple pumpkin cake, or for a maple mascarpone frosting.
Use different spices like ginger, star anise, or cardamom for a fun twist.
Dye part of your frosting and create a beautiful ombre cake with Halloween colors.
Make the top cute with candy corns, candy pumpkins, or other festive candy!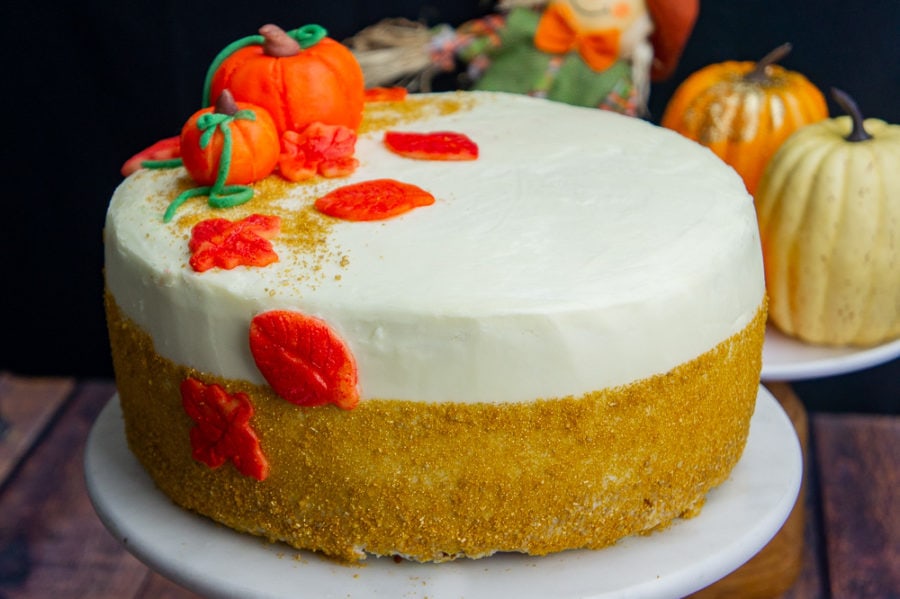 I hope you have fun making, and of course more fun eating, this pumpkin layer cake. I was quite happy with how it turned out. Especially considering I'm as far from a professional as it gets. This is truly a homemade layer cake that anyone can make. It's perfect for any fall occasion or Halloween party. Let the season inspire you, and get your bake on!
While you're here, don't forget to check out these other fall baking ideas!
Pumpkin Spice Layer Cake
Fluffy pumpkin spice cake with mascarpone buttercream and marzipan decorations make a beautiful fall or Halloween cake.
Equipment
Small leaf shaped cookie cutters

Offset spatula
Ingredients
Cake Ingredients
12

ounces

all-purpose flour

1

tablespoon

baking powder

1

teaspoon

baking soda

2

teaspoons

cinnamon

1

teaspoon

nutmeg

1/2

teaspoon

allspice

1/2

teaspoon

clove

12 1/2

ounces

pumpkin puree

1 1/2 cups

6

ounces

oil

3/4 cup

8.5

ounces

white sugar

1 1/2 cups

8.5

ounces

brown sugar

1 1/2 cups

6

large

eggs

1

tablespoon

vanilla extract
Mascarpone Buttercream
12

ounces

mascarpone, room temperature

1 tub

12

ounces

unsalted butter, room temperature

1 1/2cups

24

ounces

powdered sugar

5 1/4 cups

1

tablespoon

vanilla extract
Optional Fall/Pumpkin Decorations
7

ounces

marzipan

4

ounces

gold sanding sugar

Green, Red, Orange, and Brown powdered food dye
Instructions
Bake the Cakes
Preheat your oven to 350°F and move a shelf to the upper 1/3 of your oven. Grease and flour 2 9 inch cake pans. Lining the bottom of the pans with parchment is recommended.

Start by sifting the spices, baking soda and powder, and flour into a small bowl. Set aside.

Separate the eggs. In a large bowl beat the egg whites until their stiff and fluffy, this is easiest with a stand mixer on medium high speed with the beater attachment.

In another bowl, beat together the pumpkin, oil, and sugars until well combined, add the egg yolks and vanilla and beat to combine until well mixed.

Fold the flour into the pumpkin mixture, once the flour is combined, add the egg whites half at a time, folding them gently into the batter. The batter should increase in volume and lighten in color.

Pour into prepared pans and bake for 35 – 40 minutes, or until the cake springs back to the touch, or a cake tester comes out clean.

Let cool 10 minutes in the pan, then flip onto a cooling rack and remove pan to allow faster cooling.
Make the Buttercream
Combine the mascarpone, butter, and vanilla in a large bowl and beat on medium speed until well combined and fluffy.

Add powdered sugar, 1 cup at a time, until it's all been added and the frosting is light and fluffy.*
Assemble the Cake
On a parchment lined surface, set one cake top down and pipe a border of buttercream around the diameter of the cake. Fill in the middle with a slightly shallower layer of buttercream.

Place the other cake layer, top down, onto the buttercream. Pipe buttercream around the sides and top and use and offset spatula to create an even layer of buttercream around the entire cake.

Chill the cake for 30 minutes.

Make your decorations while you wait. Cut marzipan leaves out with cookie cutters and use a paring knife or fondant tools to carve leaf ribs into them. Paint with a clean small paint brush and the powdered food color of choice.

Form 2 marzipan balls and press two ends slightly flat. Gently carve ribs from the top to the bottom of either flat end. Paint with orange powdered food dye.

Cut two small marzipan triangles for pumpkin stems and roll out a few thin vines for the pumpkin accents. Paint them brown and green.

Once the cake has chilled, apply a second layer of frosting, using your offset spatula to smooth an evening finished layer on.

Wrap the top half of your cake with a ring of parchment or wax paper. Move the cake onto a baking sheet if possible to catch sprinkles.

Using your fingers, gently press on sprinkles to the bottom half until coated to your liking.

Remove the parchment ring, create a pumpkin patch with gold sanding sugar and set the pumpkins with their stems and vines on top. Arrange leaves as desired.

Refrigerate until 30 minutes before you're ready to serve.
Notes
*You can add less or more powdered sugar to fine tune the stiffness of the finished buttercream.
Nutrition
Serving:
1
slice
Calories:
1068
kcal
Carbohydrates:
131
g
Protein:
10
g
Fat:
57
g
Saturated Fat:
25
g
Cholesterol:
182
mg
Sodium:
161
mg
Potassium:
305
mg
Fiber:
2
g
Sugar:
103
g
Vitamin A:
5836
IU
Vitamin C:
1
mg
Calcium:
146
mg
Iron:
3
mg
I'd love to hear what you think, feel free to tag me on Instagram @theflourhandprint so I can see how it went! Until next time, Happy Eating!
Nutrition information and cooking times are provided as a best estimate. Values may vary based upon ingredients and equipment.