This page contains affiliate links. For more information please read my Disclosure Policy.
Homemade vanilla extract is much cheaper than any store bought vanilla. This how-to guide will take you through vanilla extract ingredients, the process of making vanilla extract, lots of tips on extracting the best flavor and storing your homemade vanilla for long term use.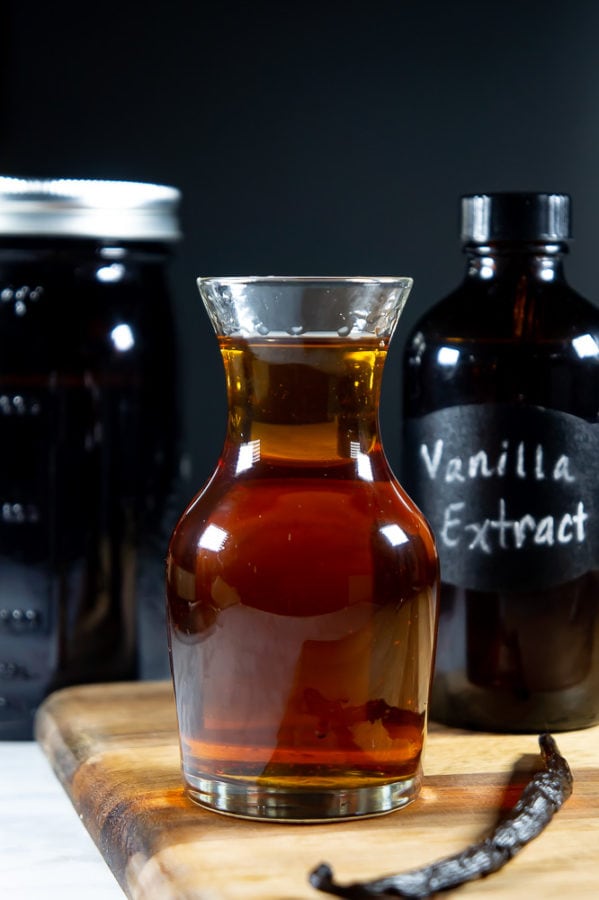 My first introduction to homemade vanilla was from a good friend of mine as a Christmas gift to me. As a food scientist (her not me!) she's always got these fun things to share, but this gift has been my absolute favorite. It changed my entire baking game!
Homemade vanilla extract was something I'd read about, made a note to look into…and just never pursued. It was a perfect gift. My friends and family know me pretty well I'd say! She'd already had it concocting for a few weeks, so I skipped straight to having ready to use vanilla with a pretty bottle…but man did I go through it fast! Thankfully, she sparked my interest and I dove headfirst into how to make more.
Let me tell you, it is EASY. The vanilla extract 'recipe' is simply 2 ingredients and a bit of waiting. When you see how easy this is, and how much money you can save, I have no doubt you'll be whipping up your own batch in no time!
Let's Chat About Vanilla
It probably doesn't surprise you that Vanilla is the second most expensive flavoring behind saffron. If you bake…well ever…you've purchased a bottle of vanilla extract. They're pricey, but necessary. It goes in everything, and with good reason. Vanilla contains over 200 different chemical compounds that all combine to make that addictive, warm, rich flavor and scent. It's a powerful bean.
It's also incredibly labor intensive to grow, and only comes from a few select places in the world. Today, most of our vanilla comes from Indonesia and Madagascar, where they hand pollinate the flowers before ever starting the long process of curing the pods. It's really no surprise that by the time McCormick's gets their extract on shelves, it'll cost you $12 for a couple ounces.
Good news for you and I….we can make it for MUCH cheaper.
Vanilla Extract Ingredients
To make homemade vanilla extract, what you need is simple: Vodka, vanilla beans, a knife, and a bottle. That's it. Really really.
Vanilla Beans
There are different types of vanilla, and different grades of bean (level of quality), here are all the tips you need for choosing the right ones for you.
Types of Vanilla
Bourbon or Madagascar Vanilla – This is the most common vanilla bean. It's rich and full flavor will produce an extract most similar to the store brands you're familiar with. The beans are available at most grocery stores and online for a fair price.
Indonesian Vanilla – These beans contains slightly less vanillin, and may produce a less rich extract.
Mexican Vanilla: Vanilla beans from Mexico can contain less than half the vanillin than Madagascar vanilla beans, and have a more floral or fruity aroma.
Tahitian Vanilla: The rarest and most expensive of the vanilla beans, these would produce a distinctly flowery, perfumed extract. They actually come from a different species of plant. I wouldn't bother spending the money on these unless you're curious!
Vanilla Grade (Quality)
Vanilla comes in different grades, we're mostly concerned with A and B.

Grade A beans are the best. They're whole beans, no splits, with big flavor. They're also the most expensive. Save these for baking when you're using the whole beans instead of extract.
Grade B beans or extract grade beans are cheaper and perfect for making vanilla extract at home. These beans are often split already, possibly shorter, and just generally didn't make the cut aesthetically for Grade A. They still have BIG flavor.
I recommend buying Grade B beans in bulk online. You won't find Grade B beans at your grocery store, and you often have to buy just a few at a time. Buy from amazon, etsy, ebay, or specialty retailers like Beanilla, and get 10 beans for the same price as 3 or 4 at your grocery. Don't worry if you don't use them all, vanilla beans store for a year in a cool, dry, dark place.
Vodka (or Alcohol)
Alcohol does the extracting, but it doesn't need to be a fancy, premium bottle! Here's what you're looking for in your alcohol.
80 proof or stronger of hard liquor. Sorry, not beer or wine here!
Vodka provides a blank canvas, the vanilla takes over and will be just like, if not better than, what you're used to from the store.
Other alcohol options include Bourbon, dark or light rum, or brandy. These will meld with the vanilla in interesting ways. These are awesome for special bakes, or as a gourmet gift for friends around the holidays!
The Equipment
You can make vanilla in any container. But light and heat affect the longevity and flavor of your extract. Here are some tips for protecting your vanilla long term.
A dark, amber glass bottle is best to protect from light. I like to make a HUGE batch, using a 32 ounce mason jar, then transfer it into my smaller 8 ounce bottle as needed for daily use.
Store in a dark cool place, like the back of a deep cupboard that isn't directly beside your oven or stove.
If you can't do either of these things, don't worry, the high alcohol content makes vanilla fairly immune to spoilage, but do your best to keep it away from heat and light.
Making Vanilla Extract
Once you have all your supplies, it's really, really, REALLY simple to make.
Use the tip of a sharp knife to split your beans open (this may already be done on some grade B beans, bonus!). Don't scrape out the seeds.
Drop into your container of choice. Cut in half if necessary.
Fill container with vodka (or alcohol of choice).
Seal the bottle and give it a shake or two.
Store for at least 8 weeks. It will continue to improve in flavor for 2 years (then the beans are depleted.)
My BEST suggestion – make a large jar of homemade vanilla extract instead of a small one. Your larger jar will continue to develop and grow rich in flavor, while you use the small one. Simply fill up the small jar when its empty, and replenish the large jar with fresh alcohol.
Bean to Alcohol Ratio
You may be wondering, how many beans do I need for how much vodka? There are tons of suggestions out there, but my process looks like this.
12-15 beans for 32 ounces of vodka/alcohol.
I replenish my large jar when it's depleted by half with fresh alcohol.
After 2 years, I add new beans , or after I've refilled it 4 times for optimal flavor.
I keep one or two beans in my smaller bottle to keep the flavor extracting there as well.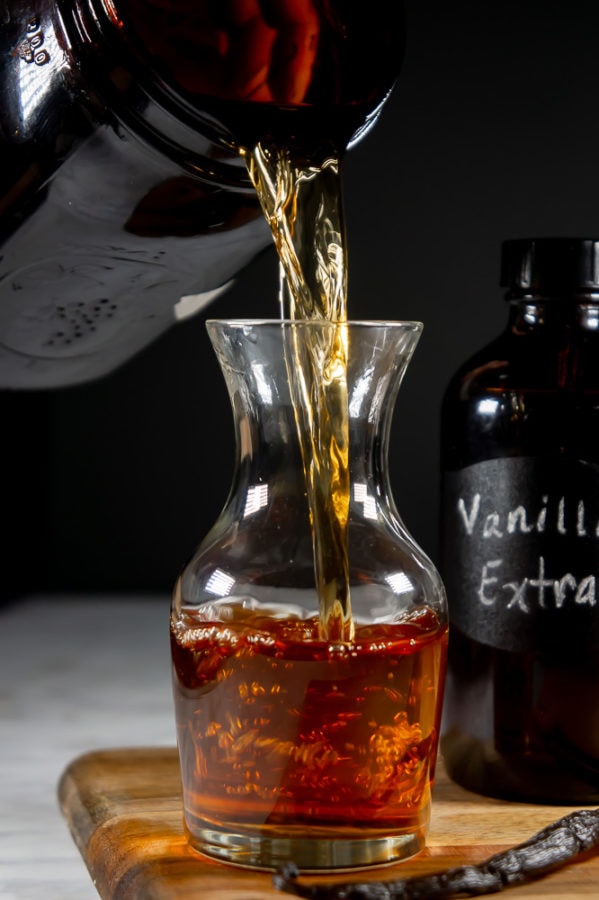 Cost Comparison
I was sold the moment that bottle of vanilla touched my hand. The cost is incomparable. I recently made a HUGE batch for myself, my mom, and my sisters. We each paid $45 to buy bulk beans (from Etsy!), mason jars, 8 ounce jars, and the cheapest vodka we could find. That bought us 48 ounces each (the mason jar plus the 8 ounce jar, plus the 1 refill for the mason jar).
$45, 48 ounces. That's $1.06 per ounce. The same from the grocery store costs $5 per ounce, or $240 for 48 ounces. This is a no-brainer right??
FAQ's
What about imitation vanilla?
There are tons of sites that say imitation vanilla is a perfectly fine substitute. I personally disagree. Imitation vanilla is a chemical imitation of only ONE of natural vanilla's 200 flavor compounds. While it's incredible that we've figured that out, it's just not the same.
Is imitation vanilla made from beavers?
You may have read a claim that imitation vanilla is made from the oil glands in the rear ends of beavers. This was at one point true, however in modern times the harvesting of those glands is far more time consuming and expensive than a lab made imitation. Rest at easy, if you use imitation, it's beaver free.
How long does vanilla extract last?
Indefinitely when stored properly.
Why does homemade vanilla extract taste better than commercial extract?
You can make your vanilla as strong as you like! Also commercial vanilla usually contains some water, which homemade vanilla does not.
Other REcipes
You may enjoy using your vanilla in…
You are now officially equipped to make your own vanilla extract, it's a simple recipe, and it has long lasting rewards, not the least of which is gorgeous flavor at a much cheaper cost. Make up a huge batch and you've also got a gourmet homemade gift for the holidays I guarantee you any home cook will love. Until next time guys, Happy eating!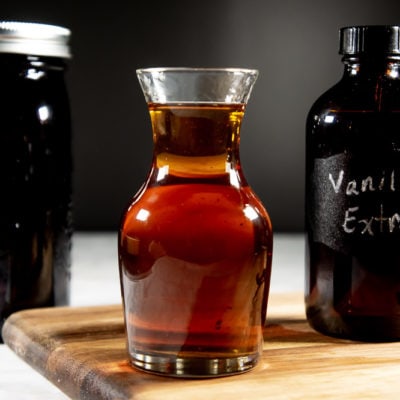 Homemade Vanilla Extract
Make your own vanilla extract! It's easy and so much cheaper than store bought extract!
Equipment
Glass bottle, preferably dark glass

knife
Ingredients
Ingredients
32

ounces

Vodka

or any other 80 proof or stronger alcohol you wish to use

15

Vanilla beans

Grade B (cheaper)
Tools
Glass bottle, preferably dark glass

Knife
Instructions
Slice open the vanilla bean to expose inner bean.

Cut bean to size to fit in bottle.

Place in bottle, and fill with vodka.

Cap and let sit in dark, cool place for at least 8 weeks before using.

When ready to use, shake and use as you normally would!
Notes
Requires 8 weeks to reach usable state.
Shake Before use.
Store in a cool, dark place.
15 beans to 32 ounces is my preferred ratio, adjust based on size of bottle, i.e. about 4 beans for 8 ounces.
Originally published 2/28/19, Updated 11/8/19
Nutrition information and cooking times are provided as a best estimate. Values may vary based upon ingredients and equipment.