Grilled Prosciutto Wrapped Asparagus
This page contains affiliate links. For more information please read my Disclosure Policy.
The unbelievable deliciousness, but simplicity of grilled prosciutto wrapped asparagus will make it one of your go to grilling recipes. It's a quick and easy grilling side dish that can be tossed on last minute and be ready for your meal. Or, grill them up first as an easy appetizer!
Every year, when tender, fresh asparagus begins to show, it signals to me first sign of all the beautiful produce to come. It's a vegetable I will only buy during the spring and summer, and while it's here you best believe we eat it a lot.
There are tons of tasty things you can make with asparagus, but letting it shine with a few simple but carefully chosen highlights is often the way we go, especially on grill nights. Making this prosciutto wrapped asparagus on the grill has quickly become one of our favorites of the season, and I think you'll enjoy it as much as we do.
Choosing ASparagus
Unfortunately, asparagus is a vegetable that doesn't have the longest shelf life. It's best eaten fresh and I highly recommend getting them from a local farmer's market whenever possible. However, regardless of where you do your veggie shopping, there are some key tips on choosing asparagus for best flavor and texture.
Bright, firm, crisp stalks – Avoid any asparagus that have a dull or darkening green color. They should be vibrant, firm, and stand tall and straight. If they're limp, have any wrinkles or appear dried out or woody, choose a different bunch!
Moist, dark, closed tips – The top of asparagus spears should appear closed (like an unopened flower) and have a dark green or even purple color that feels just a little damp. Avoid any that are black, mushy, yellow, or dried out.
Damp white or purple stem ends – A great way to spot a supplier who cares is to see asparagus bunches standing upright in a shallow bin of water or on a damp pad. The stem ends of the asparagus should be kept damp, without feeling slimy or mushy. Look for crisp white, purple, or green at the ends. Avoid yellow or dried out bottoms.
With these tips in mind you're ready to pick the perfect asparagus. But there remains the question, thick or thin stalks, which is better? Thick stalks indicate a more mature plant, but that doesn't mean less delicious!
Choosing thick or thin asparagus is a matter of preference. Thin asparagus is my personal choice, they're tender, cook quickly and rarely require peeling. Thicker asparagus can have a more intense asparagus flavor, but can cook up just as nicely with a little extra time. Try them both and decide which you like!
Ingredients
This easy 6 ingredient recipe is so simple, but it packs huge flavor from the cured salty prosciutto, grassy green asparagus and a good char from the grill.
Asparagus – Choose a good bunch!
Prosciutto – A nice quality prosciutto is your friend here, be sure to taste a bit so you understand how salty it is.
Oil – You'll need to brush the prosciutto wrapped asparagus before they go on the grill.
Pepper – Just a touch to add a little heat.
Honey – Finishing your grilled asparagus with a little honey wash is the perfect final touch.
Water – to thin out the honey enough for easy glazing.
Depending on the salt level of your prosciutto, you may decide to add a pinch of salt. I advise waiting until the end of the cooking process. Taste one, and if it needs it, add a small pinch of finishing salt after you glaze them.
How to Grill Prosciutto Wrapped asparagus
The entire process for making these little grilled spears is as simple as the ingredient list. You can prep them ahead of time and store them in the fridge for an hour or two so they're ready for the grill when you are.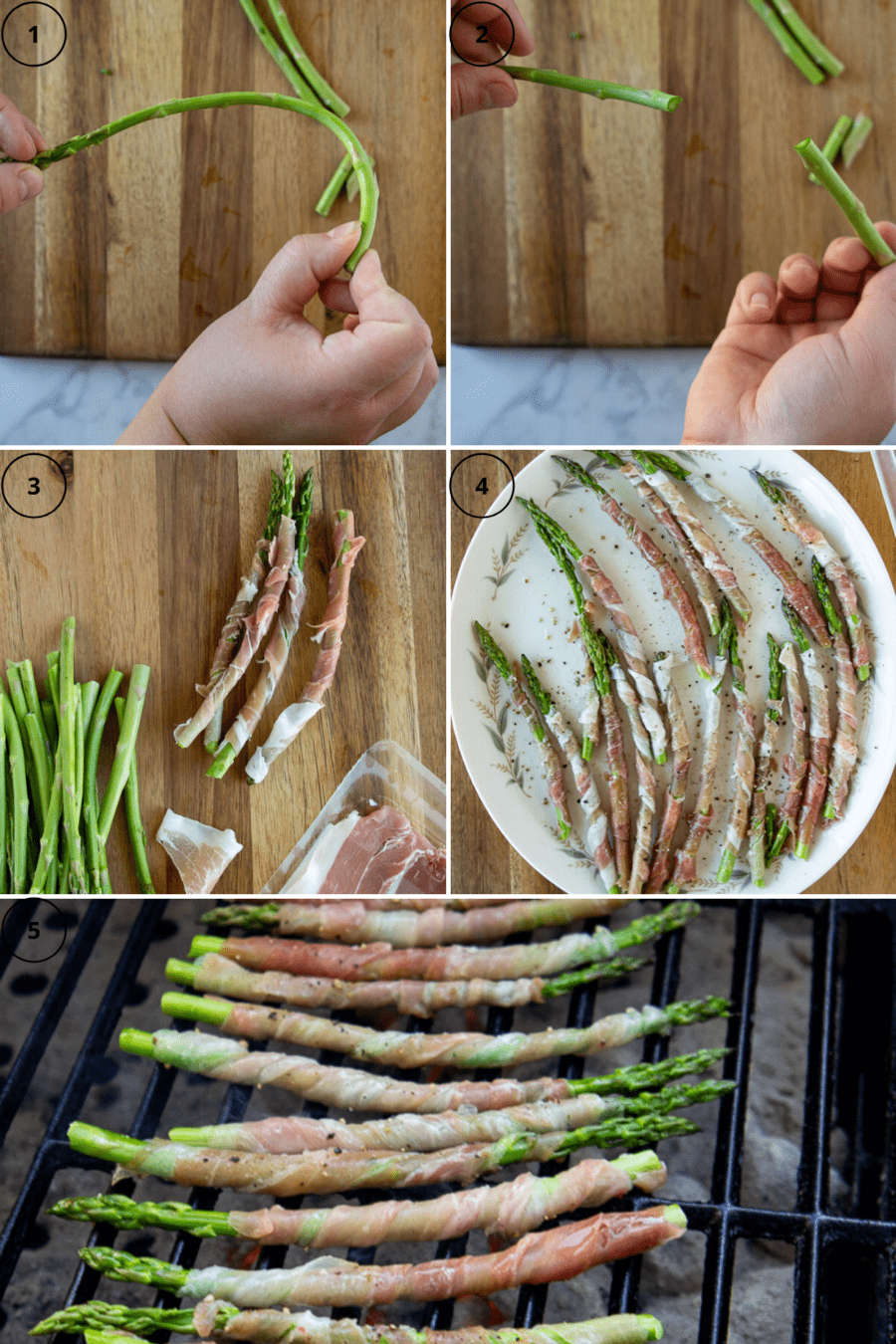 Start by washing and drying your asparagus, then trim off any tough or woody ends. You can do this by bending spears and seeing where they snap. I usually just do a couple, and then use a knife to trim the remainder. (Save those stem ends for soup!). You can also peel them if you have very thick or woody ends.
Next begin wrapping each spear in prosciutto. Thanks to the fat content of prosciutto, there's no need for toothpicks. Simply wrap tightly and smooth the end down with firm pressure of your finger. I usually find half a piece of prosciutto is perfect for a spear.
Brush the wrapped asparagus with oil and sprinkle with pepper.
For thinner spears, place over direct heat (aim for 375-400) and cook for 6 to 8 minutes, rotating them carefully every few minutes so they evenly brown. For thicker spears, place beside the direct heat and cook for closer to 12 to 15 minutes, rotating frequently. That will allow the asparagus to get tender and the prosciutto to crisp at a similar pace.
In the last two minutes of cooking, mix the honey and water and brush over the spears. Rotate and brush them again.
When crisped to your liking and tender, give a final brush of honey and transfer to a serving platter.
Pro Tip: Is your prosciutto tearing too much? Don't stress! You can wrap the asparagus with pieces as long as you're firmly smoothing the pieces together. It holds together just fine!
FAQ'S
How should I store my asparagus if I'm not ready to cook it the same day I buy it?
Start by trimming off the ends of the stems, like a fresh cut on a christmas tree. Then either stand them up in a vase with a small amount of water like fresh flowers, or wrap the stems in a damp paper towel and store in a plastic bag. Either way, keep it in the fridge!
Can I make these ahead?
You can certainly wrap them ahead! Then just pull them out, brush on oil and season them when you're ready. I find reheating cooked prosciutto much like reheated bacon, edible but not really worth it.
How many does this serve?
How hungry are you? One 3 ounce package of prosciutto wraps around 18 thin spears. I find that enough for 3 people, or four if you're serving them alongside other dishes.
Can I make these in the oven instead?
Sure! Roast them on a oven safe rack set over a baking sheet at 400°F for 10 minutes, rotating them at least once. Brush with honey immediately after removing from the oven.
Could I substitute pancetta or bacon?
Both pancetta and bacon are a cured, but raw product. This would yield a different result and may require a longer cooking time.
Eat & Enjoy
Throw these on the grill with some lemon soy grilled chicken and freshly baked cornbread muffins and you're in for a delicious dinner that's packed with big flavor. If you're anything like me and swoon at the idea of crispy prosciutto on anything, this is definitely a side dish for you. Have fun and enjoy, and until next time, Happy Eating!
If you liked this grilled vegetable side, you may also like these!
Grilled Prosciutto Wrapped Asparagus
Print Recipe
Tender fresh asparagus wrapped in salty cured prosciutto with a dash of pepper and simple honey glaze makes a delicious, quick cooking grilled side.
Ingredients
6

ounces

prosciutto

30

stalks

asparagus*

2

teaspoons

oil

1/2

teaspoon

pepper

1

tablespoon

honey

1

teaspoon

water
Instructions
Trim off any woody ends of the asparagus, or peel if necessary. Get your grill ready at about 375° to 400°F.

Tear prosciutto into strips and begin wrapping each asparagus stalk, smoothing down the ends with your fingers so the prosciutto lays smoothly.

Brush lightly with oil and sprinkle with pepper. Combine the honey and water together and set aside.

Place over direct heat on the grill and cook for 6 to 8 minutes rotating every other minute, or until the prosciutto is crisped and the asparagus is tender.

In the last two minutes of cooking brush with the honey mixture and flip, the brush again.

When done, brush once more with honey, and remove to a serving platter. Serve immediately.
Notes
*6 ounces of prosciutto will wrap about 30 thinner stalks of asparagus, if you're using thicker stalks, you may need more prosciutto or to wrap fewer stalks of asparagus. Thicker stalks also require longer cooking. Cook thick stalks beside direct heat, for 10 to 15 minutes.
*I recommend a high heat oil like grapeseed or canola oil for this.
Nutrition
Serving:
5
pieces
|
Calories:
157
kcal
|
Carbohydrates:
6
g
|
Protein:
5
g
|
Fat:
13
g
|
Saturated Fat:
4
g
|
Cholesterol:
19
mg
|
Sodium:
189
mg
|
Potassium:
218
mg
|
Fiber:
2
g
|
Sugar:
4
g
|
Vitamin A:
615
IU
|
Vitamin C:
4
mg
|
Calcium:
19
mg
|
Iron:
2
mg
Nutrition information and cooking times are provided as a best estimate. Values may vary based upon ingredients and equipment.