I was compensated for this post by Zulay Kitchen . All opinions and recommendations expressed are completely my own.
This page contains affiliate links. For more information please read my Disclosure Policy.
This homemade maple latte uses strong regular coffee instead of espresso for an easy at home coffee shop latte flavored with maple syrup. Enjoy the sweet flavor of fall at home with just a few simple ingredients and easy process.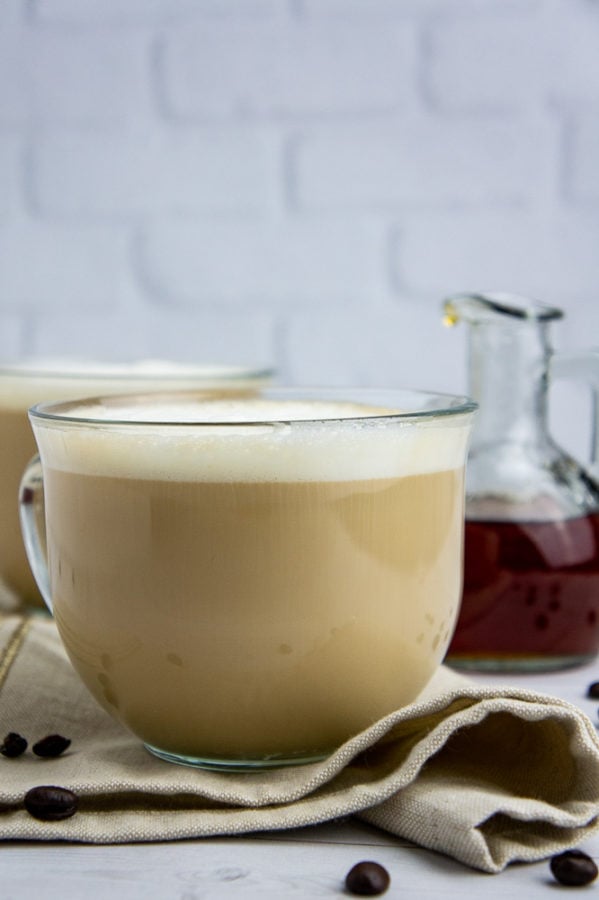 When this whole pandemic started, I hesitated to mention it in my posts. I thought, well, it'll be over in a few months and nobody will know what I'm talking about when they read this next year. I think that's not the case, 2020 will be a year everyone remembers for a good long time. As the time just keeps ticking by I find myself missing the most random of things.
The grocery store trips with my toddler are a big one, it was a weekly tradition, and we loved to stop at our local coffee shop and grab a little treat before we started shopping. Sadly, as I can't really drink a latte all masked up, and since I go solo with minimal stops now, my latte treat has all but disappeared! The fix? Make one at home of course. With a surprisingly simple process I was able to recreate one of my all time favorite lattes, just in time for fall.
What is a Latte?
As a food nerd, when I start developing a recipe for you all, I like to do my research. So what is a latte, technically?
To be precise a latte is a drink that consists of steamed whole milk poured on a single shot of brewed espresso and topped with foam. There are many different similar drinks, namely the Breve which is my particular favorite kind of latte.
To make a breve latte, whole milk is swapped for half and half or light cream to create a dreamy, creamy latte. This recipe calls for that because in my opinion it's simply the best kind of latte! BUT, that being said, feel free to use your preferred milk instead.
Ingredients
The ingredients to make a classic latte are very easy – espresso and milk. So how to do they create all those different flavors at your coffee shop? It's a simple addition of extracts, syrups, and other flavoring ingredients.
For this maple syrup latte, since we're making it at home, it's a combination of these ingredients:
Strong brewed coffee
Half and half (or whole milk/milk of your choosing)
Maple syrup
Maple Extract
To achieve that true maple flavor, you definitely need a bottle of the extract. While I know how to make vanilla extract, maple is a bit beyond me, so I buy a bottle now and again. It's a fun extract to keep around, I use it to fancy up classic shortbread cookies, or to make my spice cupcakes a little more unique from time to time. Without it in this recipe, you just get a sweet latte (which is still remarkably delicious!).
Pro Tip: To replace an espresso shot with regular coffee, I usually brew my coffee at double strength, 2 tablespoons per 8 ounces of water. You'll only need half a cups worth to make a latte!
How to Make a Homemade Latte witHout Espresso
Okay, so you've got your coffee brewing, your kitchen smells like your favorite coffee shop, and you're ready to get some homemade latte satisfaction. I'm with you! But now we need to know how to actually make a latte minus a espresso machine and milk steamer.
Good news is there's a much cheaper way to make a fabulous at home latte with fluffy, delicious foam without any expensive equipment.
For a long time I used a mason jar, which works well enough with vigorous shaking, but no matter how much foam I created, it usually dissipated before I got halfway through my coffee.
Then, I discovered the milk frother! This genius little tool from Zulay Kitchen is less than $20 and it creates the BEST foam out of any milk, and really makes you feel like you're drinking a latte from your favorite coffee shop. It's luscious foam guys. You can get your milk frother from amazon, or head to the Zulay Kitchen website and order with the code TFHP10 for a 10% discount!
To make your latte it's incredibly easy, simply combine your half and half, maple syrup, and extract. Pop that in the microwave until it's nice and hot, then get out your fancy milk frother and let it do it's thing! Then it's a simple matter of pouring in the milk and topping it with that luscious foam. If it suits you, I like a dash of cinnamon to top the whole gorgeous thing off.
Tips for Making the Perfect Latte
Hold the milk frother at a slight angle and pulse it. I found raising and lowering it at the surface of the milk (not the foam, but the actual milk) with a quick pulse created abundant foam.
Use a nice tall container to froth the milk, it can splatter if the milk level is near the top of the container you're using, it will grow in volume as it foams.
Use a large spoon to block the foam as you pour in the milk so you can have a foamy perfect top!
Choose your milk wisely – higher fat milks like half and half or whole milk will keep your foam stable even as it cools. This means foam until the end of your latte! Low fat milks will still create foam, but they'll be most stable at higher temperatures.
Adjust it to your liking! If you're a Starbucks latte fan, maybe you like your lattes a bit sweeter than I do. You can adjust your latte by weakening or strengthening your coffee, adding more or less syrup, or adding more or less extract.
Pro Tip: My perfect latte is 2/3 strong coffee and 1/3 sweetened half and half. Once the milk has been foamed it layers into the just sweet enough latte with good coffee and maple flavor.
Questions about Making a Maple Syrup Latte
Can I make this with espresso shots instead?
Of course! I'm jealous! To make it with espresso would be making it more traditionally. Instead of the 2:1 ratio I use with coffee, substitute 1:3, for every 1 espresso shot, add 3 ounces of milk. This may be a stronger coffee than you like, so feel free to adjust that as you see fit.
If I don't have maple syrup, can I substitute something else?
Yup, you may lose a little in maple flavor, but the maple extract will still create the maple latte experience. I find that brown sugar is a closer match to the maple syrup flavor than white sugar.
My milk frother is in the mail…can I make this now anyway?
Yes, you're welcome to give a mason jar a go. Simply combine the same ingredients you frothed into a microwave safe jar or container with that has a tight fitting lid. Give the milk, sugar, and extract a solid stir and heat until warmed (leave the lid off while microwaving). Then close the lid and shake like crazy. This usually takes about a minute of vigorous shaking.
Now that I've spent all this time writing this and looking at these lovely lattes, I think I'll go whip one up right now. It's become my indulgent little treat at home rather than a grocery store treat. And you know, it's saving me quite a lot of money, so who knows, maybe I'll start making and taking them to go even when the world can return to it's mask free state.
In any case, I hope you enjoy it, and have fun! Switch up sugars, swap out the extracts, your homemade latte menu is yours to create!
If you like this recipe, you may also enjoy…
Maple Latte
A creamy breve style homemade latte made with strong coffee, half and half, and maple flavors.
Ingredients
8

ounces

strong coffee

4

ounces

half and half*

1 1/2

tablespoons

maple syrup

1/8

teaspoons

maple extract
Instructions
Combine the half and half, syrup, and extract in a tall microwave safe container.

Heat until very warm, this will depend on your microwave, it was 1 minute 15 seconds for mine.

Pulse your milk frother while raising and lowering it at the top of the milk until a thick foam forms.

Pour the hot coffee into your cup. Use a spoon to hold back the foam while you pour in the liquid, then spoon on the foam.
Notes
*Half and half is used to make a creamy breve style latte, but you can use any milk you like.
*If you don't have a milk frother you can combine the milk, syrup, and extract in a mason jar and once hot, seal it and shake it vigorously to create foam.
Nutrition
Calories:
231
kcal
Carbohydrates:
25
g
Protein:
4
g
Fat:
13
g
Saturated Fat:
8
g
Cholesterol:
42
mg
Sodium:
54
mg
Potassium:
326
mg
Sugar:
18
g
Vitamin A:
401
IU
Vitamin C:
1
mg
Calcium:
152
mg
I'd love to hear what you think, feel free to tag me on Instagram @theflourhandprint so I can see how it went! Until next time, Happy Eating!
Nutrition information and cooking times are provided as a best estimate. Values may vary based upon ingredients and equipment.