Creamy Lemon Salmon Pasta
This page contains affiliate links. For more information please read my Disclosure Policy.
This creamy lemon salmon pasta highlights the beauty of perfectly seasoned salmon filets served with a parmesan asiago lemon pasta tossed with peas. It's a flavorful, delicious dinner that takes 30 minutes to prepare from scratch.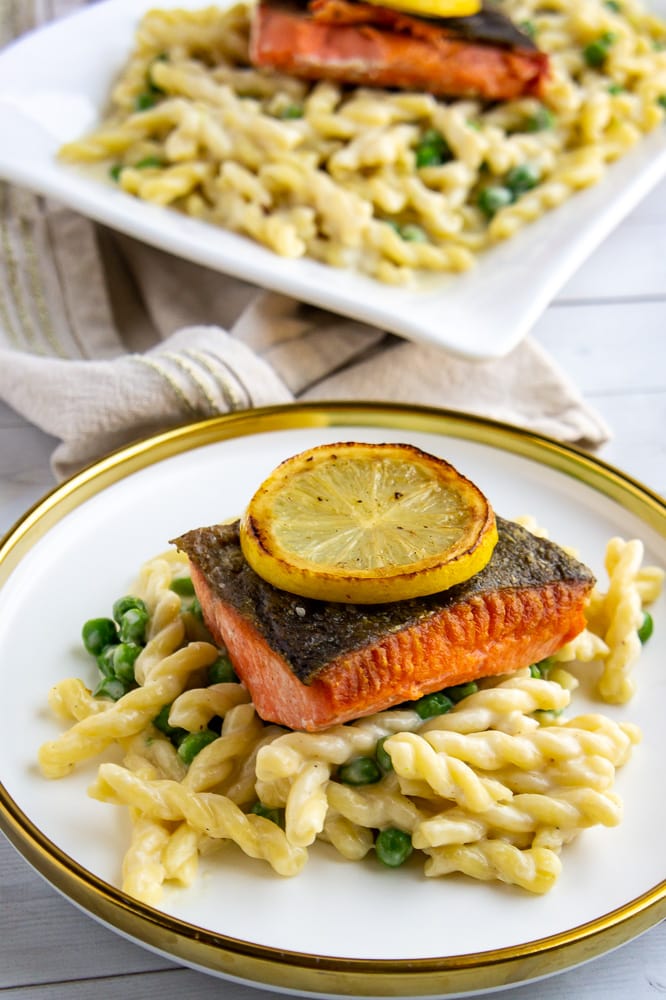 Ever since I started making fresh salmon on a regular basis, it's been a fun challenge to find ways to serve it up. We love it simply like in my lemon cream salmon which uses a pan sauce to create a dinner to serve with your sides of choice, but I wanted to create a whole meal in one.
This creamy lemon salmon pasta was inspired by a few of my other recipes, but comes together in a different way to create a meal with starch, veggies, and protein in a succulent sauce that feels indulgent. It's quick and easy, uses simple flavors, but tastes great every time.
Ingredients & Substitutions
As with all my recipes, I tested and retested this to get it just right for my and my family's tastes. Your family's tastes might differ, and that's okay! Here are the ingredients I used below to make our version of creamy salmon pasta, and my suggestions for substituting or adjusting while still having a winning meal on your hands.
Salmon filets – I used four wild, skin-on filets. They're served whole with the pasta because I much prefer the texture of salmon when it's not cooked to well done then flaked. You could definitely use skinless filets.
Lemon – Fresh lemon is always best in my opinion. But use what you have!
Roasted garlic – I always keep oven roasted garlic in the freezer and love the way it melts into the sauce. If you don't already have it, it's time consuming to prepare on a moment's notice. Use minced garlic instead.
Asiago & Parmesan cheese – My asiago cream sauce is one of my favorites, so I tried a combo of asiago and parmesan and LOVED the results. You can use just one or the other if you prefer.
Heavy cream – This is one thing I don't recommend you skimp on. The fat content of heavy whipping cream helps create the lusciousness of the sauce, and prevents breaking.
Milk – You can use all heavy cream, or half and half here instead. We used whole milk.
Peas – Either freshly shelled English peas or frozen peas will work.
Pasta – I like this with a short pasta so you can scoop up peas along with it. We used a twisted pasta called gemelli, but you could use penne, bow ties, shells or macaroni.
Salt & Pepper – I never cook without salt and this recipe does benefit from a few turns of freshly cracked pepper.
Oil – You could use butter as well, but oil helps the salmon skin sear better so I use that. Grapeseed or canola would be my choice for this.
How to Make Creamy Pasta and Fresh Salmon a Complete Meal
You can find detailed, step by step cooking instructions in the recipe card below. Here I've shared my best tips for making the salmon and the creamy lemon pasta perfect every time.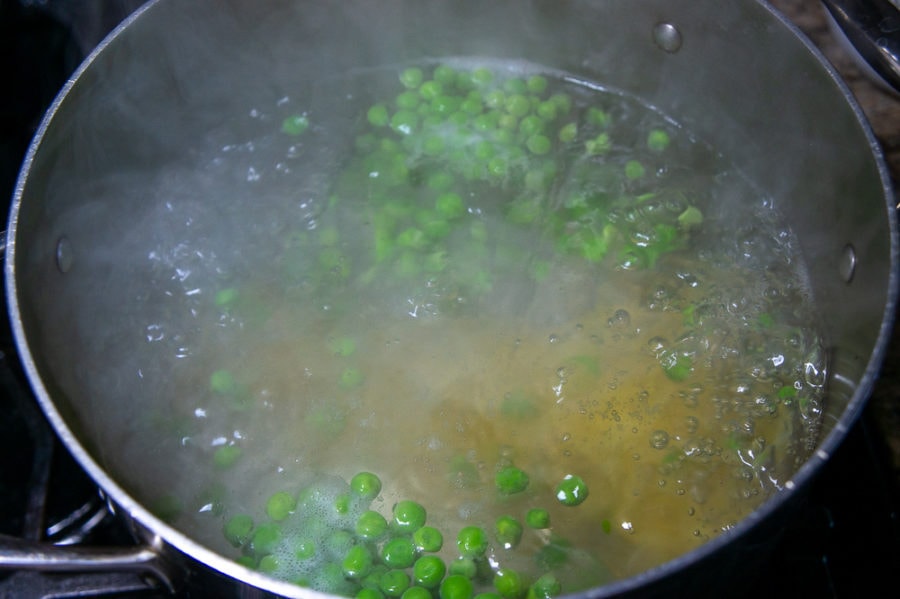 Use a good pan – Since I made the salmon and sauce all in one pan, I opted for my cast iron skillet. An enameled cast iron pan or stainless steel would be my second choice.

This gave me plenty of heat for a good sear, plus retained heat so I could emulsify the sauce without turning burners on and off a whole bunch.
Let the pan COOL – I used my technique for cast iron salmon to cook both filets in the recipe. Then I built the sauce right in the same skillet. To do that without burning or curdling, turn the heat to LOW after you flip the salmon. Then let it cool further by removing the salmon and waiting 1-2 minutes before moving to the next step. This is usually when I am adding pasta to the boiling water.
Don't rush the sauce – Cream and cheese based sauces, especially those combined with acids like lemon juice, have an unfortunate habit of curdling. To avoid that, work over very low heat and be patient. It will come together before long, and the creamy result is worth it.
Pay attention to the pasta and pea cooking times – Some pasta cooks faster than others and both fresh and frozen peas take just 3 minutes. Adding them at the same time to boiling waters will leave you with seriously mushy peas. Don't do that to yourself! Add the peas in the last 3 minutes of your pasta's cooking time.
Don't forget the salt – Don't forget to liberally salt the pasta water. When it tastes like the ocean, you'll have well seasoned pasta and peas to add to your sauce.
Serve skin side up – If you take my recommendation of cooking whole skin-on filets, then don't forget to keep them skin side up and serve them that way to avoid the skin going soft.
FAQ's
I always try to predict what questions I might have if I were approaching this recipe for the first time. You'll find answers to them here, but if I've missed yours, feel free to ask in the comments so I can get back to you.
What temperature should salmon be cooked to?
The food safe temperature for salmon is 145°F. That's a medium cook, meaning you'll have a deeper pink color in the middle. If you grew up like I did, you grew up with well done salmon, cooked to 165°F that flakes apart easier…but is also drier. I can't tell you what you like, so cook it within that range, to a doneness that makes you happy to eat it. My ideal temperature is about 150°F.
Can I flake the salmon into the pasta?
I know a lot of recipes put the salmon in chunks right into the creamy lemon sauce…let me tell you why I don't. Once you've cooked that salmon, putting it into a hot cream sauce will cook it more, and I'm not a fan of dry, overcooked salmon. I much prefer a perfectly cooked bite of salmon with each and every bite of pasta. That being said, if you like it, then you do you. Food should make you happy to eat it.
Does creamy lemon salmon pasta freeze well?
No, I don't recommend freezing creamy pastas or cooked fish. In fact in our house we generally cook just enough fish for one meal because nobody likes it reheated. Another benefit of keeping the pasta separate, is that it can be stored separately and will reheat well for up to 3 days.
What other veggies can I include?
You can easily add in sautéed spinach, blanched asparagus or green beans, or sautéed broccoli.
I hope you genuinely enjoy this dinner as much as my family does. My toddler happens to love salmon, and of course pasta is always an easy sell. The creamy lemon sauce pairs beautifully with the fish and it comes together in a delicious bite. While you're here, please check out my other seafood recipes for more, tasty from scratch inspiration.
Creamy Lemon Salmon Pasta
A creamy parmesan asiago lemon sauce with peas tossed with pasta and topped with perfectly cooked salmon for a complete meal in 30 minutes.
Ingredients
4

4 ounce

skin on salmon filets

2

tablespoons

oil

1

lemon

6

cloves

roasted garlic

See notes

3/4

cups

Asiago cheese

finely grated

3/4

cups

Parmesan cheese

finely grated

1

cup

heavy cream

full fat

1

cup

whole milk

1/2

lb

dried pasta

3/4

cups

peas

fresh or frozen

3/4

teaspoon

salt

3/4

teaspoon

pepper
Instructions
Put a pot of well salted water on to boil.

Zest the lemon then cut it in half. Juice one half and set aside then cut remaining half into 4 slices.

Heat a cast iron pan over medium heat with the 2 tablespoons of oil.

Season each salmon filet with 1/8 teaspoon salt, 1/8 teaspoon pepper, and lemon zest.

Place filets skin side down in the hot oil and leave for 4 minutes to allow skin to crisp. Place the lemon slices on top of each filet.

Flip when skin is crispy and move the lemon slices to the side to caramelize slightly, turning the heat down to low.

Remove the lemon slices as soon as they're starting to brown. Allow salmon to cook another 4-5 minutes or until 145°F. (Cook longer if you prefer a more well-done salmon).

Remove the salmon to a plate, keeping skin side up. Add the pasta to the boiling water.

Add the roasted garlic and let it cook into a paste. Then add the cream and slowly whisk in the milk.

When the cream mixture is steaming begin whisking in the cheese until it's all combine and melted. Allow to thicken at a very low simmer, stirring frequently.

Add the peas to the pasta water in the final 3 minutes of the pasta's cooking time.

When the sauce is thickened, begin whisking constantly while slowly streaming in 1/2 a tablespoon of lemon juice at a time. Taste after each addition until the lemon is to your liking. Season with salt and pepper to taste.

Add the drained pasta and peas to the pasta sauce and toss to coat.

Portion pasta with a filet, skin side up. Gently press juice out of caramelized lemon slice over top and serve.
Notes
*If you don't have roasted garlic, substitute 3 finely minced cloves of fresh garlic. Add to the pan at the same time, but stir constantly and cook for only 30 seconds before adding in the cream.
Nutrition
Calories:
697
kcal
Carbohydrates:
56
g
Protein:
27
g
Fat:
41
g
Saturated Fat:
22
g
Polyunsaturated Fat:
4
g
Monounsaturated Fat:
13
g
Trans Fat:
1
g
Cholesterol:
101
mg
Sodium:
1083
mg
Potassium:
441
mg
Fiber:
4
g
Sugar:
9
g
Vitamin A:
1483
IU
Vitamin C:
27
mg
Calcium:
594
mg
Iron:
2
mg
Nutrition information and cooking times are provided as a best estimate. Values may vary based upon ingredients and equipment.