Maple Buttercream Frosting
This page contains affiliate links. For more information please read my Disclosure Policy.
This Maple Buttercream is an easy frosting that's the perfect balance of buttery, sweet, and rich maple. It's the perfect addition to fall and winter baked goods and quick to throw together.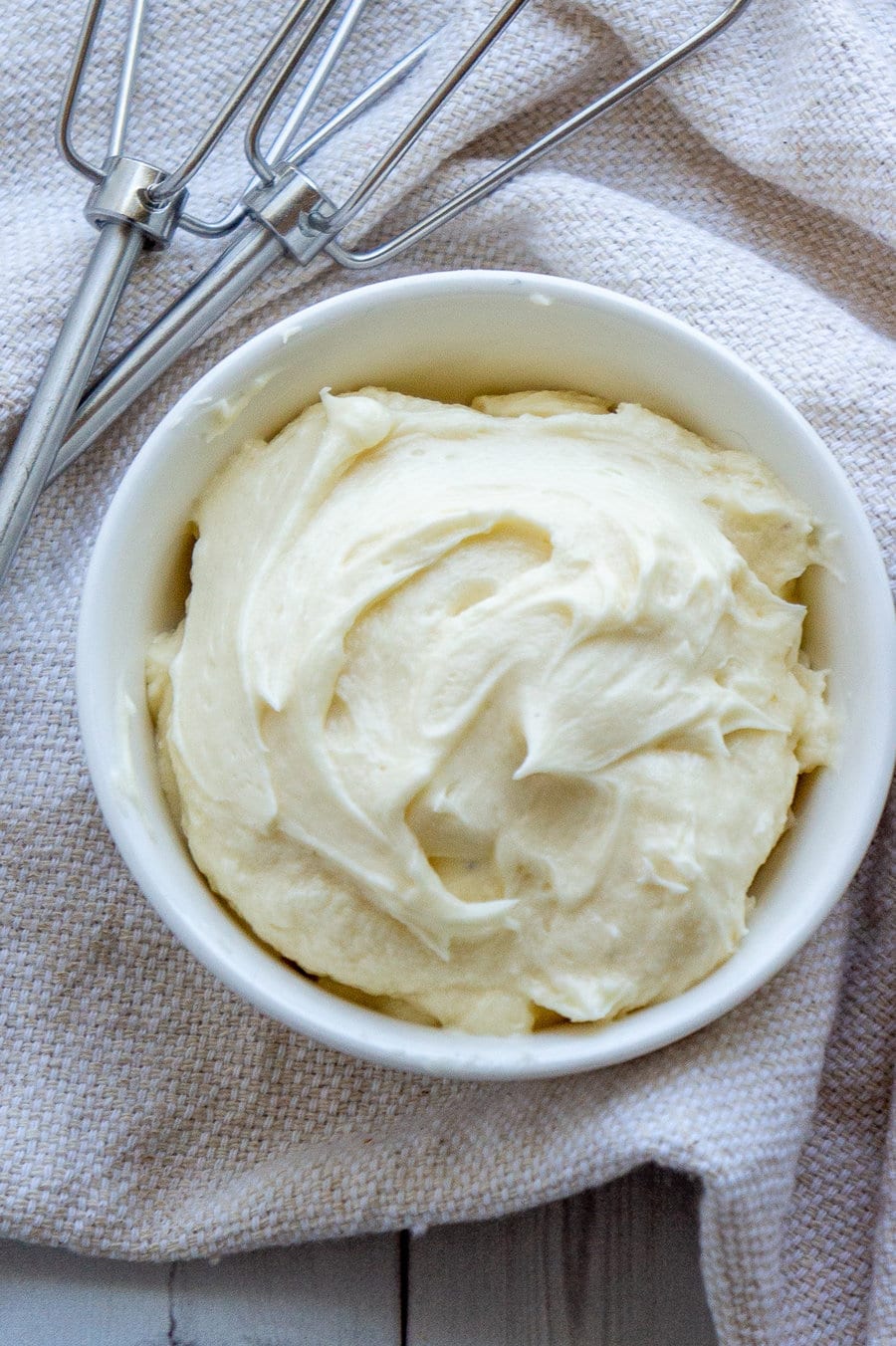 My number one favorite fall flavor is maple. I look forward to maple lattes as soon as the weather cools down and really, really love the flavor in baked goods like maple cookies.
This maple buttercream is a super easy way to incorporate it into other complementary desserts. It's my go to frosting for pumpkin cupcakes, and would be amazing on spice cupcakes, chocolate cupcakes, or a pumpkin layer cake.
The fluffy, creamy frosting is a balance of buttercream sweetness and rich maple flavor, without being overpowering, and it only takes minutes to make.
Ingredients and Substitutions
I found these ingredients created the best balance of air and richness, while still being a perfectly sweet frosting. It makes enough to frost a dozen cupcakes, but it can also be easily doubled or tripled to make more.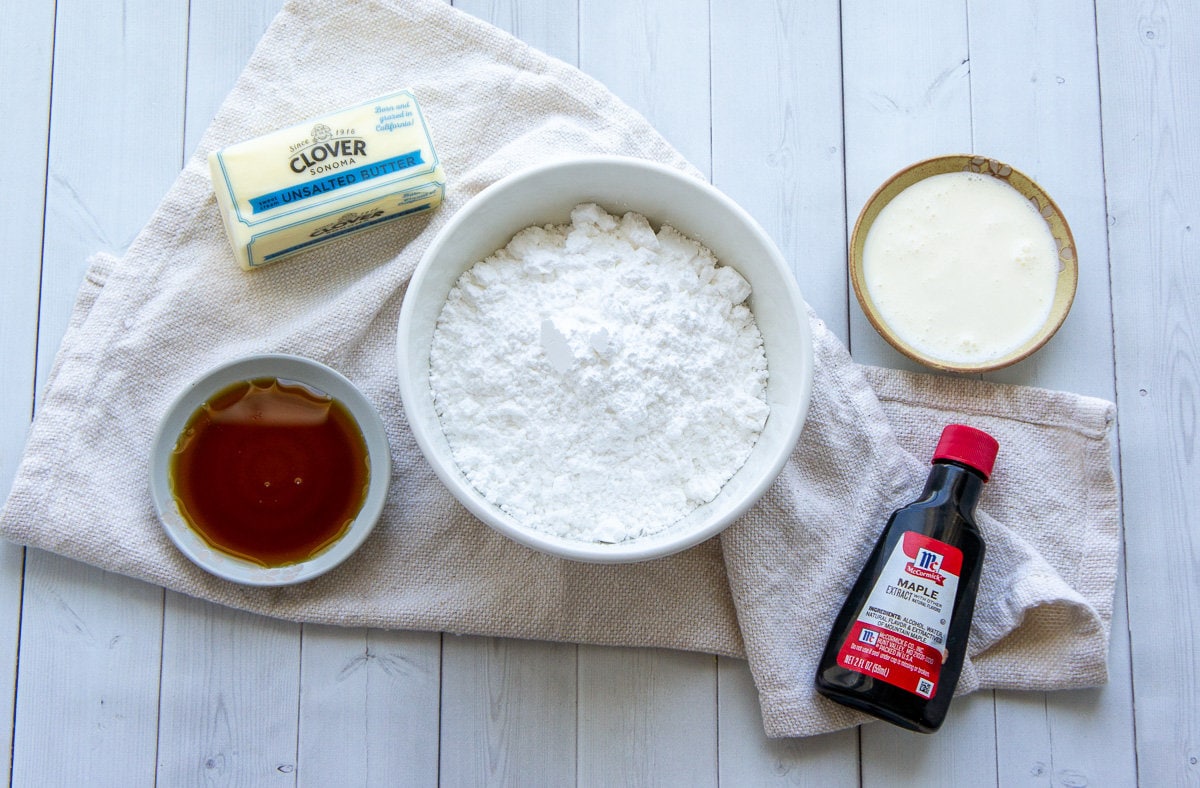 Unsalted butter – I prefer to use unsalted so I can control the level in the frosting.
Maple syrup – I use a little pure maple syrup to help amplify the flavor in the buttercream. Despite what you might think, Grade A is actually the most mild, I prefer a darker amber or Grade B option if possible.
Maple extract – This packs BIG flavor in SMALL doses. It's powerful stuff and too much will make your frosting cloying. If it's not 'mapley' enough, you can add ⅛ of a teaspoon at a time.
Heavy cream – I prefer this to help with fluffiness and thin out the powdered sugar and butter.
Powdered sugar – This is essential! The superfine sugar is incorporated without grittiness. If you don't have it, you can blend granulated sugar and combine it with 1 tablespoon of cornstarch per cup.
Key Tips
Frosting isn't complicated to make, but I have some tips that help it turn out creamy, thick, and fluffy every time.
Use room temperature butter, cream, and syrup – cold butter will not beat smoothly and melted will leave you with runny frosting. Everything incorporates better when it's not ice cold from the fridge.
Add in stages – Beat the butter, then the syrup and extract in, then start adding the sugar in increments. This helps it build both flavor and the proper texture so it's smooth and fluffy.
Drizzle the heavy cream in with the mixer on – I find it helps build the volume better if I add it as it runs. Dumping it all in can break the buttercream or make it sludgy instead of light.
Scrape down the sides – Pause and scrape down the sides of your bowl throughout the process so nothing gets caked up on the sides.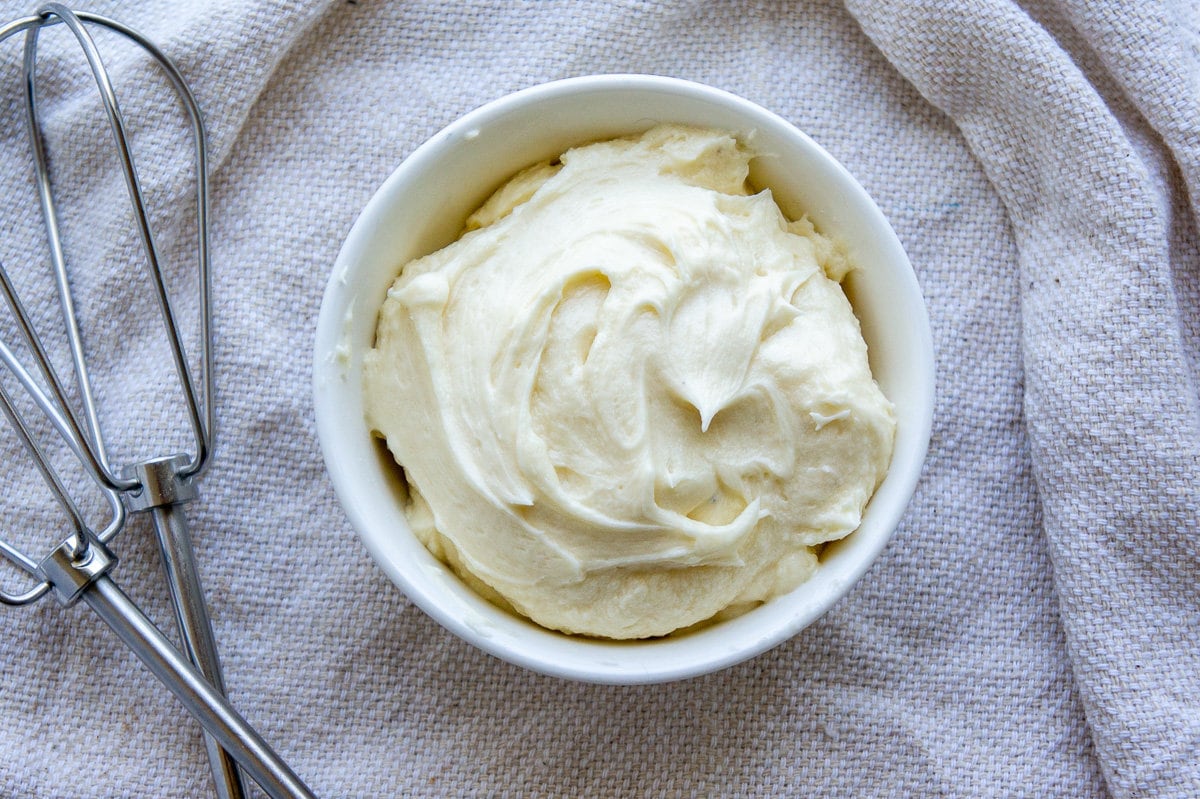 FAQ'S
Do I need to sift the powdered sugar?
No, I never sift the sugar for a buttercream. The mixer takes care of any lumps, and it saves me time.
How much cake or cupcakes will this buttercream frost?
That depends on your technique! If you're into big tall swirls, a dozen. If you're applying it with a knife or spatula, closer to 16-18. Feel free to double it! This is a super helpful post about how much buttercream you need so you can make the right amount for your baking project.
How do I thin it out?
If your buttercream is too thick, add 1 teaspoon of milk at a time and beat between additions until it's the texture you want.
How do I thicken it?
Add ¼ cup of powdered sugar at a time, beating between additions until it's thickened. If you are going past 1 cup, I recommend adding 1-2 tablespoons of cornstarch instead so it doesn't get overly sweet.
I hope you love this sweet, rich, fluffy maple buttercream frosting. It has the perfect balance of fall, maple flavors and pairs wonderfully with winter spices, pumpkin, vanilla, chocolate, or whatever you're baking. Check out these other fall bakes to keep the inspiration flowing while you're here!
Maple Buttercream Frosting
Maple syrup and extract combine to enhance a simple whipped buttercream frosting with fall flavor without it being too sweet or dense. Use it to frost cake, cupcakes, or cookies.
Ingredients
1

cup

butter

softened

1/4

cup

maple syrup

1/2

teaspoon

maple extract

3

cups

powdered sugar

1/4

cup

heavy whipping cream
Instructions
Beat the butter on medium until light and fluffy. 1-2 minutes.

Add in the maple syrup and extract and beat for another 30 seconds to 1 minute on medium, or until well combiined.

Reduce the mixer speed to low and add in powdered sugar 1/2 cup at a time to avoid it spilling out while mixing.

Once all the powdered sugar is in, turn the mixer back up to medium high until the sugar is well-incorporated.

Start pouring in the heavy cream with the mixer running until it's all in. Then beat another 1-2 minutes longer, or when the buttercream is light, fluffy, and smooth.
Nutrition
Calories:
287
kcal
Carbohydrates:
35
g
Protein:
0.3
g
Fat:
17
g
Saturated Fat:
11
g
Polyunsaturated Fat:
1
g
Monounsaturated Fat:
4
g
Trans Fat:
1
g
Cholesterol:
46
mg
Sodium:
124
mg
Potassium:
25
mg
Sugar:
34
g
Vitamin A:
546
IU
Vitamin C:
0.03
mg
Calcium:
15
mg
Iron:
0.03
mg
Nutrition information and cooking times are provided as a best estimate. Values may vary based upon ingredients and equipment.