This page contains affiliate links. For more information please read my Disclosure Policy.
Homemade coffee creamer is easy to make and insanely delicious! With just two key ingredients and flavorings of choice, you can make your own homemade coffee creamer with sweetened condensed milk. Once you've tried out a homemade coffee creamer recipe, the store stuff won't compare!
There are days I wish I liked my coffee black like my husband does. No fuss, just pour and go. Buuuut…sipping a cup of coffee black is just not going to happen.
I've tasted and sampled my way through so many store bought variations. The powdered stuff, the sugar free (and oddly sweet?) stuff, the dairy free, the pure and natural cream based, all of it. Some of it's been okay, but truth be told, the BEST coffee creamer I've ever had is the one I make at home.
It's smooth, sweet, and flavored just the way I like it. Heck I can even change the flavor week to week! The best part is that I know exactly what's in it. I even make my own condensed milk, so from start to finish, it's completely made from scratch. Trust me on this one, if you give homemade coffee creamer a try, you'll be a convert too.
Homemade Coffee Creamer with Sweetened condensed Milk
There are lots of ways to make creamer out there. Evaporated milk, coconut cream, simple syrups are all potential options. But the best combo in my opinion that requires minimal effort for biggest, most satisfying flavor pay off is milk and sweetened condensed milk.
Sweetened Condensed Milk: This is the sweetening agent in your homemade creamer. You're more than welcome to use the canned stuff, either traditional or non-dairy. Or, you can whip up your own with my easy recipe for Homemade Sweetened Condensed Milk (also can be made vegan/non-dairy!)
Milk: The second major ingredient, necessary to thin out the sweetened condensed milk and tame the sweetness. You can choose whatever milk you please, cow, coconut, nut, or soy.
Flavoring: Now this is where you can get really wild. Add cocoa powder, cinnamon, vanilla, maple, whatever makes you happy!
Two Methods to Homemade Coffee Creamer
Depending on the flavors you choose to add to your coffee creamer, and how you choose to add them, the way you mix up your creamer will differ.
The Cold, Shake it Up Method
This easy, no fuss method works best for flavoring agents that blend easily. Extracts, powdered spices, or syrups.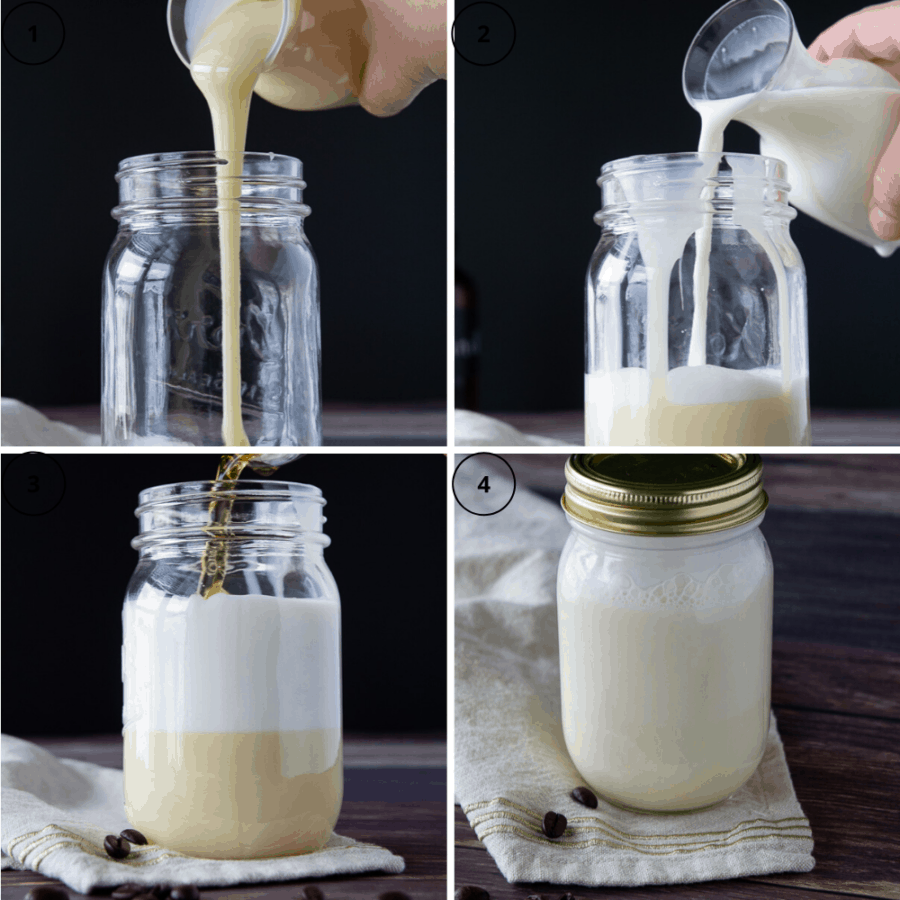 Place condensed milk, milk, and desired flavorings in a mason jar or storage jar of choice.
Shake vigorously until combined. Enjoy!
Refrigerate and shake again before using.
Heat Infusion Method
This method is ideal for enriching your homemade creamer with deep flavor. It also opens up your flavoring options to things like whole spices, cocoa powder, tea packets, or espresso powder. These ingredients incorporate best with some heat applied, and result in a decadent creamer!
If using whole spices, place them in a pot over medium high heat first. Toast lightly, gently shaking the pan every minute or so.

If you're not using whole spices, skip step one!

When they're fragrant and toasty (2 to 3 minutes), pour in your milk and condensed milk into the pan.
Heat milks until just steaming.

If adding cocoa powder, espresso powder, or any other ingredients stir in now, continuing to stir over heat until there are no clumps and everything is smooth and delicious. Remove from heat and pour into storage jar and let cool before refrigerating.
If using whole spices or tea, turn off heat and cover the pan. Let it steep until the mixture has cooled enough to touch then pour into a storage jar and refrigerate.
Bonus Tip: If you want to strain out any spices before storing, do so. Otherwise, let them stay in with the creamer. The flavors will strengthen slowly in the fridge, your best cup may even be the last one in the jar!
Coffee Creamer REcipe Ratios
How sweet and thick you like your creamer is going to affect the ratio you prefer of sweetened condensed milk to regular milk. Personally I like a ratio of 1:1.
Depending on your flavor preferences, here are some suggestions on how much to add:
Ground spices: I'd start with 1 tsp and work your way up. I found cinnamon and ginger I needed a touch more, but for cloves, nutmeg, and allspice less. Feel free to mix them! I also recommend a splash of vanilla extract for these too!
Cocoa powder: I like 2 tablespoons for that much creamer.
Whole spices: One cinnamon stick, 4 allspice berries, or 4 cloves were perfect!
Vanilla Extract: 1.5 to 2 tablespoons was perfect!
Maple, Peppermint, Hazelnut, or Almond Extract: 2 teaspoons was just enough!
Chocolate syrup: 2 Tablespoons
Tea: Steep one to two tea bags of your preferred flavor (lavender, ginger, cinnamon apple, chai), remove when desired flavor is reached!
Feel free to experiment! I'm still learning and tasting what goes well, and would love to hear what flavors you come up with. I'm considering a tumeric ginger flavor next, yum!
Give your creamer a good shake before using, regardless of the flavors you choose, and you're good to go!
FAQ'S
How long does homemade creamer last?
This depends on the milk you've added. Your coffee creamer is best consumed by the expiration date of your earliest expiring ingredient. For example if you use milk expiring in two days, your creamer won't last very long.

I make my creamer as I buy milk, and find that 1 cup of condensed milk and 1 cup of milk lasts me a week or two, long enough to last without any waste.

Non-dairy milks usually expire less quickly, and coconut milk is an excellent alternative that has a longer shelf life (the cartons. Using canned coconut milk has a LOT of fat that you will taste)
Can I freeze it?
Certainly. Condensed milk freezes well, so it's ideal for this. However regular milk may have some separation. Mix up your creamer, freeze, then thaw as needed (up to 3 months in the freezer is fine). Be sure to vigorously shake before each use, and you're good to go!
Is this better for me than store bought creamer?
I'm not going to claim that drinking anything with sweetened condensed milk is necessarily healthy. BUT, there are no strange ingredients, no preservatives, and you can flavor is as desired. In my book, that's better every time.
Enjoy!
I hope this homemade coffee creamer recipe makes you as happy as it does me. I sincerely enjoy my morning (and evening, shhh) cups so much more now. It's easy, even if you're just using it in a pinch or to test it out. Have fun!
If you liked this, you may also enjoy these beverage recipes:
Homemade Coffee Creamer
Print Recipe
It's a simple combination of sweetened condensed milk, regular milk, and flavoring. And it's the best creamer you'll ever add to your coffee!
Instructions
Combine ingredients in a jar or bottle and shake until combined.

Store in fridge. Will last as long as the earliest expiring ingredient.
Notes
Post contains NUMEROUS suggestions on different flavors and how to best combine them. Read above for alternatives to this classic vanilla coffee creamer.
Nutrition
Serving:
2
tbs
|
Calories:
48
kcal
|
Carbohydrates:
8
g
|
Protein:
1
g
|
Fat:
1
g
|
Saturated Fat:
1
g
|
Cholesterol:
5
mg
|
Sodium:
18
mg
|
Potassium:
54
mg
|
Sugar:
8
g
|
Vitamin A:
38
IU
|
Vitamin C:
1
mg
|
Calcium:
40
mg
|
Iron:
1
mg
Originally published 3/19/2019, Updated 3/15/2020
Nutrition information and cooking times are provided as a best estimate. Values may vary based upon ingredients and equipment.