Chocolate Shortbread Cookies
This page contains affiliate links. For more information please read my Disclosure Policy.
Chocolate shortbread cookies are a quick and easy dessert to satisfy that chocolate craving. Cut them out or slice them for a fast, no-chill chocolate snack.
Here we are again, another shortbread cookie recipe. What can I say? They're my husband's favorite cookie and once I mastered the secret ratio that I shared in my 3 ingredient shortbread post, they're my go to whenever I want a quick cookie and feel like experimenting.
This chocolate shortbread recipe was actually a bit more difficult than some of my others, like the espresso chocolate dipped ones or the winter spiced version. Cocoa powder isn't an exact replacement for flour, and needs the perfect balance of sweetness to taste good instead of bitter.
I finally found the perfect balance of cocoa to flour and then it was easy to make a soft, chocolatey cookie that was just as easy as any of my other shortbread recipes.
Ingredients for Chocolate Shortbread
The ingredients to make chocolate shortbread are almost exactly what I like for my traditional ones. It includes the 3 essential ingredients, flour, sugar, and butter, but also vanilla and salt for flavor.
To make them chocolate, you'll also need cocoa powder. You can use either Dutch processed or natural cocoa powder for this, but just make sure you choose a brand you like. I like the Guittard red rogue cocoa powder.
How to Make & Shape Them
I always use the creaming method for shortbread because I find it produces a softer, consistent cookie that I can either choose to bake crispy (my husbands fave) or leave soft (my preference).
With the butter, sugar, and vanilla creamed, then it's just adding in the cocoa powder, flour, and salt until a soft dough forms. I usually do this by hand, because overmixing leads to crumbly and dry cookies.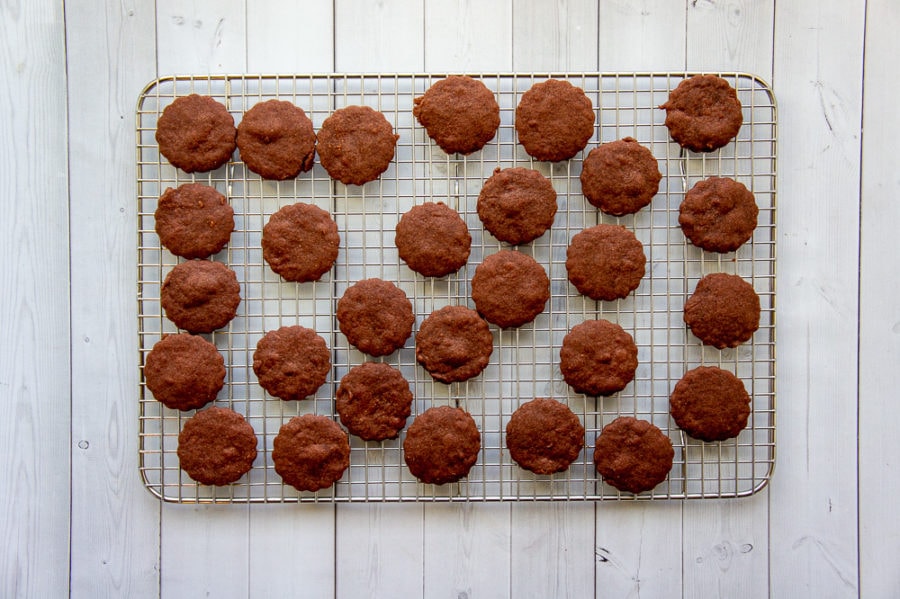 When the dough is formed, you have choices! Here are my best tips for shaping them.
Roll them into a log in cling film or parchment paper, and chill for 30 minutes, then slice and bake.
Roll the dough out right away to ¼-½" thickness. Gently reform the excess by pressing it together and rolling it out once more.
I never need to flour my rolling pin, I'm just gentle, and I roll on a silicone baking mat to eliminate the need for flouring my surface and drying out the dough.
Bake them for 1-2 minutes longer, or roll them thinner if you prefer a crisp shortbread.
We like to roll and cut them, because my 3 year old has mastered the cookie cutters finally, and I don't have to wait to eat them.
If you're looking for a chocolate shortbread crust, I wouldn't recommend this particular dough. I've tested it and I found that the melted butter method I used in my Chocolate Custard Tart was much better for crust applications.
FAQ's
I've tried my best to predict the questions a home baker might ask about a recipe like this, but if I missed yours, ask in the comments and I'll be sure to answer!
Should I measure my chocolate shortbread ingredients by weight or volume?
You should measure cookie ingredients, or really any baking recipe, by weight whenever possible. It is the most consistent way to ensure the cookies turn out the right way every time because volume measurements can be affected by how compacted your flour is, how level your scoop is and more.
Should I use salted or unsalted butter in chocolate shortbread?
You can use either salted or unsalted butter in a shortbread recipe, but don't add the extra salt called for in the recipe if you're using salted. Likewise, if you use unsalted butter when a recipe calls for salted, add a pinch or two to make up for it.
Do I need to chill chocolate shortbread dough?
Chocolate shortbread dough does not need to be chilled if you're rolling it out and using cookie cutters. If you're rolling it into a log to slice it, chill it for at least 30 minutes to help the log firm up and give you even slices.
How long are chocolate shortbread cookies good for?
Shortbread cookies, including chocolate shortbread, are best when kept in an airtight container at room temperature for up to 1 week. They'll last up to 2, but they can become drier and more crumbly the longer they sit.
I hope you love this quick and easy chocolate cookie recipe, and don't forget to check out the other chocolate recipes on the blog for the next time that craving strikes!
Chocolate Shortbread Cookies
A quick and easy soft chocolate cookie made with simple, pantry staples
Ingredients
135

grams

all-purpose flour

1 cup, spooned and leveled

25

grams

cocoa powder

3.5 tablespoons

4

ounces

butter, softened

1 stick

56

grams

granulated sugar

1/4 cup

1

teaspoon

vanilla extract

1/4

teaspoon

salt
Instructions
Preheat your oven to 350°F and line a baking sheet with parchment paper or a silicone mat.

Beat the sugar, butter, and vanilla together until just combined in a smooth paste.

Add in the cocoa powder, flour, and salt and fold or mix in by hand until a soft dough begins to form.

Dump it onto parchment, a cutting board, or silicone baking mat when there are still some crumbs loose and press it gently together like pie dough, until uniform.

Either roll it into a log, wrap in plastic wrap, and chill for 30 minutes, or roll it out into sheets 1/4"-1/2" thick and cut out shapes with cookie cutters.

If you rolled it into a log, remove and slice 1/4-1/2" thick rounds and place on baking sheet.

Bake for 7 minutes, or until the edges look set and the middle no longer looks wet.*
Notes
The number of cookies you get will largely vary based on the size of the cookie cutter or the thickness of the log you rolled it in to.
*Bale 1-2 minutes longer for crisper cookies, the 7 minutes produces a soft cookie.
Nutrition
Serving:
1
cookie
Calories:
106
kcal
Carbohydrates:
12
g
Protein:
1
g
Fat:
6
g
Saturated Fat:
4
g
Polyunsaturated Fat:
1
g
Monounsaturated Fat:
2
g
Trans Fat:
1
g
Cholesterol:
16
mg
Sodium:
93
mg
Potassium:
37
mg
Fiber:
1
g
Sugar:
4
g
Vitamin A:
189
IU
Calcium:
5
mg
Iron:
1
mg
Nutrition information and cooking times are provided as a best estimate. Values may vary based upon ingredients and equipment.