Farro Risotto with Bacon, Pumpkin, and Spinach
This page contains affiliate links. For more information please read my Disclosure Policy.
Farro risotto is a delicious, healthy risotto alternative to a traditional white rice recipe. Whole grain risotto made with wholesome ingredients like pumpkin, spinach, and just enough bacon to add a punch of flavor is a fantastic comforting recipe that's healthier, while still feeling indulgent.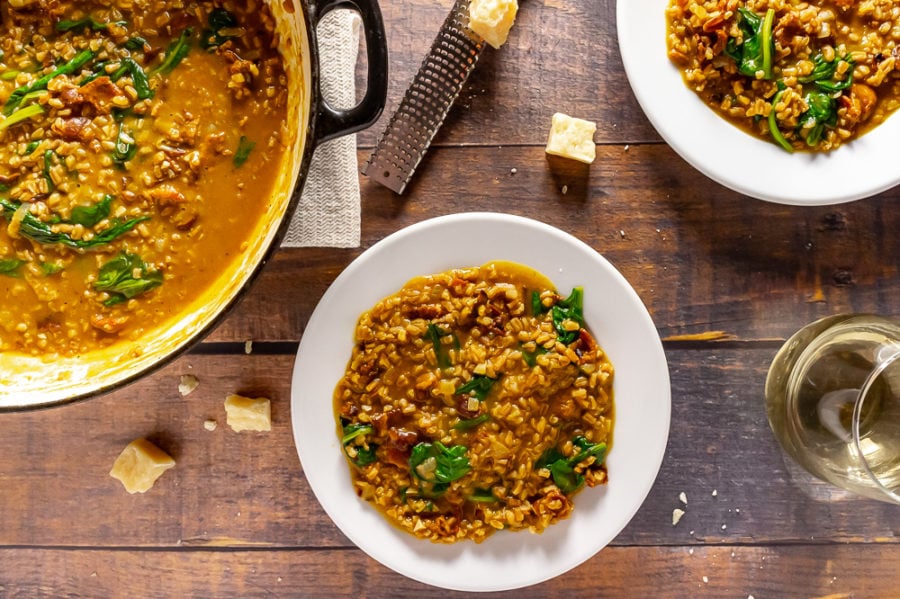 My husband and I have always eaten pretty well I think. But we're also BIG believers in enjoying life, and that often applies to food. We like our cheeseburgers! Risotto, is one of those indulgences for me. Creamy rice, butter, and Parmesan cheese. YUM.
But when possible, I do try to make changes to healthier options, especially if I can do it without sacrificing flavor! The solution is a fantastic healthy risotto recipe made with whole grains, pumpkin puree, spinach, and just a touch of bacon for a punch of flavor. Farro risotto is going to be you're new favorite healthy indulgence!
So What is Risotto?
If you've never had risotto before you need to. It's traditionally a rice dish, made using a method that encourages the rice to give up its starch and create its own sauce.
This is done by adding small amounts of hot cooking liquid to rice in a wide, open pan. The liquid is stirred until absorbed, creating friction that evenly releases starch from the grains, that creates a thickened sauce over time. Cooking in an open pan allows the liquid to evaporate as well, meaning you use more liquid than you traditionally would when cooking a grain.
While Arborio, or medium grain white rice is the traditional choice, this method can be applied to other grains. I actually find farro to be a forgiving choice. It's hardy, and has a natural chew that resists overcooking. To enhance the creaminess that is somewhat lost by not using the starchier white rice, I added pumpkin puree, and it works like a charm.
Farro Risotto Ingredients
To make this healthy risotto you need a handful of ingredients that all play a key role in the overall creaminess and flavor of the final recipe.
Classic risotto is made with simple ingredients. Shallot, garlic, rice, white wine, broth, butter, and Parmesan cheese. I've adjusted and added to those components to make a creamy, more nutritiously dense version using a whole grain.
Garlic & Onion: Two very common building blocks to numerous dishes. I chose yellow onion over the more traditional shallot. The stronger flavored onion stands up to the other ingredients in this recipe.
Bacon: Okay, so bacon isn't healthy, true. But in small amounts it adds powerful flavor to so many dishes. Thick cut is best in this recipe (and really every recipe)
Farro: I love farro, it's an ancient wheat grain with tons of health benefits. It brings fiber, magnesium, vitamin B3, zinc and other nutrients to the table along with a delicious soft, chewy texture you'll quickly crave.
White Wine: Wine is a powerful ingredient even in small amounts. For your farro risotto you'll only need a cup, and it makes a massive difference in flavor. As always, in 99% of recipes, I recommend a dry, crisp wine, nothing sweet. I've made it with both an oaky Chardonnay and a bright, crisp Sauvignon Blanc and they were equally delicious.
Broth/Stock: Stock is made from slow simmered bones, and broth is made from simmering bones and meat. Both produce a lovely liquid. Either way, go with chicken. I used homemade chicken broth and it was perfect.
Pumpkin: Pumpkin is a nutrition powerhouse with tons of Vitamin A, antioxidants and so much more. (Read about pumpkin nutrition here), and it's also inexpensive. For recipes like this it adds a delicious creaminess – without the cream. Don't worry, it doesn't taste like pumpkin porridge, but it is essential. Pureed butternut squash would be a delicious alternative.
Spinach: Gotta love those dark greens, packed with protein, iron, vitamins, and minerals, spinach is my best go to friend when trying to incorporate greens in a dish. It wilts quickly and beautifully into sauces, and is tender and mild to eat.
Parmesan Cheese: To finish off this farro risotto, you'll need a small amount of good ole Parmesan. It can be argued that the protein, calcium, and other minerals are good for you anyway. Go on, enjoy that Parmesan!
How to Make Healthier Risotto
Making risotto is not complicated. It just requires a bit of patience and attention. Now, I'm not an Italian grandmother who learned from her grandmother and has been making it for generations…but this is how I make it. It turns out pretty darn good every single time.
COoking your Bacon
Before I get going on the steps, I recommend deciding on how you want to cook the bacon. Generally I prefer the two skillet method…
Cook chopped bacon in a separate skillet until there is about 2 tablespoons of rendered bacon fat in the bottom of the pan.
Pour that fat into the preheated large skillet you're using for risotto and start your onions.
Continue to cook the bacon while you start the risotto then drain on a paper towel and reserve for adding to the risotto later.
But many people prefer cooking their bacon in the oven, which I get! So if you prefer that, you can simply use olive oil instead of the bacon fat. I think this loses some flavor, but it's easier clean up and low maintenance cooking.
Here is a great guide from Unsophisticook on how to bake your bacon!
Farro Risotto Steps
First step is to get your bacon cooking, whichever method you choose.
Next, add your broth to a saucepan over low heat. You want your broth (or stock) hot, but not simmering or boiling, just hot. Add half a cup of your wine to this. The pot will stay over low heat during the entire risotto cooking process.
Now heat a large wide skillet over medium heat. There are such things as risotto pans and risotto spoons, but they can be expensive, and unnecessary. But I use an enameled cast iron pan like this one and a wooden spoon and it works perfectly!
When your pan is hot, saute your onions in either the bacon fat or oil until they're translucent. Add the garlic and cook for 30 seconds to 1 minute, until fragrant.
Add your farro, stir until every grain is coated with fat and allow to toast for a few minutes, stirring to prevent burning.
Pour the remaining half of the wine to the pan with the farro and onions. It will simmer and smell delicious! As it does use your spoon to scrape along the bottom of the pan to pick up any caramelized spots.
Turn on the TV, you've got some stirring ahead!
Once the wine has cooked almost all the way down, begin ladling the broth. I do 2 ladles at a time, you'll need just enough broth to almost cover the farro. Adjust your heat as needed so your liquid is gently simmering.
Now stir, and stir….and stir. You do not have to stir constantly for the next thirty minutes, but every few minutes stir the farro in the liquid so all the grains get a warm bath and the liquid absorbs evenly without any sticking to the bottom of the pan.
When the broth is almost all absorbed (not gone, don't let the pan go dry) add more.
Repeat this until all your broth has been added (5 to 6 cups) and your farro has a pleasant, soft chew. If your farro is still crunchy, simply continue to add broth until it reaches the desired texture.
Once its the way you like it, turn off the heat and add 1 more ladle of stock. Then add your pumpkin, cheese, and spinach and stir until incorporated and the spinach has wilted.
Add in bacon, taste, and add salt or pepper as desired.
That's it! Serve immediately with a nice loaf of bread or a small salad. Heck, have both!
Healthy Risotto – A whole grain Risotto alternative
If this is your first time making risotto, I hope you enjoy it as much as I do. There is something peaceful for me about slowly stirring and watching the grains give in to the broth, creating this amazing creaminess.
Once you've mastered the technique, you can apply the 'risotto technique' to different grains and sets of ingredients. Get creative! Use barley, wild rice, and see what you like, and what veggies go well with them. Pea and pancetta, lemon asparagus, a mushroom medley – all are great options!
But for now, give this bacon farro risotto a try, and enjoy a creamy, whole grain alternative that you can savor without a lick of guilt.
FAQ'S
Is farro risotto gluten free?
No. Farro is a wheat grain, so it does contain gluten.
What kind of farro should I buy?
There are a few different kinds of farro, generally whole grain, semi pearled, and pearled. Whole grain packs the biggest nutritional punch, but it also takes the longest to cook. I usually buy semi-pearled because it falls right in the middle.

If you buy pearled, it will cook faster. If you buy whole grain farro, it may take a bit longer to cook, but soaking for 30 minutes first can also help.
Can I overcook the farro?
One of the best reasons for using farro as a replacement for rice is that it is one tough grain to overcook. While rice becomes a broken mushy mess if overcooked, farro takes a long, long, long time to break down like that.
Can I substitute something else for the pumpkin?
If you don't have or don't want to use pumpkin puree, you can use heavy cream or double the cheese to lend to creaminess.
What to Serve with Risotto
Bacon Farro Risotto with Spinach
This is a delicious whole grain risotto that packs a punch of flavor with healthy, tasty ingredients like farro, pumpkin, and spinach, with just a touch of bacon and Parmesan to make it craveable.
Ingredients
1

Cup

Onion, diced

about 1/2 an onion

4

Cloves

Garlic, minced

1

Cup

Farro

1

Cup

White wine, divided

Chardonnay or Sauvignon Blanc are good choices

5-6

Cups

Chicken broth

2

Cups

Spinach

1/2

Cup

Pumpkin Puree

6

Slices

Bacon, diced

Thick cut

1/4

Cup

Parmesan
Instructions
Saute bacon in a skillet over medium heat until crisp.**

Add broth and 1/2 cup of white wine to a saucepan over low heat, and heat until hot, but not simmering or boiling.

While bacon is cooking heat a wide, deep pan over medium heat. A large skillet is ideal. When hot, add 2 tablespoons of bacon fat, or 2 tablespoons of olive oil. Add onion and saute until softened and translucent.

Add garlic and saute until fragrant, 30 seconds to 1 minute.

Add farro, and stir to coat until all the grains look like they've been coated in fat. Use more bacon fat or oil if necessary, but not enough that there is excess oil in the bottom of the pan.

Pour in remaining 1/2 cup of white wine. Stir and let simmer until almost entirely absorbed.

Begin adding hot broth 2 ladles at a time (about 1 cup), or enough to almost cover the grains, but not to submerge them. Stir frequently.

When broth is almost entirely absorbed, but not entirely, add another cup or so of broth and repeat. Continue this until your farro is tender and pleasantly chewy. This takes about 4 to 4 1/2 cups usually, and about 40 minutes.

Meanwhile, check bacon for doneness. When crisp, drain from pan and set aside.

When farro is done to desired texture, pour a final 1/2 cup of broth. Stir then add pumpkin. Stir to combine.

Add spinach and stir until wilted into the farro and sauce, about 2 minutes. Grate in 1/4 cup of Parmesan cheese, add crumbled bacon, and add salt and pepper to taste.
Notes
** You can bake your bacon in the oven as well. Simply replace bacon fat in the recipe with olive oil and crumble bacon when done.
Nutrition
Calories:
433
kcal
Carbohydrates:
50
g
Protein:
14
g
Fat:
16
g
Saturated Fat:
6
g
Cholesterol:
26
mg
Sodium:
1202
mg
Potassium:
653
mg
Fiber:
10
g
Sugar:
4
g
Vitamin A:
6222
IU
Vitamin C:
26
mg
Calcium:
145
mg
Iron:
3
mg
Originally published 4/6/19, updated 10/30/19
Nutrition information and cooking times are provided as a best estimate. Values may vary based upon ingredients and equipment.