This page contains affiliate links. For more information please read my Disclosure Policy.
Sweet, tart, and silky smooth slow cooker apple butter is so easy to make with just a handful of basic ingredients. After a long, gentle cook in your slow cooker, water bath can your apple butter for long term storage or gift giving!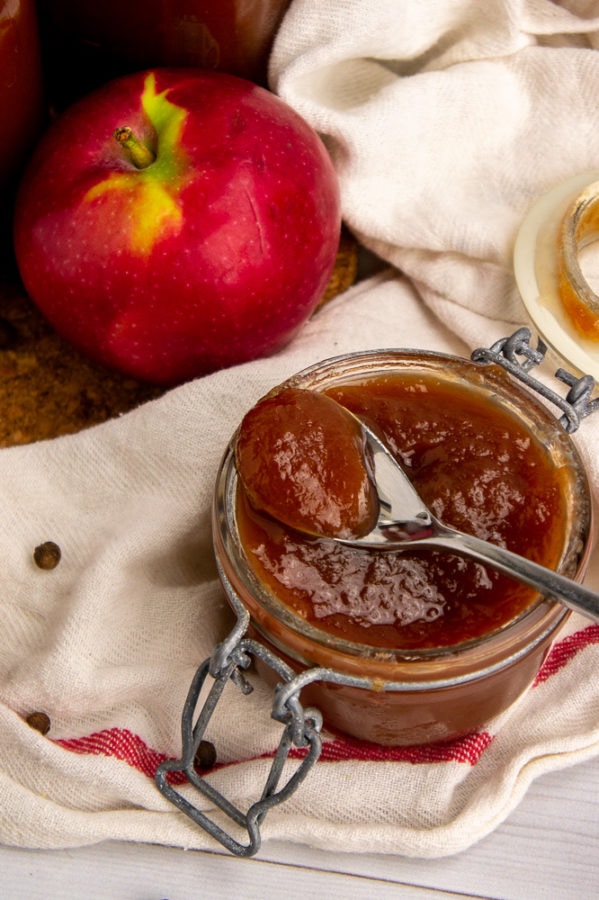 Here we are again, another canning recipe…what can I say? I just love it! There's something so wonderful about take seasonal fruit at its most flavorful and preserving it into something that my family can enjoy. Since I'm all about water bath canning my preserves, a lot of others get to enjoy it too!
This week I'm sharing a fall favorite that I literally grew up on. Much like my pomegranate jelly recipe, apple butter was a yearly guarantee. As I sat down to fine tune it for the blog, I decide to go my great grandma's direction and let my slow cooker do the work. Let me tell you – game changer.
If you're reading this and saying to yourself 'girl, I wanted a quick stovetop recipe, and I'm not canning a thing', don't you worry. I have everything covered here, from crock pots to stove top, canning to freezing to licking the leftovers straight out of the pan.
No serioulsy, how Do Apples Become Butter?
A fruit butter is a term for a cooked fruit spread made from fruit that doesn't jam or congeal well. While you could strain the juice out and create apple jelly, the natural process for apples when cooking is to turn into a pulpy sauce.
Turning that into a butter is as simple as adding enough sugar to smooth and sweeten the mixture, like applesauce, but so much silkier and addictive. You can check out my pear butter for another example of how a fruit butter can be, or check out my post all about Jams, Jellies, and Fruit Preserves for tons of recipe ideas.
What Ingredients do I need for Homemade Apple Butter?
One of the reasons I'm so obsessed with making and canning fruit preserves of all types is that they really all use the same basic ingredients: Fruit and Sugar. Sometimes you need pectin, sometimes acid, and from time to time I throw in some fun flavors.
For slow cooker apple butter, it's simply apples, sugar, and water. That alone will turn into a delicious golden brown apple butter in your crockpot. I added a cinnamon stick and a few allspice berries, and of course, I think you should too!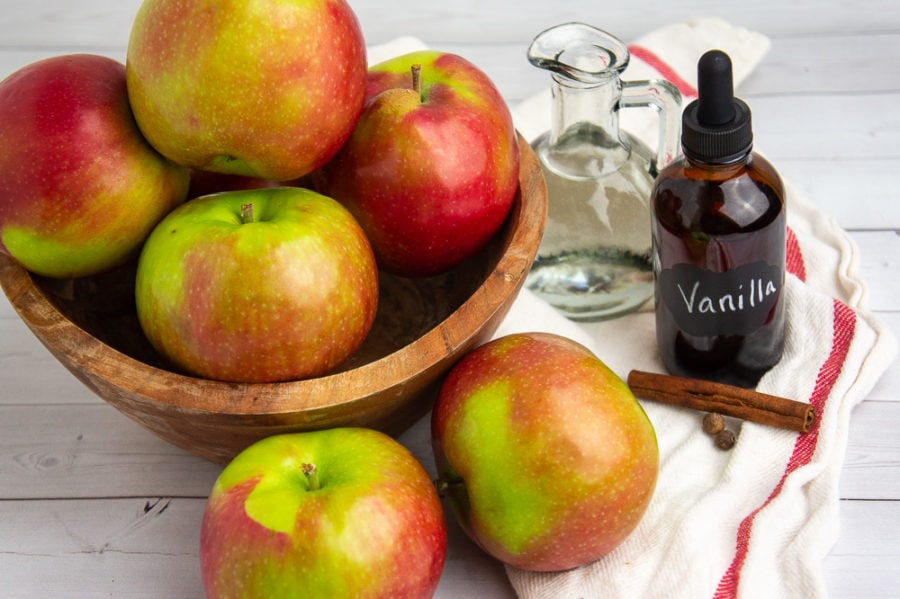 What Apples are Best for Apple Butter?
I've made slow cooker apple butter with what feels like every kind of apple out there. Here's my question to you: what kind of apples do you like?
In truth you can cook any apple down into homemade apple butter, and the only really important factor in your choice is flavor profile. I prefer a sweet and tart apple butter, some prefer it sweet through and through. Here are a few apple recommendations for both:
For tart and sweet apple butter use varieties that are tart – Granny Smith, Braeburn, Cortland, Pink Ladies, and McIntosh (what I used for the pictured apple butter).
For sweet apple butter use sweet apple varieties – Fuli, Gala, Ambrosia, Golden Delicious, and Honeycrisp.
My local grocer had a major deal on McIntosh apples and I jumped at it. It takes 3 to 4 pounds to make apple butter, so check for sales, or if you have a local apple orchard, contact them about buying bulk apples.
Finally as a last note, if you're interested in canning apple butter, acidity may be a question on your mind. Most apples are safe to can as they have an pH usually around 4 or lower. As long as your apple varieties pH is 4.6 or under, it can be processed in a water bath canner and made shelf stable.
How to Make & Can your Apple Butter
I pretty much never make a fruit preserve without canning it. Homemade apple butter makes a fabulous, easy DIY gift for the holiday season. Don't forget to head down to the bottom of the post for more food gift ideas from the fabulous bloggers in this years Homemade Holiday Inspiration!
Canning Apple Butter
If you're interested in how to can your apple butter, or other preserves, first make sure you have this equipment.
Unlike traditional jam or jelly recipes that are cooked stovetop, slow cooker apple butter makes water bath canning SO easy. All you have to do is cook your apple butter, and in the final hour of it cooking, get your canner ready to go.
The added bonus? If you forget and don't have your canner ready, just flip that slow cooker to warm and it will keep your apple butter warm enough to can when you're ready.
In the final hour of your apple butter cooking, fill your canning pot with enough water to cover your canning jars by 1 inch. Bring it to a boil over high heat.
When your butter is almost done cooking place your clean jars in the pot of boiling water for a minute or so to warm them up. This prevents cracking from a temperature difference when you add the hot jam to them.
Remove them from the water with your jar clamps and place them on a towel upside down to let the water run out.
When your apple butter is done, flip the jars over using your hand protection, they'll still be hot.
Using your funnel and ladle, fill jars immediately with your hot butter, leaving ¼" of space between the rim and the jam.
Wipe the rims clean carefully with a warm, damp paper towel then dry them completely. This is important for the jars to seal properly.
Place seals on and using your hand protection, screw on the lids as tightly as you can. Then use your jar clamps to submerge the jars in the boiling water again.
Allow to 'process' in the boiling water for 10 minutes. Remove and set them on a towel, (they'll be very hot!) and leave them at room temperature until each lid has 'popped'.
Pro Tip: You'll know the jars are ready for the cupboard when you hear a 'pop' of the seal locking. You can also check this by pushing down on the center of the seal. If it clicks, it isn't done yet. This can take up to 24 hours, so be patient!
Making Crock Pot APPle Butter
I'm pretty much sold on the idea of slow cooker apple butter, heck, for all fruit butters now! It's SOOO easy. A little prep on the front end, and 20 minutes of work on the back end to store it, and otherwise, set it, forget, and let your house smell like delicious sweet cooked apples.
To begin, you'll need to peel and chop your apples. Do this however it makes you happy, I generally just go for it with a paring knife.
Then add the sugars, cinnamon stick, allspice, water, and apples into your crockpot. Pop on the lid and turn it to low. Walk away for…4 hours.
Seriously, just leave it be! After about 4 hours or so (this is not a hard and fast time), go give it a stir. At this point I used the back of my spoon and smashed the apples down just to speed things along.
Cover again and let it cook for another hour or so. It should look like applesauce, but smell sweet and appear a little watery. Take the lid off and turn it to high. Let it cook for a final 30 minutes to 1 hour, or until the apple butter is dark, smooth, and thickened. If desired, add half a teaspoon of vanilla at this stage and stir well.
Homemade apple butter will look thinner while hot than the final product will be when cool. To check if your apple butter will set up how you like, place a metal spoon in the freezer for a few minutes. Then drop a bit of apple butter on it, it should set up immediately and when you hold the spoon vertically, the apple butter will stay put.
Pro Tip: For the smoothest apple butter possible, use a stick or immersion blender to really puree the thickened mixture.
Common Questions about Apple Butter for Canning
Do I need to add acid to this?
No, apples are acidic enough to be processed in a water bath canner without additional acid.
Why do I add water to the slow cooker?
I've simply found that it facilitates the cooking of the apples a bit better and eliminates all risk of sugar cooking on the bottom before the apples break down.
Can I switch up the spices?
You bet! Go for ginger, nutmeg, cloves…whatever makes you happy! I don't even bother removing the little spices, but you can certainly fish them out when you're done if you wish.
How long with this last?
If you can your apple butter, this will keep for 18 months stored in a cool, dark cupboard. Once opened, you have a month to polish off that jar. Apple butter can also be frozen for up to 1 year in a freezer safe container or jar.
Can I make this on the stove instead?
Yes. My mom, canner extraordinaire, prefers it that way. You'll need to add the water, sugar, and apples just as you did to the slow cooker, but don't walk away. Turn the heat to medium high and mush and stir those apples until you have dark, thick apple butter. The whole process should take your 45 minutes to 1 hour on the stove.
How to Serve apple Butter
One of the most common questions I get is what to use it on. It's just like jam or jelly in that respect. Peanut butter sandwiches are great with a smear of homemade apple butter, and hot toast or english muffins are great. We eat it on waffles, pancakes, or even as a base for sauces like bbq sauce.
However you decide to enjoy it, I hope you love that rich, caramelized apple flavor infused with those winter spices. It's winter season in a jar! I know from experience that homemade apple butter is a gift people love to receive, and I think your friends and family will too.
If you're interested in creating beautiful baskets of home preserves this holiday season, also check out these great recipes!
Ingredients
4

lbs

apples

peeled, cored, and diced

7

ounces

white sugar

1 cup

4

ounces

brown sugar

1/2 cup, lightly packed

1/4

cup

water

1

cinnamon stick

2

whole allspice berries

1/2

teaspoon

vanilla extract

optional
Instructions
Combine the water, chopped apples, sugar, and spices in your slow cooker. Cover and put on low.

Open and smash apples to remove any chunks. Replace lid and cook another hour.

Remove the lid and, if desired, remove spices and puree with an immersion blender.

Return spices to the pot and turn crock pot up to high. Cook, uncovered 1 hour or until thickened, dark, and smooth.*

If adding vanilla, add it in the final 10 minutes, and remove the spices.
Canning Instructions, Optional
If canning your apple butter, place the canning pot full of water over high heat. Bring to a rolling boil.

In the last ten minutes of your apple butter cook time, immerse clean canning jars into the water for a few minutes.

Use jar clamps to remove the jars and turn them upside down on a clean dish towel to dry.

When your apple butter is done, flip the jars right side up and fill with apple butter, leaving 1/4 inch of space between it and the rim.

Wipe the rims clean and dry, then place on new seals and bands. Use hand protection and tighten bands as much as possible.

Submerge in boiling canner for 10 minutes, then remove and let sit on counter until cool and has sealed, (the seal doesn't move when touched),
Notes
*To test if you apple butter is set enough, place a spoon in the freezer for a few minutes. Then remove and drip on some apple butter. If the apple butter congeals and sticks to the spoon, it's ready.
Nutrition
Calories:
54
kcal
|
Carbohydrates:
14
g
|
Protein:
1
g
|
Fat:
1
g
|
Saturated Fat:
1
g
|
Sodium:
1
mg
|
Potassium:
52
mg
|
Fiber:
1
g
|
Sugar:
12
g
|
Vitamin A:
24
IU
|
Vitamin C:
2
mg
|
Calcium:
6
mg
|
Iron:
1
mg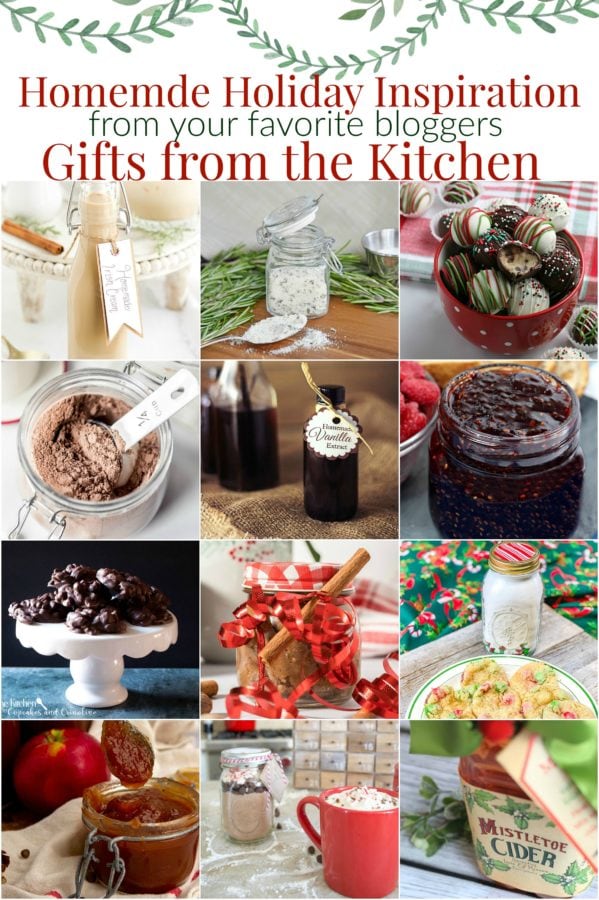 There is something really special about giving and receiving a homemade gift from the kitchen. These delicious recipes from fellow bloggers are sure to please everyone on your Christmas list!
Mistletoe Spiced Cider
from Design Dazzle
Homemade Bailey's Irish Cream
from Fresh Coast Eats
Cookie Dough Truffles
from Hoosier Homemade
Homemade Hot Chocolate Mix
from House of Nash Eats
M & M Cookie Mix in a Jar
from Marty's Musings
Peppermint Hot Chocolate Gift Jars
from My Uncommon Slice of Suburbia
Homemade Vanilla Extract
from Rose Bakes
Rosemary Salt
from Savory Experiments
Hot Buttered Rum Mix
from Tastes of Homemade
Slow Cooker Chocolate Covered Peanut Clusters
from The How to Home
Instant Pot Raspberry Chipotle Jam
from What's Cookin' Chicago
Nutrition information and cooking times are provided as a best estimate. Values may vary based upon ingredients and equipment.