Goat Cheese Appetizers with Roasted Grapes
This post is sponsored by Snøfrisk® . All opinions and recommendations expressed are completely my own.
Even though the sun is still scorching down on us here in California, I can feel the approach of the autumn spirit. Once labor day has passed, my cooking shifts from casual backyard cookouts to cozier parties with friends and family. And, getting together often means eating together, at least it does for me! As my fancier platters come out and the paper plates go away, I wanted to create a something a little fancier, something that felt like at home fine dining when I entertain, without being too complicated.
Inspired by the fall produce beginning to show up at my local market, like gorgeous varieties of grapes, all I needed was the right vehicle. Snøfrisk® goat cheese was the creamy, tangy solution and together they make an amazing goat cheese appetizer with roasted grapes. One taste and they'll be requested at every get together this fall!
Appetizer Ingredients
If you're looking at these gorgeous little bite sized beauties and thinking, there must be dozens of ingredients! I'm happy to say…NOPE! Though they're made from scratch, top to bottom, only a handful of perfectly synced ingredients come together to make these sing. Start by choosing a few high quality ingredients, and it will make all the difference in taking what could be a casual snack to a fine dining appetizer.
Goat Cheese – How to Pick it
There are a lot of options out there for cheeses, and choosing the right one can definitely affect your overall flavor, which is why I'm going to suggest adding Snøfrisk® goat cheese to your next Costco shopping list. There are a few major reasons why Snøfrisk® is my cheese of choice here:
Incredibly Creamy – I've eating my fair share of goat cheese, it's delicious after all, but most are thicker, and even crumbly, meaning you have to wait for it to soften or whip it to make it spreadable. Snøfrisk® is remarkably creamy, a soft and luscious cream cheese texture, but with all the pure flavor of goat cheese. Which leads me to my second point…
Pure and Simple Ingredients – No matter what cheese you cook with I always, always recommend looking for a product made with pure ingredients, no funny business! The ingredient list is literally goats milk, cow cream, salt, and culture (what makes cheese cheese). Plus they care about their animals, which means a better flavor every time. That makes me happy, and it'll make you happy too!
It Tastes GOOD – Guys, it's just good. Like lick your spoon clean good. After my first test batch my husband's been eyeing the cheese all week hoping to sneak some to dip his chips in. Obviously I'm hoarding it all for myself! Really though, it's creamy, tangy, salty, just everything you want in a goat cheese.
Grapes – Sweet and Fresh
So why grapes of all produce? Maybe you've heard of Napa wine country? Once or twice? Yea California is kind of known for it's grapes. I was fascinated to learn that California is actually responsible for growing 99% of table grapes in the US. They're available as early as May, but as the wineries begin their grape harvest right around now, table grapes also show up in abundance and hang around through the end of the year.
This makes them pretty much perfect for a fall appetizer, and there's stall in particular at my farmer's market that overflows with these big gorgeous baskets of different grapes. I'd been dying to get them into a recipe, and when I found Snøfrisk®, it was like a match made in heaven!
Don't fret if your market is low on grapes, or if you don't have one to go to, they're showing up in grocery stores all over the place as well.
My personal pick was a variety called the Thomcord, it's a supremely delicious hybrid of two popular varieties – concord and thompson. They're juicy, sweet, and when you roast them, they become like little bursts of grape jam.
If you can't find these, choose a sweet black seedless variety. Fun tip, the term 'black' grapes actually cover all the reddish colors, from deep purple to light pink.
How to Pick grapes
While you're standing there mulling over your choices, be sure to pick a cluster that has a green firm stem and plump, firm grapes. If you see a white powdery looking haze on the surface that's actually a good thing. You can read more about that, and about different varieties in this article from Steve over at Harvest to Table, it's a great read!
You'll Also Need…
To get these bite sized appetizers on the table you'll also need a few basic ingredients:
For the crackers –

All Purpose flour
sugar
salt
olive oil
fresh thyme
water

Pistachios – for topping your goat cheese
For the roasted grapes –
All those together, makes these!
Making Goat Cheese Appetizers with Roasted Grapes
Okay, you've got your Snøfrisk®, grapes, and other ingredients assembled, you're ready to get cooking! Even though I call these fall appetizers fine dining, the overall process is pretty simple.
Baking & Roasting
There are two cooking steps to make these, one is the crackers, and one is the roasted grapes.
To make Crackers
My husband likes to call these pie crust crackers, and I can understand why, they're flaky and and tender and made with similar ingredients! However unlike most pie crusts, I opted for olive oil for the fat. This allows the dough to skip the chilling phase, and since there's no butter, you don't have to work quite as fast to prevent too much softening. Since you're also using olive oil to roast the grapes, it's a win win.
Pie crust crackers, olive oil crackers, whatever you call them, they're easy to whip up.
Combine the flour, sugar, salt, and fresh thyme in a bowl. Stir to combine.
Add in water and oil and stir and fold gently until dough begins to come together.
Lightly flour a clean surface and a rolling pin and turn out the dough. Press gently to flatten into a disc then roll out to 1/4″ thick.
Cut out crackers and place on a parchment lined baking sheet and bake in a 400°F oven for 5-7 minutes.
Cracker Tips
You'll likely have to bake in a few batches so I like to use 2 sheets of parchment, bake on one, assemble on the second, and then slide them on and off the baking sheet to bake.
I chose a small 1 1/2″ cutter to make these truly bite sized, but you can honestly cut them however you like. At my size cutter, the dough yielded about 75-80 crackers. For a party where you estimate 6 or so per person (if you have other food), this serves 12. If you choose to make them larger the yield will change. For the simplest cut, just roll out and cut squares with a knife.
Depending on your chosen cutting method, you may have dough scraps to roll out again. Do this gently.Overworking the dough creates more gluten, leading to a tougher cracker. I found that I could roll it out three times (gently!) before this happened.
Roast Grapes
Roasting grapes is about as simple as it gets and I'm kind of amazed I don't do this all the time. They turn into these tender, succulent little juicy bites that are a perfect pairing for the tang and creaminess of Snøfrisk®.
Toss 16 ounces of grapes in a few teaspoons of olive oil, a healthy sprinkle of salt, and a bunch of fresh thyme.
Place on a parchment lined baking sheet and roast at 400°F for 6 minutes or until the skins begin to wrinkle and pull away from the grapes.
A pound of grapes will definitely yield more than you need, but some grapes burst too much to be used, and I guarantee you'll snack on a few while you assemble your appetizers, so I advise roasting extra!
Assembling
Once your crackers are out of the oven and cool, and your grapes are roasted and lovely, you're ready to assemble! It's a really, really simple process, that takes just a little bit of time depending on the look you're going for.
Spread on that Snøfrisk®!
Okay remember how I said Snøfrisk® was the ideal texture for this recipe? Here's why – all you have to do is pull it out of the fridge and open it. I could have whipped it or baked it, but instead I wanted to celebrate the pure goodness of the cheese and it's flavor. I highly recommend enjoying it in it's pure state, and since you can scoop and spread it easily straight out of the fridge, it's easy to do.
This spreadibility is particularly useful when making a cold appetizer! According to Still Tasty, soft cheeses can safely be left out for 4 hours before they need to return to the fridge. This sounds like a long time, I know, but account for the assembly time and that shortens significantly!
Thanks to the creaminess of Snøfrisk® there's no wait time where your cheese has to sit on the counter to soften up. This means more time that you can serve them safely later.
Simply use a knife or small spoon to spread a half teaspoon size dollop on each of the crackers. Depending on the size and amount of crackers you may need more cheese per cracker. For my 80 crackers this only took me 10 minutes.
Crush Pistachios
When I first made these, I knew it was missing something texturally. I had crispy flaky cracker, soft and creamy goat cheese, and juicy roasted grapes, but I was missing crunch. The solution came in the form of pistachios, a pretty classic flavor pairing with both grapes and goat cheese alike.
Simply shell about 1/3 cup of unsalted, roasted pistachios (or buy preshelled) and crush to small crumbs. I used my food processor and pulsed about 12 times, but you can also chop them buy hand.
Then sprinkle it all over the top of your goat cheese appetizers!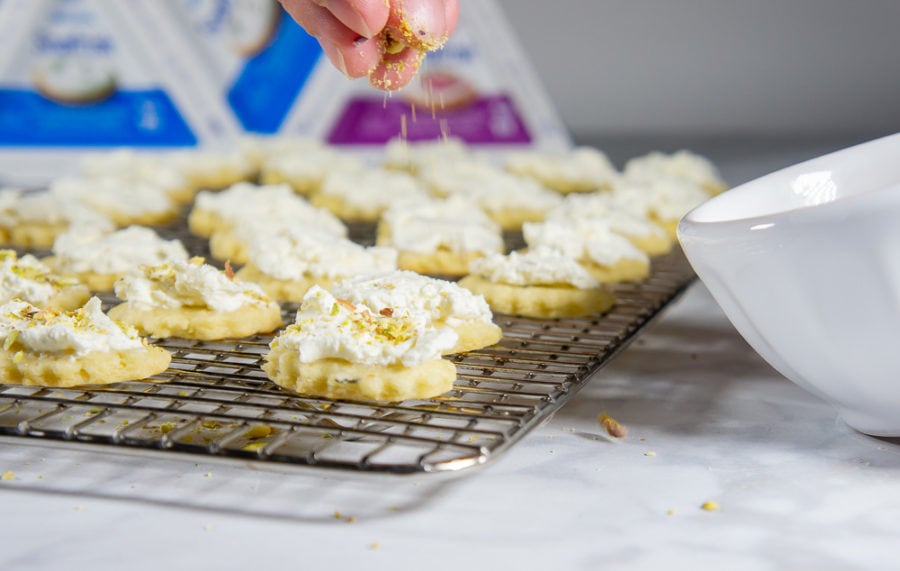 Slice and Place Grapes
Okay I'll be honest here, if you're looking to expedite this a little, you can absolutely just place whole roasted grapes on the crackers. Since I really wanted to create a fine dining appetizer, I chose to slice the grapes in half and place between 2 and 3 slices on each goat cheese bite, depending on the size of the grapes. This takes a bit more time, about 10 minutes again for me but they look so much more sophisticated for minimal effort.
Fair warning the grapes with be juicy and if they're dark like my thomcord grapes, they will stain your fingers. It washes off, but use gloves if this bothers you.
Serve, or Store
That's it! Overall, about 20 minutes of actual cooking time, and another 15 to 30 assembling depending on how intricate you chose to be. For a gorgeous fall appetizer, that's pretty good!
You can serve them immediately, or if you're prepping for a party later in the day, you can store them once assembled for up to 8 hours. I tested this, and the crackers hold their texture about that long, then begin to soften. They're still safe and completely delicious, but for that flaky crispness, try to keep it in that window.
If you'd like to prep ahead longer than that you can! It's a cold appetizer, so you can prep and assemble when ready. Bake the crackers and store them in an airtight container at room temperature for up to 2 days. Roast the grapes a day ahead and store those in the fridge, but store them whole. Then you just pull out your grapes and Snøfrisk®, chop some pistachios and assemble when ready!
To store already assembled appetizers, if there are somehow leftovers (don't get your hopes up), place in an airtight container and store in the fridge. Again, consume them within 8 hours or so for best quality.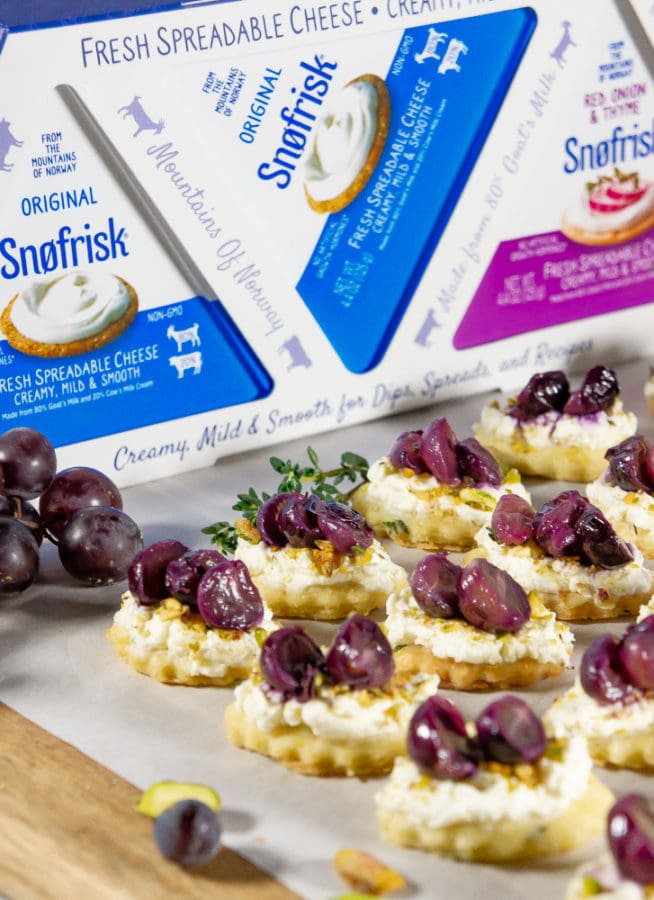 Questions
Where Can I Buy Snøfrisk® Goat Cheese?
Snøfrisk® has just arrived in Costco stores here in the Bay Area, and it's sold in a convenient 3 pack. You get two of the original flavor, and one red onion and thyme. You'll need both the original flavors for this recipe, and you'll enjoy snacking on the red onion and thyme cheese, it's a particularly good one to dip!
Learn more about Snøfrisk® and their cheese by visiting their website. Be sure to head to Costco this starting this September to pick up a 3-pack for a limited time!
Can I half or double this recipe?
Yes! You can absolutely half everything and make less appetizers for a smaller party. On the other hand, double it for a large one with no problems. 6 per person is the recommended portion when served with other food, though I'd estimate over on these, they'll be gone in no time!
What If I can't find that cheese?
Look for a spreadable goat cheese made from pure ingredients. If you can't find that, go for a quality goat cheese and let it sit until softened before spreading on the crackers.
Can I buy Pre-made crackers?
Of course. While I always recommend the homemade approach for freshness, flavor, and quality if you're in a pinch for time, pick up a herb butter cracker to stand in for your homemade cracker.
Enjoy every bite!
Well fellow home chefs, there you have it, a goat cheese appetizer topped with crushed pistachios and roasted grapes that your friends and family will love. It's truly a way to celebrate the approach of fall. Beautiful California grapes (which you're likely eating even if you aren't from here!) and a fantastic high quality cheese come together for a bite you'll want again. Don't be surprised if you find yourself craving more when they're gone! I'd love to hear what you think when you make this and I hope you have fun cooking. Until next time, Happy Eating!
Goat Cheese Appetizers with Roasted Grapes
A from scratch fine dining appetizer made with homemade crackers, creamy Snøfrisk® goat cheese, pistachios, and roasted grapes. Perfect for autumn as grapes come into season and you plan get togethers with friends and family.
Ingredients
8.8

ounces

Original Snøfrisk® Goat Cheese

2 containers

1/4

cup

unsalted pistachios, shelled
Olive Oil Thyme Crackers
9

ounces

all purpose flour

2 cups

1

tsp

salt

2

tsp

white sugar

1

Tbs

fresh thyme

6-8 sprigs

4

ounces

olive oil

1/2 cup

2

ounces

water

1/4 cup
Roasted Grapes
1

pound

thomcord, or other sweet red/purple grape

2

tsp

olive oil

1/4

tsp

salt

8-10

sprigs

fresh thyme
Instructions
Crackers
Preheat oven to 400°F and line a baking sheet with parchment paper.

Combine flour, sugar, salt, and fresh thyme leaves for the crackers in a bowl and stir to combine. Pour in olive oil and water and fold gently to bring dough together.

When dough has come together turn out on a lightly floured clean surface. Press palms gently into dough to flatten into disc.

Lightly flour a rolling pin and roll dough out to 1/4" thick. Cut into desired shape. For truly bite sized appetizers 1 inch wide by about 1 1/2" long is ideal.

Bake for 5 to 7 minutes, or until the edges have begun to turn very lightly brown on the bottom. This may take several batches to bake all the dough. Move finished crackers to a cooling rack.
Roasted Grapes
When crackers are done, place grapes on the baking sheet and drizzle with oil and toss with salt and thyme sprigs. Place in oven and roast for 5-7 minutes or until skins begin to wrinkle and peel away.
Assemble
Open Snøfrisk® goat cheese and spread between 1/2 to 1 teaspoon on each cracker.

Pulse pistachios in a food processor, or chop, until finely crushed. Sprinkle over goat cheese.

Slice roasted grapes in half* and arrange slices on top of the pistachios, 2 to 3 per cracker depending on the size of the grapes.

Serve immediately, or place in fridge for up to 8 hours. If prepping further ahead than that, wait to assemble until ready to serve. Yields between 70 – 80 crackers.
Notes
*Grapes can also be placed on the crackers whole for quicker assembly.
*Appetizers can be served cold or at room temperature and safely stay out for 4 hours.
Get Snøfrisk® Goat Cheese at a Bay Area Costco!
Nutrition
Serving:
6
crackers
Calories:
267
kcal
Carbohydrates:
25
g
Protein:
7
g
Fat:
16
g
Saturated Fat:
5
g
Cholesterol:
10
mg
Sodium:
321
mg
Potassium:
134
mg
Fiber:
1
g
Sugar:
7
g
Vitamin A:
306
IU
Vitamin C:
3
mg
Calcium:
44
mg
Iron:
2
mg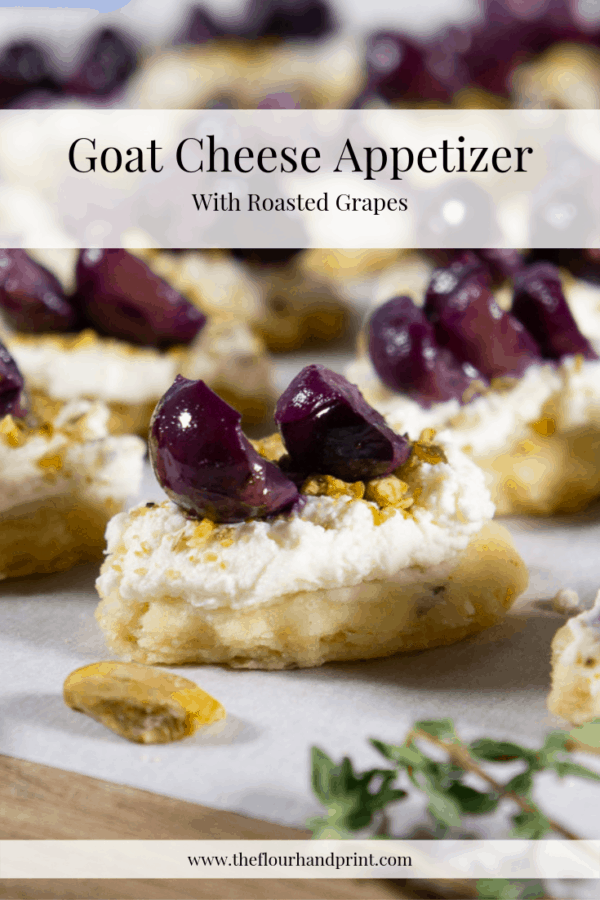 Other Recipes you may enjoy
Nutrition information and cooking times are provided as a best estimate. Values may vary based upon ingredients and equipment.