This page contains affiliate links. For more information please read my Disclosure Policy.
Deliciously sweet and salty maple bacon onion jam is a perfect condiment for burgers, omelettes, crackers, and so much more. This recipe is for a simple skillet bacon jam that caramelizes all in one pan with easy to find pantry ingredients.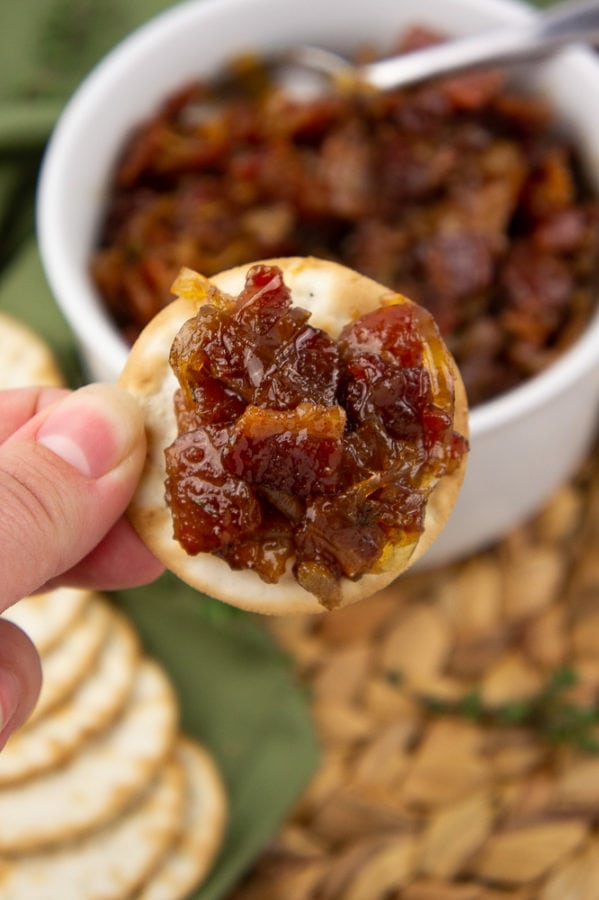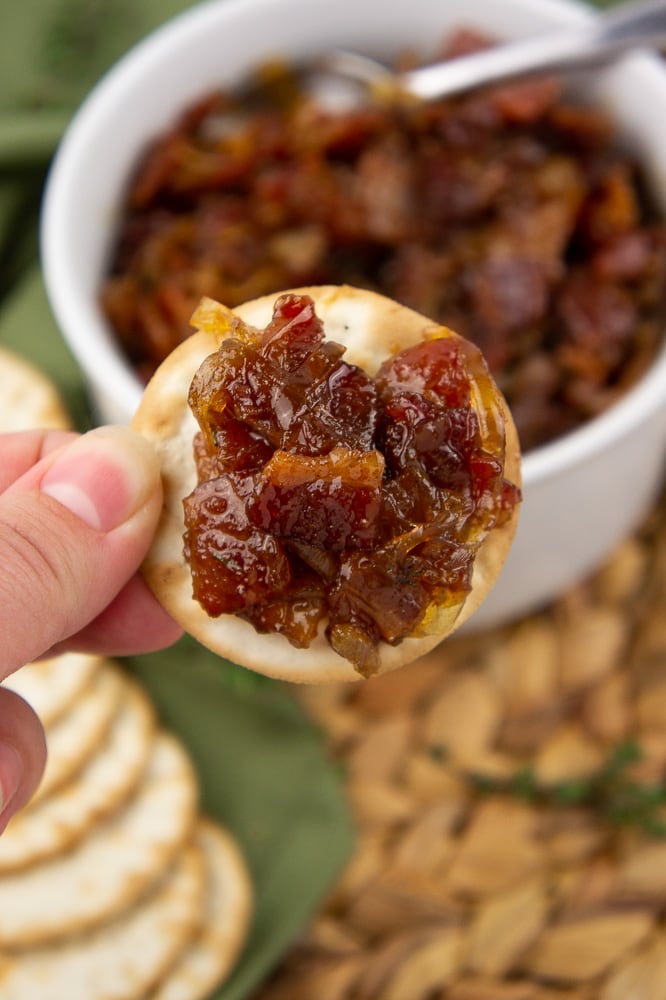 Bacon maybe be a trend to some, but I have to say, I really, really, really love bacon. It's this amazing protein that adds HUGE flavor to anything it's added to, from sweet to savory. One of my favorite combinations is bacon with sauteed onions, like in my sauteed green beans and bacon, and I let that flavor pairing inspire this oh so delectable bacon jam.
This was an instant success in my family. I served it with crackers and cheese and literally every other jam I made was practically ignored in favor of this, it's that good. It's so simple, made all in one skillet and every ingredient is easy to find, you may even have them already!
What is Bacon Jam?
I debated for a while about what to call this, I mean…is it really jam? Jam, the typically fruit based sugary concoction as I discuss at length in my Difference between Jam and Jellies guide, is this really that? Bacon chutney, bacon relish, bacon marmalade…What I realized as I researched is that it really doesn't matter.
They're truly all one in the same, call what you will, but the result will be a caramelized bacon 'jam' that results from cooking bacon, onions, sugar and seasonings to thick, gooey perfection.
Maple Bacon Onion Jam Ingredients
There are lots of ways to make a savory jam like this, and none of them are wrong. My version includes maple syrup, onions, herbs, and just enough salty, savory umami flavor to compliment the bacon.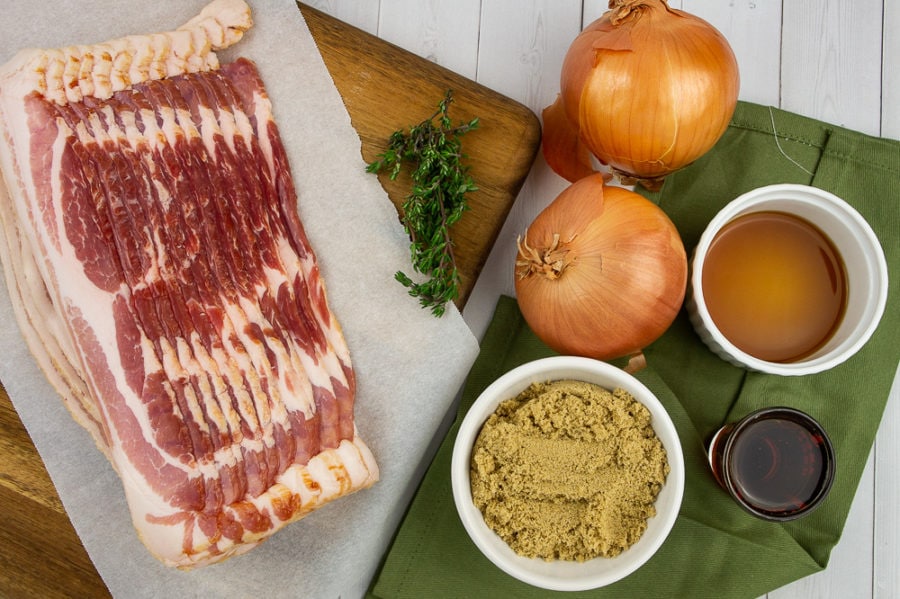 Bacon – Any thick cut bacon will do, but if you really want to amp up the maple flavor, use maple bacon!
Yellow Onion – My preference whenever I cook onion with bacon is yellow onion, but you can use your favorite.
Brown sugar – It's hard to make jam without sugar, and this recipe works best with brown sugar.
Maple Syrup – Provides big flavor and sticky sweetness.
Fresh Thyme – Just a nice addition to the overall flavor, pairs nicely with the bacon and onion.
Beef Stock – A secret for umami rich flavor without overpowering the bacon or onion.
Worcestershire – Another splash of rich, deep flavor that lifts up the sweetness.
How to Make Skillet Bacon Jam
From start to finish, it takes just one large skillet to make this. Depending on your stove and pans, it can take 45 minutes to an hour from the moment you start to warm your pan. It's a labor of love to make a truly caramelized bacon jam, but it's not hard work, and I PROMISE it's worth every single bite.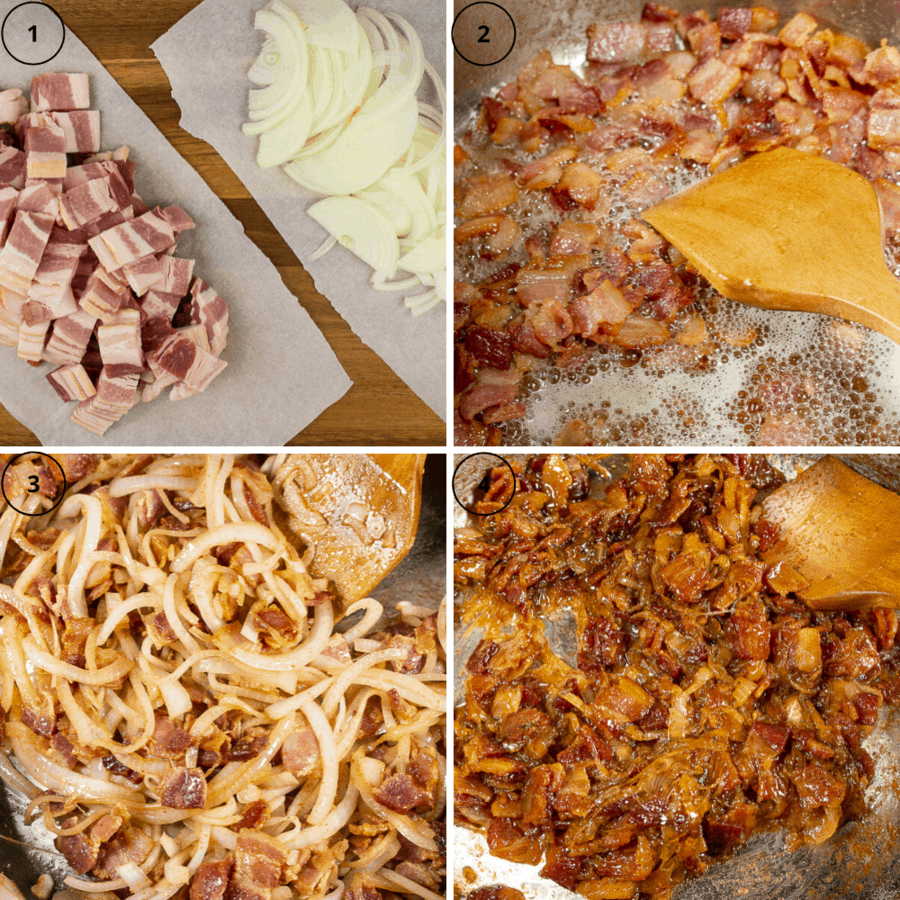 I recommend you begin by placing a large skillet over medium high heat. While your pan heats, chop your bacon and onions.
Add your bacon to the hot skillet and cook until almost crisp. I take this time to measure out all my other ingredients.
When your bacon is browned and beginning to look crisp, drain off all but 2 tablespoons of fat. Reduce heat to medium low, and add in the onions, stirring to coat with bacon fat.
When the onions begin to soften, 2-3 minutes, add in all your remaining and ingredients and stir. Cook slowly, stirring every couple of minutes until deeply caramelized and delicious!
Pro Tips
In order to properly crisp all your bacon at once, you need a large, wide skillet. Too small and your bacon will take longer to begin to crisp as it's crowded in the pan.
I prefer my bacon in 1/2 inch chunks and onion in slices, feel free to adjust sizes to your preferences.
Don't give into the temptation to turn up the heat after you add the onions, low and slow is the key to perfectly caramelized onions and prevents burned sugar.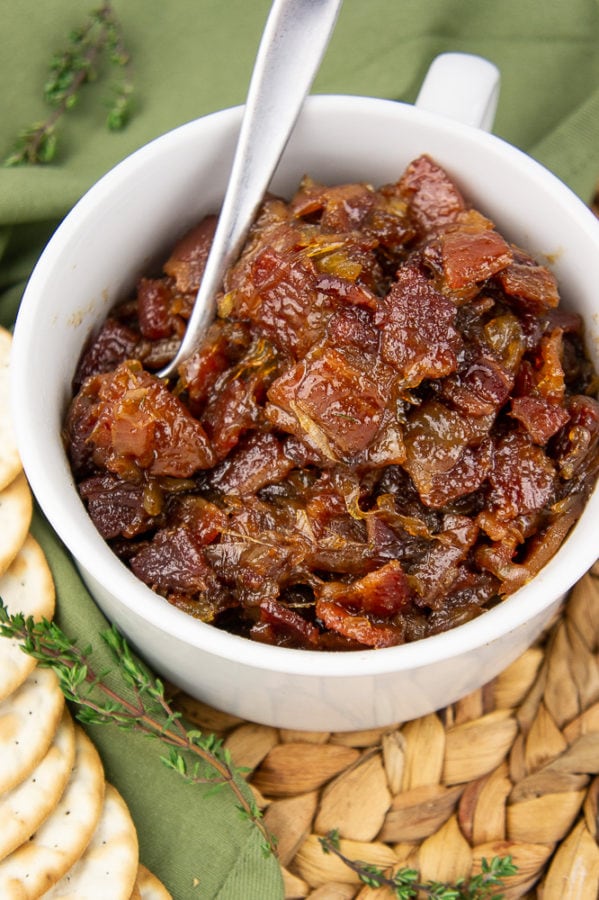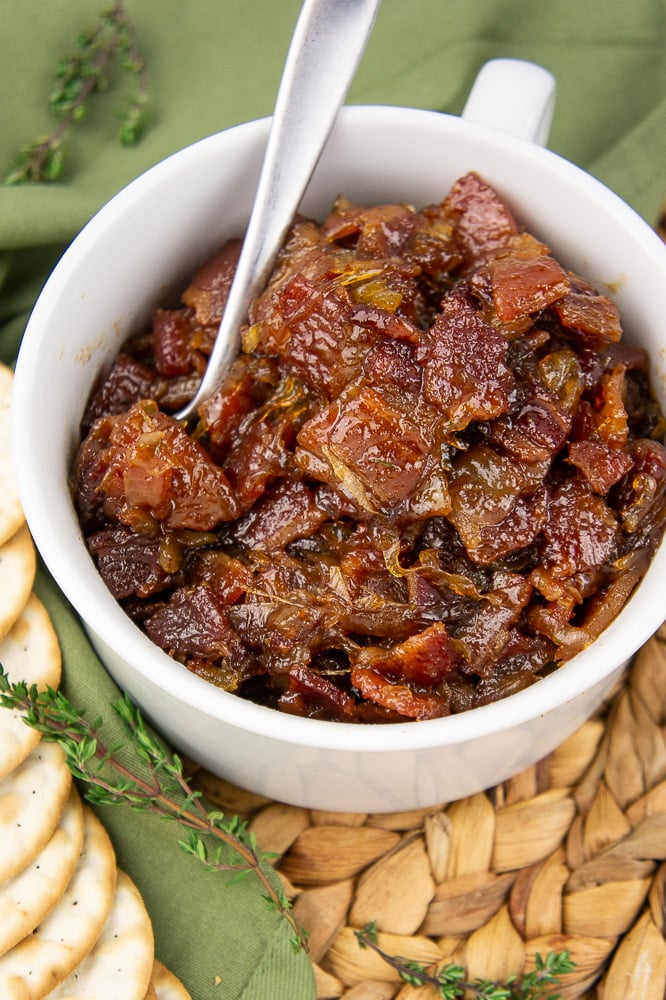 FAQ's
How long can I store this for?
I recommend storing this in the refrigerator for no longer than 2 weeks.
Can I water bath or pressure can this?
No. There is currently no guaranteed safe way to home can bacon jam for shelf stable storage that I'm comfortable recommending.
Can I freeze bacon jam?
Yes! Allow to cool and store in a freezer safe container and freeze for up to 3 months.
Should I serve this cold or hot?
I recommend heating before serving. I don't like the consistency of it cold, but it might be fine for you! When reheating only heat what you intend to consume immediately and store the rest in the fridge.
What do I use bacon jam for?
Honestly every time I've made this we've been unable to resist sampling it right out of the pan. It's great served as a bacon jam crostini, with cheese, on biscuits, bacon jam burgers, eggs, sandwiches, as a topping for some homemade french fries, and so much more. Think about what you like bacon on, and try it!
You May Also Like…
I hope you enjoy this maple bacon onion jam as much as we do, it's become a dish that I will bring to every potluck occasion, and will always appear on my appetizer table. Here are a few more recipes you may enjoy, and until next time, Happy Eating!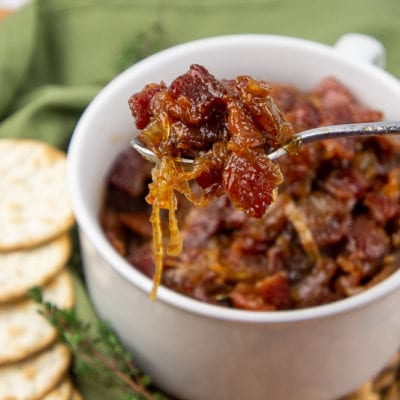 Maple Bacon Onion Jam
Print Recipe
Sweet, salty, savory bacon jam with caramelized onions that makes a chunky perfect condiment for appetizers, burgers, and more.
Ingredients
1.5

lbs

thick cut bacon

2

large

yellow onions

2

tbs

maple syrup

1/2

cup

brown sugar

2

tsp

Worcestershire

1

tbs

fresh thyme leaves

2

tbs

beef stock
Instructions
Heat a large skillet over medium high heat. Chop your bacon into 1/2" chunks and thinly slice onions.

Add bacon to hot skillet and cook until almost completely crisp, stirring occasionally to ensure even cooking. Drain off all but 2 tablespoons of bacon grease.

Turn the heat down to medium low, and add in sliced onions and stir to coat completely. Cook until beginning to soften, 2 to 3 minutes.

Add all the remaining ingredients and stir until sugar is dissolved. Allow to cook slowly until onions are deep golden brown and jam is thickened.

Eat immediately or store in the refrigerator for up to 2 weeks, or freeze up to 3 months. Yields about 2 cups.
Nutrition
Serving:
3
Tbs
|
Calories:
350
kcal
|
Carbohydrates:
18
g
|
Protein:
9
g
|
Fat:
27
g
|
Saturated Fat:
9
g
|
Cholesterol:
45
mg
|
Sodium:
473
mg
|
Potassium:
221
mg
|
Fiber:
1
g
|
Sugar:
14
g
|
Vitamin A:
58
IU
|
Vitamin C:
3
mg
|
Calcium:
28
mg
|
Iron:
1
mg
Nutrition information and cooking times are provided as a best estimate. Values may vary based upon ingredients and equipment.