This page contains affiliate links. For more information please read my Disclosure Policy.
Chocolate, chocolate, chocolate…need I say more? I admit I've been on a bit of a chocolate kick lately, Homemade Hot Cocoa Mix, a post all about Cooking with Chocolate…and now Homemade Chocolate Syrup. These are essential things you know! But in all honesty, this one is for my mom.
After my Homemade hot cocoa mix post, she asked if it would work with cold milk, and unfortunately cocoa powder simply doesn't blend all that well with cold liquid. (I might be run through the streets by Nesquick fans, but that gritty texture? Bleh.) So I set out to make a homemade chocolate syrup that would make dreamy chocolate milk, without the high fructose corn syrup and other mass produced syrup ingredients.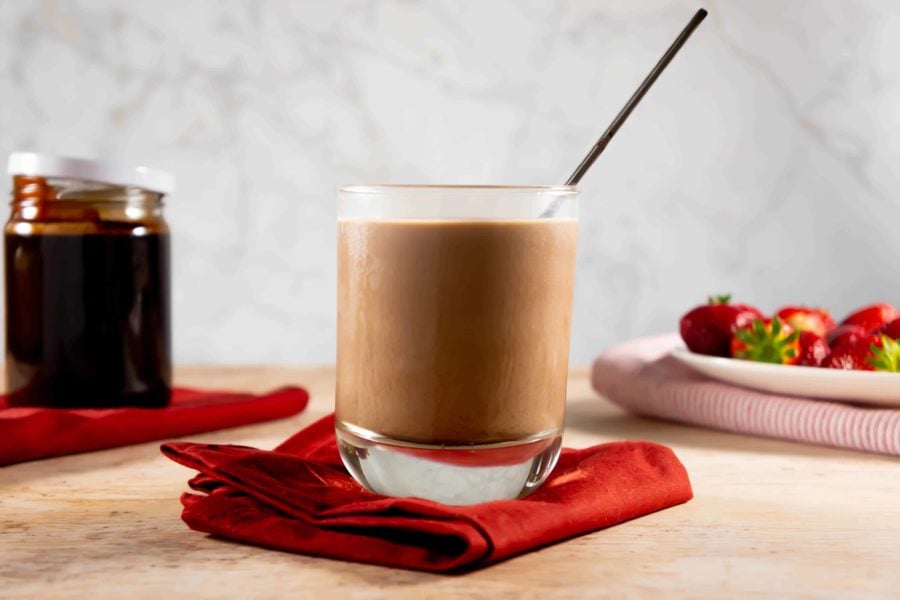 This is simple…like ridiculously simple.
Again and again I keep discovering how many things are just plain easy to make at home. Homemade sweetened condensed milk, your own Coffee Creamer…all these things we spend SO much money on can be made with basic pantry ingredients for a fraction of the cost.
It's enough to make me crazy. WHY DIDN'T I DO THIS EARLIER???
I get it, convenience is well…convenient. Some of us just don't have time to make everything from scratch. Sometimes I don't, but since we're on a single income and a strict budget, I make the time if we really want it.
In the case of this homemade chocolate syrup though, it's really one I recommend you do. It's made with 4 simple ingredients. Brown sugar, water, cocoa powder, plus a dash of salt. That's it!
It's also remarkably quick. It takes 15 minutes, start to finish, and it lasts forever in your fridge! It will safely keep for at least 3 months, but it won't last that long. You'll eat it long before then!
If all that wasn't enough to convince you, think about the ingredients again, 4. Hershey's syrup? 12. And the first two (which means the highest percentage of the overall product) are high fructose corn syrup and corn syrup. That's just not ideal, especially when I consider making chocolate milk for my son.
The Ingredients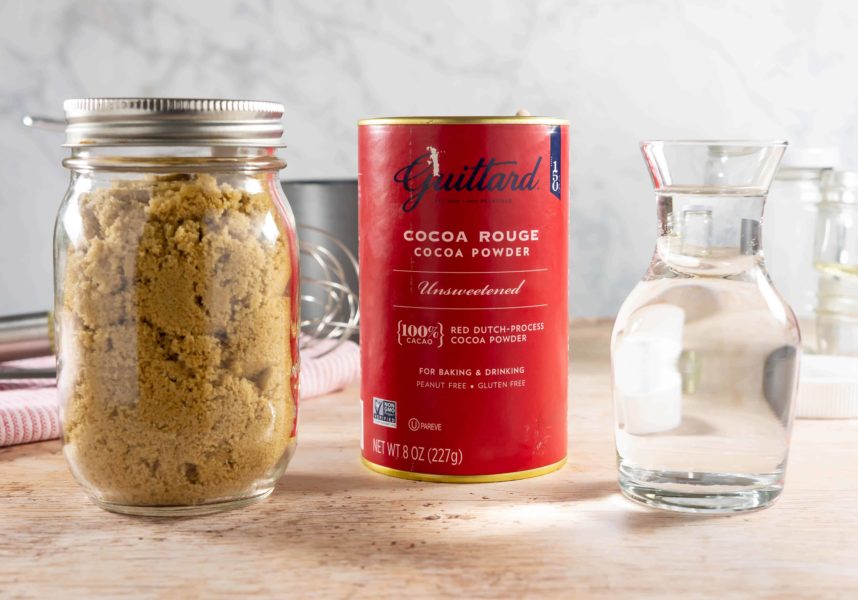 Like I said, it only takes 4 simple ingredients, and as always I tested MANY variations out to find the right ratio and choices. I know, poor me.
Brown Sugar – After testing white and brown, it was a very clear winner. Brown sugar is just scrumptious, something about that molasses content mixing with the cocoa powder is just lick your fingers good. Of course, if you don't have any, please use white sugar. It's very good, and shouldn't stop you from making this. But if you have it, go brown.
Cocoa Powder – If you read my Cooking with Chocolate post, you know that there is a HUGE variety of cocoa powders available to us. This recipe does not require the pH of natural cocoa to work, so dutch processed cocoa is perfectly fine. In fact, I found that I preferred the Guittard Red Dutch Processed Cocoa I had over any other cocoa powders I tried. There is no right answer here, different cocoa powders, different cocoa beans, different flavors. Find one you like and go with it.
Water – Simple water. Enough said.
Salt – EVERY recipe is enhanced by salt. I literally have never found one that wasn't. It draws out the flavors of the other ingredients when added in the right amount. Just a pinch makes a huge difference, and it won't be salty I promise.
What no vanilla? With most chocolate recipes, vanilla is added. Truthfully I did the first few experiments. Then I had to top off my Homemade vanilla extract and found it was too diluted (tasted like vodka) the next time I made my homemade chocolate syrup. So I went without.
It was fine. No. It was GREAT. So, since vanilla is expensive, even more so if you don't make it yourself, I stopped adding it in my final experiments. I didn't miss it, it keeps the ingredient list simpler, and I promise, it's ridiculously yummy.
Making Homemade Chocolate Syrup
Alright, so how does one make this? Easy, just add your cocoa powder and brown sugar to a pan. Whisk it up to get rid of any lumps in the brown sugar. You can absolutely sift it if that makes you happy, but I found it was unnecessary, and just broke up big clumps with the whisk or the back of a spoon. The little ones will melt.
Once those two are combined, pour in the water and salt and place the pan over medium heat. Start whisking. As you stir the cocoa powder will begin to absorb the water and the sugar will dissolve and melt. Very quickly this will turn into a watery brown liquid.
I recommend using a rubber spatula to scrape the bottom of the pan, especially around the sides if you're using a straight edged pan. Clumps of dry cocoa powder that the whisk can't reach get trapped there and cause havoc later on. (Not really havoc, but just avoid having to strain your sauce of lumps!)
As the pan heats up, the chocolate water will begin to steam. Keep stirring. You don't have to stir non stop, but I don't recommend walking away for more than a minute or two or the sugar can burn. It will very quickly begin to thicken into a syrup.
When it begins to bubble lightly and the syrup coats the back of the spatula thickly it's done. Another way to tell is by dragging that rubber spatula across the bottom of the pan. If you can see the bottom of the pan, and the syrup slowly fills it in, it's done.
Remove from heat. At this point, pour it very carefully into a storage jar. I love glass, so a mason jar is perfect. Let it cool before capping it.
Bonus Tips
Once it's cool enough for you to dip in your finger and lick it off
(you're going to want to), go ahead and seal the container and store in your fridge until you're ready for use.
Your homemade chocolate syrup will thicken slighlty in the fridge, so don't worry if it seems a little loose still. Also, because it has no funny ingredients, the top will thicken more than the rest. A quick stir when you open the jar will solve this problem very quickly.
One of my experiments actually yielded a different kind of chocolate sauce. Something more akin to fudge. Most of the time thats made with heavy cream or sweetened condensed milk, but I found that by simply reducing the water so that it was equal parts water to cocoa powder, a very thick, fudge like sauce formed when cool.
You can also easily double or triple or half this recipe. Just stick with this ratio: 1 part cocoa, 1.5 parts water, 1.5 parts sugar. Pinch of salt. So if you're making homemade chocolate syrup with 1/2 a cup of cocoa, use 3/4 cup of water and sugar. Using a 1/4 cup? That'd be 6 tablespoons of water and sugar.
Uses for Homemade Chocolate Syrup
If you're reading this post you probably have a specific intent in mind. Maybe you want a more natural chocolate syrup for your children's chocolate milk, maybe you just can't make it to the store today and want to see if you can make it in a pinch. No matter what brought you here, I'm glad you are. Once you have your homemade chocolate syrup in your fridge, there are lots of uses for it.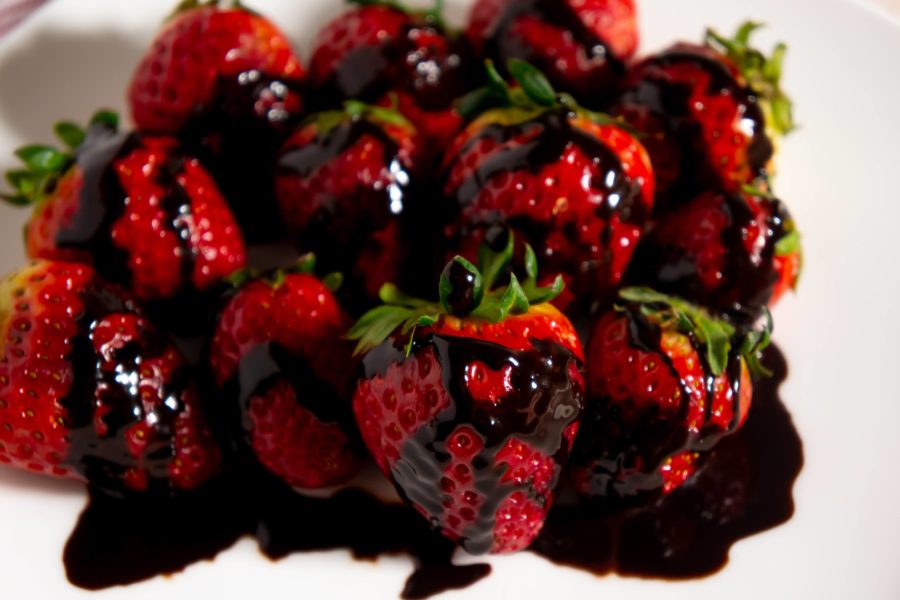 Dip – A fabulous companion to sliced fruit, pretzels, marshmallows or anything else you might like to dunk in chocolate. I often use a little bit of chocolate syrup to enhance a healthier dessert like strawberries.
Drizzle – Cheesecake, brownies, cakes, ice creams, pancakes and more, if chocolate would enhance it, using your chocolate syrup as a finishing drizzle is an easy and yummy way to do that.
Drink – Chocolate milk, milkshakes, or even hot chocolate, this homemade chocolate syrup can easily make a delicious chocolate beverage for you and your family.
Homemade Chocolate Syrup for the Win
Now that you're equipped with all the knowledge needed to make your own homemade chocolate syrup, I hope you will. I am constantly amazed at how easy many of our store bought go to's are to make. For my family and yours, knowing what goes into our food is a beautiful idea. You can avoid preservatives or more unhealthy sugars that many large manufacturers use to keep prices low and products shelf stable for years.
As a final note, let's talk about price. If you're thinking 'Hershey's syrup isn't that expensive', you're right. Bottles vary from $2.50 to $4 dollars depending on the store. This recipe costs $3.22 if you use the exact same cocoa powder as I do. If you use a more inexpensive cocoa powder, this recipe is an cheap as $2.00 to prepare. For simple, more pure ingredients, I think that's pretty darn good.
So go for it! Make your homemade chocolate syrup in just a few minutes, and please, let me know what you think! Happy eating!
Ingredients
1

Cup

Cocoa Powder

I prefer dutch processed for this recipe

1 1/2

Cup

Water

1 1/2

Cup

Brown Sugar

1

Pinch

Salt

Less than 1/8 tsp, can adjust to taste.
Instructions
Add cocoa powder and brown sugar to a saucepan and whisk to smooth out any lumps in the sugar.

Add the water and salt and place over medium heat. Stir to incorporate the water into the sugar/cocoa mixture. Use a rubber spatula if necessary to get any dry clumps from the edges of pan.

Heat, whisking frequently until begins to bubble. Continue to stir until thickened. The sauce is ready when it coats a spoon and holds, or when you can see the bottom of the pan when running a spoon across it.

Remove from heat. Allow to cool until warm to touch.

Pour into glass jar or container of choice, cover tightly and store in fridge.
Notes
*Your homemade chocolate sauce will thicken in the fridge, be sure to stir it before using. 
*If you want a more fudge like sauce, reduce the amount of water to be equal with the cocoa powder.
Nutrition
Calories:
1450
kcal
|
Carbohydrates:
373
g
|
Protein:
17
g
|
Fat:
12
g
|
Saturated Fat:
7
g
|
Sodium:
168
mg
|
Potassium:
1750
mg
|
Fiber:
29
g
|
Sugar:
322
g
|
Calcium:
395
mg
|
Iron:
14
mg