Homemade Chocolate Syrup Recipe
This page contains affiliate links. For more information please read my Disclosure Policy.
This simple, 4 ingredient chocolate syrup recipe is the homemade chocolate syrup you've been looking for! Made from scratch with only 4 ingredients (no high fructose corn syrup!), this chocolate sauce made with cocoa powder has a truly superior chocolate flavor. Once you learn how to make chocolate syrup, you'll never go back to store bought!
Chocolate, chocolate, chocolate…need I say more? I admit I've been on a bit of a chocolate kick lately, Homemade Hot Cocoa Mix, a post all about Cooking with Chocolate…and now Homemade Chocolate Syrup. These are essential things you know! But in all honesty, this one is for my mom.
She asked if my hot cocoa mix would work with cold milk, and unfortunately cocoa powder simply doesn't blend all that well with cold liquid. (I might be run through the streets by Nesquick fans, but that gritty texture? Bleh.) So I set out to create a homemade chocolate syrup recipe that would make dreamy chocolate milk, without the high fructose corn syrup.
Why Make Homemade Chocolate Syrup?
It's truly amazing how many things we usually buy are just plain easy to make at home. Homemade sweetened condensed milk, your own Coffee Creamer…all these things we spend SO much money on can be made with basic pantry ingredients for a fraction of the cost.
It's enough to make me crazy. WHY DIDN'T I DO THIS EARLIER??? I get it, time, money, who can argue with that oh-so-convenient squeeze bottle?
But this chocolate syrup recipe will sway you, I swear. It's remarkably quick – 15 minutes start to finish and it lasts forever in your fridge! Plus, think about those ingredients, this recipe – 4. Hershey's syrup – 12. And the first two (which means the highest percentage of the overall product) are high fructose corn syrup and corn syrup. That's just not ideal, especially when I consider making chocolate milk for my son.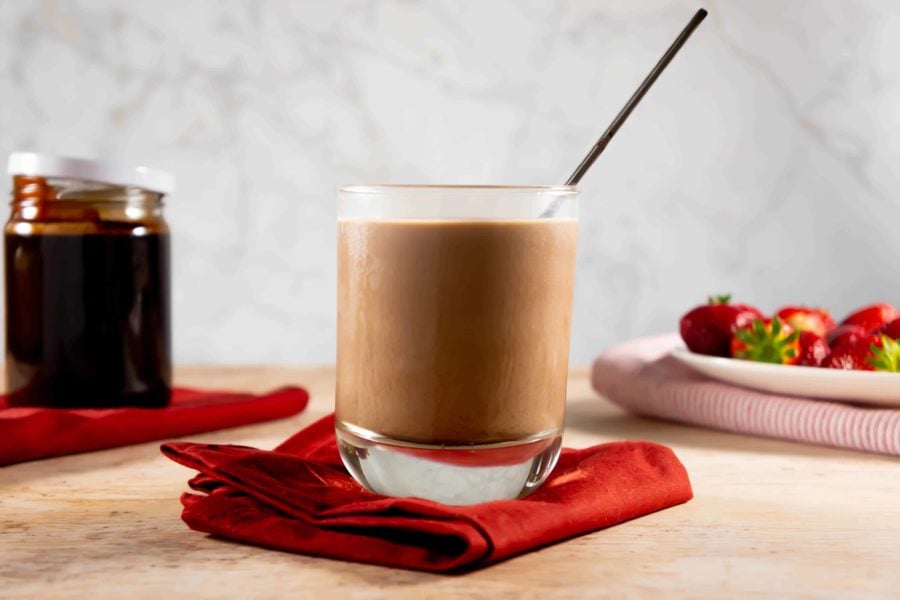 Chocolate Syrup Ingredients
Like I said, it only takes 4 simple ingredients to make your own homemade chocolate syrup, and as always I tested MANY variations out to find the right ratio and choices. I know, poor, chocolate loving me.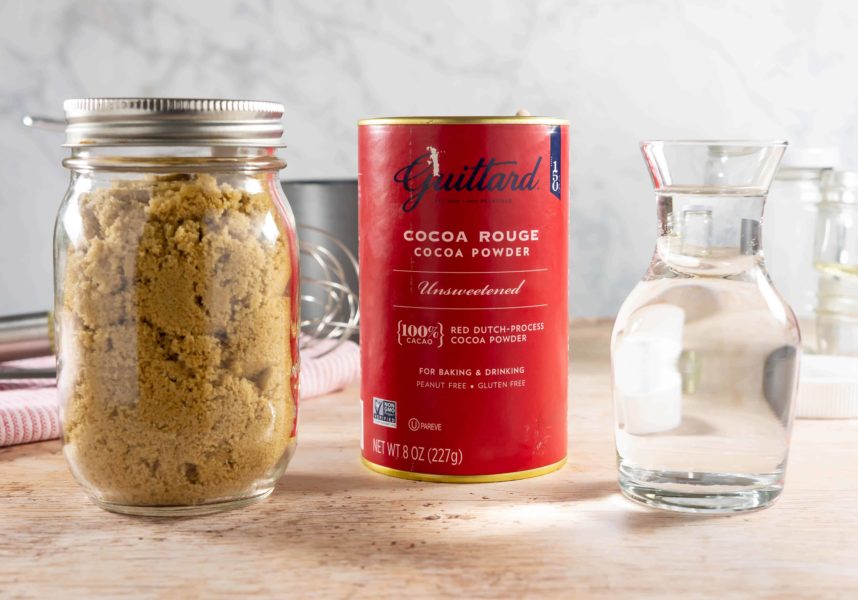 Brown Sugar – Brown sugar is just scrumptious, something about the molasses flavor mixing with the cocoa powder. Yum!
Cocoa Powder – If you read my Cooking with Chocolate post, you know that there are a HUGE variety of cocoa powders available to us. There is no right answer here, find one you like and go with it.
Water – Simple water. Enough said.
Salt – EVERY recipe is enhanced by salt, particularly chocolate. Just a pinch makes a huge difference, and it won't be salty I promise.
How to Make Chocolate Syrup
Have your 4 ingredients? You're ready! As a simple, quick chocolate sauce with cocoa powder as the base, there is no melting of chocolate in a double boiler. Just some mixing, heating, and then of course, the eating!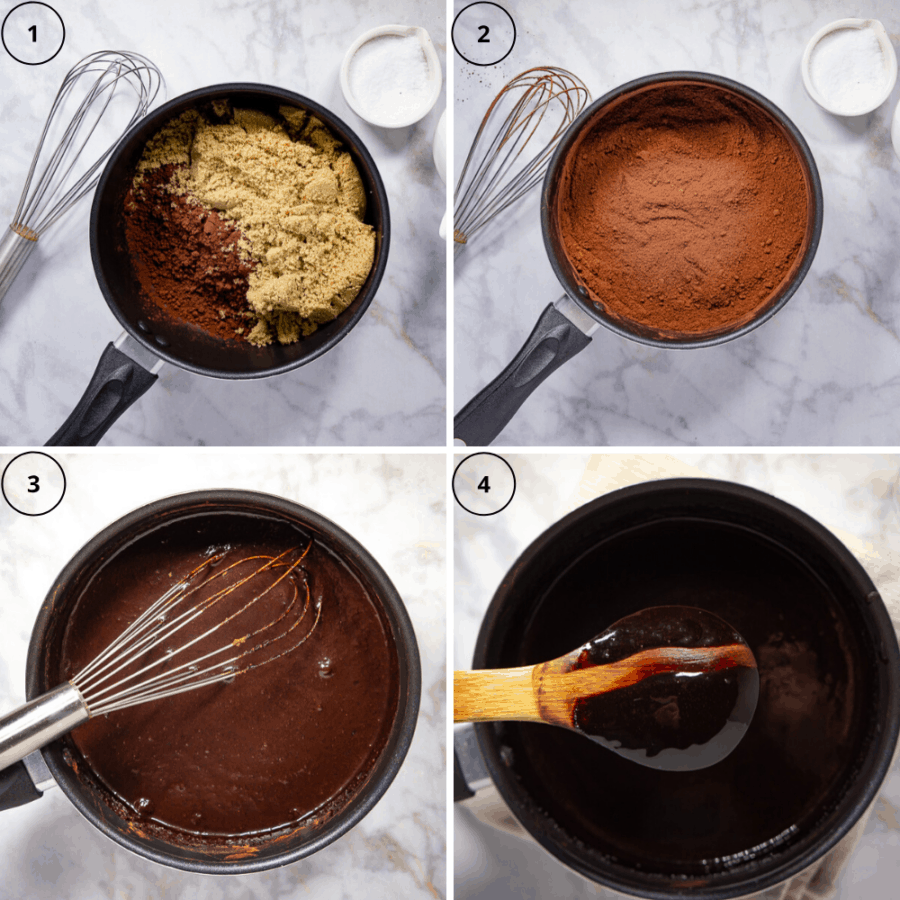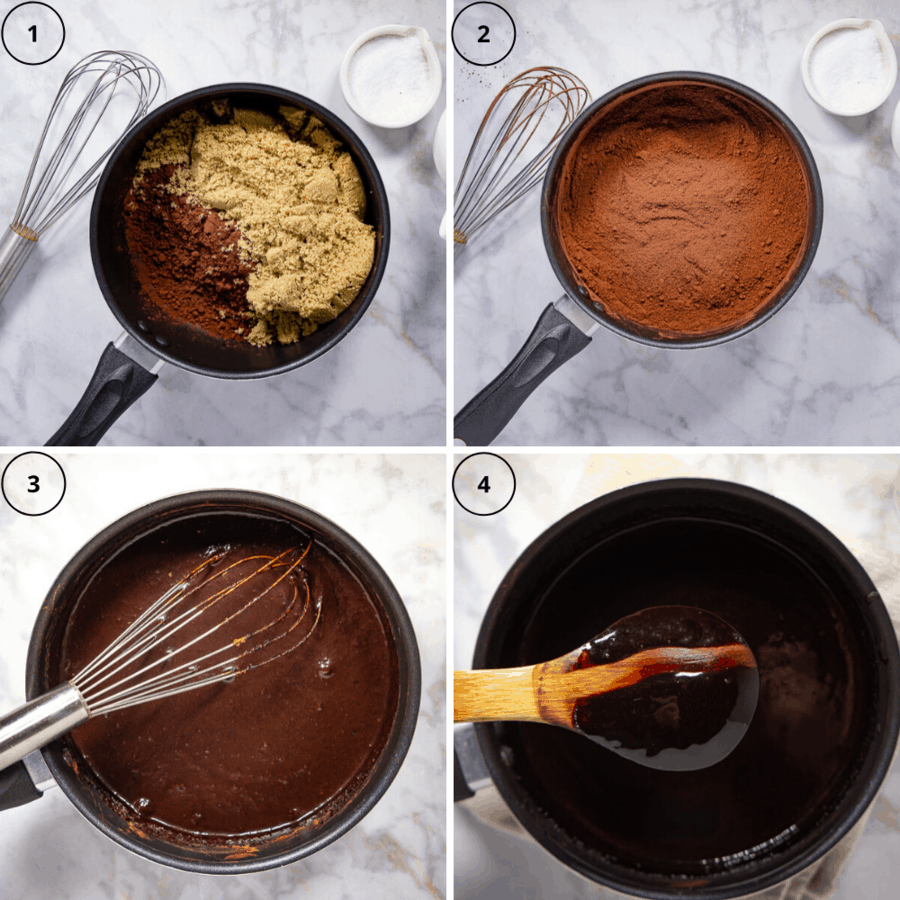 Combine your brown sugar and cocoa powder in a pan and whisk them together. This removes any lumps in the brown sugar and cocoa. The little lumps will melt, so don't stress too much about it.
Place over medium heat and pour in your water and salt.
Start whisking immediately, the cocoa powder and sugar will dissolve quickly and you'll have a watery, brown liquid.
As the pan heats the mixture will begin to steam, continue stirring to prevent any sugar burning.
When the mixture bubbles and the syrup coats the back of your spatula or spoon thickly, your homemade chocolate syrup is done. (You should be able to drag your spatula across the bottom and watch the syrup slowly fill in the trail.)
Remove from heat. At this point, pour it very carefully into a storage jar. I love glass, so a mason jar is perfect. Let it cool before capping it.
Simple, am I right? Now you know exactly how to make chocolate syrup, but just as a bonus, here are some pro tips for successful thick syrup every time:
Use a spatula or spoon to scrape along the bottom of the pan while it's cooking, especially to get any lingering cocoa powder out of the corners. This will avoid any odd dry spots.
Stirring continuously isn't needed, but don't wander away, the sugar and chocolate can burn, so stir every 30 seconds to a minute until done.
Wait until it's cool to the touch to seal and store in the fridge.
The chocolate syrup will thicken slightly in the fridge, and since there are no strange ingredients, the top will thicken more than the rest. Just stir before using!
FAQ's
Can I use a different kind of sugar?
I really found that the molasses content of the brown sugar was a huge reason this particular chocolate syrup recipe works so well, but you can definitely experiment with your preferred sugars. White sugar, coconut sugar, cane, or turbanido will all work just fine, with different flavor results.
Does it matter if I use natural cocoa or dutch processed cocoa?
For this recipe you can use either one, just choose a cocoa you prefer. I like the Guittard Red Dutch Processed cocoa powder for this, the flavor is just right!
Can I add vanilla or other flavors?
Sure thing! I've add a few teaspoons of vanilla, but I don't find that it changes the flavor all that much. However spices like nutmeg, cinnamon, or even spicy chilies can be fun to play with.
Can I make this thicker, like a fudge sauce?
Most fudge sauces are made with heavy cream or milk, however I have found that I can get a really nice thick fudge like sauce when I reduce the water to be equal to the cocoa powder.
How long can I store this?
You can store the syrup in a tightly sealed container for up to 3 months. I don't recommend freezing this, and canning your own chocolate sauce is not recommended due to bacterial growth.
Uses for Homemade Chocolate Syrup
If you're reading this post you probably have a specific intent in mind. Maybe you want a more natural chocolate syrup for your children's chocolate milk, maybe you just can't make it to the store today and want to see if you can make it in a pinch. No matter what brought you here, I'm glad you are. Once you have your homemade chocolate syrup in your fridge, there are lots of uses for it.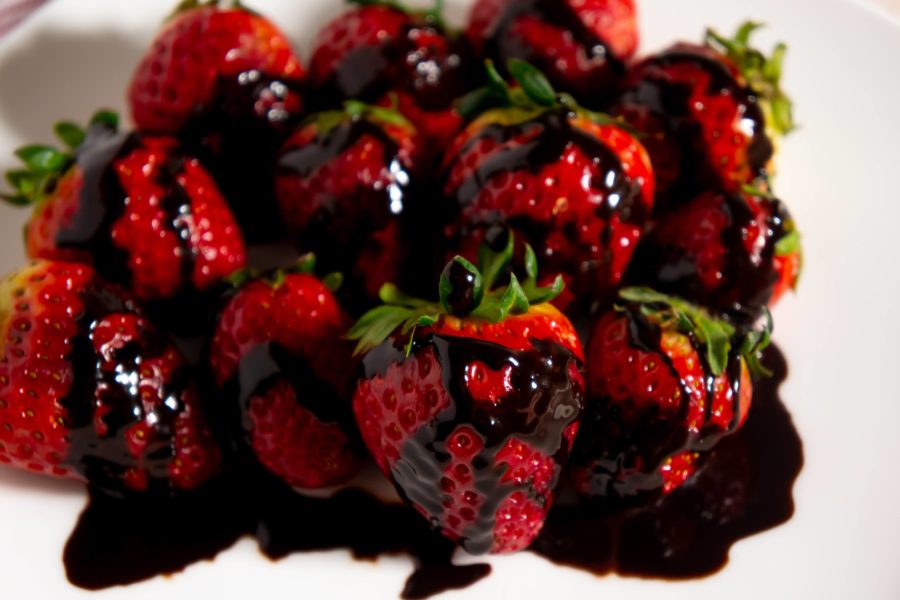 Dip – A fabulous companion to sliced fruit, pretzels, marshmallows or anything else you might like to dunk in chocolate. I often use a little bit of chocolate syrup to enhance a healthier dessert like strawberries.
Drizzle – Cheesecake, brownies, cakes, ice creams, pancakes and more, if chocolate would enhance it, using your chocolate syrup as a finishing drizzle is an easy and yummy way to do that.
Drink – Chocolate milk, milkshakes, or even hot chocolate, this homemade chocolate syrup can easily make a delicious chocolate beverage for you and your family.
Bake – Thanks to a reader comment I've learned that it's also great for baking! Try it in brownies!
Other recipes you may enjoy
Homemade Chocolate Syrup
Ditch the high fructose corn syrup and make your own chocolate syrup with simple, delicious ingredients in no time at all.
Ingredients
1

Cup

Cocoa Powder

I prefer dutch processed for this recipe

1 1/2

Cup

Water

1 1/2

Cup

Brown Sugar

1

Pinch

Salt

Less than 1/8 tsp, can adjust to taste.
Instructions
Add cocoa powder and brown sugar to a saucepan and whisk to smooth out any lumps in the sugar.

Add the water and salt and place over medium heat. Stir to incorporate the water into the sugar/cocoa mixture. Use a rubber spatula if necessary to get any dry clumps from the edges of pan.

Heat, whisking frequently until begins to bubble. Continue to stir until thickened. The sauce is ready when it coats a spoon and holds, or when you can see the bottom of the pan when running a spoon across it.

Remove from heat. Allow to cool until warm to touch.

Pour into glass jar or container of choice, cover tightly and store in fridge.
Notes
*Your homemade chocolate sauce will thicken in the fridge, be sure to stir it before using.
*If you want a more fudge like sauce, reduce the amount of water to be equal with the cocoa powder.
Nutrition
Calories:
1450
kcal
Carbohydrates:
373
g
Protein:
17
g
Fat:
12
g
Saturated Fat:
7
g
Sodium:
168
mg
Potassium:
1750
mg
Fiber:
29
g
Sugar:
322
g
Calcium:
395
mg
Iron:
14
mg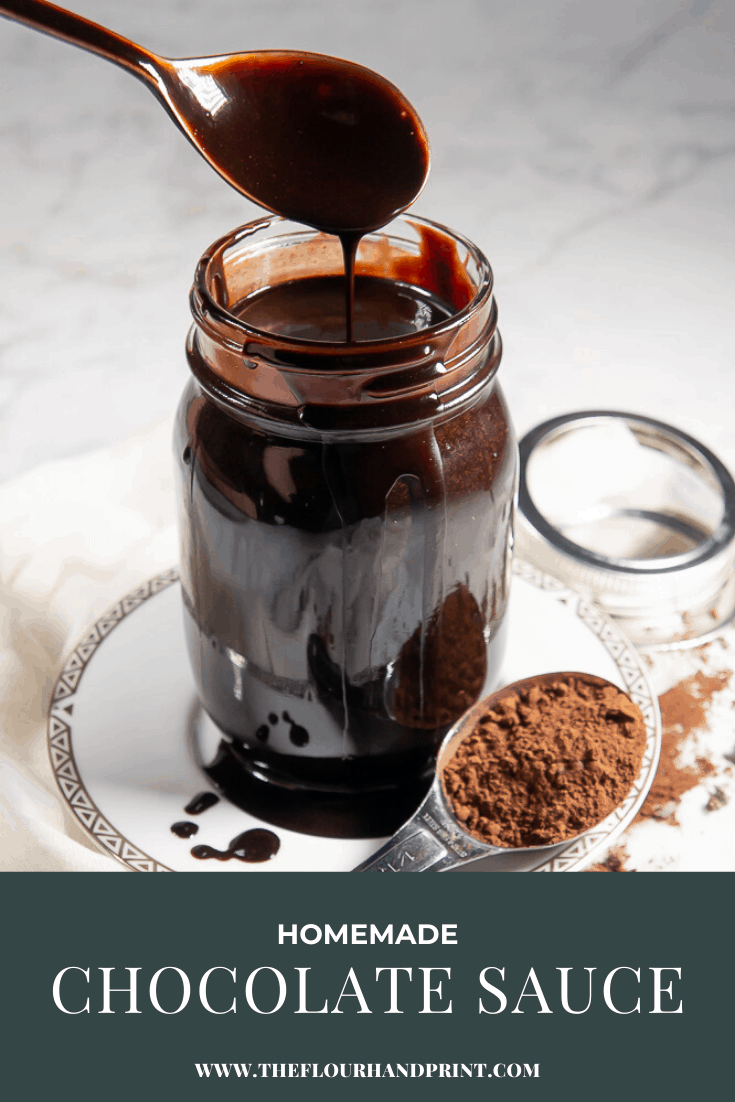 Originally published 4/8/2019, last updated 11/2/2019
Nutrition information and cooking times are provided as a best estimate. Values may vary based upon ingredients and equipment.