This page contains affiliate links. For more information please read my Disclosure Policy.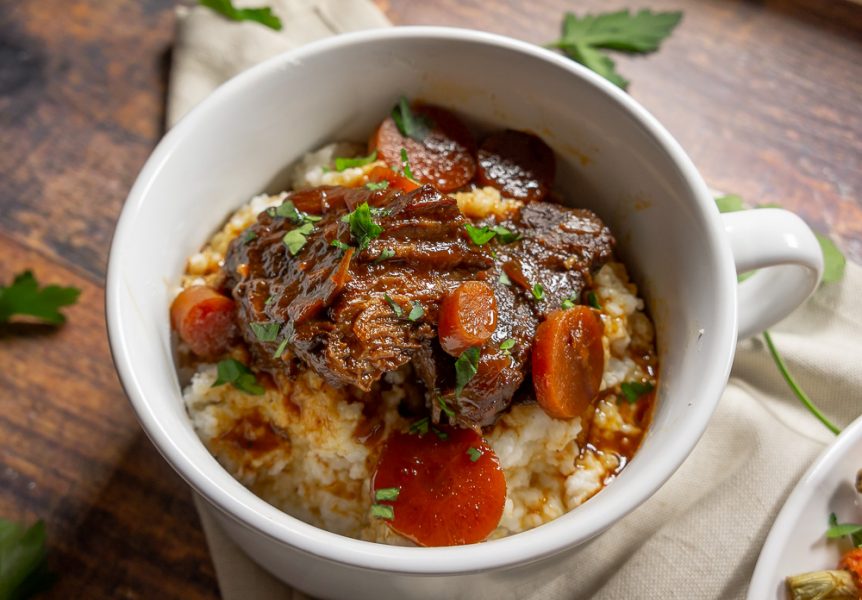 I love braised meat. There's something succulent and indulgent about slow cooked meat, falling apart at the touch of your fork and soaked in rich liquid. What gets me though is how expensive a good braise can be when you eat out. Braised boneless short ribs go for $25 or more for a small portion, I can easily make the same for a third of that price.
Mastering a braise is an essential skill for a home cook in my opinion. It can create a beautiful, upscale feeling dinner for less money. Plus it makes cheaper, tougher cuts of meat into something tender and delicious without the price tag of those premium cuts. I'm really excited to show you an option for braised beef that uses something you'd probably throw away otherwise, some leftover cola!
Dr. Pepper as a Braising Liquid
So why cola? Well for one thing, it's the one indulgence my husband and I can't ever seem to quit completely. Every once in a while that craving for Dr. Pepper strikes. Thankfully, we've realized that buying a case means we'll actually drink the whole case, so instead we opt for a cheap 2-liter, knowing it'll go flat before we finish it and we'll save ourselves the soda binge.
Thing is though, I hate wasting food. Even leftover soda. I spent money on that, and pennies add up. So instead, I started thinking about ways to use it. It is after all a sweet liquid with a huge variety of flavors in it. Dr. Pepper sorbet, Dr. pepper bbq sauce…until I saw those boneless short ribs in my freezer. I knew those iconic 23 flavors (find out what they are here) would be beautiful when enhanced and caramelized on a tender piece of beef.
Braising Ingredients
Aside from boneless short ribs and Dr. pepper, there are several other, carefully chosen and tested ingredients that are essential to creating this amazing luscious braise.
Boneless Beef Short Ribs – Inexpensive and delicious, stick with beef for this one. You can absolutely use bone in short ribs, or even another tough braising cut of beef if you'd like.
Dr. Pepper – This recipe is specifically catered to the flavor profile of Dr. Pepper, but that doesn't mean you won't have success if you decide to experiment with another. Root beer, or a cherry cola might be delightful. The soda does not need to be flat to work.
Stock – I used my homemade vegetable stock for this, but chicken stock or beef stock will also work, it's a very small component of the braise and while it will slightly affect flavor, it's not a detrimental change in any case.
Soy Sauce – I use soy sauce in a surprising amount of recipes, like Raspberry Glazed Meatballs. It's salty, it's got that rich umami flavor that can be hard to achieve, and it's inexpensive.
Molasses – One of the 23 flavors in Dr. Pepper, a little extra molasses is really essential for the richness of the braising liquid.
Paprika – the powder of dried sweet red peppers, like a bell pepper, it adds a subtle spice, and floral sweet note.
Cloves – I use whole cloves, and just toss them into the liquid. But ground cloves can absolutely be used as well. They're also one of the flavors in the soda, and they're a powerful addition in a small amount.
Red Onion – I pretty much never make a braise without onion. Onion definitely helps take this from sweet to savory, and it's delicious, enough said.
Garlic – This really boosts the savory, spicy notes in the braising liquid.
Carrot – Another classic addition to a braise (think mirepoix), I also just really like bulking up the braise and having tender carrots ready to eat when the meat is ready.
Tomato Paste – The braising liquid needs some acid, and tomato paste is the perfect rich concentration
Pepperoncinis – Just a meager quarter cup gives the sauce enough spicy and salt to be perfect. If you don't want any spice, you can leave these out.
Salt, Pepper, and oil – This isn't added to the braising liquid, but you'll need during for the short ribs while searing.
Braising Boneless Short Ribs
The actual process of making braised boneless short ribs is very simple. The fun part is that once you know how to braise, you can literally apply the technique to any cut of meat with any liquid.
Step 1 – Prep your ingredients
Before you do anything, turn your oven on to 300°F and get an oven and stove top safe deep pan out. I use my ceramic dutch oven, I absolutely love it, it's a 6 quart Lodge Dutch Oven and it's a much more inexpensive option than a lot of dutch ovens out there.
Wash and chop your carrots, rounds are fine since they'll cook for quite a while in the liquid. Chop your onions and mince the garlic, and get everything out on the counter. I like the measure everything out ahead of time but if you don't like the idea of extra clean up then at least have the appropriate measuring spoons and cups ready to go.
Step 2 – Sear the Short Ribs
It's essential when braising any meat that you sear it first. When you apply high heat to the surface of meat it triggers the Maillard reaction, or browning, which concentrates intense flavor in the resulting crust and releases flavor aromas.
To do this heat your dutch oven or pan of choice over medium high heat until hot. Add a tablespoon of high heat oil, like grapeseed, avocado, or canola. Salt and pepper all sides of the short ribs liberally then place in the hot oil. You should hear a sizzle, but not ridiculous popping. Don't move it or touch it, when the meat has the appropriate crust, it will lift effortlessly from the pan. Flip it over and repeat.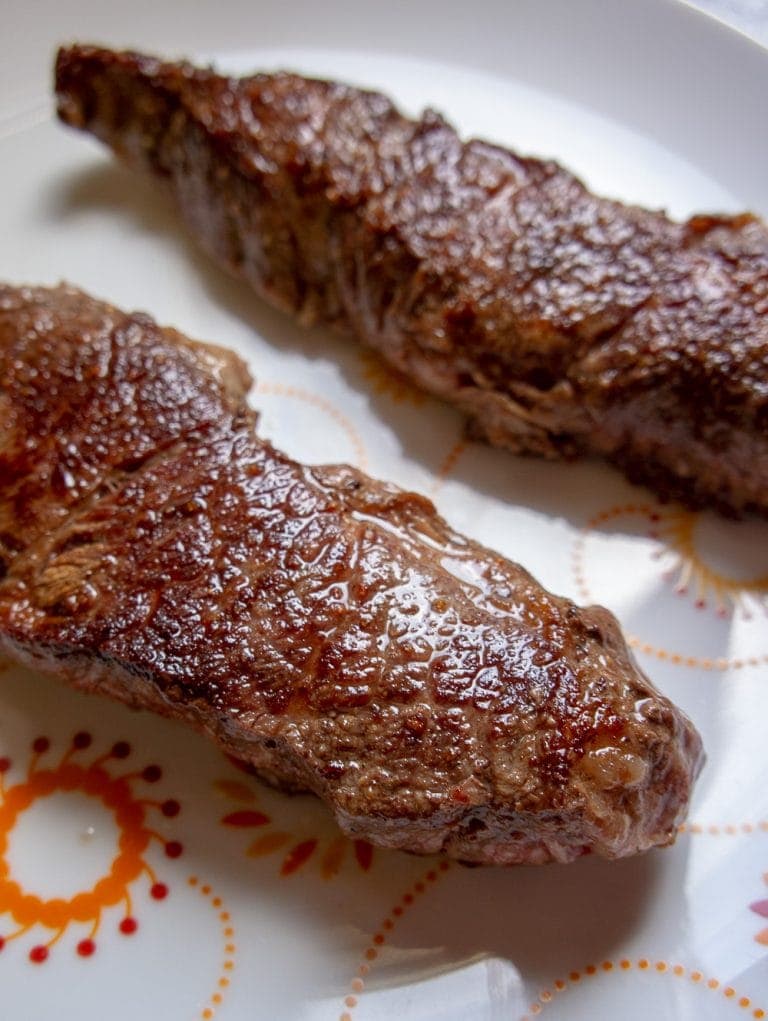 It also leaves a lovely thing at the bottom of the pan called fond. That's what those yummy little brown specks are at the bottom of the pan. As you add the remaining ingredients, you'll lift those delicious bits and they'll add flavor the braising liquid.
Step 3 – Add Remaining Ingredients and Transfer to Oven
When your short ribs are all nice and browned on both sides, remove from the pan and set aside on a plate to catch all the juices.
Add your chopped veggies and the pepperoncinis and stir, let them saute for a few minutes, just until the onions take on a little bit of color.
Next add the molasses, tomato paste, soy sauce, cloves, and paprika. Stir until everything is combined.
Finally, pour in the stock, and then the Dr. Pepper. Bring the liquid to a boil and add your short ribs and any juices accumulated on the plate back to the pot. Boiling first helps the liquid maintain the proper temp in the oven so the meat will cook evenly and steadily without the oven having to work too hard.
When boiling, cover, placing in the oven for 3.5 to 4 hours. The meat should be partially submerged, but not completely covered in liquid. While it can be cooked longer than this, I don't see any point. You'll have to add more liquid and you'll dilute the flavors there. 3.5 hours is my preferred time. When it comes out, it will be tender and falling apart. Simply spoon the meat, carrots, and some liquid over your side of choice. We like grits, rice, or polenta.
I hope you're inspired…
That's it! That's all there is to braising. While I think these braised bonless short ribs are particularly delicious, you can see how simple it would be to adjust this recipe for other cuts or pork. You can also change up the braising liquid for a completely different flavor profile. That's how some of my best recipes start!
To try different liquids…
Switch the soda for red wine and you've got an interesting new twist. Here are some of my favorite braising liquids:
Red Wines – strong red wines like Zinfandel or Cabernet Sauvignon are lovely with beef, chicken, or game.
Dark Beers – Stouts, porters, IPA's and other dark or bold beers are intense and complex with braising game meats, beef, or fatty cuts of pork.
Light Beers – Lagers, pale ales, Belgian, wheat, or even ciders are really fun to play with pork or chicken.
Liquor – Bourbon, brandy, whiskey, or rum would all be delicious when added into a stock based braising liquid.
Fruit Juices – Pineapple juice and apple juice are just two of my favorite ways to braise pork or chicken when combined with a stock to mellow them out.
I always add a little bit of stock to any of my braises, if only to mellow out the intensity of my other braising liquid concentrating during cooking. But it's up to you! If you feel nervous, simply start with a cheap cut and start with flavors you're familiar with. A lovely stock braised beef with onions is just as delicious.
To try different meats
I've suggested a few times that different cuts of beef or pork would be delicious not only with this braising liquid, but for future experiments. So I thought I'd share a few of my favorite cuts!
Pork – Pork shoulder and pork ribs
Beef – Short ribs, brisket, or chuck roast (the cheapest, and really really good!)
Chicken – Bone in chicken thighs or whole chicken legs
I personally don't cook lamb or game very often, so I hesitate to make recommendations, but understand why a cut is good for braising can help you know what to choose.
The best braising meats are the tough ones you wouldn't want to sear – lots of fat, connective tissue, and sinew. Don't fear bone in cuts, the marrow in them often leads to an even richer broth. On the other hand, if boneless is on sale, they braise just as well!
Give this a try!
As much as I hope you'll be inspired to get your braise on, I really hope next time you see that Dr. Pepper sitting in your fridge, or those lonely leftover cans, you'll give these braised boneless short ribs a try. It's caramelly, spiced, and finger licking good with a rich sauce that just begs to be soaked up by a grain or bread. The meat will come out with this gorgeous sticky crust from the sugars, and the center will be melt in your mouth tender.
This is a recipe you're whole family will love, I promise! I sincerely hope you enjoy this recipe. Happy Eating!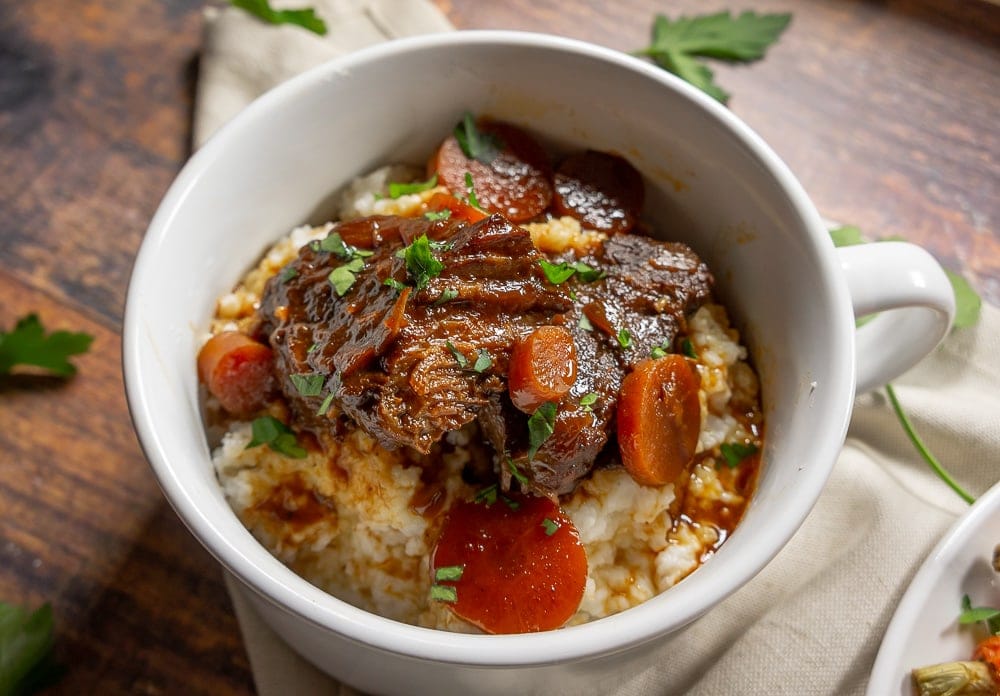 Ingredients
1

lb

boneless beef short ribs

1

tsp

salt

1

tsp

black pepper

2

tbs

grapeseed oil

or other high heat oil

1

medium

red onion, diced

4

cloves

garlic, minced

2

medium

carrots, sliced into rounds

1/4

cup

pepperoncinis

2

tbs

tomato paste

1

tbs

molasses

1/4

cup

soy sauce

2

whole

cloves

(1/4 tsp ground)

1

tsp

paprika

1

cup

vegetable stock*

3

cups

Dr. Pepper
Instructions
Preheat oven to 300°F. Place an oven safe deep pan, like a dutch oven, over medium high heat on the stove.

Salt and pepper the surface of the short ribs. When the pan is hot, add the grapeseed oil and then the short ribs. The short ribs should sizzle. Allow to sear until golden brown on both sides 4-5 minutes each side.

Remove the short ribs from the pan, set aside. Add onions, carrot, and pepperoncini. Let saute, stirring, until onions begin to take on some color. Add garlic and stir until fragrant.

Next add the tomato paste, molasses, paprika, and soy sauce, stir until smooth and coating the vegetables fairly evenly.

Pour in the stock and Dr. Pepper. Add cloves and replace short ribs into the liquid.* Bring to a boil. When boiling, cover the pan with a lid or tightly with foil and place in oven.

Braise for 3 1/2 to 4 hours or until fork tender. If it goes longer be sure to check liquid levels are not too low. Serve with braising liquid as desired.
Notes
*Chicken or beef stock can also be used
*Liquid should not cover the beef completely, remove a ladle or two if you have thinner cuts. 
Nutrition
Calories:
402
kcal
|
Carbohydrates:
35
g
|
Protein:
25
g
|
Fat:
19
g
|
Saturated Fat:
6
g
|
Cholesterol:
67
mg
|
Sodium:
1821
mg
|
Potassium:
773
mg
|
Fiber:
2
g
|
Sugar:
28
g
|
Vitamin A:
5650
IU
|
Vitamin C:
13
mg
|
Calcium:
47
mg
|
Iron:
3.6
mg