This page contains affiliate links. For more information please read my Disclosure Policy.
Oh peanut butter, my go to dip for apples and carrots, my breakfast spread, my eat a spoonful snack…okay you get it, I freaking love peanut butter. Actually, I love all sorts of nut butters, almond, cashew, there are so many options now it's hard to choose! Sadly, other than your run of the mill peanut butter, they can get pretty pricey! With my strict monthly grocery budget, that $10 8 oz almond butter just doesn't make sense.
Thankfully however, I know how to make my own! Homemade nut butter is ridiculously simple. I'm always purchasing bulk nuts for other things like snacking, baked goods, granola, trail mix, salads, the list goes on, so I always have a great variety on hand. In less than 10 minutes, I can have fresh nut butter, catered to exactly my tastes and whims, without the gourmet price tag.
I'm going to walk you through making your own homemade nut butter, with any nut and flavor you choose! You'll also find a recipe at the end, guiding you through the process, with my own personal favorite peanut butter Maple Cinnamon as a suggestion!
Any Nut, Any Flavor
The beauty of making your own homemade nut butter is that you can do whatever suits your needs or cravings that day. Want cinnamon honey almond butter? Or maybe vanilla spiced pecan butter? A simple maple peanut butter? Any and all can be made very, very simply.
Choosing Your Nuts
This is really a personal choice! I love peanut butter, so I usually have peanuts in my pantry. I also love almonds and pecans, so those are good choices for me. Since I'm allergic to walnuts, those probably won't make it on the list, but they could for you!
Think about the nuts you enjoy snacking on, and go from there. The world of nut butters is wide open, hazelnuts, cashews, walnuts, pecans, macadamia nuts, brazil nuts, whatever you can imagine. I recommend roasted, unsalted nuts. The roasting has been done, I can determine the salt level and usually the price is the same as the unroasted nuts available. This also allows you to use them in other recipes.
If you can't find that, choose raw unsalted and roast them yourself at home. Here's an easy guide to roasting nuts in the oven, on the stove, or in the microwave.
Natural Oils in Nuts
It's also important to consider level of oil in the nut you pick. The higher the oil level, the more oil that will be released during blending, and the more liquid your nut butter will be. The nuts with lower oil content might need some added to reach the texture you like. Here's a handy list of fat content in nuts.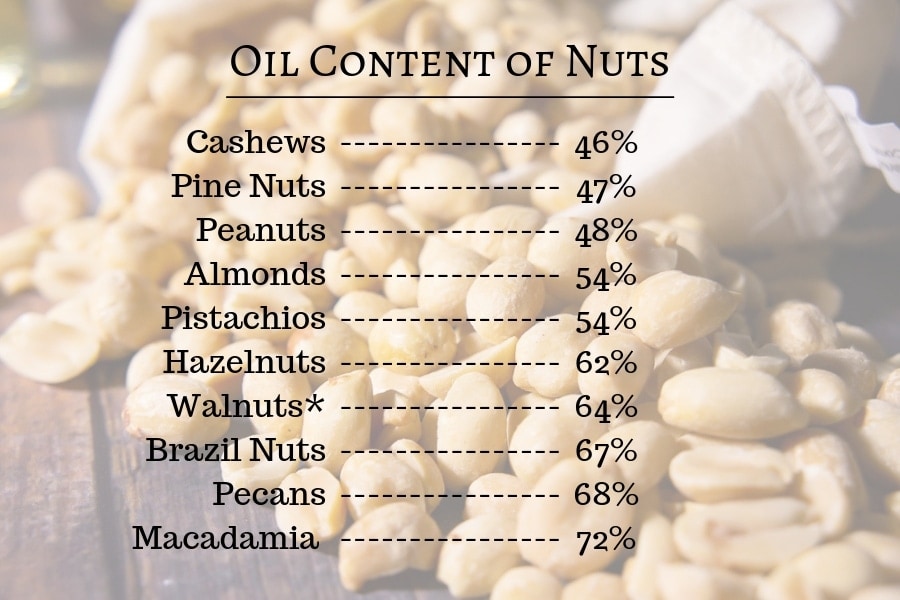 When making homemade peanut butter, extra oil is unnecessary (for me). Peanuts ground enough produce a lovely thick, creamy paste. My advice is to blend first, add oil later. I've seen tons of recipes calling for some oil added to homemade peanut butter, but I definitely prefer it without. Adding oil in my tests produced looser nut butters that liquefied when at room temperature for extended periods.
But it's up to you! If you've blend up your nuts and it's too thick (it will get thicker in the fridge), usually a tablespoon or two of something flavorless, like canola, vegetable, or grapeseed oil is perfect to get those nut butters to your ideal texture.
Flavorings
This is where your homemade nut butter goes from simple and easy to gourmet. You can flavor your spreads any way you like. Common ingredients include sweeteners and spices.
Sweeteners – Brown or white sugar, honey, maple syrup, date syrup, or agave are all options. Be aware that syrups will affect texture. I personally found that the amount of honey I needed for the flavor I wanted made the peanut butter I had made sticky.
Spices – Vanilla, cloves, allspice, cinnamon, nutmeg, ginger, black pepper, cayenne, whatever you think will pair well with the nuts you choose can be added. Start with 1/2 a tsp of most common spices and flavors (I'd take it easy with clove and cayenne), and build from there.
Get Creative! – Want chocolate hazelnut butter (yes, nutella), then go for it! Try cocoa powder and sugar to hazelnut butter. Espresso powder with a nice cinnamon almond butter sounds delicious! It's also easy to add some extra health benefits with some toasted flax seed. Just add and blend for the health boost.
It's also useful to know that some nuts have a natural sweetness thanks to free sugar content in their makeup. Pistachios, cashews, and pine nuts have more free sugars than others and may require little or no added sugar.
You certainly don't have to add flavorings at all! If you like the pure flavor of a nut, you can blend and enjoy. I do recommend a bit of salt in any case, but from there, it's up to you.
Be wary of water based flavoring agents! Liquid extracts like vanilla can make your nut butter seize up and become unpleasant. Instead, add fresh vanilla bean or paste. Always wait until the end to add your flavorings and use syrups sparingly!
Making Homemade Nut Butter
Alright, you've chosen your nuts, and you're ready to make some homemade nut butter. It's so simple with just a few steps. You will need a food processor or blender to get the job done. Then, follow these easy steps:
Add your nuts to your blender/processor. Blend until creamy. This will go through several stages. First, your nuts will turn into crumbs, scrape down the sides with a spatula and blend again. It will turn to a crumbly paste. Keep blending, occasionally scraping down the sides. As the nuts get finer the oils will release and a paste will form. If you like chunky nut butter, stop when you've reached a happy place. If you like it completely smooth, keep blending.
Add Flavorings. When you've hit a consistency you like, add your flavors. Blend to incorporate and taste. Adjust if needed. Once the flavors are to your liking…you're done!
Store in jar or container in the fridge. Did you know that nuts last longer in the fridge? It's true, nuts can go rancid, and cold storage slows that process significantly. Without stabilizers like the store bought stuff, your nut butter needs the cold. Be sure to keep your homemade nut butter in the refrigerator, where it will keep for 4 weeks. You can also freeze it for up to 4 months.
It won't last that long. I promise.
Final Tips
I want to share a few final notes to help make your homemade nut butter making as simple and easy as possible.
You'll feel like it isn't working at first. It just looks like crumbs and you'll be tempted to add oil. IT WILL WORK. Just let the blender or food processor do the work! I have a powerful vitamix blender, and it took 4 high speed, smooth boost cycles (1 min each) to hit my ideal texture. A food processor will likely take 10-12 minutes to replicate the same results.
A blender will produce heat. Heat can affect the oil quality released by nuts, so rather than blending for 5 minutes straight, let your nut butter chill out between minute long cycles. This gives you the chance to scrape down the sides anyway. If this bothers you, go for the food processor.
Feeling lazy? Try buying flavored nuts like honey roasted peanuts or cocoa almonds and making your nut butter with them. Less control over the flavor, but possibly the perfect shortcut for you!
Seeds can also be made into butter! (Think sunbutter made from sunflower seeds or tahini from sesame seeds) If you're itching to try it, sesame seeds, sunflower seeds, and poppy seeds all contain natural oils in the range of 45-50%, so go for it! Toast and blend, same process!
Now you know everything you need to make homemade nut butter, so go on! Next time your at the market, take a glance at those fancy gourmet nut butters, check out the flavors, and then walk away with a smile and make it yourself for cheaper.
As always, happy eating!
Ingredients
General Nut Butter
4

cups

nut of choice

1/4

tsp

salt

1-2

Tbs

sweetener of choice

Start with less, add more as needed

1-2

Tbs

neutral oil

optional, if needed*
Maple Cinnamon Peanut Butter
4

cups

roasted, unsalted peanuts

1 1/2

Tbs

pure maple syrup

1/2

tsp

cinnamon

1/4

tsp

kosher salt
Instructions
General Nut Butter
Add nut of choice, to blender or food processor and blend until smooth. Pause occasionally to scrape down sides.

In a good blender, 4 – 5 one minute cycles while scraping down the sides in between should work. In the food processor, expect 10-12 minutes.

Add salt, sweetener, and oil if you want a thinner butter. Blend and taste, adjust as needed.

Store in jar in the fridge. This recipe makes 2.5 cups of nut butter.
Maple Cinnamon Peanut Butter
Follow the same instructions as above, using peanuts as nut of choice. Add in maple syrup, salt, and cinnamon at end and blend to combine, then store in fridge.
Notes
*Do not add oil until the end. The nuts WILL release oil as blended, but it will not seem like it at first. 
Nut butter will thicken in fridge. 
Avoid water based flavorings like extracts or juices to prevent seizing