Cornbread Muffin Recipe with Corn
This page contains affiliate links. For more information please read my Disclosure Policy.
A soft and fluffy cornbread muffin recipe with corn baked right into the batter. A delicious, easy way to incorporate fresh corn into an easy cornbread muffin that the whole family will enjoy.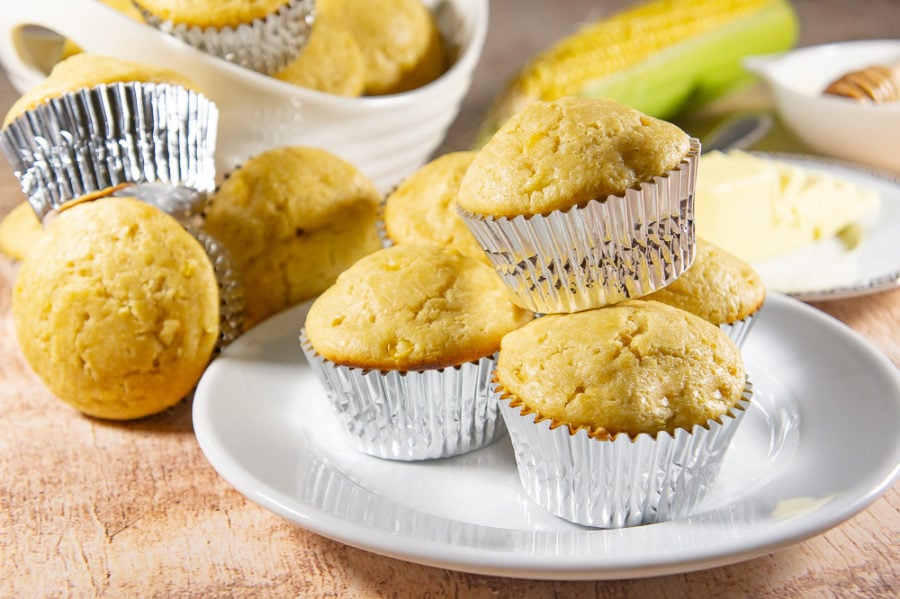 Around this time every year the farmer's market fills with stands selling just one thing – sweet corn. It's staple crop around my neck of northern California and watching it grow through the summer, then suddenly be gone from the fields as I drive through town is an exciting thing. It means corn season is upon us and recipes like this cornbread muffins recipe are going to be cranking out of my kitchen soon.
When you can get a dozen cobs for five bucks you'd be corn crazy too! Seriously though, with fresh sweet yellow corn literally always in my fridge this time of year, I find myself throwing it into everything. Soft, fluffy cornbread muffins, sweetened with just enough brown sugar seemed like the perfect vehicle, and they are!
What is Cornbread?
We have the Native Americans to thank for cornbread. They ground corn and mixed it with water and salt to create the earliest cornbread. Things have changed a bit since then, but at it's core cornbread is quite literally a quick bread made from corn. Well, cornmeal to be specific.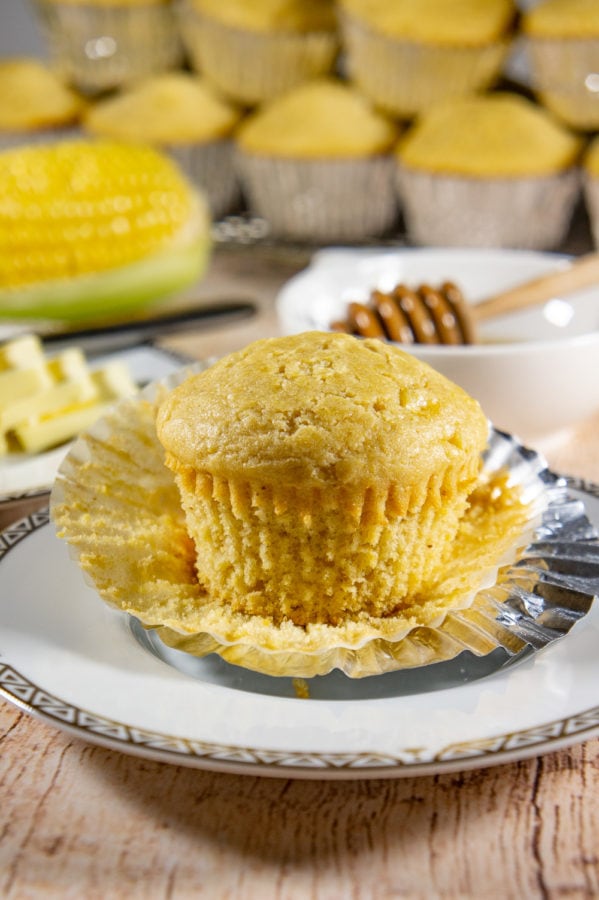 Cornmeal is dried corn that's ground in one of two milling processes, steel rollers or stone. Steel roller milling is most common, and results in one of three textures, fine, medium, or coarse.
Most cornbread muffin recipes call for medium grind. It's the most common grind, and is often unlabeled. Fine and coarse ground, as well as stone ground, are all less common and will therefore be labeled specifically as such. If you just pick up 'yellow cornmeal' you're usually safe.
Despite cornmeal being the ingredient that makes cornbread, well, cornbread, it's not the only grain in the mix. Because cornmeal is often gritty and dense, cornbread is made with both corn and regular all purpose flour.
Cornbread Muffin Ingredients
Aside form cornmeal and flour, it takes a perfect concoction of other ingredients to make soft, fluffy cornbread muffins.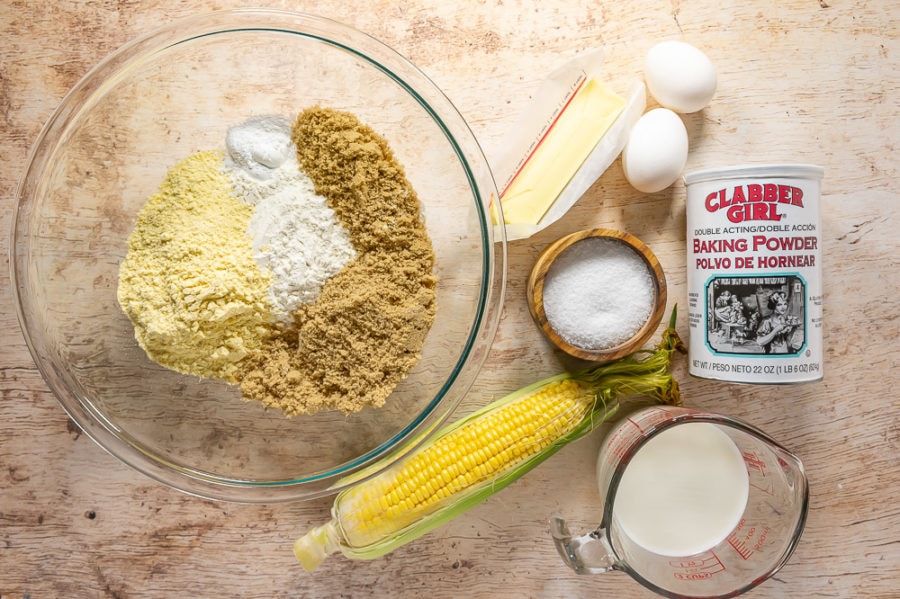 My cornbread muffin recipe with corn calls for just a few simple ones:
Cornmeal
All-purpose flour
Brown sugar
Salt
Baking powder
1 cob yellow sweet corn
Eggs
Melted butter
Milk
Quick tip – when you're baking anything, it's always ideal to have your eggs at room temperature.
Aside from the ingredients you'll also need a muffin pan and as I always recommend, a kitchen scale. While I do provide the best estimates for volume conversion, weight is more consistent and reliable in baking. Make the switch! You'll appreciate not washing all the extra cups and bowls, I promise.
How to Make Cornbread Muffins with Corn
With your ingredients gathered and cornbread muffin recipe in hand, it's time to get baking. Cornbread is a type of quick bread, so it comes together in just a few simple steps.
Step 1 – Prep
To make cornbread muffins with fresh corn, you first need to melt some butter. Do this first because you want to allow the butter to cool slightly before adding it to other ingredients. Adding hot butter at the same time as the eggs and milk can cause curdling and mess with the texture of the muffins.
Then remove the husk and silks from the cob and slice the kernels off. I find it easiest to cut the kernels off by placing the flat end of the corn in a bowl and slicing straight down from the top to bottom with a sharp knife. The bowl catches the falling kernels for less mess. Bonus tip, if you're knife is getting stuck as you cut, it's likely you're cutting too deep into the cob and removing more than just the kernel. Move your knife out and try again. Set aside.
If you want some tips on cleaning silks from your corn, here's an article to help!
Step 2 – Preheat
Next, preheat your oven to 350°F and line your muffin pan with liners. If you don't have liners, or simply prefer not using them, butter and lightly flour every muffin cup.
This recipe does make more than 12 muffins, so I recommend the liners if for nothing other than ease of use when you're emptying a hot pan for the second batch.
Step 3 – Combine wet and Dry
Next combine all the dry ingredients in a bowl. This includes flour, cornmeal, baking powder, salt, and sugar. Whisk to combine and make sure there are no clumps of brown sugar. Beat the eggs into the milk and pour into the dry mix with the cooled butter. Stir until combined. Small lumps are okay, as long as the flour is incorporated.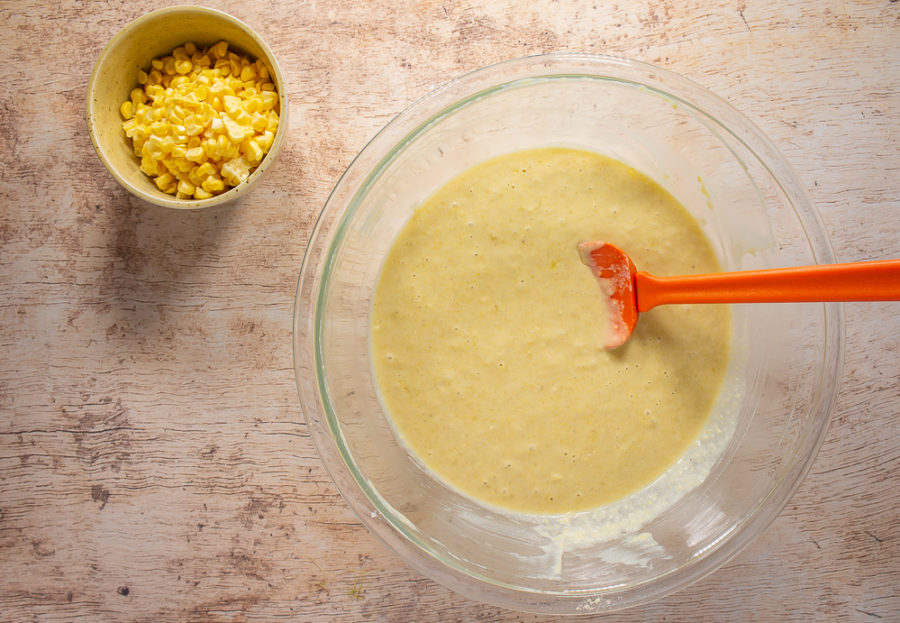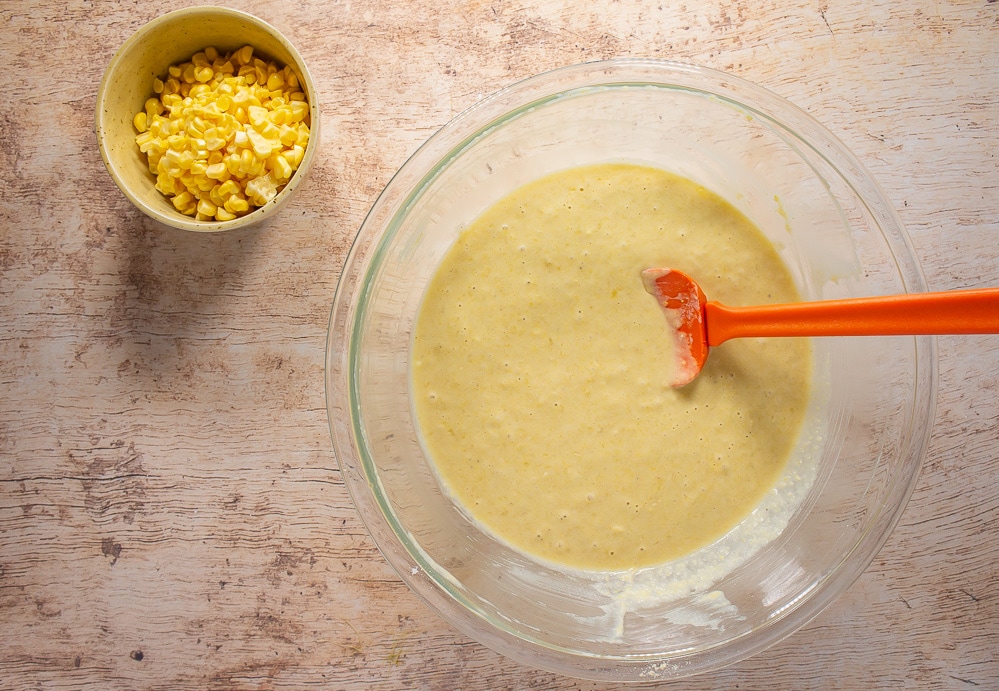 Once your batter is together, add in your fresh corn and stir gently to disperse evenly through the batter. It's important to wait until after the batter is together. Adding the corn early can lead to flour sticking to the damp kernels and lead to lumpy batter.
Step 4 – Scoop and Bake
Now you're ready to fill your muffin pan and bake up your cornbread muffins! I like to use a cookie scoop to do this – less mess around the top of the pan and makes it easier to evenly fill every cup.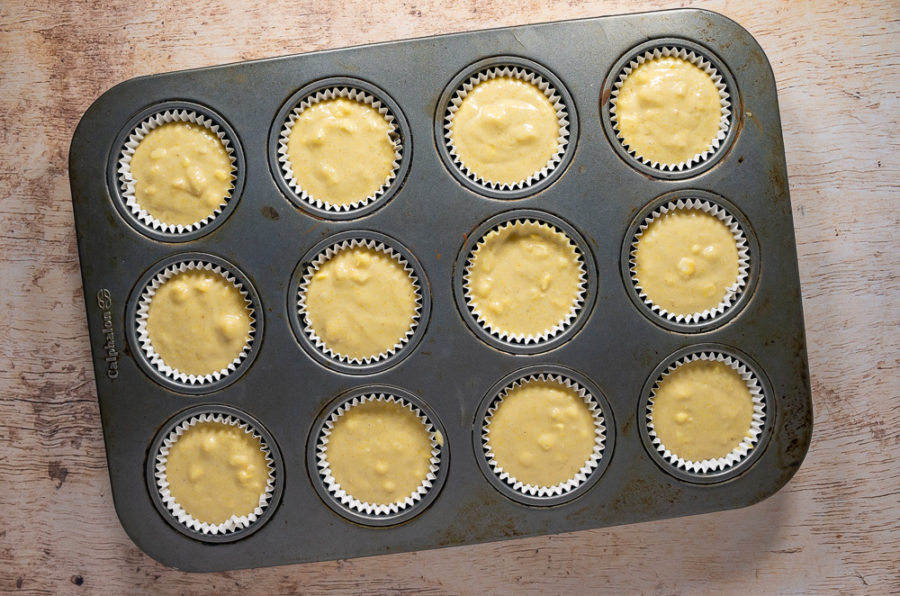 This is where your personal tastes come into play. I like big full cornbread muffins, so I fill each muffin liner up to about a 1/4″ below the rim. You can fill them less and have more, smaller muffins. At a minimum fill them about 2/3 of the way.
Then pop them in the oven for 15 minutes. Remove the pan and let the muffins cool for a few minutes, just until you can handle the liners enough to move the muffins to a cooling rack. Place more liners (I needed 6 more) and fill them again, then back in the oven for another 15 minutes.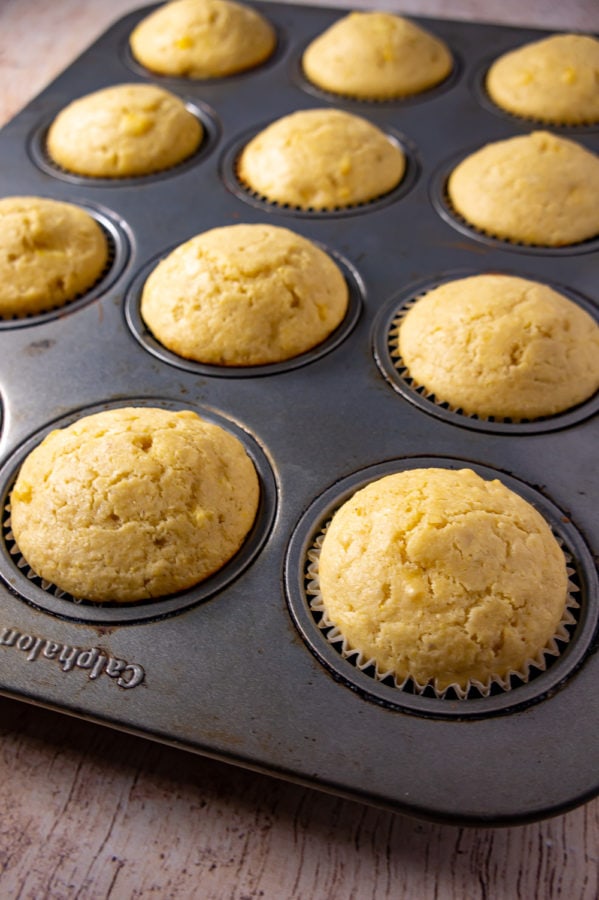 Common Questions
Can I use frozen or canned corn?
While I HIGHLY recommend going with fresh, uncooked corn cut from the cob from a flavor perspective, you can technically substitute either canned or frozen corn. Make sure frozen corn is thaw and completely drained of any excess water. This goes the same for canned corn. Excess liquid will effect the texture of your cornbread muffins.
You can also use sweet white corn instead of yellow.
Can I leave the corn out?
Yes! You can absolutely can, the batter works just as well without it.
Can this be baked in a pan instead of a muffin tin?
Yes, I've baked this in a 9×13 pan and an 8×8, the latter was thicker and denser while the 9×13 had nice edges on more pieces. Go with what you like, simply adjust bake time to 25 to 35 minutes.
Can I make this with fine or coarse cornmeal
I have personally used fine and medium cornmeal with great results. I don't like the chew of coarse cornmeal in these muffins but that's a personal taste thing.
If you find something labeled corn flour and live in the US that is likely fine, however outside the US corn flour can refer to corn starch and that won't work.
Can I leave out the flour?
This particular recipe does not work without flour, but if you're looking for a no flour version of cornbread that still has corn kernels in it, check out this recipe from Show Me The Yummy.
Eat and Enjoy!
That's it! Your soft and fluffy cornbread muffins with fresh corn are ready to enjoy. Serve them up while they're warm with a pat of butter and a drizzle of honey and you won't be able to stop at one!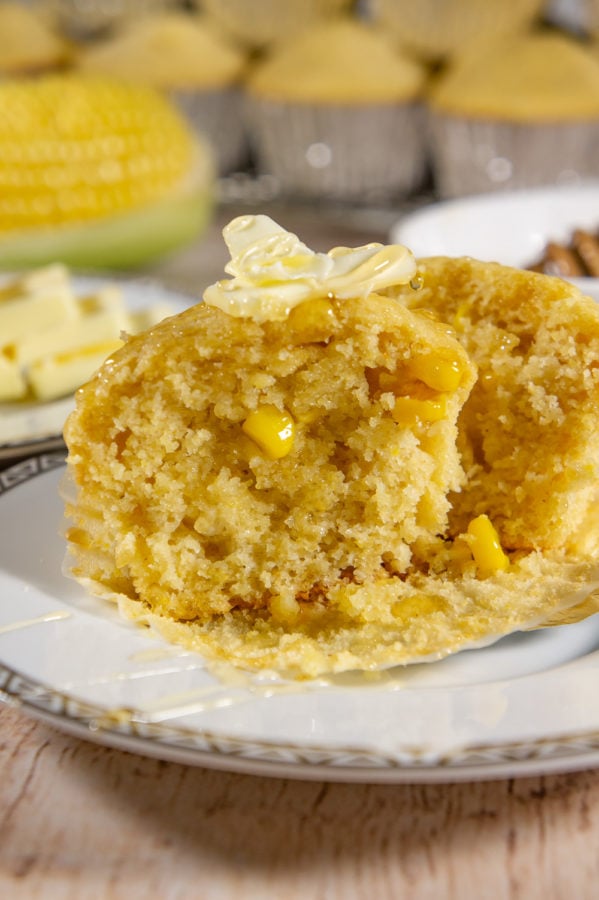 I hope you and everyone at your dinner table enjoy these. They keep well for 3 days stored in an airtight container, and can also be frozen for up to 4 months. Until next time, Happy eating!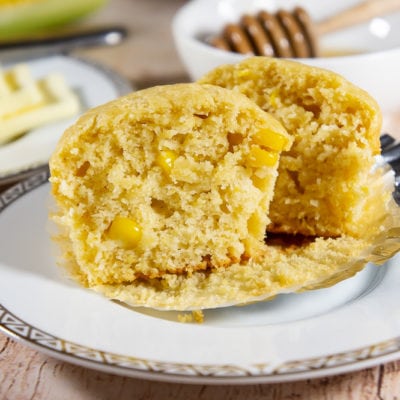 Cornbread Muffins with Corn
Print Recipe
Soft and fluffy cornbread muffins with fresh sweet yellow corn baked right in.
Ingredients
226

grams

All-purpose flour

8 ounces or 1 1/2 cups spooned and leveled

115

grams

cornmeal

4 ounces or 3/4 cups, spooned and leveled

115

grams

brown sugar

4 ounces or 3/4 cups, lightly packed

1

tsp

salt

2

tsp

baking powder

1

cob

yellow corn

1 1/2 cups kernels

2

large

eggs

4

ounces

butter

1/2 cup

10

ounces

milk

1 1/4 cups
Instructions
Melt butter and set aside. Prep a muffin pan with liners or a coating of butter and flour, and preheat the oven to 350°F.

Shuck corn and remove silks as best you can. Place the flat end of the corn against the bottom of a shallow bowl and slice the corn from the cob into the bowl. Discard cob and set kernels aside.

Combine flour, cornmeal, brown sugar, baking powder, and salt in a large bowl and whisk to combine.

Measure the milk into a bowl and whisk eggs into it. Add milk mixture and melted butter to the dry mixture and stir gently until batter comes together.

Add fresh kernels into the batter and stir to disperse.

Scoop into muffin cups until 3/4 of the way full. Bake for 15 minutes.

Remove first pan from the oven and let cool a few minutes or just until cool enough to remove to cooling rack.

Add new liners to pan and fill with remaining batter. Return to oven and bake for 15 minutes.

Remove to cooling rack and when all the muffins are completely cool store in an airtight container for up to 3 days.
Nutrition
Serving:
1
muffin
|
Calories:
159
kcal
|
Carbohydrates:
21
g
|
Protein:
3
g
|
Fat:
7
g
|
Saturated Fat:
4
g
|
Cholesterol:
39
mg
|
Sodium:
193
mg
|
Potassium:
128
mg
|
Fiber:
1
g
|
Sugar:
7
g
|
Vitamin A:
217
IU
|
Calcium:
54
mg
|
Iron:
1
mg
Nutrition information and cooking times are provided as a best estimate. Values may vary based upon ingredients and equipment.