This page contains affiliate links. For more information please read my Disclosure Policy.
Braised mojo pork is a delicious dinner entrée that can be made in the slow cooker, oven, or instant pot. Garlic, orange juice, spices and pork cook low and slow to create this tender mojo pulled pork. Juicy, shredded mojo pork carnitas are fabulous on sandwiches, mojo pork tacos, or served alongside rice.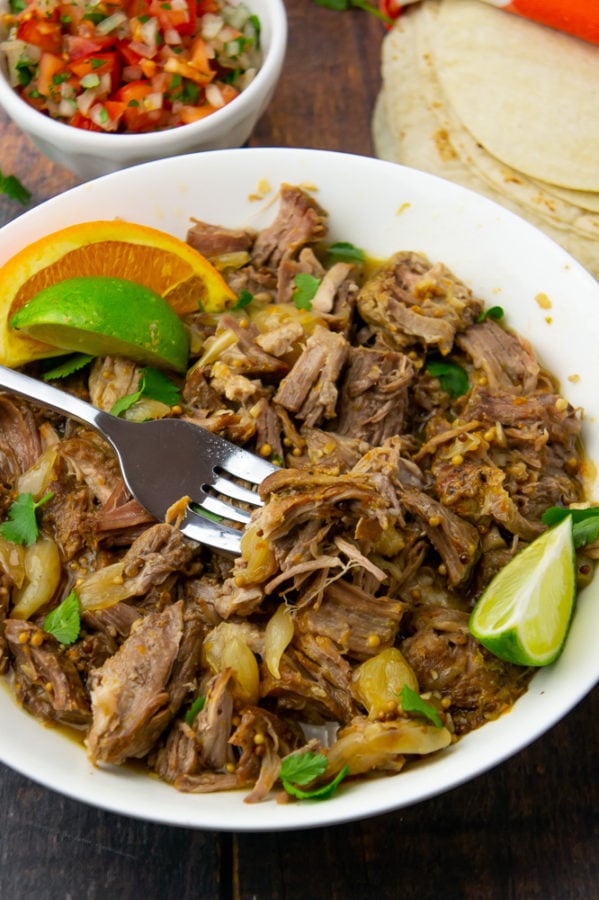 I'm back with another braise! What can I say, I'm a sucker for that tender, fall apart style of cooking meat. Since so far I've shared braised chicken, and two braised beef recipes (red wine brisket and dr. pepper short ribs, yum!), I felt it was high time I share a favorite braised pulled pork preparation of mine.
Funny thing is, when I started developing this recipe, I was just playing with the delicious winter oranges I like to cook with this time of year. In the end, what I had was a really, really good version of Cuban style mojo pork, without meaning too!
What you'll find is that this pork is loaded with bright flavor from lime and orange juice, layered with a blend of whole spices, garlic, and onion for a juicy shredded pork that you'll be snacking on right out of the pot.
What is Mojo Pork?
Traditional 'mojo' is a Cuban style of cooking that involves using a sauce made of garlic, oil, pork fat, and bitter orange juice. Often spices and herbs are added, and the sauce is commonly used to marinade a roast pork.
While this recipe isn't making a traditional mojo sauce or marinade, we're taking all the flavors of mojo and adapting them to a braise.
What Ingredients do I need to make Mojo Pulled Pork?
The ingredient list is a balanced blend of citrus, stock, and spices that build a layered, highly flavored braising liquid to cook your pork in.
To make this version of braised mojo pork, you'll need:
Pork – go for the tougher cuts here. I'm using boneless country style ribs, but pork butt or shoulder would work beautifully as well.
Stock – I actually prefer a rich beef stock for this, but chicken or even veggie will work. Expect a braise made with vegetable stock to be less rich in final flavor.
Oranges – Fresh oranges juiced and zested are a simple way to build huge flavor in a dish like this one.
Limes – The brightness that lifts up the sweetness in the orange juice, but doesn't have the sharpness of lemon.
Mustard seeds – I love the bite of mustard seeds in a braise.
Coriander seeds – These herbaceous babies are the seedling of cilantro and add a welcome layer of flavor the citrus rich broth.
Black pepper – This is about as much spice as I wanted in this dish, enough to bite, but nothing that would overwhelm the sweetness and tang of the citrus.
Garlic – There are few savory braises I'd make without this! We add a lot to really amp up the braising liquid.
Onions – again, a must have. I used pearl onions because I love how soft and delicate they become in a braise. If you don't have them, use a white or yellow onion, and slice it thinly.
Salt – This is a given right? Kosher salt is used here, for table salt decrease the amount by a third.
How to Make Braised Mojo Pork
A good braise is utterly satisfying, and easier than you may think to make. With a few key tips you can easily have your pork braising in the oven for dinner in just 30 minutes. A few hours later your kitchen will smell amazing, and your mojo pulled pork will be ready to dish into a crispy taco shell.
Sear your ribs hard in oil before you begin building the braise. The caramelization creates crusty edges on the pulled pork, and adds flavor to the braising liquid.
Toast the spices and soften the onions in the leftover oil and pork fat before adding any liquid to the pan.
Combine all the citrus juices and stock in one container to add to the pot, Depending on your pork, you may need more or less because….
The pork should be only partially covered by liquid! Do not submerge the pork, instead, add enough of the stock and juice combo to cover the pork about halfway up.
Let it cook for the full three hours, minimum. Cutting the braise time short can leave you with chewy, tough pork.
Pro Tip: For the juiciest pork possible, shred the pork in the leftover braising liquid. It will reduce as the pork cooks, and what's left is delicious when absorbed by the shredded pork.
How do I make Mojo Pork in the Slow Cooker?
The process for making mojo pulled pork in the slow cooker is very similar to the traditional braise. Begin by seasoning and searing your pork in a separate pan. Next you'll add the rest of the braise ingredients to your slow cooker, and add the pork into that.
Cook it on low for 7 to 8 hours, or on high for 4 to 5. The pork should be pull apart tender when it's finished cooking.
If you'd like to reduce the liquid, I'd recommend either removing the pork and turning the slow cooker to high. Leave it uncovered and the liquid will reduce, but it'll take some time. Or, for a quicker reduction, add to a pot on the stove and boil until reduced to the point you like.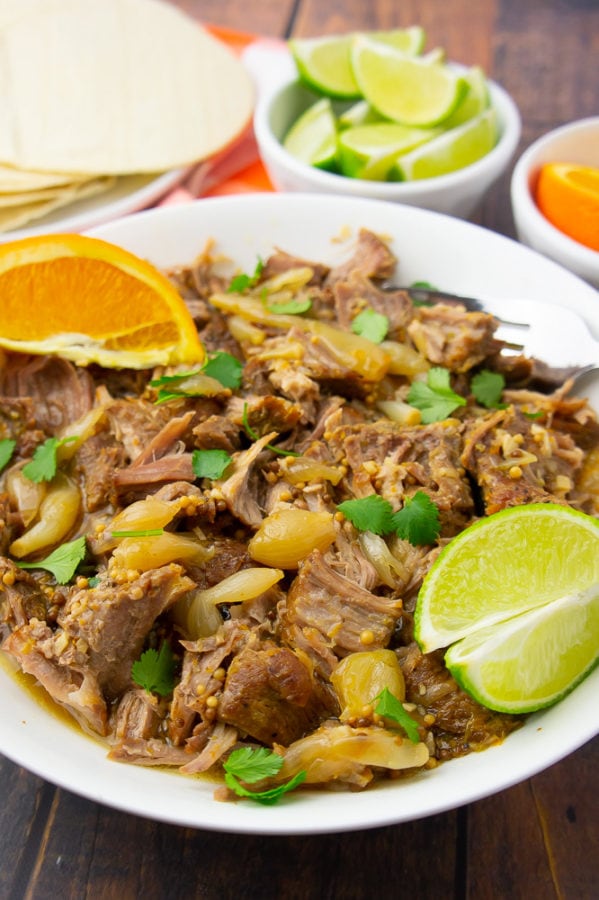 How Do I make this in my Instant Pot?
If you're looking for the quickest results, an instant pot or pressure cooker is the way to go. You can add everything into the chamber of your instant pot and cook on high pressure for 15 to 20 minutes per pound of pork rib.

Please make sure to follow your model's directions for safe release of pressure before checking on your pork. If your model has a sauté function, it's also a great idea to sear the ribs first, just as you would for the traditional braise.
What do you serve with mojo pork?
Oh the possibilities! This is a citrus forward, spiced pulled pork that is delicious on sandwiches, served over rice, or with beans and veggies. One of our favorite ways to enjoy this is inside a crispy taco shell with some pico, cilantro, and a fresh squeeze of lime.
Let your imagination run free, and who knows, a delicious homemade cubano sandwich could be right around the corner!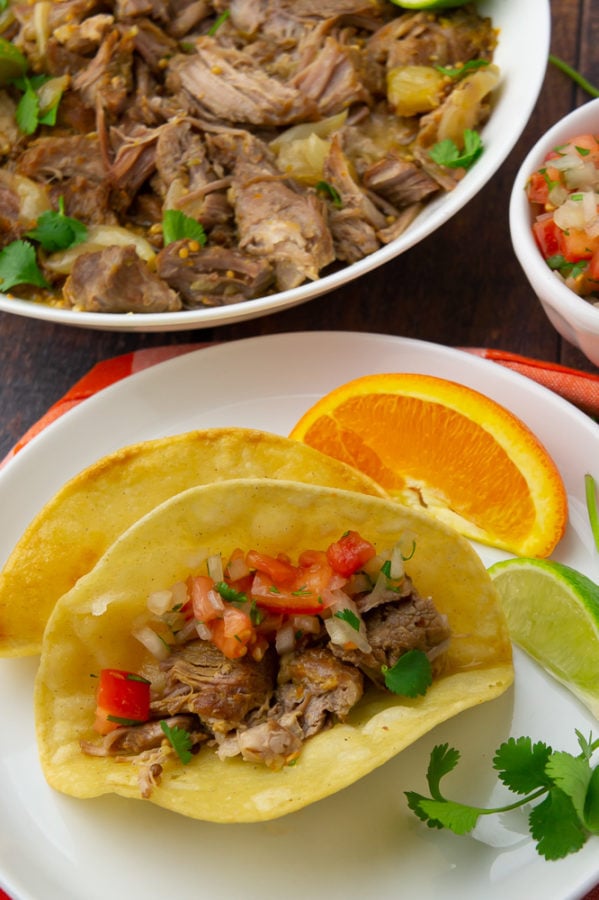 Storage Tips
I'd recommend storing any leftovers for up to 4 days in the fridge. Add a little of the braising liquid if possible to keep it juicy and moist when reheating. Freezing is also an option. It will keep about 3 months in an airtight freezer container.
Once thaw, reheat the same way you would leftovers. Either in the microwave or a sauté pan on the stove will do the trick.
Whether it's day one or three, I hope you enjoy this braise of mojo pork. It's a really yummy mojo inspired pulled pork that I think you'll really like. Let me know how it goes!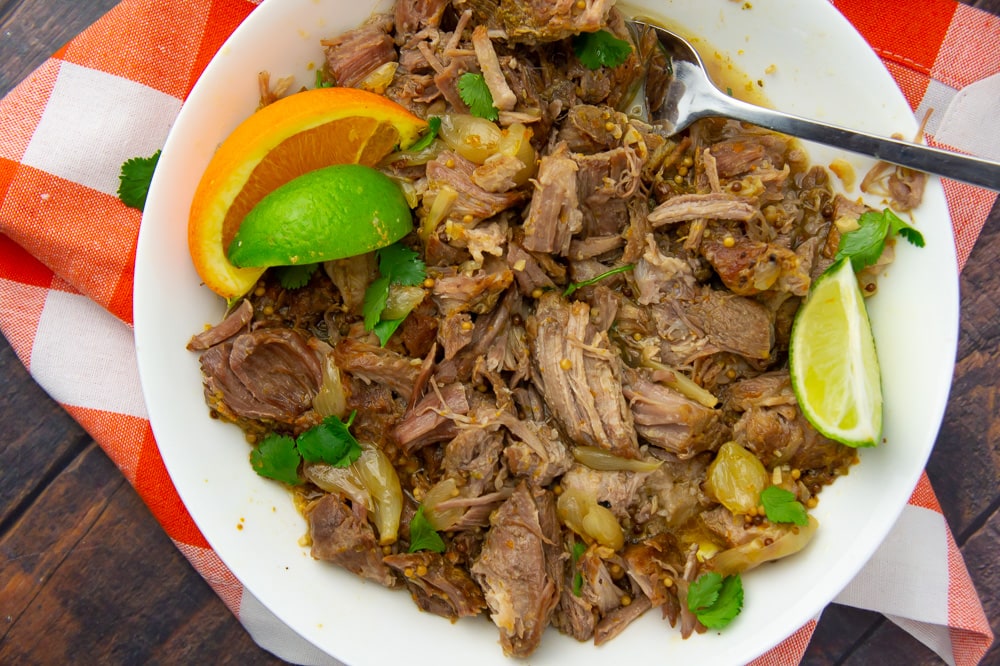 Ingredients
3

pounds

boneless country pork ribs*

1

teaspoon

kosher salt

divided

2

teaspoons

black pepper

divided

2

cups

beef stock

2

oranges

3

limes

1

lemon

1

tablespoon

mustard seed

1

tablespoon

coriander seed

5

cloves

garlic

1 1/2 tablespoons, minced

2

cups

pearl onions*

Blanched and peeled

2

tablespoons

grapeseed oil*
Instructions
Preheat your oven to 300°F. Zest and juice all the citrus and set aside. Get your onions and garlic prepped as well.

Heat your dutch oven on the stove over medium high heat. Meanwhile, salt and pepper the country ribs with half the salt and pepper.

When the pan is hot, add in the oil and let it heat. When it's shimmering, add in the country ribs. Allow them to fully sear, about 5 minutes, then flip and sear the other side.

Remove the pork from the pan and add in the stock, citrus juice, citrus zest, spices, garlic, onions, and remaining salt and pepper.

Bring the mixture to a boil then add the ribs and all the collected juices on the plate back into the pot. If your ribs are submerged, use the juiced orange halves to prop them up so they're only halfway covered by juice.

Cover and transfer to the oven. Braise for 3 hours, or until the pork is fall apart tender.

Shred into remaining liquid and serve.
Notes
*Any pork typically used for braising like pork cheeks or shoulder will work.
*Pearl onions are delicious and turn into buttery soft pieces in the pulled pork, but a regular yellow or white onion can be used instead. Slice it into thin strips before adding to the pan.
*Any high heat cooking oil will work
For Instant Pot and Slow Cooker instructions, as well as more tips for success, see the post above.
Nutrition
Calories:
413
kcal
|
Carbohydrates:
21
g
|
Protein:
33
g
|
Fat:
23
g
|
Saturated Fat:
4
g
|
Cholesterol:
109
mg
|
Sodium:
644
mg
|
Potassium:
909
mg
|
Fiber:
5
g
|
Sugar:
9
g
|
Vitamin A:
127
IU
|
Vitamin C:
49
mg
|
Calcium:
107
mg
|
Iron:
2
mg
I'd love to hear what you think, feel free to tag me on Instagram @theflourhandprint so I can see how it went! Until next time, Happy Eating!
Nutrition information and cooking times are provided as a best estimate. Values may vary based upon ingredients and equipment.