This page contains affiliate links. For more information please read my Disclosure Policy.
A bacon jam crostini is a delicious appetizer of crispy baguette slices, bacon jam, and cream cheese blended with honey, lemon, and mascarpone. Whether you make our bacon jam from scratch or need a use for that jar from the store, a simple bacon jam appetizer will do the trick!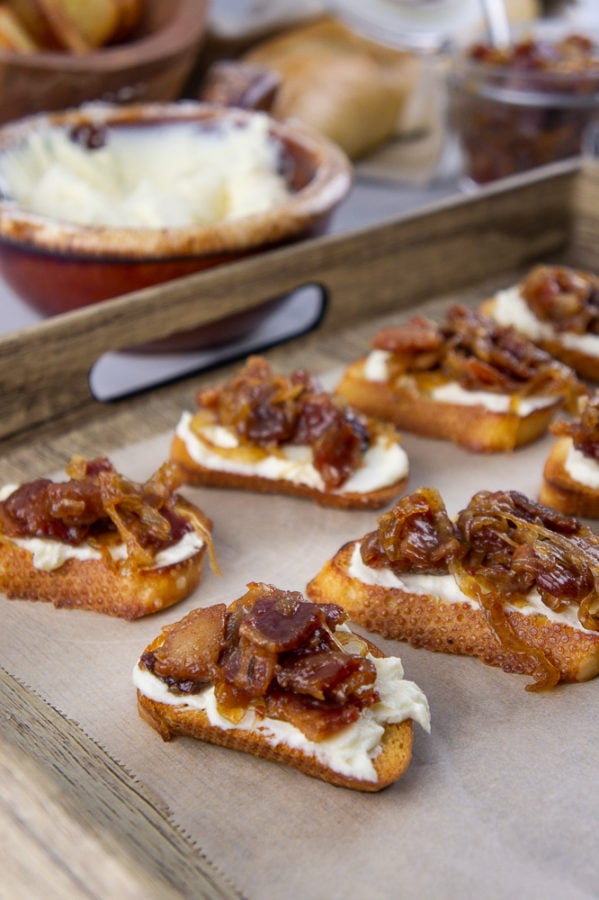 Bacon jam is one of those addictive savory condiments that I think everybody loves, but so often I come across home cooks asking for recipes to use bacon jam. While there are many, many delicious ways to use it, a quick and easy bacon jam crostini is one of my favorites.
With a jar of bacon jam, homemade or not, a blend of cream and mascarpone cheeses, and a crispy baked baguette slice you can have these ready quickly. You'll eat them even more quickly, I promise.
What is a Crostini?
Crostini is an Italian appetizer of toasted bread almost always eaten with a topping of fruits, vegetables, or meats. The word crostini even means little toasts! The toppings can be savory or sweet, and are often served as finger foods or appetizers.
Ingredients for Bacon Jam Appetizers
As always I recommend making what you can from scratch, and I have a delicious Maple Bacon Onion Jam recipe for you to make if you're up to it! You can also make your own homemade baguette with this 30 minute recipe! That being said a jar of trader joe's bacon jam (or whatever you have) and a store bought baguette works just fine too!
Baguette – For the quantity of cheese and bacon jam I recommend enough baguette to yield 40 slices or so. This is dependent on how thick you slice them, but 2 small or 1 large baguette will do.
Bacon Jam – My recipe for bacon jam is the perfect amount, but you want at least two cups, more if you like a heaping spoonful on each.
Cream Cheese – half a block will do, room temperature for easy blending.
Mascarpone Cheese – An italian double cream cheese (twice the cream as cream cheese) that has less tang but crazy creaminess that blends perfectly with cream cheese.
Lemon Juice – Just a touch of lemon juice, fresh squeezed if you can!
Honey – The sweetness to cut through the tang of cream cheese.
Olive oil – To make the perfect crostini, you'll need to to brush them with oil for baking.
Kosher salt – A touch for sprinkling over the baguette before baking, and a touch for the cheese.
How to Make A Bacon Jam Crostini
If you're going the store bought route, slicing and toasting your baguette, then assembling your appetizer will take 20 minutes. If you're going the from scratch route, add on about an hour to make both the bacon jam and the baguette. All in all, not bad for a delicious appetizer either way!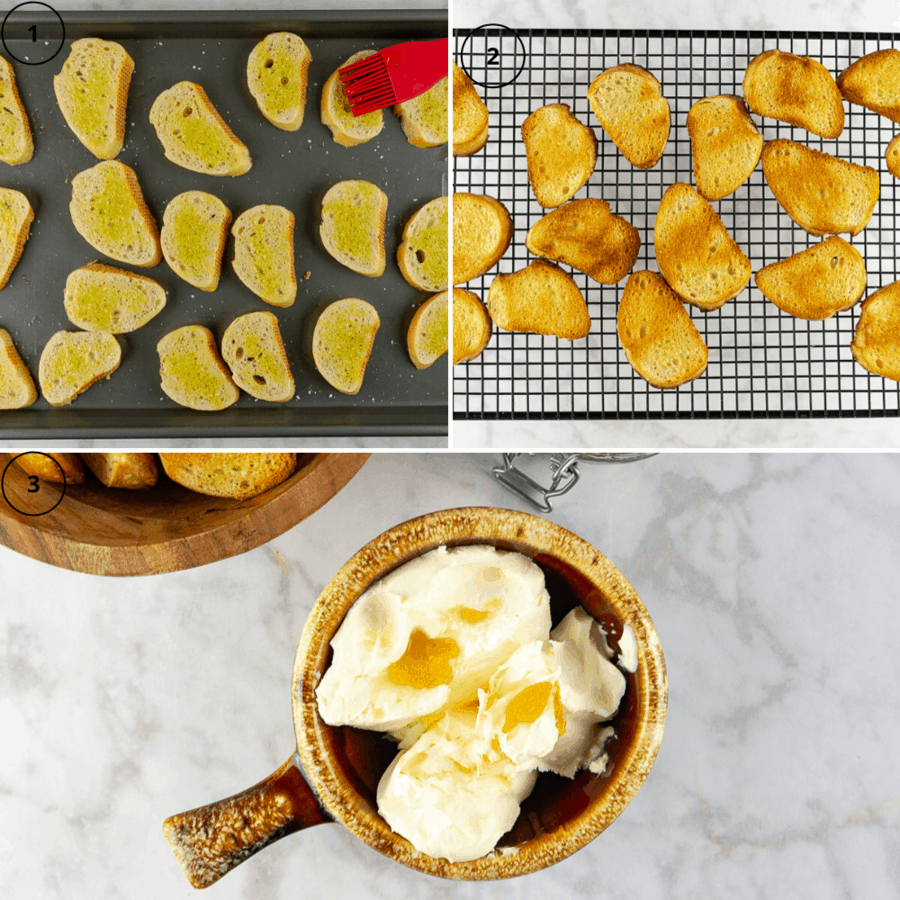 If you're making your bacon jam and baguette from scratch, check out the recipes first and get those ready to go!
Preheat your oven to 375°F and begin slicing your baguette. Pour your olive oil into a bowl and with a pastry brush apply a bit of oil onto both sides of each slice.
Bake for 7 to 9 minutes, flipping halfway through. When golden brown and crispy, remove to a cooling rack.
Combine both your cheeses to a bowl and add the honey, lemon, and 1/2 teaspoon of slat. Use a rubber spatula to blend until fully incorporated.
When your baguette slices are cool, spread a smear of cheese on them and add a tablespoon or so of bacon jam on top. Place on try and serve immediately.
Bonus Tips
I like between 1/4″ and 1/2″ thick slices for my baguette. I don't measure, just eyeball it!
Your cream cheese needs to be at room temperature for blending. If you're in a rush or forgot, place it in a microwave proof bowl and heat for 20 seconds on half power.
Bacon jam works best at room temperature, if yours has been in the fridge, heat gently in the microwave until room temp.
You can also serve these un-assembled. Simply place a bowl of baguette slices, cheese, and the jam out with knives or spoons, and let guests assemble as desired.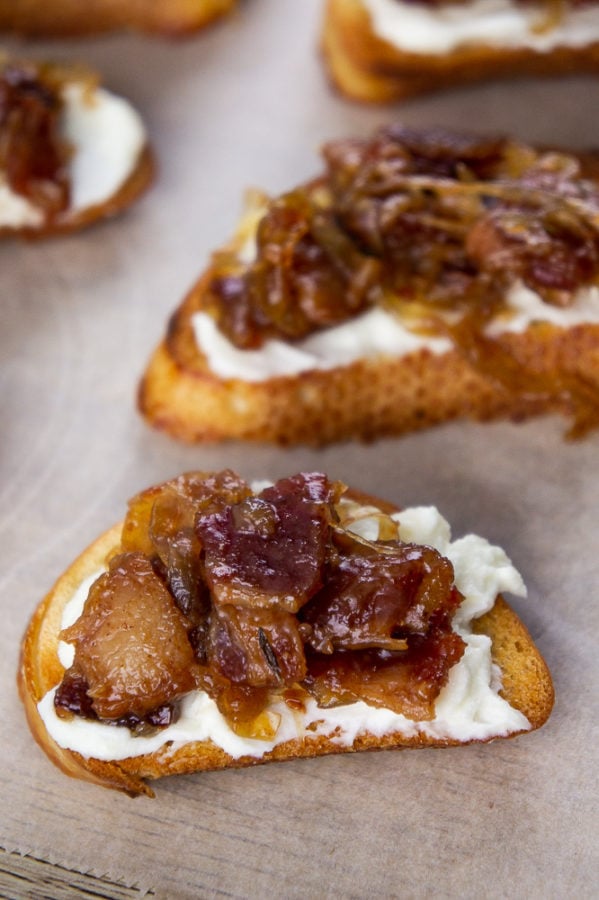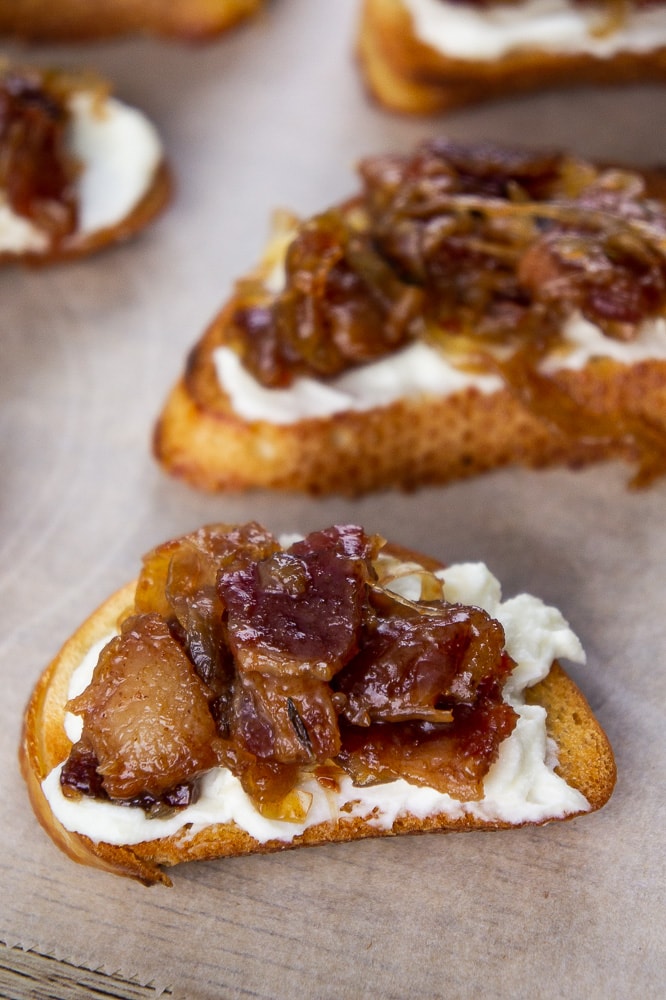 FAQ's
Can I assemble these ahead of time?
You can comfortably assemble these ahead of time, but remember that cream cheese should not be left out at room temperature longer than 2 hours. I recommend keeping your blended cheeses and bacon jam stored in the fridge, and toasted crostini stored on the counter until you're ready to eat them. Simply bring them back up to room temperature before assembling and serving.
Can I store leftovers?
Crostini will get softer once topped and stored in the fridge so while you can place them in an airtight container in the fridge I recommend eating them as soon as possible.

Leftover cheese and jam can be stored in the fridge for up to a week if stored separately. The toasted crostini can be stored in a airtight container at room temperature for up to 5 days.
How much cheese and bacon jam per crostini?
That's up to you! I like half a tablespoon or so of cheese and about a tablespoon of jam per crostini.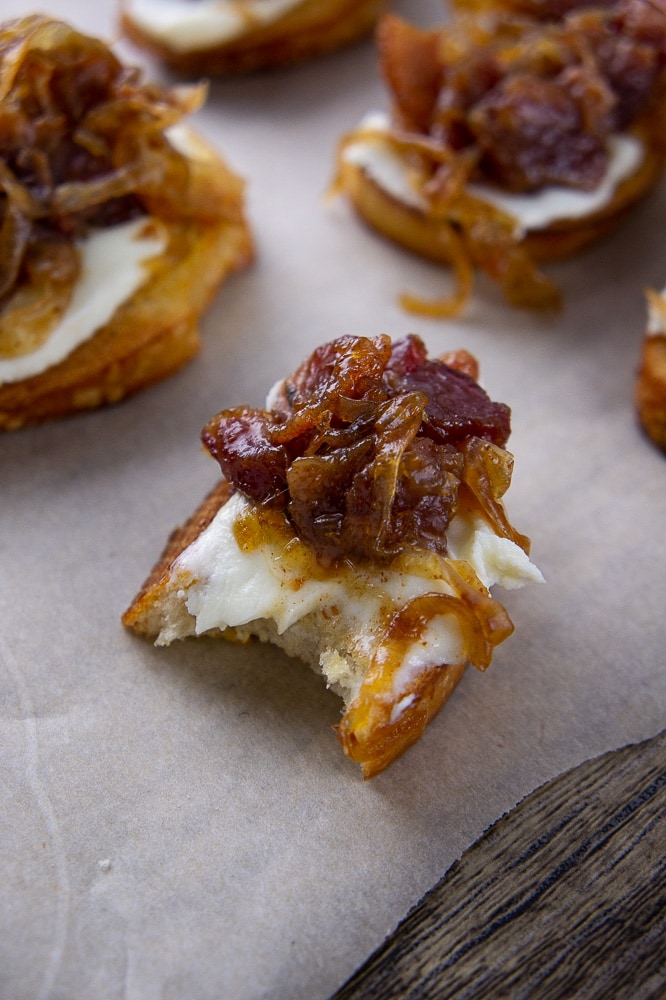 Other Recipes you May Enjoy
I hope you enjoy these super easy, super delicious bacon jam crostini appetizers. When I made these to take pictures my husband and I ate most of them that night as our movie snack! (There are no rules to enjoying good food!). Here are a few more appetizer recipes you might enjoy or serve with these! Until next time, as always, happy eating.
Bacon Jam Crostini
Crunchy crostini with a creamy blend of marscarpone and cream cheese topped with bacon jam. The perfect party food or appetizer!
Ingredients
40

slices

baguette

1/2

cup

olive oil

3/4

tsp

kosher salt

divided 1/2 tsp and 1/4 tsp

4

ounces

cream cheese, softened

4

ounces

mascarpone

1

tsp

lemon juice

1

tsp

honey

2

cups

bacon jam
Instructions
Preheat your oven to 350°F. Slice your baguette to yield around 40 slices.

Brush both sides of each bread slice with olive oil and place on a baking sheet. Sprinkle with 1/4 tsp salt and place in oven. Bake 7 to 9 minutes, flipping halfway in between.

Remove crostini to a cooling rack to cool completely.

Combine the cheeses in a bowl and add lemon juice, honey, and remaining salt. Mix together until smooth and creamy.

Add a smear of cheese to each cooled crostini and top with a spoonful of bacon jam. Serve immediately.
Notes
* Nutritional information and cooking times are a best estimate based upon my ingredients and equipment. Changes may occur based upon brand and equipment variation.
Nutrition
Serving:
5
crostini
Calories:
824
kcal
Carbohydrates:
120
g
Protein:
16
g
Fat:
30
g
Saturated Fat:
10
g
Cholesterol:
30
mg
Sodium:
1270
mg
Potassium:
239
mg
Fiber:
5
g
Sugar:
30
g
Vitamin A:
389
IU
Vitamin C:
5
mg
Calcium:
170
mg
Iron:
5
mg
Nutrition information and cooking times are provided as a best estimate. Values may vary based upon ingredients and equipment.