This page contains affiliate links. For more information please read my Disclosure Policy.
This easy stove top tomato carrot soup can be made with spring carrots and canned tomatoes or with fresh tomatoes and carrots in the fall. It's a two season soup that's full of nutritional goodness and big flavor, with just a handful of easy ingredients.
Lately I've been really focused on upping my soup game for a lot of reasons. First, soup is a great way to pack in veggies and flavor in a toddler friendly way (yes my 2 year old LOVES this soup), but they're also a great from scratch meal that holds up well in the freezer or to pressure canning if you have a canner.
This soup has quickly become one of my family's favorites. Carrots and tomatoes are natural friends in the garden, which makes them natural friends in the soup pot. It's perfectly balanced between sweet carrots and sun ripened tomatoes, mixed with just the right amount of herbs and garlic to draw out their flavors for a creamy, blended soup.
A Spring or Fall Carrot Seasonal Recipe
What I really love about this carrot and tomato soup is that it's bi-seasonal. Carrots grow very well in both the spring and fall, making this soup perfect for both! Here's how I approach it depending on the season.
In the Spring – I used a can of really good quality sun-ripened crushed tomatoes and a bundle of orange spring carrots from my local market.

You can use home canned tomatoes easily!
Any variety of tomatoes will work, it all gets blended up, so it's most important to choose a quality brand of flavorful tomatoes.

In the Fall – Tomatoes are at their delicious peak in the last hot months of the year, and it's a great time to combine them with the first of the fall carrots.

Choose a meaty, sweet variety of tomatoes, and peel them first.
For best color, go with orange carrots in the fall too.
When it comes to choosing your carrots, I'm always a big advocate for eating local fresh produce, so this is a great opportunity to check out your farm stands and markets.
Choose a bunch of carrots that have vibrant, healthy greens still attached and you'll have flavorful, sweet carrots for your soup. (Don't throw out those greens! Make a carrot top pesto instead!)
What Makes Perfect Tomato Carrot Soup
This soup only takes a handful of really easy ingredients to make, most of them I'm willing to bet you have in your pantry or fridge already.
Sweet onion – usually about ½ a large one works for one batch of soup, I prefer sweet varieties here, but a yellow onion or shallots work as well.
Carrots – Just 5 medium carrots for one batch, that's usually one or two bunches.
Tomatoes – One 28 ounce can, or 10 to 12 whole tomatoes, peeled and seeded (about 2 lbs).
Stock – Vegetable stock is the obvious choice, which keeps this recipe vegan, but honestly I've used chicken and even beef and loved it all the same.
Roasted garlic – I make my own roasted garlic and keep it in the freezer to toss into recipes like this one easily. You can also purchase roasted garlic. Or, In a pinch, simply finely mince garlic and add it in with the onions.
Tomato paste – You'll only need 1 tablespoon, so freeze any extras in an ice cube tray for easy access when you next need it.
Dried basil – Just a half tablespoon adds the perfect herb flavor, and the dried stuff works well when you freeze it. If you prefer fresh basil wait to add it until serving.
Salt, pepper, oil! – I always use Morton's kosher salt, fresh cracked black pepper, and either olive or grapeseed oil in my recipes.
It's preferable to use orange carrots in this recipe. While the flavor of red, white, or purple carrots may be tasty, the color of the soup suffers a bit.
Tips for Cooking & Finishing Touches
This soup is very simple to make I promise, but here are my best tips for success, plus our favorite toppings and sides to serve with it!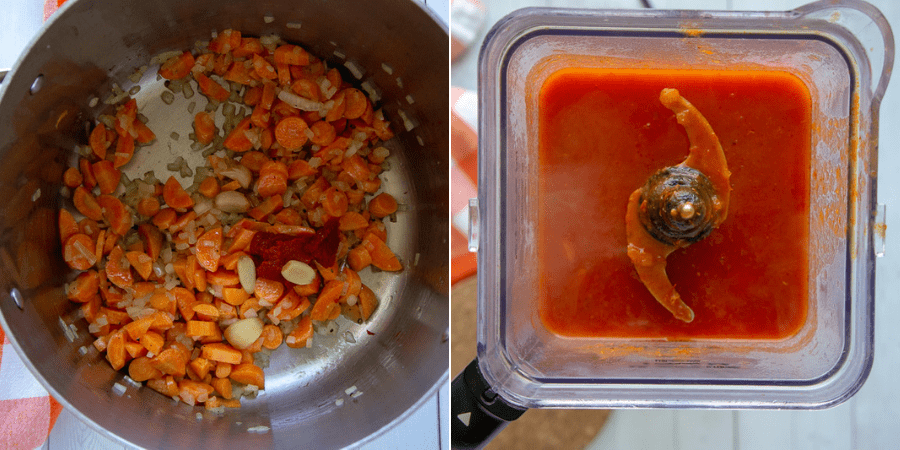 Cooking Tips
The longer you can let it simmer, the better. Technically, once the carrots are tender enough to puree, you're good to go, but I prefer a 2 to 3 hour simmer for best flavor.
Wait to add the basil until you take the soup off the heat to puree it. Dried herbs like basil lose their flavor after too long of a cook time, and it'll pack the most punch if you pinch it between your fingertips and add it in the final moments before blending.
Garnishes and Perfect Sides
A drizzle of heavy cream or greek yogurt can be a really delicious addition that makes it ultra creamy.
We love chopped parsley on top, which you can add plain, or chopped with a touch of lemon zest or homemade bread crumbs.
Pine nuts, sunflower seeds, or pumpkin seeds in the fall are a great crunchy addition.
Serve it with homemade bread for dipping like Asiago bread or garlic bread rolls.
A grilled cheese is always a good choice, try my white whole wheat sandwich bread!
Freezing or Canning your Carrot And Tomato Soup
While I'm sharing this carrot and tomato soup as a small batch, I often triple it to make plenty for my freezer. This makes that long simmer time more manageable, and makes a weeknight dinner easy, without forcing me to deviate from serving homemade food!
To freeze your soup, fill freezer safe jars or containers almost to the top, leaving 2 inches of space to allow for expansion. Let the soup cool until you can handle the containers with your bare hands. Then place the open containers in the freezer on a level shelf. I always freeze them open to prevent splitting or shattering of my containers.
Once frozen, or mostly frozen, feel free to seal the jars or containers and add a label, you're soup will stay good for about 3 months. Thaw in the fridge then reheat to enjoy.
If you prefer canning, you will need a pressure canner to make this safe and shelf stable. There's some mixed opinions about canning pureed soup, so please do your research to ensure your canning safely. Pressure canning is an ambition of mine, but for now, please check out this very useful resource that can help you can soups like this safely.
Whether you're enjoying this from the freezer, a jar, or fresh from the pot, I really think you'll enjoy the combination of carrots and tomatoes. It's healthy, naturally vegan and vegetarian friendly, and seriously delicious. Don't forget to check out these other creamy vegetable soups, and as always Happy Eating!
Tomato Carrot Soup
Print Recipe
A blended soup made from slow simmered carrots and tomatoes to draw out natural sweetness and create a healthy, flavorful meal for spring or fall.
Ingredients
2

tablespoons

oil

1

cup

sweet onion, diced

1

tablespoon

roasted garlic

1

tablespoon

tomato paste

2.5

cups

carrots, diced

28

ounces

crushed tomatoes*

32

ounces

vegetable stock

1

teaspoon

kosher salt

1/2

teaspoon

black pepper

1/2

tablespoon

dried basil
Instructions
Heat the oil in a large pot over medium heat. When hot, add diced onions and carrots with 1/2 teaspoon each of salt and pepper.

When onions have softened and are translucent, add in roasted garlic and tomato paste. Cook while stirring for 30 seconds.

Add in tomatoes and stock and stir well.

Bring to a boil, then reduce heat to low, cover, and simmer for 2 to 3 hours.*

Add in dried basil, then puree in a high powered blender, in batches to prevent overflow and burning while handling hot soup.

Serve hot and store leftovers in the fridge for up to 5 days, or in the freezer for up to 3 months.
Notes
*You can use 10 to 12 peeled and seeded tomatoes instead of canned tomatoes if making in the fall.(About 2 lbs)
*The soup can be pureed after 30 minutes, or whenever the carrots are very tender, but for best flavor allow to simmer for a few hours.
Nutrition
Calories:
127
kcal
|
Carbohydrates:
20
g
|
Protein:
3
g
|
Fat:
5
g
|
Saturated Fat:
1
g
|
Trans Fat:
1
g
|
Sodium:
1228
mg
|
Potassium:
633
mg
|
Fiber:
5
g
|
Sugar:
11
g
|
Vitamin A:
9561
IU
|
Vitamin C:
18
mg
|
Calcium:
80
mg
|
Iron:
2
mg
Nutrition information and cooking times are provided as a best estimate. Values may vary based upon ingredients and equipment.