This page contains affiliate links. For more information please read my Disclosure Policy.
Homemade sandwich bread made with a combination of bread flour and white whole wheat flour for a bread loaf that is easy to slice and ideal for sandwiches and toast.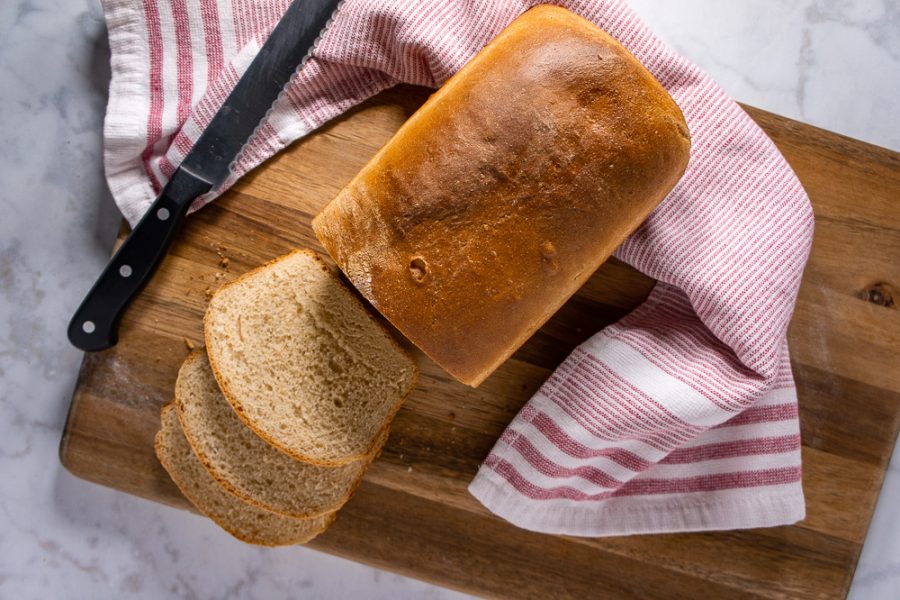 Since my last bread post, my homemade garlic bread rolls, have quickly become one of my most shared posts, I figured it was a sign to keep sharing the many breads that get whipped up in my kitchen. Okay…not whipped up, slowly and lovingly leavened to yeast raised perfection is more like it. But I do make bread quite frequently, and this recipe for a simple White Whole Wheat Homemade Sandwich Bread is one of our favorites.
Wheat Bread vs. White Bread
I know, this bread looks like white sandwich bread, but it's not! One third of the flour is made up of a white whole wheat flour. But what really is the difference?
Simply put whole wheat flour is just that, whole. Unlike white flour, which is heavily refined, whole wheat flours still contain the germ and the bran, meaning they have a lot more nutritional value, and in my opinion, flavor. White whole wheat is simply a whole grain flour made from white wheat berries. Your typical whole wheat is made from red wheat berries that aren't as sweet.
So if wheat flour is so much better, why use any refined flours in this recipe? The fact of the mater is that I've yet to get a wheat flour to behave like my white flours do. I choose to use a combination to reach a happy texture, flavor, and rise. It's bread, and not perfectly healthy, but even with just a third of the flour as a white whole wheat, it's a lot closer to healthy bread than it would have been.
Ingredients For Sandwich Bread
Like most breads, this loaf of homemade sandwich bread is a simple combination of easy to find, common ingredients.
Bread Flour – 2/3 of the flour for this recipe, and essential for developing the strong gluten that gives the bread it's texture.
White Whole Wheat Flour – White whole wheat gives the bread an added natural sweetness that whole wheat flours don't otherwise have, and it's the reason this loaf still looks like a classic sandwich loaf.
Salt – ALWAYS, just always.
Sugar – Just a bit helps the yeast thrive, and adds flavor.
Yeast – Can't have bread without this!
Butter – Fat equal richness and helps with texture.
Milk – I like milk for it's added richness and flavor in this homemade sandwich bread.
Making Homemade Sandwich Bread
As with most bread recipes, the hardest part is the waiting! While this recipe does require some mixing and kneading, it's all very simple and I'm going to walk you through every step!
Step 1 – Activate your yeast
Yeast works best with it's taken from it's dried form to a bubbly happy growing state by soaking it in a warm, but not hot, liquid. This is what helps the bread grow and rise. While yeast will eventually work in a dough without this, it takes a much longer time. Trust me, don't skip this step!
You're looking for milk between 95° to 110°F, NO HOTTER, or you'll kill the yeast instead of helping it. I simple microwave the milk and then use my candy thermometer or instant thermometer to check. If you don't have one, just touch it, you should be able to comfortably hold you finger in the warm liquid for at least 5 seconds.
Then dump in half the sugar and the yeast, and stir. It's going to get bubbly and foamy, which is exactly what you want. For me it usually takes about 5 minutes.
Step 2 – Melt Butter & Combine other Ingredients
Melt your butter and set aside, easy. Then combine your 5 ounces of bread flour, and all the wheat flour in a bowl. As ALWAYS I recommend you make this recipe with a kitchen scale. They're inexpensive and so much more accurate than a measuring cup.
Step 3 – Combine yeast with other ingredients
Once your yeast is all bubbly and gorgeous, pour it into a large bowl. I use the bowl of a stand mixer but you can do this by hand if you prefer in a regular bowl.
Add in remaining sugar, salt, and the melted butter and turn your mixer, fitted with a dough hook, on low, or stir by hand to combine. Next, add in the bowl of combined flours and stir until it comes together. Finally, you'll add in the remaining bread flour just a little bit at a time until a sticky dough that pulls away from the sides of the bowl forms. This may not take all the flour, and that's okay!
Then, turn the dough out onto a clean work surface that's been lighting coated with flour.
Step 4 – Knead, knead, knead
This is the part I really prefer to do by hand, though by all means, continue to use the stand mixer if that's what gets you baking! I like the hand method for a few reasons.
No dough is left at the bottom of the bowl, which causes uneven mixing.
I can control the texture.
Helps me really learn when the bread dough is ready.
To knead by hand, keep your hands and your board floured and push forward in a smooth rolling motion with the heels of your hands. Rotate, then repeat. After about 10 minutes, the dough should come together into a smooth ball, and you will have a lovely arm workout done!
Though it seems like a long time, this kneading is the most important step in this white whole wheat sandwich bread recipe. It's essential for the final texture. By pushing and pulling the dough you're working the flour and creating gluten bonds that hold the bread together. Knead too little and you won't have the close textured crumb of sandwich bread.
If 10 minutes by hand is just too much, use a stand mixer with a dough hook and let it run on medium (use a speed similar to what your speed would be by hand) until a smooth, elastic dough forms.
Next, pop it in a large, lightly greased bowl, roll it around to coat, and cover with plastic wrap to let it rise for 45 minuted to an hour, or until doubled in size.
Step 5 – Shape and rise again
Once the dough is nice and puffy, you'll want to get your loaf pan ready. I use a 9 x 5 loaf pan and it works great. No flouring or greasing needed, just set it next to your work station.
Then prep your hands and work surface with a small dusting of flour and turn the dough out it. The dough should be soft and pliant. Save the plastic wrap from the first bowl, you'll use it again here.
Gently press the ball of dough out to form a rectangle. You want the length of the dough to match your pan size. Then, starting on a long edge begin to roll the dough up into a tight cylinder. The tighter you can roll it up the nicer the texture will be.
If your dough is resisting pressing and pulling back, let the dough sit for 5 to 10 minutes, this lets the gluten relax for easier shaping.
Place the rolled log of dough into the loaf pan, seam side down and cover with the plastic wrap again. Let rise another 45 minutes to an hour or until puffy and risen higher than the edge of the pan.
Step 6 – Bake!
After 35 minutes or so, turn your oven on to 350°F. My dough, especially in the warmth of summer, only takes 45 minutes to rise. If it's cold when you're baking this, it could take longer.
You'll know it's done when you gently touch the top of the dough, it should have some spring or resistance to your touch. This is usually when it goes just half an inch or so above the edge of the pan at its highest point.
When you've reached this point, brush the top of the loaf with a little bit of extra milk and then pop it in the oven! Bake for 35 minutes, and remove your homemade sandwich bread from the oven.
Step 7 – Cool, Store, Slice, Enjoy!
When you've got your homemade sandwich bread out of the oven, the most important thing to do is to immediately remove it from the pan onto a cooling rack. Leaving the bread in the pan will lead to condensation forming around the bottom and sides. that will ruin the crust texture of the outside of the bread, and nobody likes a soggy sandwich bread!
Then let it cool completely. I mean it. Completely!
Slicing fresh baked bread, as tempting as it it, while it's warm, crushes the bread and ruins the texture.
However, if you must slice it warm, because you just can't take the suspense, use a sharp serrated knife, very gentle pressure and a sawing motion while the loaf is resting on it's side.
Once your bread is cool, you can store it safely in a plastic ziploc bag and a dark cool place. I use my counter top bread box and it helps extend the life of the bread.
Fresh bread has no preservatives, so it will not last as long as your store bought loaves. However this bread lasts 4 to 5 days before it starts to go stale. Honestly, it usually doesn't last longer than 4 in my house!
Questions about Homemade Sandwich Bread
Can I use regular whole wheat flour instead of white whole wheat flour?
Yes! It won't have the pure white bread appearance, and may have a slightly nuttier flavor, but it's perfectly delicious to use as a 1 to 1 replacement.
Can I use water instead of milk?
Yes! I've made it both with milk and water. I do think milk provides a richer flavor, but water won't ruin the bread flavor or texture. If you use water, you'll have to brush the top of the bread with something else, like an egg wash.
The egg wash can be made with 1 egg beaten with 1 tablespoon of water.
You can also use non-dairy milks, but please be advised that they will affect flavor of the final result.
I heard you need to scald milk before using it with yeast…
In the years before pasteurization this was true. Bacteria, proteins, and some enzymes present in natural milk can inhibit the growth of yeast. Scalding the milk, or bringing it to a point of steaming, but not boiling, kills the bacteria, denatures the proteins, and stops those pesky enzymes from getting in the way of yeast.
Nowadays the pasteurization process most of our milks go through solves this problem for us and we can skip the scorching step. However, if you use unpasteurized milk, please follow this guide to scalding milk. Then allow it to cool to at least 110°F before adding your yeast.
Can I double this recipe?
Yes! If you're not a fan of weekly bread baking like myself, go ahead and double away. You'll need 2 loaf pans of course to baking at the same time. If you don't have 2 pans, and would still like to double this recipe, you'll have to take an extra step.
Divide the dough in half after the first rise. Shape both, place one in the pan, and the other wrapped in plastic in the fridge. Follow the recipe for the first loaf. Once your first loaf is out and cooling, let the loaf pan cool and then add the refrigerated dough to it. Let it rise at room temperature, probably closer to 1 1/2 hours since the dough is cool, and then bake as directed.
How do I freeze this bread?
If you double the recipe, but won't eat both within 4 to 5 days, you can store the second loaf in the freezer until ready to eat. Let the bread cool completely then wrap it in plastic wrap. Slide the wrapped loaf into a plastic bag, or wrap with freezer paper, and freeze. It will keep in the freezer for 4 months.
To use, simply remove from the freezer, unwrap, and leave on the counter until thaw. Then store as directed!
Can I make this in a bread machine?
I do not recommend baking this dough in the bread machine, but you can use it to make the dough. Simply follow your bread machine's instructions for adding ingredients then set it to the dough cycle. When it's done, remove and shape, then bake as directed.
Can I use instant yeast?
Yes, you can use instant yeast instead of active dry. Replace 1 for 1, and skip the activation step with the warm milk. Instead, simply add the yeast, salt, and sugar to the flour, and add in the milk and melted butter. Mix as directed.
Recipes to use with your homemade sandwich bread…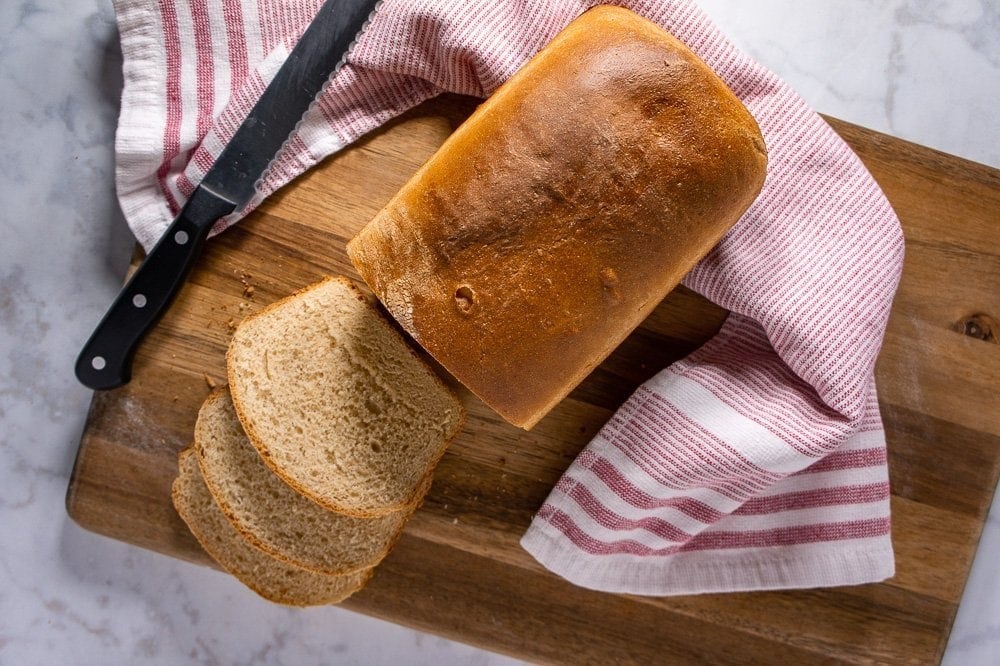 Total Time:
2
hours
55
minutes
Ingredients
10

oz

whole milk

+ 1/2 tbs for brushing

1 1/2

tsp

active dry yeast

2

tbs

granulated sugar

1

tbs

butter, melted

plus extra for greasing the rise bowl

1 1/2

tsp

salt

5

oz

white whole wheat flour

about 1 cup

9.5

oz

bread flour

about 2 cups, minus 2 tablespoons
Instructions
Microwave milk to between 95°F and 110°F. Add in yeast and 1 Tbs of sugar, stir and let sit until yeast is foamy and bubbled on top. About 5 minutes.

Meanwhile, melt butter and set aside. Measure white whole wheat flour and 5 ounces (about 1 cup) of bread flour into a bowl of a stand mixer* with the salt and remainder of sugar.

When yeast/milk mixture is ready, add it to the flour mixture with the melted butter. Fit stand mixer with a dough hook and turn on to medium speed until dough comes together in a sticky shaggy dough.

Begin adding remainder of bread flour 1 to 2 tablespoons at a time until dough pulls away from sides of bowl.

Lightly flour a clean work surface and your hands, and turn dough out onto surface. Begin kneading by pushing down and out with the palms of your hands. Rotate and fold and repeat. The dough will become less sticky as you knead, simply flour board and hands if dough sticks too much to handle, but do not over flour.

Knead until dough is smooth and elastic, but slightly tacky. Grease a large bowl with a little bit of butter (or oil) and form dough into a ball. Place in bowl, rotate it to coat all sides with grease, and cover with plastic wrap. Rise until doubled, 45 mins to 1 hour.

Get loaf pan ready by a lightly floured work surface. Turn dough out onto surface and gently press into a rectangle the same length as your loaf pan, and about 6 inches wide. Try to keep the dough even thickness.

Roll dough up from the long edge, keeping it tight. Place dough into the loaf pan and cover with plastic wrap. Let rise until peeking up over the edge of the pan, about 45 minutes to 1 hour.

After 35 minutes, preheat oven to 350°F. Check dough at 45 minutes, dough should fill out the pan, and when gently touched have a bit of resistance, but not feel dense. If needed let rise longer. When ready, brush top of loaf with reserved milk.

Place in oven on middle rack and bake for 35 minutes.

Remove from oven, and carefully remove from loaf pan immediately onto a cooling rack. Allow to cool completely before slicing or storing.

Store in a plastic bag in a cool cupboard for up to 5 days. When slicing use a sharp serrated knife.
Notes
*This can be made entirely by hand. Simply mix flour and liquids in a bowl until completely together then turn out onto the floured work surface and work in remaining bread flour that way. 
Nutrition
Calories:
153
kcal
|
Carbohydrates:
28
g
|
Protein:
5
g
|
Fat:
2
g
|
Saturated Fat:
1
g
|
Cholesterol:
5
mg
|
Sodium:
310
mg
|
Potassium:
71
mg
|
Fiber:
2
g
|
Sugar:
3
g
|
Vitamin A:
68
IU
|
Calcium:
38
mg
|
Iron:
1
mg