The Vinaigrette Ratio: How to Make Vinaigrette Dressing
This page contains affiliate links. For more information please read my Disclosure Policy.
Homemade vinaigrette dressing is one of the easiest and most delicious way to dress up your food. With the vinaigrette ratio you can learn how to make vinaigrette dressing in just a few minutes. This complete guide walks you through the ratio and both emulsified vinaigrette and classic vinaigrette salad dressing, with tons of recipes to inspire!
One of the most versatile, easy to prepare things you can learn to make is a homemade vinaigrette dressing. With little more than a whisk and your pantry, you can make a vinaigrette salad dressing that can also be a marinade or finishing sauce for proteins, veggies, and numerous other dishes.

With the vinaigrette ratio in hand I'm positive I can help you not only master a basic vinaigrette dressing recipe, but unleash your creativity with tons of new combos and flavors. I think you'll find yourself whipping them up all the time!
The Vinaigrette Ratio
Vinaigrette, at its core, is simply a mixture of vinegar and oil with some flavor added to it.
With a good quality oil, a flavorful vinegar, and a pinch of salt, a classic vinaigrette salad dressing can transform even the most mundane greens. First, you need to know the most important tool for building a homemade vinaigrette – the ratio.
1 Part Vinegar to 3 Parts Oil. This very simple vinaigrette ratio is the secret to a successful oil and vinegar salad dressing.
While that alone is all you truly need – the vinaigrette ratio is a starting point, a platform from which to develop flavor to your tastes. From there you add salt, spices, sweeteners, fresh ingredients or pantry staples to create flavorful and unique dressings. Once you've mastered your favorite combos, you can even tweak the ratio for a punchier – or less punchy – dressing!
Oil & Vinegar: Your Basic Go-to's
So which vinegar and oil should you choose? There are TONS of options out there, and if you're new to homemade vinaigrette how can you decide? There's no wrong decision! But here's a quick list of the basics that can get you going.
Oil Options
Extra Virgin Olive Oil – the gold standard of vinaigrette and for good reason. Fresh, quality olive oil can have a variety of background notes, from herbaceous to spicy depending on the region it was harvested from.

Choose an oil that has either a production or harvest date listed on the bottle, and if possible a certification from the AOC or DOP (European oils) or the CA olive oil council to ensure the freshest oil. (Selling rancid or fraudulent extra virgin olive oil is a real thing!)

Grapeseed, Canola, Vegetable, or other neutral oils – There are no hard or fast rules that say you have to use olive oil, even if I'd personally recommend it for flavor. If you want to give a neutral (and often cheaper) oil a try, they will work! Blending olive oil and a neutral, less expensive oil is also a great idea.
Infused oils – One fun way to flavor a classic vinaigrette is with an infused oil. You can buy them, I often find them at farmers markets and festivals, or you can make your own! Be aware, using all infused oil in a vinaigrette can be strong! Try substituting 1 of the 3 parts oil with infused oil to start.
Vinegar Options
Balsamic Vinegar – If olive oil is the standard oil, balsamic is the standard vinegar choice. While classic balsamic is great, golden balsamic is also a delicious choice!
Wine Vinegar – Red, white, champagne, rice, they're all great and classic additions.
Apple cider vinegar – I love this vinegar for adding a mildly sweet touch to my vinaigrette, especially if I'm using complementary fruit flavors.
Infused vinegar – Just like there are infused oils, there are TONS of infused vinegar out there, especially flavored balsamic. You can find these at specialty shops, farmers markets, and festival stalls, often sold along with those oils!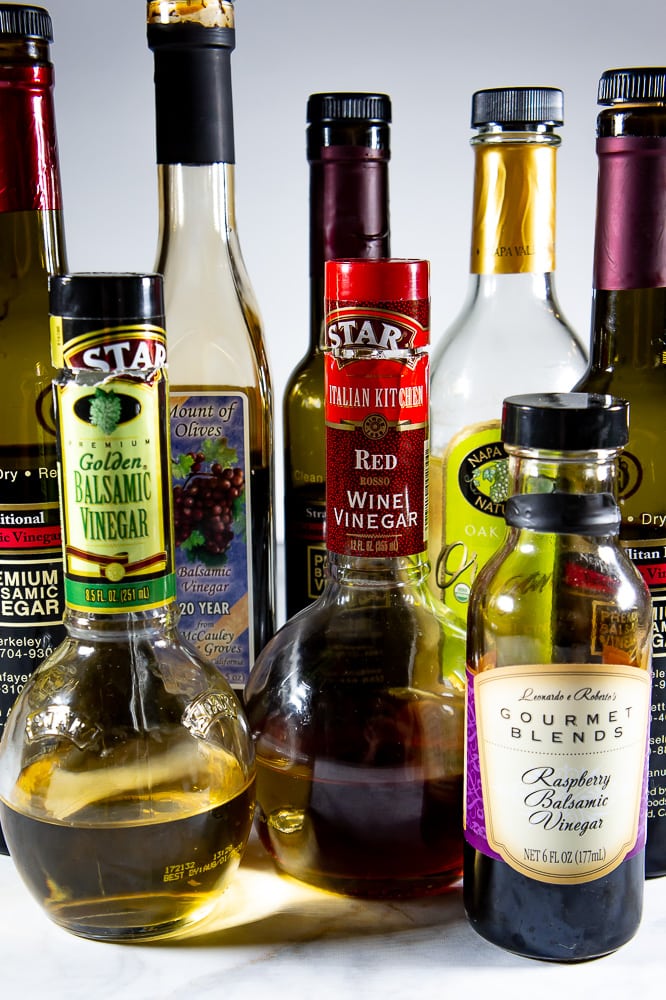 TIP: Different vinegar can have different strengths, the 1:3 ratio will work, but adjusting the level of vinegar to oil to your tastes is always a good idea.
Jazzing up your Vinaigrette
Alright, you've got your oil and vinegar choices all picked out, now let's chat about other additions, there are literally hundreds of combinations you can make to create unique homemade vinaigrette.
Pantry Staples
You may be surprised at the HUGE variety of vinaigrette dressings you can make with just the things in your cupboard and fridge, there are always options!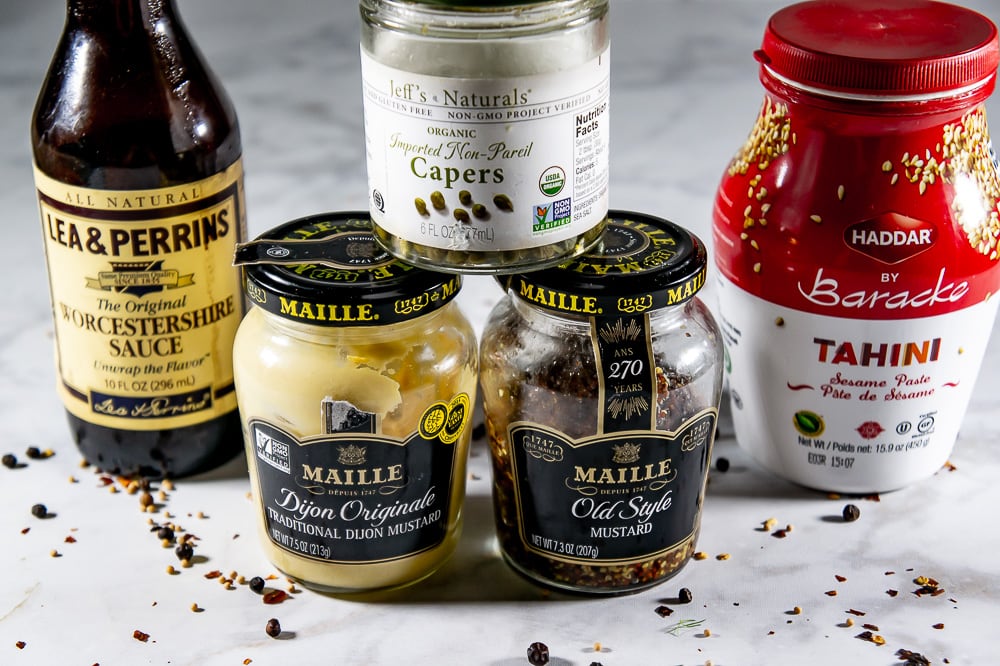 Mustard – Dijon, yellow, whole grain, the choice is yours! There are tons of mustard varieties and each can have a lovely affect on the flavor of your vinaigrette.
Sugar – white, brown, or maple syrup, a little bit of sweetener can go a long way in giving your vinaigrette a rounded flavor.
Capers, olives, pickles – salty, briny, tangy, I highly recommend experimenting with these!
Hot Sauce – Spicy vinaigrette is delicious!
Horseradish – a great addition to a creamy vinaigrette, especially on a salad with steak!
Tahini – A little bit of this, or other nut or seed butters can make a vinaigrette creamy and interesting.
Soy sauce – As an alternative to salt, especially paired with a rice vinegar, sesame seeds, and a bit of brown sugar can make a lovely Asian inspired salad dressing.
Seeds – Adding seeds may not add a lot of flavor, but poppy and sesame can have a great texture to your salad.
Dried spices & herbs – raid your spice cupboard if you need inspiration, paprika, cumin, and dried oregano are just a few of my favorites.
Cheeses – Hard cheeses like Parmesan, Asiago, Romano, and more can make lovely flavorful additions.
Fresh Ingredients
Perhaps more common, and for good reason, making homemade vinaigrette with fresh ingredients can produce BIG flavor, and permanently turn you off of the store bought stuff.
Fresh Herbs – Chopped fresh herbs of any kind can be all you need to take a vinaigrette from basic to phenomenal. Basil, thyme, and dill are my 3 favorites.
Onions – A classic addition to a vinaigrette. A bit of diced shallot goes in almost all of mine. You can choose your favorite onions, or experiment with them to see which have the best flavor for you.
Garlic – Another staple addition, again, just a finely minced clove can elevate a basic dressing to a fantastic one.
Honey – A farm fresh local honey can have as much flavor variety as olive oil. Clover, Beechwood, or wildflower (to name only a small few) all taste wildly different – and so would your dressing!
Citrus – There is no wrong choice when it comes to citrus, lemon, oranges, limes and all the varieties they come in can make delicious homemade dressing. When using citrus juice, be sure to reduce or even eliminate the vinegar, as the acidity of the citrus replaces it.
Berries – Muddled or pureed fresh berries are a popular vinaigrette addition. I'm sure you've seen, and probably enjoyed a raspberry vinaigrette. Try them each, or even a blend for unique, sweet and tart dressing.
Fruits – Beyond berries, other fruits and fruit juices like apple, pomegranate, or tomato can all be full of fantastic flavor.
Vegetables – Yes, even these! Roasted red peppers, roasted pureed carrot, or roasted beets are just a few examples of vegetables being incorporated into a delicious dressing.
How to Make vinaigrette Dressing
Now that I've got your mind reeling through the possibilities of combinations, it's time to put the vinaigrette ratio to work. There are a few methods that you can employ to make vinaigrette.
Method 1 – By Hand
Combine your vinegar, salt, pepper, and any other flavoring ingredients in a bowl. Make sure it's a big enough bowl to tolerate whisking.
Begin whisking, once all your ingredients are combined, begin slowly adding your oil while continuing to whisk. DO NOT STOP WHISKING.
Continue to add your oil in a stream, continually whisking, until all your oil is added.
Method 2 – Mason Jar Shaker
Combine all your ingredients in a large enough mason jar, seal tightly.
Shake vigorously until your vinaigrette comes together.
MEthod 3 – Blender Method (either Immersion or Upright)
Combine your vinegar, salt, and any flavoring ingredients into a blender (or a bowl if using an immersion blender). Pulse to combine.
With the blender running, begin pouring in your oil. Don't dump in all at once, but also don't go to slow or you'll end up with a VERY thick vinaigrette. A strong steady stream is perfect.
*For this method be sure to leave any ingredients you want to stay intact after you blend (such as herbs).
Creamy Vinaigrette – The power of Emulsifiers
What the heck does an emulsified vinaigrette mean? It means creamy, dreamy vinaigrette dressing. To make an emulsified vinaigrette, or a dressing in which the oil and vinegar combine thoroughly into a creamy dressing that doesn't separate (separation is their natural state), you need an emulsifying ingredient.
An emulsifier is any ingredient that can bind the oil and vinegar molecules into a uniform mixture. The most common of these are:
Egg yolk – If you're worried about raw eggs, use pasteurized eggs…also consider that it's not so different than eating and over easy or poached egg. Egg yolk can cause the vinaigrette to foam while mixing.
Mustard – Prepared mustard is an excellent emulsifier and great for flavor, dijon is the most popular.
Tomato Paste – Tomato paste makes a great emulsifier, and a great stabilizer, meaning your vinaigrette is unlikely to break.
Mayonnaise – If you're not a fan of egg yolk, this can provide a similar effect with a neutral flavor.
Honey – It can work as an emulsifier, but it works best when used in conjunction with another, it can act as a stabilizer against breaking.
Yogurt – Works like mayonnaise! Greek yogurt is my preference, original or plain.
To utilize these, add 1 to 2 teaspoons of emulsifier per 1/2 cup of oil. For best results, combine the emulsifier with your vinegar and begin adding oil slowly, once it begins to appear creamy you can add the oil more quickly.
It's possible to make these in a blender or in a jar, you'll have to shake like mad for a jar recipe, and for the blender, be aware of it thickening too much (especially with egg yolks). I find that adding oil slowly until it comes together, then adding the rest all at once and blending to combine works best for my blender.
Vinaigrette Recipes to Enjoy!
You're ready to go make some vinaigrette! Still need some inspiration? Here are some amazing recipes to get you started. With these fun, flavorful dressings you'll see how a homemade vinaigrette can be exactly what YOU want. Some use less vinegar, some use less oil, but each are delicious and can dress up a salad, veggies, and so much more.
Lemon Dill Vinaigrette – Tangy and full of fresh herbs and garlic, this extremely easy dill dressing is made with fresh, delicious ingredients for a punch of bright flavor.
Maple Mustard Vinaigrette – Tangy and just a little sweet, this extremely easy mustard vinaigrette is made with pantry staples for a dressing with BIG flavor.
Cilantro Lime Vinaigrette – Ryan at Chisel and Fork has an easy, creamy bright dressing for you with this recipe. Great for your salads, or as a marinade!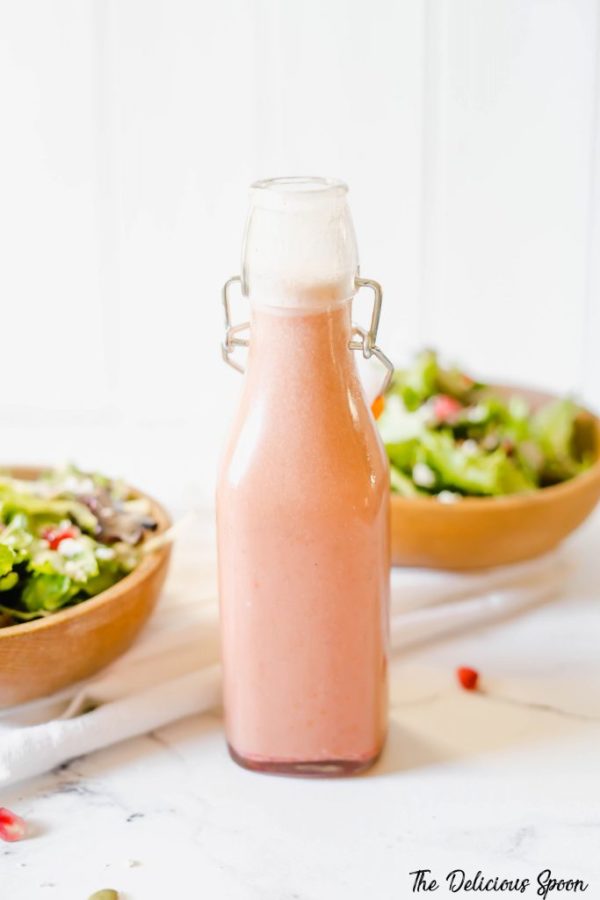 Pomegranate Vinaigrette – Zesty, fruity and oh so pretty, this pomegranate dressing from Alisa at The Delicious Spoon is a bright and yummy way to dress up your salad.
Creamy Roasted Garlic Vinaigrette – Full of garlic flavor and easy to make, this versatile vinaigrette from Chef Markus at Earth, Food, and Fire will become a favorite in no time.
Parmesan Lemon Vinaigrette – A lemony, simple 'make and shake' vinaigrette with fresh Parmesan from Lisa at Delicious Table. An easy win for your dinner salad!
Creamy Balsamic Vinaigrette – The classics are classic for a reason, and this creamy, tangy, just sweet enough Balsamic vinaigrette from Katie at A Fork's Tale hits all the right notes.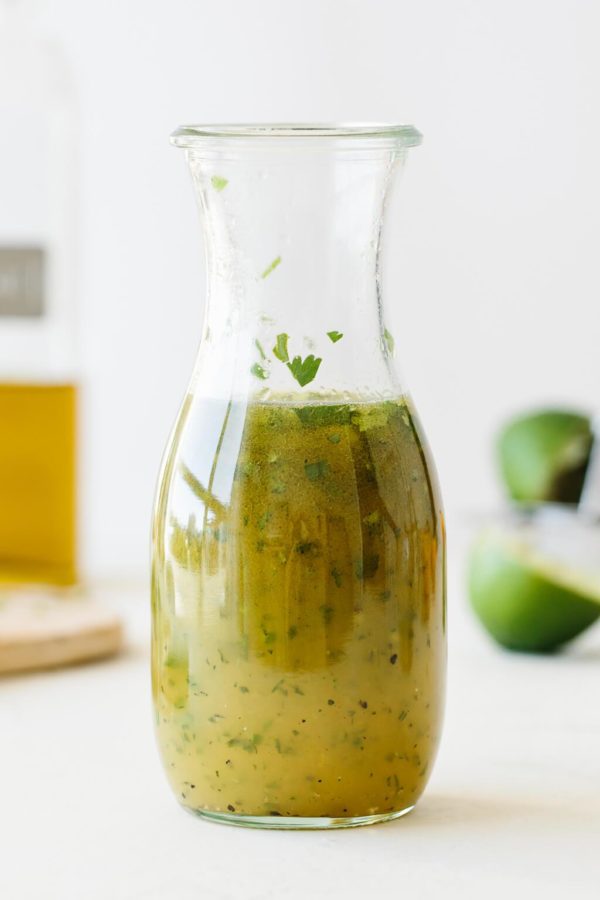 Citrus Lime Vinaigrette – Sweet, tangy, tart, and spicy…what else do you need? This dressing from Lisa at Downshiftology is packed with big flavor.
Raspberry Vinaigrette Dressing – The perfect example of fresh fruit in a dressing, this sweet, tangy, and savory dressing from Rebecca at Sugar and Soul will have you enjoying raspberries all summer.
Maple Pumpkin Butter Vinaigrette – Toni at Boulder Locavore has some love for your fall and winter salads with this pumpkin butter dressing. Easy to make and full of seasonal flavor!
Strawberry Vinaigrette – Summer in a bottle! Fresh strawberries emulsify this bright, beautiful and vibrant homemade dressing from Robin at Mom Foodie.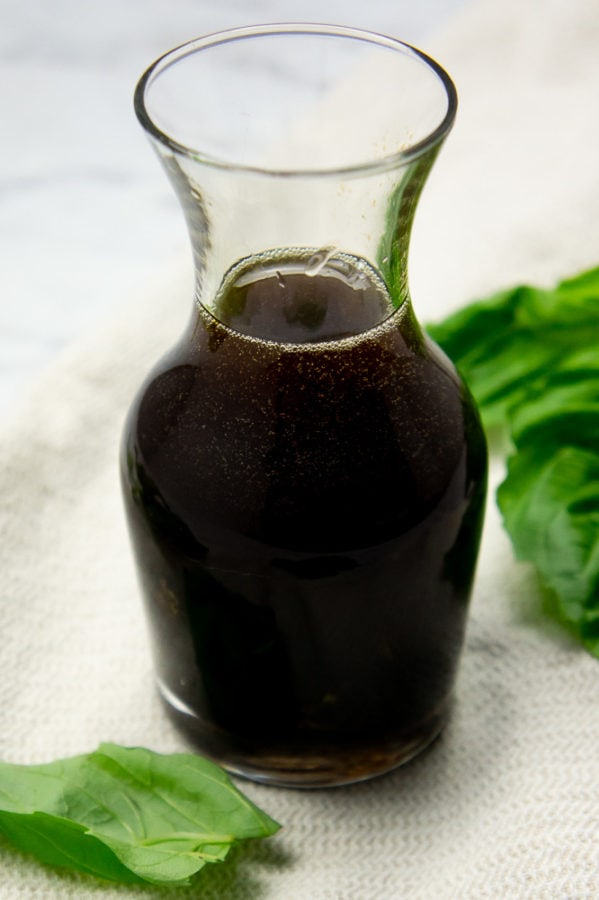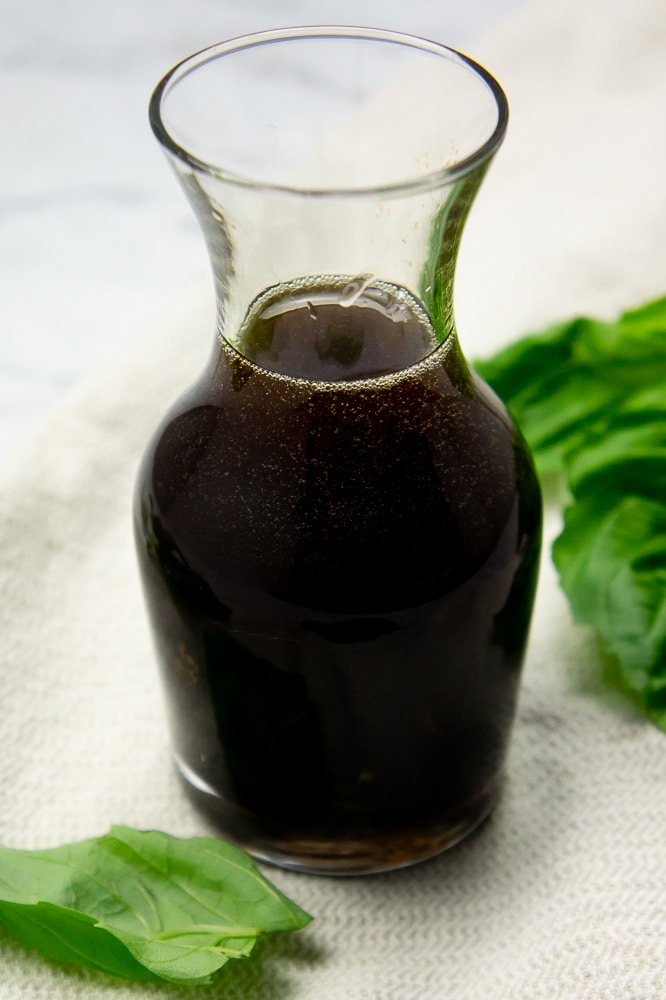 Basil Balsamic Vinaigrette – Fresh, easy, and full of rich flavor, this simple vinaigrette uses only a few ingredients and can dress up any salad or veggie side dish.
FAQ's
Do I have to stick to the ratio of 1 part vinegar, 3 parts oil?
No. As I stated, it's a starting point for a perfectly good basic vinaigrette! Begin there and adjust per your tastes. Different vinegar, additions, or oils will affect how much of each you prefer.
My vinaigrette solidified in the fridge, why?
Extra Virgin Olive Oil becomes partially solid at cold temperatures. This does not mean your dressing is bad or spoiled. Simply remove from the fridge, and allow to come to room temp (or run under warm water) and mix before using.

Alternatively, using other neutral oils in an emulsified vinaigrette can prevent this from happening!
How long is a homemade vinaigrette good for?
You can safely store for 1 week in the fridge. I usually find that 1/4 cup vinegar to 3/4 cups oil makes just enough for a week of dressing.

If your dressing shows any discoloration or signs of spoilage before a week, dispose of it immediately. (Solidified oil does not apply, see question #2)
My vinaigrette keeps separating, why?
Either you didn't use an emulsifier, or your dressing didn't contain enough emulsifier to keep the vinegar and oil stuck together. This doesn't mean your dressing is wrong or bad, simply shake and use.
I hope this guide to the Vinaigrette Ratio and how to make a delicious homemade vinaigrette will help you add some easy, big flavor to your cooking. I'd love to hear your favorite flavor combos – or your favorite way to use a vinaigrette, they go so far beyond salads! Until next time, Happy Eating!
Check out some of my Other Guides
Originally published 1/3/2018, Updated 12/27/2019
Nutrition information and cooking times are provided as a best estimate. Values may vary based upon ingredients and equipment.