This page contains affiliate links. For more information please read my Disclosure Policy.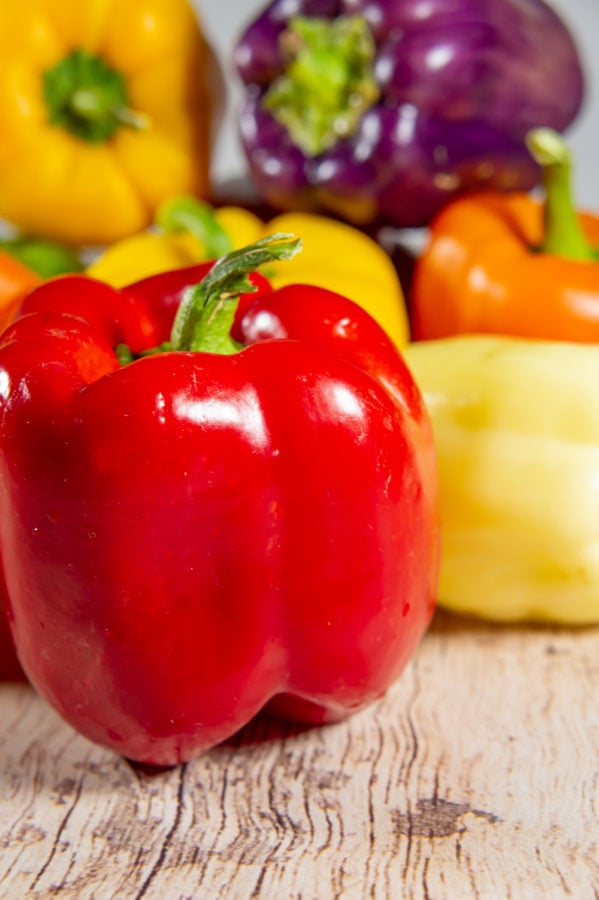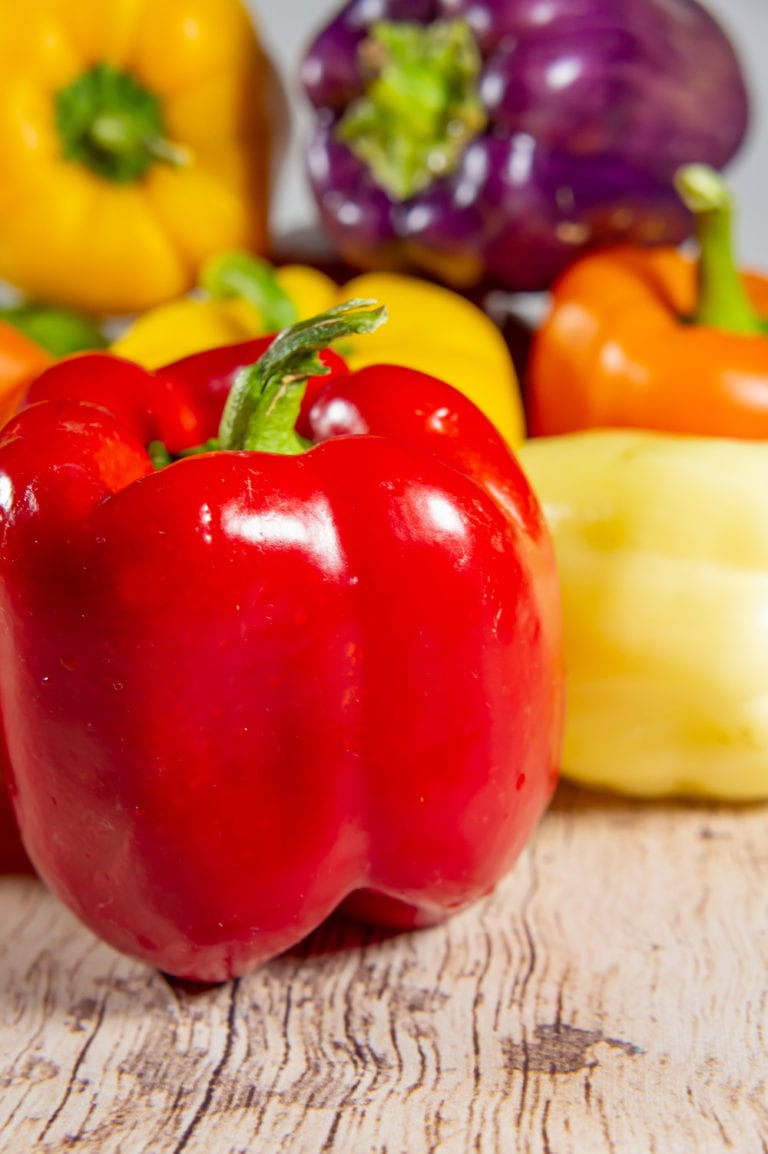 Have you noticed how gorgeous bell peppers are around this time of year? Grocery stores and farmers markets alike suddenly fill with beautiful, vibrant peppers. With tomatoes and corn and all the other gorgeous produce this time of year, those amazing flavorful peppers sometimes get overlooked…hence the post devoted exclusively to them! Here you'll find everything you could need to know about the differences in bell peppers, how to cook bell peppers, how to roast them, with fun delicious bell pepper recipes to help inspire you! Are you excited yet?
What are Bell Peppers?
Peppers and chilies are both a part of the capsicum family, and come in a seriously huge variety ranging in size, flavor, and spice. I could easily delve into both peppers and chilies, but that will be for another day. Bell peppers are a sweet pepper, only ranging to the high 500's in Scoville units (jalapenos are between 2500 and 10000). They're distinguished from their other sweet cousins and the spicier chilies by the typical bell shape that you are all familiar with. They're also botanically classified as a fruit – not a vegetable.
But, not all sweet peppers, not all bell peppers in fact, come in that shape. A good example is the La Rogue Royale pepper, the longer, slimmer version of a red bell pepper. While that particular pepper may taste slightly different than other red varieties, it's not the shape or size that determines flavor. Despite some widespread fake news out there, there are no such thing as male and female bell peppers, three bumps versus four simply implies a different variety of the plant. Number of bumps, short or long, thin or fat, flavor is determined by the varietal and the color of the plant.
differences in Bell Peppers
Since color determines flavor it's pretty important to know what you're getting when you pick up a nice green or orange bell pepper. What you prefer can be a personal preference, but here are a few tips on the different colors.
Sweetness by Color
Red, orange, & Yellow Bell Peppers
These are your common color choices this time of year at any grocery store. They're often more expensive than green ones, and with good reason. Red, orange, and yellow bell peppers are the sweetest varieties, going from sweetest to less sweet in that order.
My personal favorites are red and orange, but any of the three will work when you're looking for a sweetness in your recipe. They all take well to most preparation methods from roasting to raw.
Purple, White, and Green Bell Peppers
Once you pass yellow and fade into these cooler colored bell peppers, the sweetness fades as well. Green, white, and purple bell peppers aren't as sweet as the other colors. Instead they have a grassy, fresh flavor profile that has a pleasant bite of crisp bitterness. Green is the least so, while purple has a noticeable bitter bite.
While these again can be used for most bell pepper applications, it's going to make a difference if you substitute green when a red pepper is called for. There are certain bell pepper recipes that were made for the crisp bite of a green pepper. These more bitter varieties are perfect for stuffing, pickling, or pairing with sweet glazed proteins. They're also great raw in a slaw or salad, especially purple bell peppers which tend to loose their color when cooked.
Having trouble finding white and purple bell peppers? It's often the farmers market where I find the less commercially popular colors like those.
From Green to Red…
As a quick aside, have you ever noticed that green bell peppers always seem to be in abundance? There's a reason! Green bell peppers are actually red peppers that aren't fully ripe.
No way, right?! It's true! Green peppers have been picked before they've reached full maturity, one reason for their more bitter flavor, the sweetness simply hasn't developed fully. It also makes them cheaper. Without such a long growing time as fully ripe red peppers, farmers and producers can supply them easier.
Yellow and orange peppers are not unripe red peppers. They're different varieties of bell pepper. All peppers start out as green however, including those jalapenos we all know and love…yup they'd turn red!
The Health Benefits of Bell Pepper
Beyond the flavor, there are some added health benefits to eating the sweet bell peppers – tons of vitamins. They're high in vitamin C, like really high, and full of other vitamins and nutrients like E, B6, K1, potassium, folate, iron, and in red bell peppers Vitamin A. Allowing the fruit to ripen increases the nutrient levels when consumed, so in addition to a sweeter flavor, picking red over green bell peppers is going to increase the health benefits you receive.
How & When to Pick Bell Peppers
Bell peppers are available year around nowadays, green bells especially, but the peak season for the best flavor is July through September.
When picking your pepper, be sure to look for a glossy, smooth exterior and a green stem. Avoid the wrinkles or brown spots. They should be firm to the touch, with no damp or soft areas. Store them in the bottom of your fridge and they'll keep for a few days.
How to Cook bell peppers – 6 methods
You've found your peppers, decided the colors you love, next is deciding how to cook bell peppers. It's a tough decision! Whether you decide you want to learn how to roast bell peppers for a creamy soup, or you want to do a quick chop for a simple summer salad, there are over a dozen delicious bell pepper recipes below organized by how you cook them.
1. RAW
This is one of my favorite ways to eat bell peppers. They're an excellent addition to salads, spring rolls, coleslaw or just to snack on plain or with a fresh dip.
When I prep them for raw use, my usual method is to hold the pepper stem up, and slice from top to bottom on each side, making 4 cuts. This will avoid most of the seeds and result in 4 flat slices of pepper. Then just dice or julienne (cut into thin strips) to suit your needs.
To inspire your raw bell pepper cooking, here are two delicious recipes that feature uncooked bell peppers:
2. ROASTED
This may be the most well known form of cooking sweet red peppers. Roasted red peppers are delicious, no arguments there, but you can also roast the many other colors too! I encourage you to try them out as well.
You could purchase pre-roasted peppers, but it's actually easy to do yourself with a few simple steps.
How to Roast Bell Peppers
Turn on your broiler to high and cover a broiler safe pan with foil (easier clean up!).
Rub peppers lightly with oil and place on pan under broiler.
Broil for 20 to 25 minutes, rotating the pepper every 5 minutes or so. Peppers are done when the skin is blackened and the peppers have collapsed.
Remove the peppers from the pan to a bowl and cover with plastic wrap. Let stem for 10 minutes.
Remove the plastic and carefully insert knife into pepper to drain liquid into the bowl. This may have already happened on their own, but save yourself the mess and check now.
Lay peppers on a cutting board and remove the skin. It's easiest to pull off with gloves or paper towels. It should come off easily but be warned, it's a sticky job (hence the gloves).
Pull up on the stem to release it from the pepper and open the peppers to scrape out the remaining seeds. Discard the stem and seeds.
Slice to desired size and shape and use, or store in fridge for up to 1 week.
Using Roasted Bell Peppers
Roasted bell peppers can be used in a myriad of ways. Puree them in a sauce, marinade, aioli, or veggie dip. Serve them sliced on sandwiches, pastas, and more. The uses are as endless as your creativity! Here are a few yummy suggestions to get you started:
3. SAUTEED
This is likely one of the most common ways to utilize bell peppers. With a few simple knife cuts you can add color and freshness into many different dishes. Here are just a few of MANY suggestions:
4. GRILLED
There is something about that smoky, grilled flavor that's irresistible. Grill peppers whole or slice them open and grill the pepper 'steaks' to get those beautiful grill marks.
This is also a second way of how to roast bell peppers. You can follow steps 4 through 8 from the how to roast guide after your peppers have blackened on all sides for the same effect!
OR you can make one (or both!) of these recipes that feature gorgeous grilled peppers!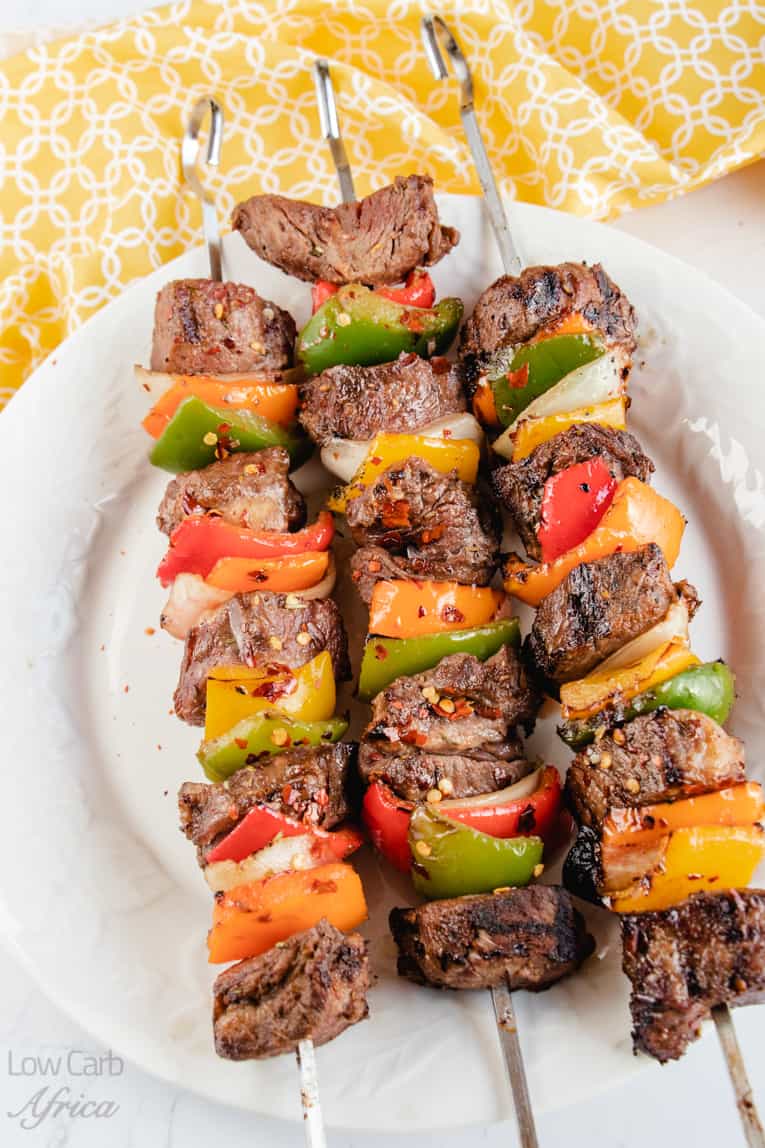 5. STUFFED
Stuffed peppers are definitely popular when it comes to how to cook bell peppers. It's great way to make them a star of the plate. The possibilities for what they're stuffed with, and how they're cooked is extremely varied.
I could list dozens and dozens of stuffed bell pepper recipes. Heck do a whole post on just this! But instead, here are a few of my favorites from my fellow bloggers:
6. STEWED
Finally, but not least flavorful, is a stewed preparation. A little less common perhaps, but worth your time. Stewing simply means to cooking slowly in liquid in an enclosed vessel, usually a pot or pan with a lid.
Go On, Go Get Some
I hope I've inspired you to explore the world of bell pepper recipes, while they're still in peak season. Do you have your own favorites? I'd love to hear from you so feel free to comment below, or message me directly to chat!
Until next time, Happy Eating! (And don't forget to PIN THIS POST for later!)
Ingredients
3

large

red bell peppers

1

tbs

oil
Instructions
Turn broiler onto high and line a broiler safe pan with foil.

Rub outside of the peppers with oil and place on pan. Place in oven.

Cook for 20 to 25 minutes rotating peppers every 5 minutes until peppers are blistered and blackened and starting to collapse.

Remove from oven and transfer peppers to a bowl and cover with plastic wrap. Allow to steam for 5 to 10 minutes.

Remove plastic wrap and lift peppers up and slice into them with knife while still over the bowl to release the juices.

Transfer to a cutting board and using paper towels or by wearing gloves peel off skin. Then pull up on stems to remove them.

Slice peppers open and lay flat, scraping inside to remove any seeds. Slice into shape as desired and use, or store in fridge for up to a week.
Notes
This can also be done on a grill or open flame until blackened. Follow steps 4 through 8 after that.
Originally published 8/14/2017. Updated 8/27/2019
Last Updated on January 23, 2021 by Mikayla M
Nutrition information and cooking times are provided as a best estimate. Values may vary based upon ingredients and equipment.