Basil Balsamic Vinaigrette
This page contains affiliate links. For more information please read my Disclosure Policy.
Basil Balsamic Vinaigrette is an easy, flavorful homemade dressing recipe with a few simple ingredients. Whip up this fresh basil vinaigrette with a rich balsamic vinegar to add big flavor to fresh salads or chicken.
A homemade vinaigrette is hard to beat when it comes to easily adding flavor to your food. They're so easy and delicious, I have a whole post dedicated to the vinaigrette! But…I'll be honest, I'm not a big salad fan, I'd much rather eat a giant bowl of pasta…but my health sometimes demands those greens, and nothing makes it better than this simple but flavorful basil balsamic vinaigrette.
What makes this recipe even better than how quickly you can make it? It lasts a week in the fridge and you can easily drizzle your basil balsamic dressing over more than just greens. Try it on chicken, roasted potatoes, and yes, even that big bowl of pasta.
What is Balsamic Vinegar?
You've got it in your cupboard, you love it, but what exactly is balsamic vinegar? Balsamic vinegar is a rich, deeply concentrated fermented product of grape must.
Grape must is basically crushed sweet grape juice that is boiled, concentrated, fermented and then aged for 12+ years until it transforms into rich, slightly sweet balsamic vinegar. At least that's how the traditional stuff is made.
Most commercial balsamic vinegar is made with a combination of grape must and wine vinegar to expedite the process, and it's aged for months, not years. While it still has big flavor, it's different than the traditional balsamic you'd get out of the Modena region in Italy.
These vinegars can range in sweetness, acidity and thickness based upon how long it was aged and how it was made. I recommend looking for a small batch production, or one that is certified by IGP, DOP, or PDO (European authenticity labels) for the biggest flavor for your buck.
Ingredients
To whip up a quick batch of basil balsamic vinaigrette you only need a few basic ingredients, 6 to be exact. (2 are salt and pepper, so let's call those freebies).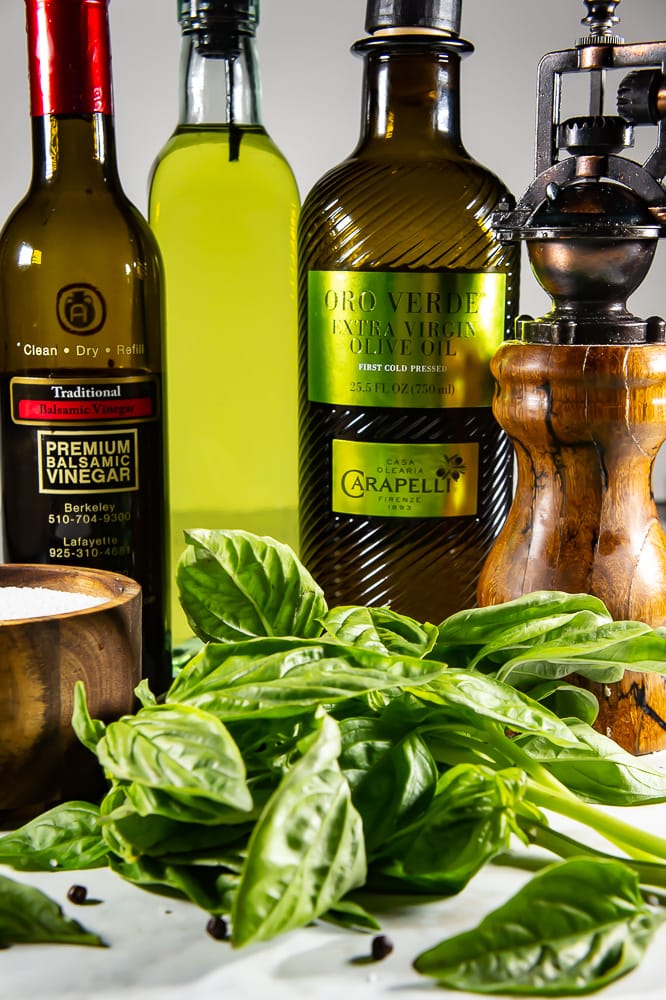 Olive Oil – A nice, fresh extra virgin olive oil for flavor and richness
Canola or Vegetable Oil – Make the dressing cheaper to make, and prevents solidifying in the fridge.
Balsamic Vinegar – Get a good one! I prefer a thinner balsamic for this, not a thick syrupy one. Avoid products labeled balsamic reduction for this recipe.
Fresh Basil – Use 7 to 8 fresh, bright green leaves of basil for this!
Salt & Pepper – Coarse kosher salt and fresh cracked black pepper are my preference when making this.
How to make Basil Balsamic Vinaigrette
To whip this up, it will only take you a few minutes and it stays good in your fridge for up to a week. This recipe makes about 1.5 cups, perfect for a week of drizzling. There are a few ways to make this, and I've listed details for each below.
By Hand:
First, layer the leaves of your basil on top of each other, then roll tightly into a cigar shape. Slice thin ribbons then set aside.
Combine balsamic, salt, and pepper into a large bowl.
Combine your oils, then while whisking, begin to slowly drizzle them in.
When the dressing begins to come together (look uniform, without oil separated out), begin adding the oil a little faster.
Add sliced basil, whisk, and use.
With Blender
Slice basil as directed above.
Combine the balsamic, salt, and pepper into your blender, and pulse to combine.
Add oil to blender and pulse in 5 to 10 second increments until it comes together.
Transfer to a storage bowl or jar and add basil, stirring or shaking to combine.
I like to use my immersion blender for this, as it allows me to control the blending speed a little better, and I can mix it in my storage container.
With Mason Jar
Slice basil, and combine with all other ingredients in a large mason jar.
Shake vigorously until the vinaigrette has come together.
Pro TIPS
Regardless of the method you use, store any extra in an airtight container in the fridge for up to 1 week. Shake well before using.
This vinaigrette contains no emulsifiers, meaning oil and vinegar are fighting pretty hard to stay apart. Even with the blender, your vinaigrette will have some natural separation in the fridge. Shaking well will return it to it's mixed state long enough to use.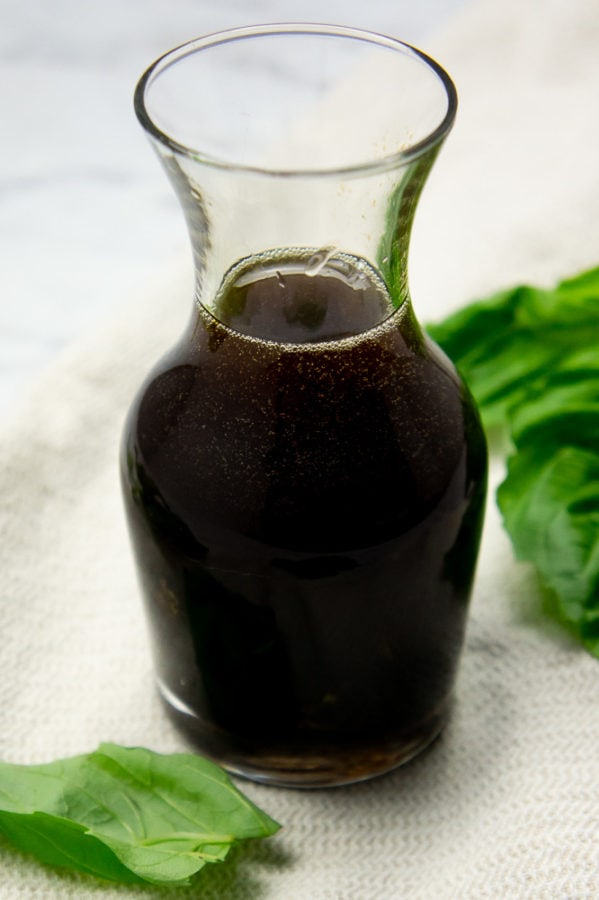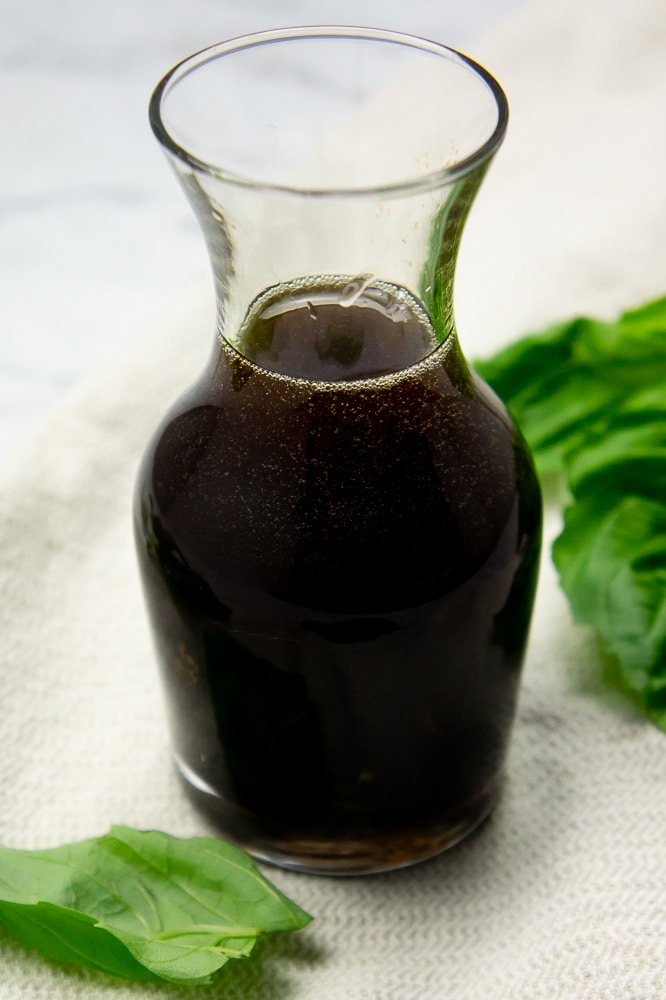 FAQ's
Can I use dried basil?
This recipe is really for a fresh basil vinaigrette. Using dry is possible, but will not produce the same flavor or texture in the dressing.
Eat & Enjoy
Simple, right? It's hard to beat how simple this is to make, and it's equally easy to use it, one more than just your salads. Below are some recommendations for using this basil balsamic vinaigrette, and until next time, Happy Eating!
Basil Balsamic Vinaigrette
Print Recipe
A simple, herbaceous dressing full of summer flavors to top fresh salads.
Ingredients
1/4

cup

balsamic vinegar

1/2

tsp

kosher salt

1/4

tsp

black pepper

1/2

cup

Extra Virgin Olive Oil

1/2

cup

Canola Oil

2

Tbs

fresh basil

about 7-8 leaves
Instructions
Layer your leaves of basil, roll into cylinder (cigar shape) and slice into ribbons, set aside.
By Hand Mixing
Add salt, pepper, and balsamic vinegar to a bowl. Whisk to combine.

Combine your oils and begin slowly drizzling into your vinegar, whisking continuously until all your oil is added.

Add chopped basil to vinaigrette and stir to combine. Refrigerate until ready to serve*, up to 1 week.
Blender Mixing (Immersion or Upright blender)
Combine vinegar, salt, and pepper and pulse to combine.

Add oil and pulse in 5 to 10 second increments until completely combined.

Transfer to a container, add in basil and mix. Refrigerate until ready to serve, up to one week.
Mason Jar Mixing
Combine all ingredients in a mason jar and shake vigorously until it all comes together.

Refrigerate until ready to serve, up to 1 week.
Notes
*I highly recommend prepping this vinaigrette at least an hour before serving. Allowing the basil and vinegar to sit will amplify the herb flavor.
*Shake before serving
Nutrition
Serving:
2
Tablespoons
|
Calories:
167
kcal
|
Carbohydrates:
1
g
|
Protein:
1
g
|
Fat:
18
g
|
Saturated Fat:
2
g
|
Sodium:
98
mg
|
Potassium:
6
mg
|
Sugar:
1
g
|
Vitamin A:
18
IU
|
Calcium:
1
mg
|
Iron:
1
mg
Servings:
12
2 Tablespoon Portions
Originally published 1/8/2018, Updated 1/1/2020
Nutrition information and cooking times are provided as a best estimate. Values may vary based upon ingredients and equipment.