Homemade cream Style Corn
This page contains affiliate links. For more information please read my Disclosure Policy.
Homemade cream style corn is an easy corn side dish you can make in either the crockpot or on the stovetop with either fresh corn, frozen corn, or even canned corn and just a few other ingredients. If you want to learn how to make homemade creamed corn, and are looking for a creamed corn recipe with cream cheese, this is it!
With Thanksgiving around the corner, we all start to think about the food that goes on the table. There are classics, and they differ from family to family, but one thing we all share is that there needs to be a balance of complicated and really easy to get dinner on the table in time. This homemade cream style corn is a corn side dish that's one of the easy ones, but feels comforting, cozy and tastes amazing. It's a scrape-the-pot-clean dish you can throw on the stove and pay minimal attention to while feeling proud of from scratch side dish you just whipped up.
What IS Creamed Corn?
There seems to be some controversy in the online world about what exactly creamed corn 'should' be. There are many traditional recipes that consist of scraping corn cobs to release the milky sweet liquid and blending it with corn kernels before thickening during cooking. This is how the canned stuff is made.
We're making cream style corn, which captures the delicious sweet flavor of whole corn kernels enhanced by a low simmering bath of delicious dairy. It's thick, tender, sweet and savory, and even it isn't traditional, it's really, really good.
What is Cream Style Corn MAde of?
To make this corn side dish you literally just need a big pot or a slow cooker, 5 ingredients, and some seasonings we all have hanging around in our cupboard.
Sweet Corn – This can be fresh sweet corn, frozen corn, or canned corn. Preparation and cook times vary slightly depending on your choice. I recommend frozen as I usually prepare this outside of corn season and frozen sweet corn is frozen at the peak of freshness.
Cream Cheese – A full fat cream cheese, a whole block, adds huge flavor and creaminess.
Parmesan Cheese – A bit of salt and earthiness from an aged cheese helps the flavor balance.
Butter – Unsalted butter aids creaminess, and butter and corn are made for each other.
Half & Half – A thickening agent that helps the dish become rich and delicious.
Salt, Pepper, Sugar, Garlic Powder – Final touches to find that perfect balance of flavor.
How to Make Homemade Cream Corn
Before we get cooking, it's time to choose the cooking method: Stove top or Crockpot? Both are simple, and regardless, it's a dump and go recipe that can take as little or as much time as we're willing to give it. This is a large family sized recipe, serving 8 as a side dish.
Crock Pot MEthod
The Crock pot has a major advantage – less risk of hot spots and burning. BUT, it takes longer to reach the desired thickness. Ideally cook the mixture on low for 4 hours, then turn to 'keep warm' for two hours more for optimal creaminess and texture.
Turn your Crockpot or slow cooker onto low.
Add in the half & half, cream cheese, Parmesan cheese, butter, corn, garlic, salt, pepper, and sugar. Stir to combine.
After 30 minutes stir to make sure everything is incorporating well.
Every hour for 4 hours give it a quick stir to prevent any sticking..
Turn Crockpot onto warm and serve when mixture has thickened.
Stove Top Method
Stove top creamed corn is faster than slow cooker, but requires a tiny bit more attention. Just a tiny bit. Use a heavy bottomed large pan, like a dutch oven, to reduce the risk of scorching.
Place your pot over medium heat.
When warmed, add corn, cream cheese, Parmesan cheese, butter, and half & half to the pot with all the spices.
Stir to combine as the cheeses and butter melt. (The Parmesan will take a while to melt, don't worry about it)
Bring to a boil then reduce heat until you have a gentle bubbling simmer, low to medium low.
Cover, and stir every 20 to 30 minutes until corn is tender and luscious. About 2 hours.
Remove lid and increase heat to let it simmer until thickened, about 30 more minutes, stirring occasionally.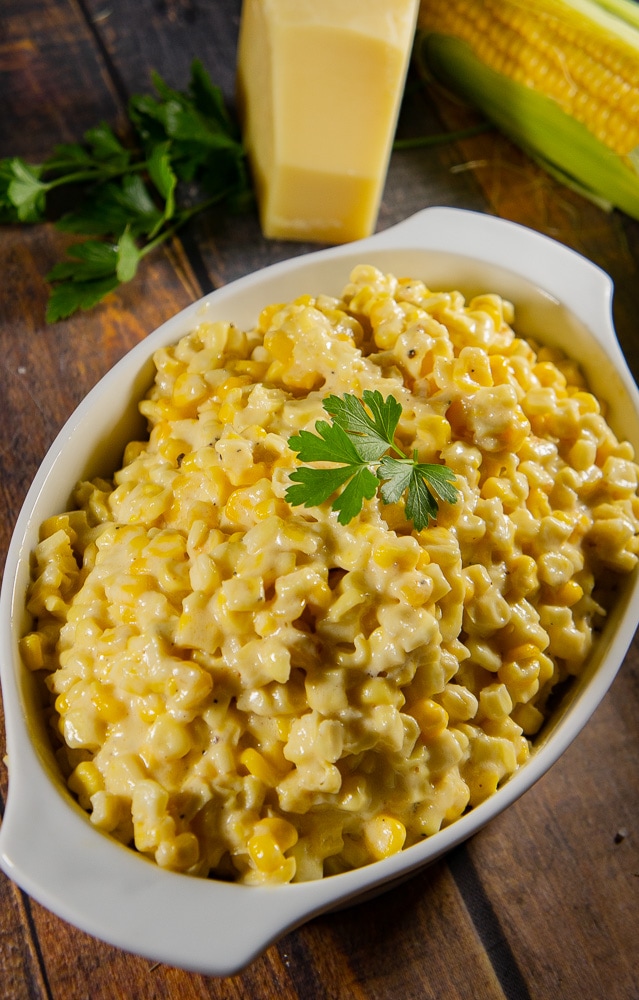 FAQ'S
Can I freeze creamed corn?
I don't recommend freezing a dish with this much dairy as it will like break, or curdle, when thawed.
Why do you recommend frozen sweet corn?
Frozen corn is packaged at the peak of freshness, which means it's at optimal flavor to use when fresh corn is no longer in season.

Since creamy, filling, comfort side dishes like this one are often made in cooler months, when fresh corn is out of season, I recommend frozen over any fresh corn you may find lingering at the grocery store. If you're making this during corn season, late summer, then by all means use it.

Canned corn can also be used, if drained. Be sure to choose canned corn that has no added sugar or salt.
How much fresh or canned corn will I need?
To substitute fresh or canned for the 2 bags of frozen corn, I recommend 9 to 10 ears of corn, or 4 cans of corn.
Does it matter if I use yellow or white sweet corn?
There is no difference in flavor between yellow or white corn, whether fresh or not. Use what you have, or blend the two together! There is some difference in nutrient value based on color, which you can read more about here.
Can I make this dairy free?
Yes creamed corn can be made dairy free. Coconut milk is a nice alternative to half & half, and there are vegan butters and cheeses you can use. However as I've not tested this, I recommend checking out this Vegan Creamed Corn recipe from The Pretty Bee if you need an allergen or vegan friendly version.
Can this be reheated?
To make ahead, or if reheating leftovers, store covered in the fridge then reheat on the stove or in the microwave until hot and creamy.

Can be stored for 3 days.
What Do you Eat with Creamed Corn?
SO MANY THINGS! It's a favorite Thanksgiving side in our house, but here are a few recipes for inspiration!
That's it! Wasn't that easy? We have a delicious, luscious cream style corn we made from scratch. Your house will smell sweet and a little garlicky when all is said and done, who needs candles? The simplicity makes this an ideal Thanksgiving side dish when our attention is pulled to other dishes, family, and football (your house too, right?). It's really great for any holiday actually, or just to have when you want comfort food with low effort. Add this to your pinterest boards ASAP, and until next time Happy Eating!
Homemade Creamed Corn
Creamy, sweet creamed corn homemade in either your slow cooker or on the stove – it's an easy, delicious addition to any dinner!
Ingredients
32

oz

frozen sweet corn*

Two 16 oz bags

8

oz

cream cheese

4

oz

unsalted butter

1/2 cup

6

oz

half and half

2/3 cup

2

oz

parmesan cheese

1

tsp

granulated sugar

1

tsp

kosher salt

1/2

tsp

garlic powder

1/2

tsp

black pepper
Instructions
Stove Top Directions:
Place a large pot over medium heat. Add all ingredients. Stir as the butter, cream cheese, and Parmesean melt to prevent sticking to bottom of the pan.

When cream mixture begins to boil, stir, and reduce heat to low. Stir every few minutes to prevent scorching, until mixture is at a low, gentle simmer. Place lid on top of pot.

Stir every 25-30 minutes, and allow to simmer gently for 2 hours, or until corn is tender.

Remove lid when corn is tender and simmer until sauce is thick and creamy, about 30 mins. Serve hot topped with parsley and fresh cracked black pepper (optional).
Slow Cooker Directions:
Place all ingredients into your slow cooker and stir to make sure butter and cheese are near the bottom.

Turn slow cooker onto low and cover.

Stir every hour for 4 hours. Turn slow cooker to the keep warm setting. It will continue to cook and thicken, keep on warm for at least 2 hours. Stir occasionally to prevent sticking or scorching.

Serve when thickened and tender.
Notes
*Alternatively, substitute 9-10 ears of fresh corn with kernels cut from cob, or 4 cans of drained corn.
In both cooking methods, sticking and scorching are possible without occasional stirring.
Recipe can be doubled or halved. Reheats well.
Nutrition
Calories:
368
kcal
Carbohydrates:
30
g
Protein:
9
g
Fat:
26
g
Saturated Fat:
16
g
Cholesterol:
74
mg
Sodium:
511
mg
Potassium:
407
mg
Fiber:
3
g
Sugar:
2
g
Vitamin A:
866
IU
Vitamin C:
8
mg
Calcium:
142
mg
Iron:
1
mg
Nutrition information and cooking times are provided as a best estimate. Values may vary based upon ingredients and equipment.