This page contains affiliate links. For more information please read my Disclosure Policy.
Try this Homemade Creamed Corn and discover a new family favorite side dish. The easy stove top or Crock Pot cooking instructions make it simple to whip up a family sized portion of creamed corn with cream cheese, butter, and other easy pantry staples. Use fresh, frozen, or canned corn and whip up the perfect comforting side for dinner, Thanksgiving, Christmas, or any other special occasion.
One of my all-time favorite things is a warm bowl of creamed corn. It's indulgent, creamy, and utterly irresistible after that first bite. This homemade creamed corn recipe uses easy ingredients like cream cheese, butter, and cream to make a comforting, rich side that we personally love to share on our holiday table every year.
What makes it perfect for Thanksgiving, Christmas, or any other occasion is how hands-off it is once it starts cooking. You can use a pot on the stove, or toss it into a slow cooker, and then it just simmers until the corn is tender and the cream sauce is thick and perfect. You can even use fresh, frozen, or canned corn, so it can be made whenever that craving is too hard to resist.
Why You'll Love this Recipe
Use fresh, frozen, or canned corn – whatever is easiest and most accessible to you (though I recommend fresh if you're up for it!)
No need to scrape cobs or blend corn, this is a one pot, dump and cook type of recipe that's essentially hands off aside from some stirring.
Use your stove or your Crock Pot and end up with the same, creamy rich results.
It makes enough to serve 8, more if it's one of many sides on a holiday table, and it's very easy to double.
What is Creamed Corn?
There seems to be some controversy in the online world about what exactly creamed corn 'should' be. There are many traditional recipes that consist of scraping corn cobs to release the milky sweet liquid and blending it with corn kernels before thickening during cooking. This is how the canned stuff is made.
We're making cream style corn, which captures the delicious sweet flavor of whole corn kernels enhanced by a low simmering bath of delicious dairy. It's thick, tender, sweet and savory, and even it isn't traditional, it's really, really good.
Ingredients & Substitutions
It only takes a handful of pantry seasonings and five simple, easy-find ingredients that you can get year-round. I've shared my tips for substitutions if you need them below.
Sweet Corn – This can be fresh sweet corn, frozen corn, or canned corn. Preparation and cook times vary slightly depending on your choice.
Cream Cheese – A full fat cream cheese, a whole block, adds huge flavor and creaminess. Do not use non-fat, it doesn't melt the same way.
Parmesan Cheese – A bit of salt and earthiness from an aged cheese helps the flavor balance. You can also use Romano or Grana Padano.
Butter – Use unsalted butter so you can adjust the seasoning to taste.
Half & Half – A thickening agent that helps the dish become rich and delicious. You can use heavy cream, but milk will result in a runnier final result.
Seasonings – We'll be using a combination of salt, pepper, sugar, garlic powder
A Note on Corn Options – If it's corn season (late summer/early fall) and you can get fresh, local corn, please go for fresh. It's SO good. If you can't, I'd recommend flash frozen sweet corn over off season corn on the cob. Canned will also work, but drain it first.
Step By Step Instructions
The magic to this recipe is the slow simmer. You don't have to do much regardless of whether you choose the Crock Por or stovetop method. Both are simple dump and go approaches. This is a large family sized recipe, serving 8 as a side dish, or more if served with other sides.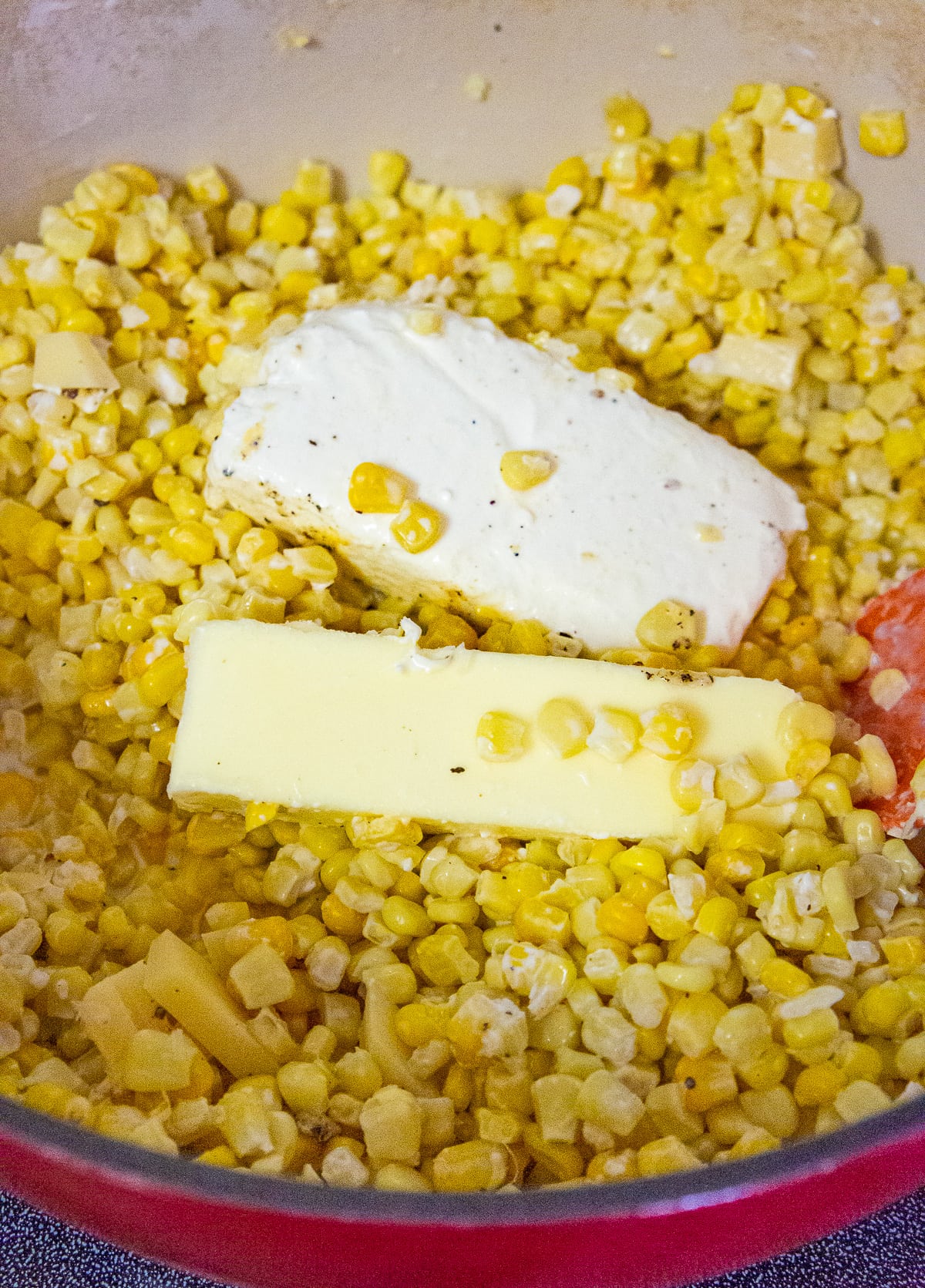 Step 1 – Combine it All
Add the corn, half and half, cream cheese, butter, Parmesan cheese, and all the seasonings into a large pot like a dutch oven or your slow cooker. Stir it all to let it combine.
No need to melt the cream cheese or butter, you can add it in as it is, but you can speed up the cooking if you melt it or at least soften it first.
Step 2 – Cook and Stir
Put your pot on the stove over medium heat. For the Crock Pot, set it to low. Once it starts simmering stir it turn your stove down to low, and continue to stir every 20-30 minutes.
Even in the Crock Pot, stir every hour. DO NOT skip stirring, it prevents the dairy from scorching on the bottom. Once the mixture has thickened, it's ready to serve. It takes about 1 hour on the stove, and four hours in the crock pot.
If you'd like, feel free to keep it over low heat for longer, just don't forget the occasional stir. Keep it covered so it doesn't over-reduce and lose it's creaminess.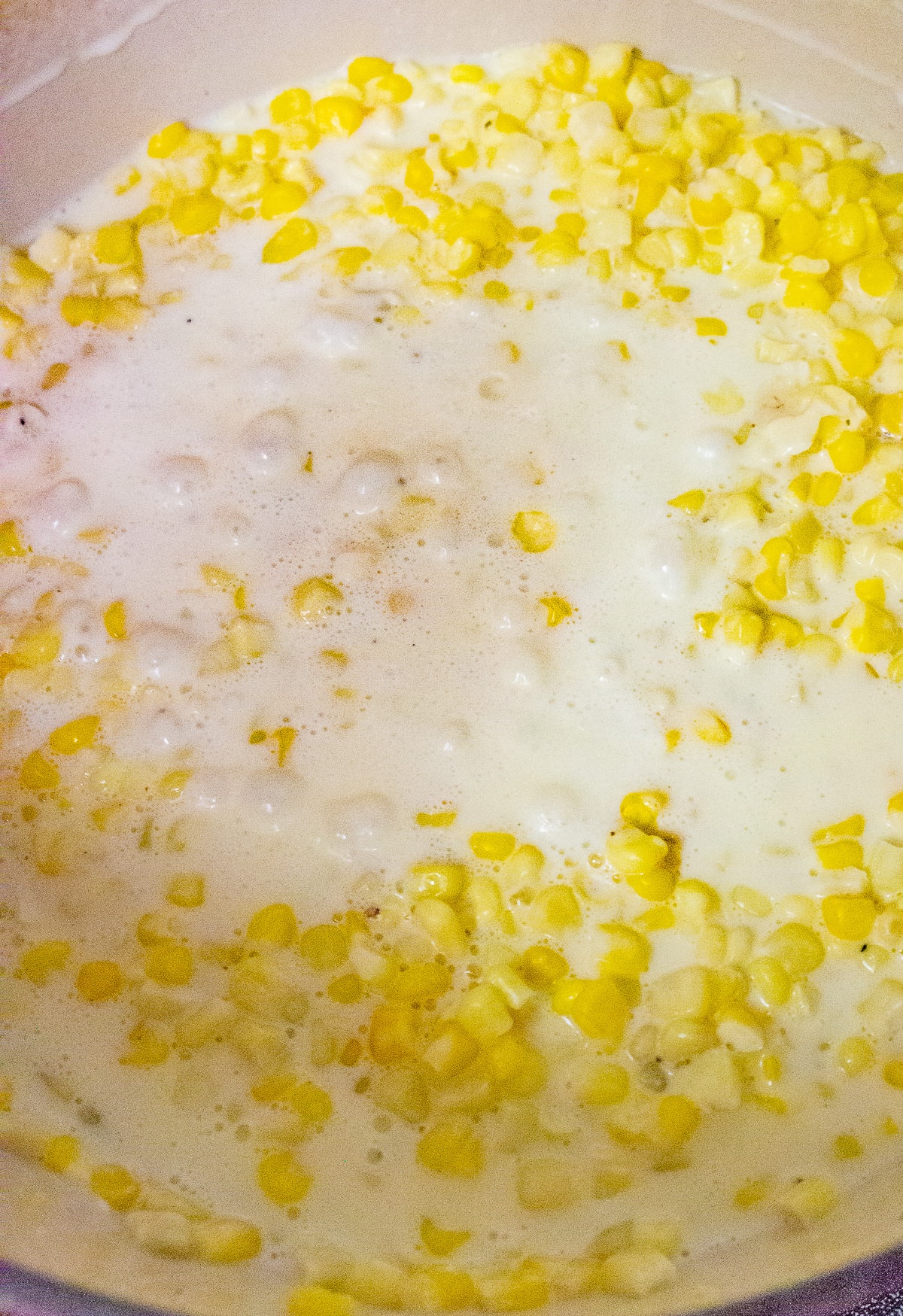 FAQs
Can I freeze creamed corn?
I don't recommend freezing a dish with this much dairy as it will like break, or curdle, when thawed.
How much fresh or canned corn will I need?
To substitute fresh or canned for the 2 bags of frozen corn, I recommend 9 to 10 ears of corn, or 4 cans of corn – you need about 6.5 cups total.
Does it matter if I use yellow or white sweet corn?
There is no difference in flavor between yellow or white corn, whether fresh or not. Use what you have, or blend the two together! There is some difference in nutrient value based on color, which you can read more about here.
Can I make this dairy free?
Yes creamed corn can be made dairy free. Coconut milk is a nice alternative to half & half, and there are vegan butters and cheeses you can use. However as I've not tested this, I recommend checking out this Vegan Creamed Corn recipe from The Pretty Bee if you need an allergen or vegan friendly version.
Should I cook homemade creamed corn covered or uncovered?
The mixture will thicken more quickly uncovered, but don't be tempted to cook it on high – the corn benefits from a long, lovely creamy bath. If you are planning to cook it for a longer period (like on Thanksgiving), leave it covered until the last 30 minutes of cooking.
What's the difference between the Crock Pot and stove top cooking method?
Very little! The stove top means you can cook this in as little as an hour, but you do need to stir every 20-30 minutes and keep it over low heat. The crock pot has less risk of scorching, but it does take closer to 4 hours on low – which is not a bad thing when you're cooking a holiday meal or want a hands off prep. Just stir every hour or so, and take the lid off in the last 30 minutes.
What Do you Eat with Creamed Corn?
SO MANY THINGS! It's a favorite Thanksgiving side in our house, but here are a few recipes for inspiration!
That's it! Now you have a delicious, luscious homemade creamed corn we made from scratch. Your house will smell sweet and a little garlicky, and the simplicity makes it ideal as a Thanksgiving side dish when your attention is pulled to other dishes, family, and football (your house too, right?). It's really great for any holiday actually, or just to have when you want comfort food with low effort.
Love this recipe? Please consider leaving a 5 star rating in the recipe card below, or a comment to share your experience with fellow home cooks. I hope you enjoy and as always, Happy Eating!
Homemade Creamed Corn
Creamy, sweet creamed corn homemade in either your slow cooker or on the stove – it's an easy, delicious addition to any dinner!
Ingredients
32

oz

frozen sweet corn*

Two 16 oz bags

8

oz

cream cheese

4

oz

unsalted butter

1/2 cup

6

oz

half and half

2/3 cup

2

oz

parmesan cheese

1

tsp

granulated sugar

1

tsp

kosher salt

1/2

tsp

garlic powder

1/2

tsp

black pepper
Instructions
Stove Top Directions:
Place a large pot over medium heat. Add all ingredients. Stir as the butter, cream cheese, and Parmesean melt to prevent sticking to bottom of the pan.

When cream mixture begins to boil, stir, and reduce heat to low. Stir every few minutes to prevent scorching, until mixture is at a low, gentle simmer.

Stir every 20-30 minutes, and allow to simmer gently for 1 hours, or until corn is tender and cream is thickened.

Serve hot topped with parsley and fresh cracked black pepper (optional).
Slow Cooker Directions:
Place all ingredients into your slow cooker and stir to make sure butter and cheese are near the bottom.

Turn slow cooker onto low and cover.

Stir every hour for 4 hours.

Remove the lid for the last 30 minutes of cooking. Serve when thickened and tender.
Notes
Alternatively, substitute 6.5 cups of fresh or drained canned corn, that's about 4 cans or 9-10 ears of corn.
In both cooking methods, sticking and scorching are possible without occasional stirring.
The recipe can be doubled or halved. Reheats well.
Nutrition
Calories:
368
kcal
Carbohydrates:
30
g
Protein:
9
g
Fat:
26
g
Saturated Fat:
16
g
Cholesterol:
74
mg
Sodium:
511
mg
Potassium:
407
mg
Fiber:
3
g
Sugar:
2
g
Vitamin A:
866
IU
Vitamin C:
8
mg
Calcium:
142
mg
Iron:
1
mg
If you made this, please tag me on Instagram or Facebook and share the foodie love with fellow home cooks. Thanks for visiting!
Nutrition information and cooking times are provided as a best estimate. Values may vary based upon ingredients and equipment.