Garlic Thyme Mashed Potatoes
This page contains affiliate links. For more information please read my Disclosure Policy.
Luscious, fluffy Garlic Thyme Mashed Potatoes are easy to make but full of herbaceous, buttery flavor that will elevate any meal into something gourmet. Serve them as a side for Thanksgiving or other holiday meals, or dress up a weeknight dinner into something special.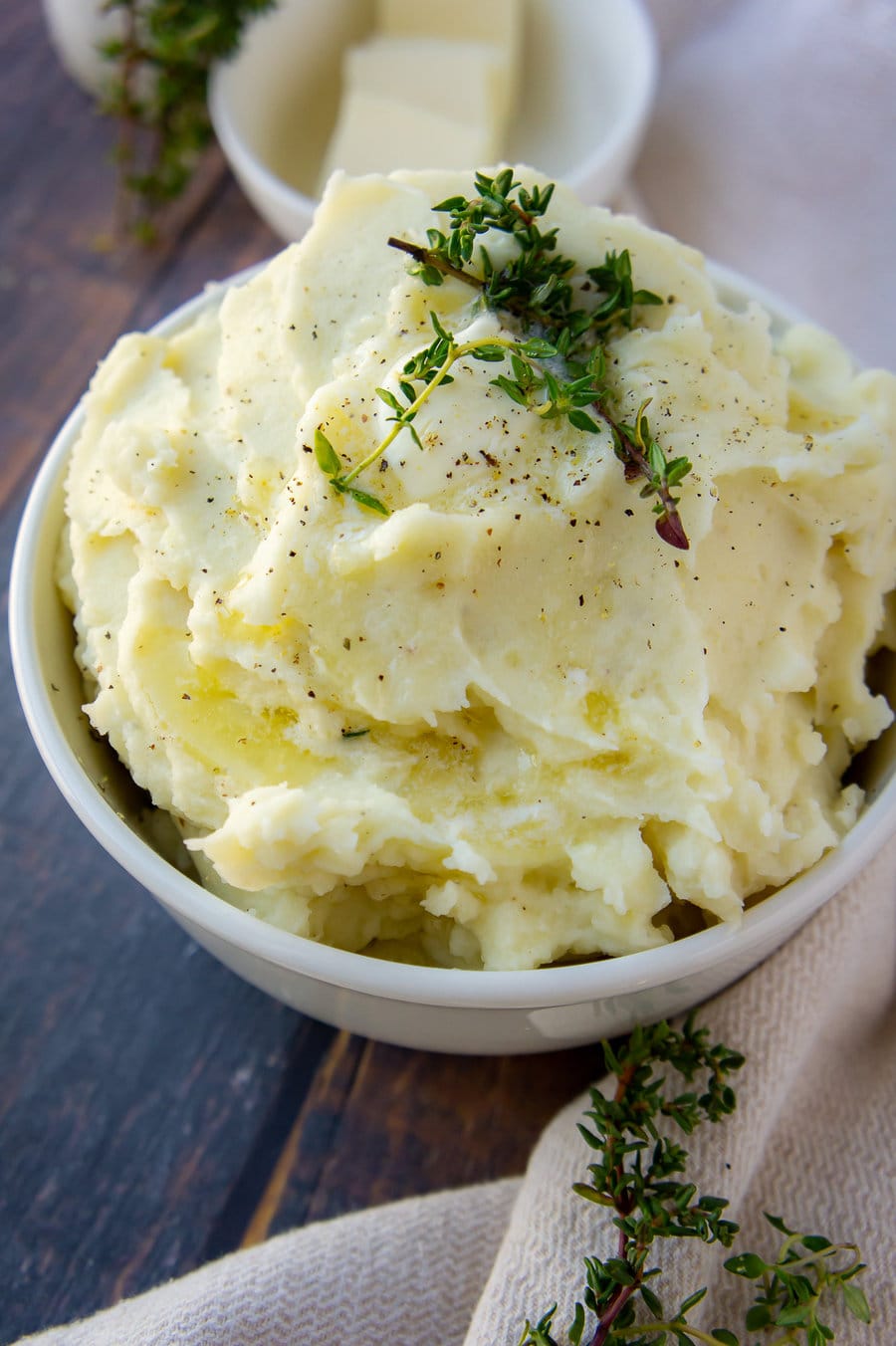 If there is one produce item I recommend you always have in your pantry, it's a russet potato. They are incredibly versatile and delicious, so you can whip up things like french fries, lemon pepper skillet potatoes, hasselback potato gratin, and of course, these super fluffy, ultra creamy thyme mashed potatoes.
They get their flavor from warm butter and cream infused with fresh thyme and garlic. Once mashed, you'll have aromatic, warm mashed potatoes that can make Thanksgiving, Christmas, or even just Sunday dinner so much tastier.
Ingredients and Substitutions
Mashed potatoes at the core are very simple, milk, potatoes, butter, salt. My recipe uses variations of those with a few additions to achieve the smoothest, richest mash possible.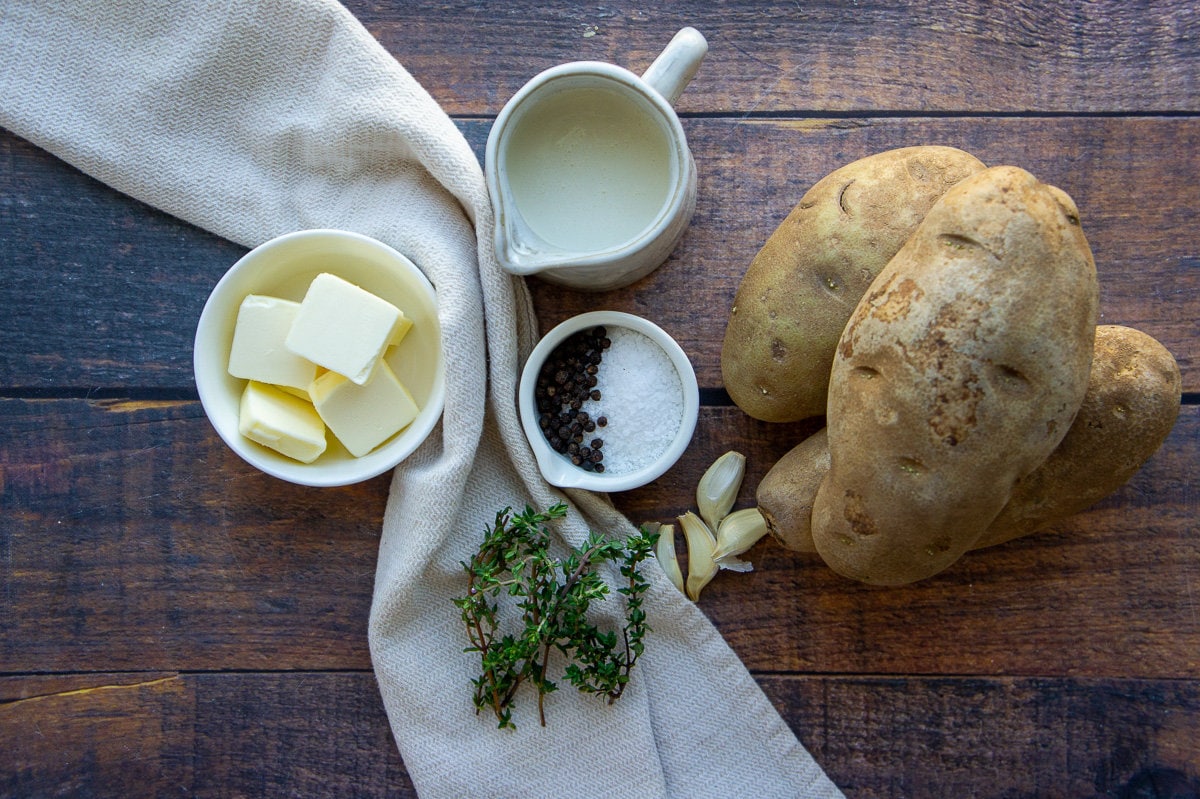 Russet potatoes – I like the fluffiness that comes from using a high starch potatoes like russets or Idaho potatoes. You can also use Yukon Gold, but I do not recommend using red or white potatoes, they tend to get dense and gluey.
Heavy cream – Whipping cream or heavy cream creates a lovely richness in mashed potatoes, but it's also perfectly find to use milk. For non-dairy, I recommend a creamy oat milk.
Butter – Use unsalted so you're able to control the seasoning better.
Fresh thyme – I really recommend fresh if at all possible. The flavor and aroma is incomparable. If you can't find it or don't have it, I'd recommend fresh rosemary as a backup. But to use dried you'll want about 2 teaspoons total to replace the fresh sprigs.
Garlic cloves – Again – go fresh! Garlic powder can work in a pinch, but it doesn't infuse as well. You'll need 1 teaspoon of garlic powder if you're swapping it in.
Dijon mustard – This adds a very slight acidic note that elevates the buttery, richness of all the other ingredients. You can skip it if you need to, but I really recommend it.
Salt & pepper – I always use coarse kosher salt, and black pepper from a pepper mill for my savory recipes.
Other Herbs & Spices for Potatoes
There are so many ways to dress up simple, creamy mashed potatoes with flavor. These are just a few suggestions you can try out. Simply remove the thyme and/or garlic to make new, exciting combinations.
Paprika, Smoked Paprika, Chili powder – Choose one add a savory, subtle peppery flavor. Start with 1/2 teaspoon then up it as needed according to taste.
Dill & Lemon – A fresh and vibrant change to rich potatoes. 1-2 tablespoons of fresh herb, 1 tablespoon lemon juice, and 1 teaspoon of zest.
Chive – Infuse the butter and milk with fresh chive, then chop up extra for the topping.
How to Make Fluffy & Soft Mashed Potatoes
Mashed potatoes aren't complicated right? You'd be surprised at how easy it is to go from soft and buttery to thick and gluey. Use these tips to make sure they're perfect every time, whether you're making this recipe, or your own variation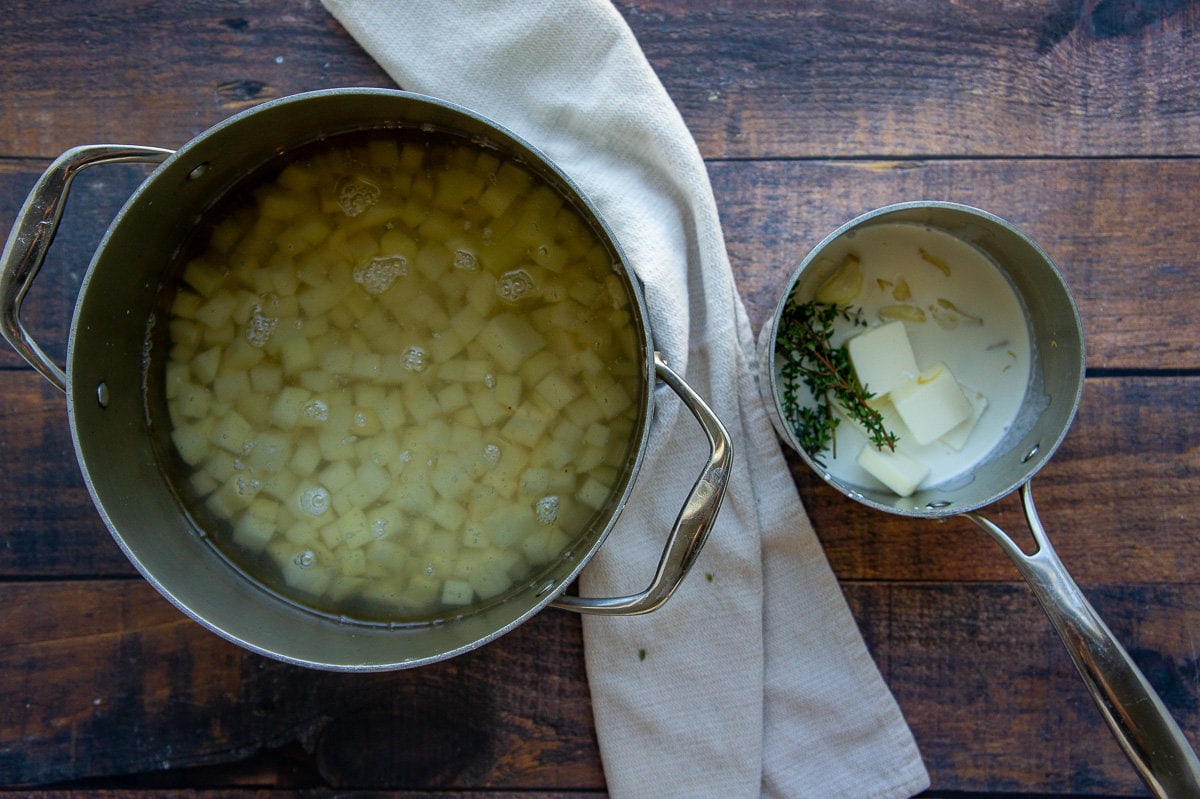 Start with Cold Water – Dropping chunks of potato into water that's already boiling may sound faster, but it usually results in the outsides cooking fast and disintegrating, before the middle of your potato chunks are tender. Instead, drop the chopped potatoes into room temp or cold water and let them get hot together.
Cook to Fork Tender – Let the potatoes cook until they are soft enough to slide off the fork with no resistance or break apart under a knife.
Warm up the Butter & Milk – To help everything mix smoothly and get nice and fluffy, don't add cold butter or cold cream to the potatoes. That will cool them down and you're more likely to get lumps.
Strain out the thyme – All that herb flavor is infused in the cream and to keep the potatoes super smooth, you'll want to take all the herb out! Use a fine mesh strainer.
Mix while Hot – For the same reason as above, make sure your potatoes are still warm while you mash and mix them. It'll make the process so much faster and easier.
Don't Mix Fast or Too Long – This is the number one tip. It's SO easy to end up with gluey potatoes simply because you've been trying to get them smooth for too long, or too fast. Do NOT use a blender or food processor, tempting as it may be.

Instead use a ricer, hand held potato masher, or an immersion blender to get them nice and creamy. My immersion blender has different speeds which lets me go nice and slow. I've seen other recipes recommend hand mixers…but use with caution, don't ruin your hard work by overmixing in the last minutes.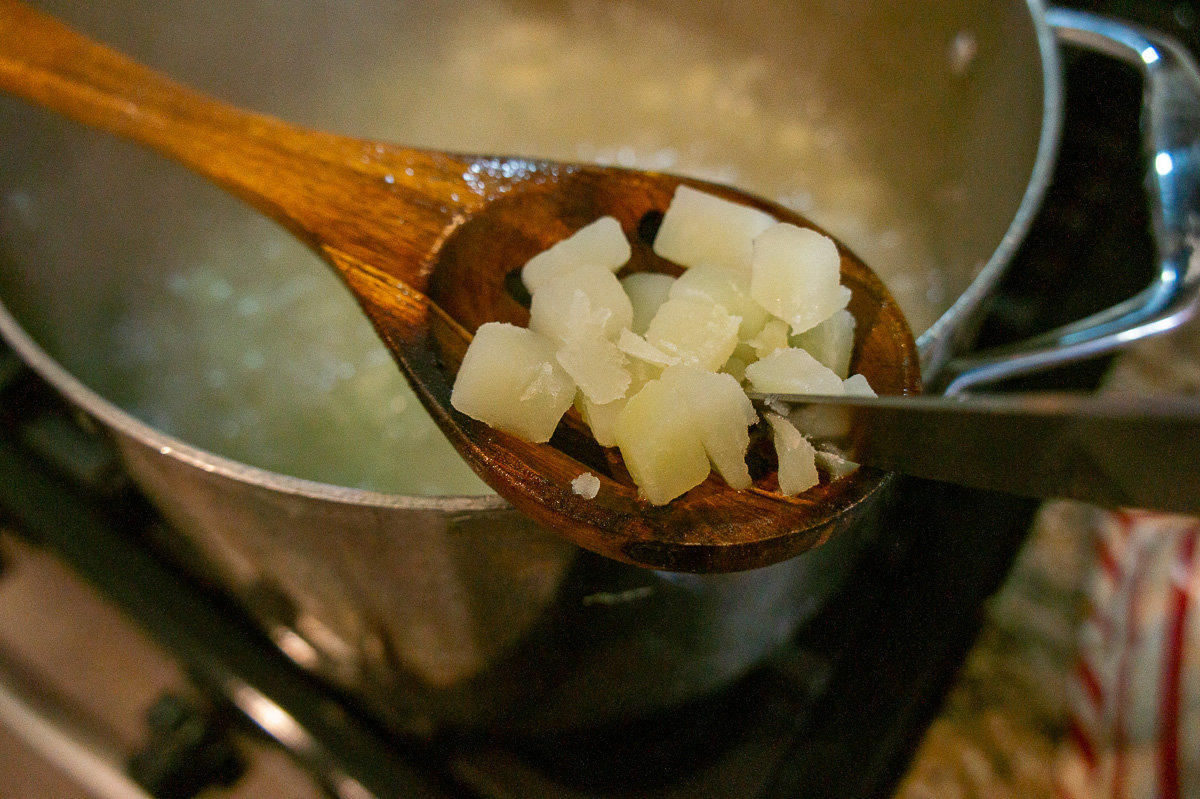 How to Serve – Toppings & Main Dish Pairings
Now with a pot of fragrant, buttery, and rich garlic thyme mashed potatoes planned for dinner the question becomes what to serve it with! There are so many yummy ways to top it and lots of fantastic mains to serve it alongside of.
Topping Suggestions
Butter (my fave!), especially roasted garlic compound butter, I like to add an extra sprinkle of black pepper too.
Gravy – there's nothing wrong with tradition, and you can bet this recipe goes great with that Thanksgiving gravy, or really any kind!
Demi Glace – If you like steak and potatoes, try serving it up with a concentrated flavor bomb sauce like demi-glace.
Cheese – I'd recommend a sharp white cheddar, gruyere, or fontina which can complement the garlic and thyme flavors.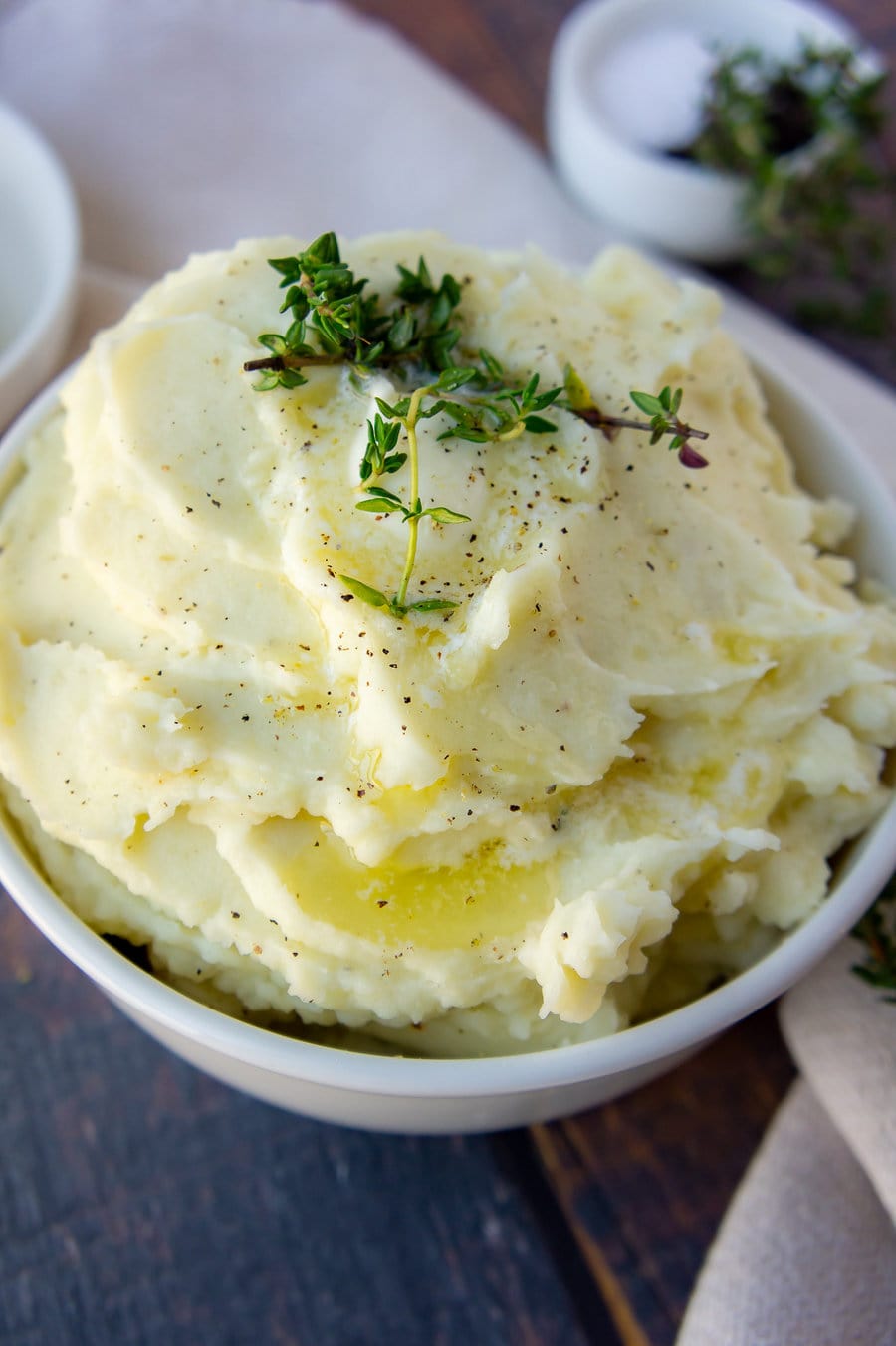 Other Sides to Enjoy
Garlic Thyme Mashed Potatoes
A fluffy, flavorful mashed potato recipe that uses a simple garlic and thyme infused cream to add aromatic, herbaceous notes and buttery richness to a simple to prepare side dish.
Ingredients
3

large

russet potatoes*

1/2

cup

heavy cream

5

tablespoons

unsalted butter

5

sprigs

fresh thyme

4

cloves

garlic

1

teaspoon

Dijon mustard

salt & pepper
Instructions
Wash and peel potatoes then dice into a medium dice. Peel and then smash the garlic cloves with your knife.

Add them to a large pot and cover with water by 1-2 inches. Add in 2 teaspoons of salt to infuse the potatoes with flavor as they boil.

Bring water to a boil over high heat and cook until potatoes are very tender. 8-15 minutes.

Meanwhile, combine the heavy cream, butter, thyme sprigs, Dijon, 1/4 teaspoon of salt, and smashed garlic in a small saucepan.

Heat cream over low heat. The goal is not to boil but very gently heat so the butter melts and the flavors infuse. Stir occasionally to incorporate the butter and mustard as it heats.

When the potatoes are tender, drain off the water and return them to their original pot.

Mash them with a potato masher, ricer, low-speed immersion blender, or a sturdy fork. Just break them down, don't worry about getting them super smooth yet.

Remove the thyme and garlic from the cream then add it in, or pour the cream through a fine mesh sieve over the potatoes.

Continue mashing or mixing until the potatoes are smooth and creamy. Taste and add black pepper and salt as needed.
Notes
*Average about 1/2 pound of potatoes per person. The potatoes I used were just over 2lbs total between 3.
Nutrition
Calories:
452
kcal
Carbohydrates:
52
g
Protein:
7
g
Fat:
25
g
Saturated Fat:
16
g
Polyunsaturated Fat:
1
g
Monounsaturated Fat:
6
g
Trans Fat:
1
g
Cholesterol:
71
mg
Sodium:
38
mg
Potassium:
1208
mg
Fiber:
4
g
Sugar:
3
g
Vitamin A:
938
IU
Vitamin C:
19
mg
Calcium:
71
mg
Iron:
3
mg
Nutrition information and cooking times are provided as a best estimate. Values may vary based upon ingredients and equipment.