White Cheddar Mac and Cheese
This page contains affiliate links. For more information please read my Disclosure Policy.
Homemade creamy white cheddar mac and cheese with bacon is simple, satisfying comfort food at its finest. A blend of two cheeses, crisp bacon, and the tang and subtle spice of pickled jalapenos create a bowl of cheesy gourmet mac and cheese.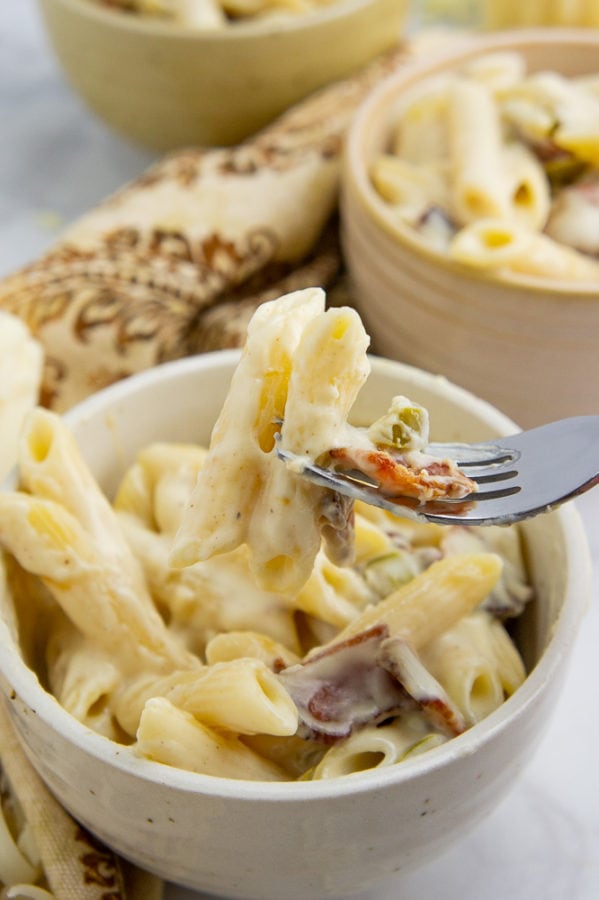 Let's talk ooey, gooey, cheesy goodness. I love a good bowl of mac and cheese, and despite my 2 year old's love for neon colored box stuff, that's not what I'm talking about (don't worry he's in training). If you caught my post How to Make Roux: A Complete Guide, you know I've got a thing for sauces, especially the cheese kind. You can imagine then that cheesy pasta makes a regular appearance on our dinner menu.
While they're often a mix of cheeses that happen to be in my fridge, every once in a while I purchase cheese specifically for mac and cheese so I can make delicious recipes like this one. I call this gourmet mac and cheese for three important reasons: it's got the salty, crunchy pork, spicy pops of pickled jalapeno, and a luscious white cheddar sauce. It's the mac and cheese dreams are made of.
the Ingredients
If there is one thing I've learned through my years of cooking it's that its all about balance. A successful dish in my opinion, is one that hits more than one part of your palate. The ingredients I chose for this do all that, tangy, salty, spicy…but they also create texture, which is one thing I often find lacking in mac and cheese!
Pasta – okay this is a given, but quickly, note that that 'mac' of mac and cheese refers to the macaroni noodle…and I've gone and used penne! This is a choice, and you can do the same. I prefer a thicker, sturdier pasta like penne, fusilli, rotini, or casarecce.
White Cheddar cheese – I LOVE a good white cheddar, it's all the intensity and flavor the cheese sauce needs.
Fontina (Fontal) Cheese – Previously I've used jack cheese to bulk up the sauce and lend to creaminess. I've found an even better cheese. Fontina or fontal cheeses are ideal for melting, but subtle in flavor so the white cheddar still stands out.
Bacon – As with all my bacon recipes (bacon jam, cheesy bacon rice, bacon jam burgers, green beans with bacon..the list goes on) I always recommend thick cut quality bacon for best flavor.
Half and half – technically you can use any milk, but I find that half and half really gets that creaminess we're after, thank you fat!
Pickled Jalapenos – These are a thing that I always (and recommend you do) have in my fridge. They provide a bit of kick in recipes when I need them, but they also have a tang that tames the spice. Here they deliver the much need spice and tang to an otherwise rich dish.
Flour – Because we're using a classic roux to build this cheese sauce, you'll need a bit of all purpose flour.
Salt & Pepper – The bacon and cheese do a pretty good job of providing the salt, but as always keep these on hand to adjust final taste.
Jalapeno Bacon Mac & Cheese : The Making of Ooey goodness
This recipe is a 2 pan gig, one for boiling up your pasta, and one for building up your sauce. Overall it's a fairly easy recipe. I usually can get it done in about 30 minutes, and it serves 4 as the main entree of the meal.
Tips for Making the Best White Cheddar Mac & cheese
Whenever you're working with a roux, it's best to have you're ingredients prepped and nearby for efficient cooking. This means shredding cheese, chopping bacon and jalapenos, and having all your tools close at hand.
Heavily salt your pasta water. It should be salty to the taste, like the ocean, before you add your pasta to it.
Scoop the pasta into your cheese sauce with a spider strainer, which allows for just a touch of pasta water to transfer as well, leading to a creamy sauce that sticks well. Or reserve a tablespoon or so when you drain your pasta.
If you have particularly greasy bacon, drain all but 1 1/2 tablespoons from the pan. (Save your bacon grease in these jars for use later!)
Let the pan cool down before adding your flour! Bacon cooks at a high temp, a roux at low, allow the bacon grease and pan to cool for a few minutes off heat to prevent burning. Mix in your flour and whisk before returning it to a low heat.
Allow your roux to fully cook for 2 to 3 minutes, under cooking can lead to a grainy sauce.
Pour the half and half into the roux in thirds, whisking until smooth between every addition. Let it come to a boil and thicken before adding jalapenos.
Add your cheese in small handfuls off heat, this prevents the sauce from curdling, burning, or getting grainy.
If your bacon fat has burned before you get to the point of adding flour, wipe the pan clean and use butter or oil instead.
Add your bacon last and fold it into the pasta.
The final step is tasting the sauce and pasta, and adding a dash of black pepper, and salt if needed.
FAQ'S
My half and half got lumpy when I added it to my roux!
Don't chuck it! Pour it through a fine mesh strainer and return the smooth sauce to the pan. You may need to add a splash of half and half or extra pasta water to the cheese sauce if it's too thick later.
Can I leave the bacon out and make this vegetarian?
You bet! Replace the bacon fat with butter or oil in the roux and be sure to taste and add salt to the cheese sauce.
Can I freeze this?
Yes, I usually find that the sauce is less well…saucy after but it tastes just as good!
How long does this keep?
I usually say 5 days is the limit for pastas!
Enjoy your Gourmet Mac
Whether you're new to the homemade mac & cheese world, or an old pro, I really recommend this recipe as one to try. It's easy, it's got tons of flavor, and it reheats remarkably well. So go on, make a big pot of it! I've had my fair share of different macaroni and cheese and I think this bacon white cheddar version could stand up to any on a fancy mac & cheese food truck. I hope you enjoy, and until next time, Happy Eating!
If you liked this recipe, you may also enjoy…
I'd love to hear what you think, feel free to tag me on Instagram @theflourhandprint so I can see how it went! Until next time, Happy Eating!
Jalapeno Bacon Mac & Cheese
Print Recipe
Creamy gourmet white cheddar mac and cheese is loaded with bacon, pickled jalapenos, and two creamy cheeses.
Ingredients
6

slices

thick cut bacon

diced

8

Cups

water

2

Tbs

flour

3

cups

pasta

⅓

cup

pickled jalapenos

minced

16

oz

half and half

2 cups

6

oz

white cheddar

shredded

4

oz

Fontina cheese

shredded

Salt & Pepper to Taste

Reserve 1 Tbs pasta water
Instructions
First, shred your cheese (you're looking for about 3 cups total), dice jalapenos and bacon, and measure out half & half, pasta, and flour.

Heat deep saute pan over medium heat. You'll build your cheese sauce in this so make sure it's large enough. A large pot works well too.

When saute pan is hot, add diced bacon. Heat 8 cups of water in a second large pot over medium high heat.

Cook bacon until crisp and browned then remove from pan to paper towel. Drain all but around 1 1/2 tablespoons of bacon fat from pan. Give the bacon fat a chance to cool for a few moments off heat*.

Check your water, if boiling, add a palmful of salt to the water, and add pasta once salt has dissolved.

Return the bacon fat to medium low heat. Begin with 2 tablespoons of all purpose flour and add to remaining bacon fat. Whisk, adding more flour as needed until a blonde paste has formed. Cook for 2-3 three minutes, whisking frequently until smooth and creamy.

Add half and half in thirds, whisking between each addition until creamy. Add diced jalapenos.

Continuing to whisk, return the heat to medium, bringing the half & half to a boil. Simmer and whisk mixture until smooth and thickened.

Remove pan from heat and add in the cheese in handfuls, whisking each addition in before adding more.

Drain your pasta, reserving 1 tablespoon of pasta water, and add all to the cheese sauce. Fold to combine.

Add in the bacon and stir in. Taste, add pepper and salt as desired. Serve!
Notes
* Adding the flour to a too hot pan will cause the roux to burn
Nutrition
Calories:
715
kcal
|
Carbohydrates:
20
g
|
Protein:
31
g
|
Fat:
58
g
|
Saturated Fat:
30
g
|
Cholesterol:
155
mg
|
Sodium:
2071
mg
|
Potassium:
944
mg
|
Fiber:
3
g
|
Sugar:
9
g
|
Vitamin A:
2095
IU
|
Vitamin C:
15
mg
|
Calcium:
625
mg
|
Iron:
3
mg
Originally published 7/8/2018, updated 8/4/2020
Nutrition information and cooking times are provided as a best estimate. Values may vary based upon ingredients and equipment.