This page contains affiliate links. For more information please read my Disclosure Policy.
Make deliciously crispy, classic twice fried french fries at home with just oil, potatoes, and salt. Learn how to make homemade french fries with this simple double fried french fry process that ensures crispy outsides and soft fluffy interiors on every fry, wedges, classic, or shoestring alike!
I LOVE french fries. It's easily my biggest weakness when it comes to avoiding fast food, I just get that craving, and nothing does it until I get a golden deep fried french fry in my hand.
Frozen baked fries don't cut it. They have their place in the kitchen, but let's be real, when you want a perfect fry, you're craving crispy twice fried french fries. Good news, with just three ingredients and a bit of time, you can recreate this in your kitchen. Get your dutch ovens ready!
Tools for Making Twice Fried French Fries
Successful french fry-ery is dependent on being prepared and a little bit of patience. To get you started, here's some equipment I recommend having.
A large, heavy duty pot – I prefer my enameled cast iron dutch oven, but you can likewise use a heavy bottomed metal pan, a counter top deep fryer, or a regular cast iron dutch oven,
A Deep Fry thermometer – This is a tool that simplifies everything. It's an essential tool for any kitchen in my opinion, but especially when you're making homemade deep fried french fries.
A baking sheet fitted with a wire rack – You could technically work around this, but to keep fries crispier for longer, and to drain off excess oil and salt, I like this combo.
A spider spoon – I use this CONSTANTLY, not just for making french fries. Pasta, blanching vegetables, pretty much anything you need to scoop out of hot liquid, this is the tool.
Paper towels – because oil gets messy sometimes!
A large, heat resistant bowl – I use a lightweight metal bowl. You'll be tossing hot fries in this, so I recommend avoiding tupperware.
Ingredients
Like I said…just three. You could get crazy with some garlic sauteed with parsley and Parmesan for some fantastic homemade garlic fries…but let's keep it simple for now!
Potatoes – the obvious essential here. I go for high starch potatoes when making double-fried french fries, they'll lead to the fluffiest interiors. Russets are number one! (and cheapest).
Oil – Any high heat oil will do, so canola, vegetable, avocado, grape seed, or sunflower are all viable choices. I'd avoid peanut for flavor reasons, and honestly, go cheapest here!
Salt – Coarse kosher salt is my pick for pretty much all cooking, but you can use any salt you like here. Seasoned salt, Himalayan salt, a combo of salt and white sugar (yes, try it, Do it!)
Pro Tip: I recommend one medium to large potato per person!
How to Make Homemade French Fries
I'm not going to sugar coat it, to make a classic, restaurant style fry, there are some steps involved. Twice-fried means well…frying them twice. That doesn't mean complicated though. Once you've got it down, you'll be on your way to french fry heaven in no time!
Choosing your Cut
First things first, once you've scrubbed your potatoes, it's time to cut. I've provided times for the three cuts below, and here are some quick tips on cutting them.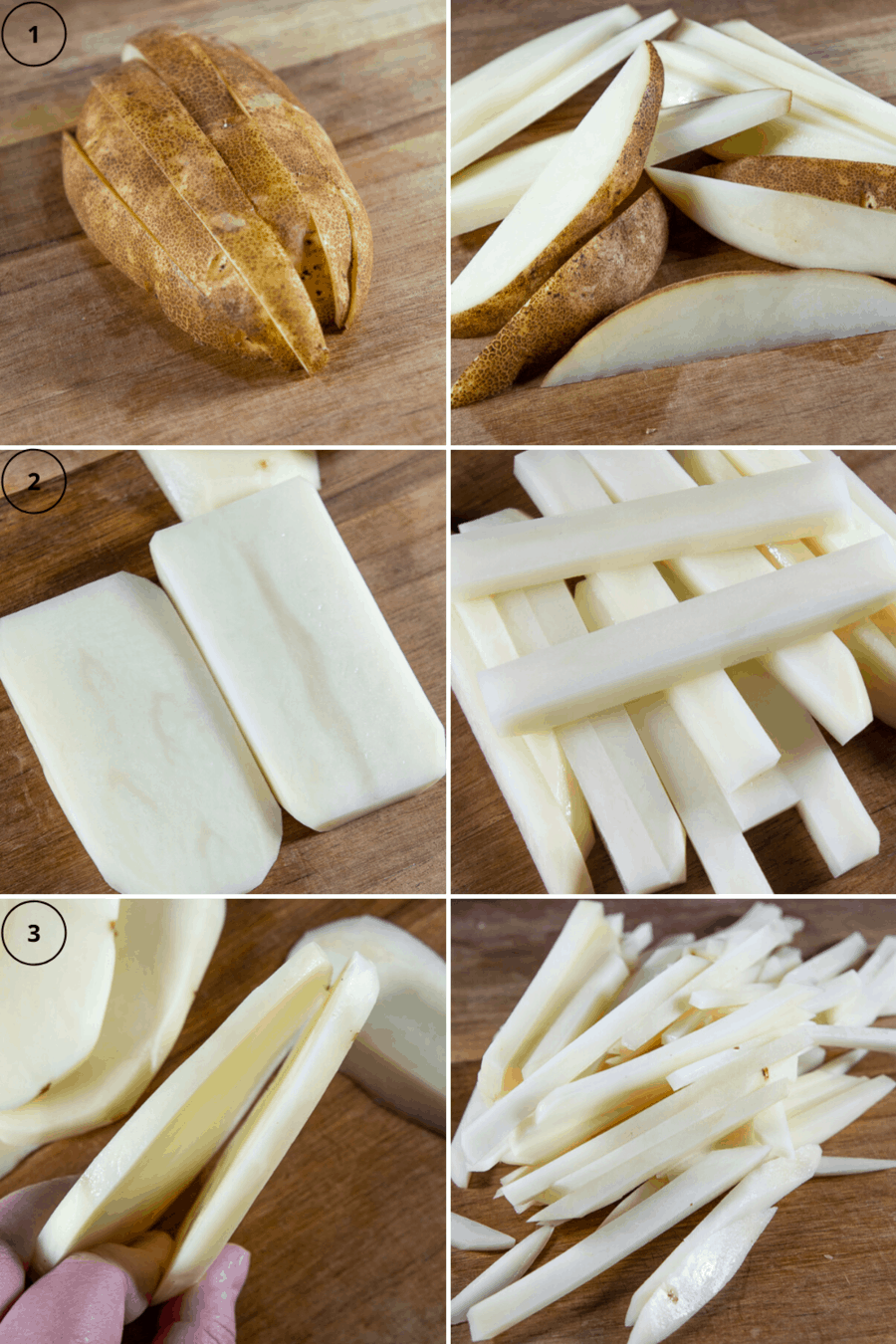 The Potato Wedge – To cut wedges simply slice your potatoes in half lengthwise, then place them cut side down on a cutting board. Make even inch wide cuts across the potato, angling your knife toward the center of the potato each time.
The Classic Fry Cut – For square, restaurant style fries, first square off your potato by slicing the rounded edges of all sides and both ends. You should have a rectangle that's more or less square. Then slice that into half inch segments, cutting lengthwise. Finally, cut each sheet of potato into half inch sticks again.
The Shoestring or Matchstick cut – For greatest yield volume wise this is a great cut. Simply square off the potato by cutting the rounded edges from all sides and ends. Then slice the rectangular potato you're left with into thin, 1/4 inch or less slices, lengthwise. Finally slice each layer into thin 1/4 inch or less sticks.
Pro Tip: To peel or not to peel? Totally a personal choice. I often find the hassle of peeling unnecessary, and leave it. This will not affect your process!
Let's Fry!
Once your potatoes are cut you can get your double-fried process under way. I've laid out the steps in the most efficient manner I have yet found.
As you cut your fries, or immediately after, submerge your cut potatoes into cool water. This will help get rid of some of the starch and they need to remain submerged for 30 minutes minimum, but can remain that way safely for up to 24 hours.
Prep your equipment. Get a sheet pan out and layer it with paper towels, have extra paper towels at the ready. Assemble your bowl, a wire rack, and get your dutch oven or frying vessel filled with oil and fitted with your thermometer on the stove.
Once your potatoes have soaked for at least 30 minutes, dump them out and give them a quick rinse under cool water. Then lay them out in a single layer on a towel to dry. While they're drying, begin heating your oil over medium high heat.

You can let them air dry, but I expedite things by blotting them dry with paper towels.

Once your oil has reached 325°F, and your fries are dry of excess water, pile your spider spoon high with cut potatoes and drop them in the oil. I work in batches, usually two large handfuls at a time.
Let your fries blanch in the oil for a few minutes. For shoestring fries blanch for 3 minutes, for classic sticks blanch for 5, and for wedges blanch for 7.
Remove your fries to the paper towel lined baking sheet to drain, and blanch your next batch as soon as your oil temp is back at 325°F. Repeat until all your fries are blanched.
Once your fries are cool enough to handle easily (I fan them because I'm impatient), you can do the second fry. Increase your oil temp to 375°F. While your oil is heating, turn your oven on to 200°F and transfer your fries to a plate or bowl. Then discard the paper towels and place your wire rack on the baking sheet in the oven.
Get a stack of paper towels ready next to your deep fry pot and the bowl beside that. When your oil is the proper temp, begin adding fries in batches once again. Fry for 3 to 5 minutes, or until golden brown.
Remove fries with strainer and blot on the paper towels, them dump hot fries into the bowl, sprinkle with salt, and toss gently. Immediately dump them from the bowl onto the wire rack baking sheet in the oven. Try to keep them in a single layer.
Repeat until all your fries are crispy!
Once your fries are done, remove the baking sheet from the oven and enjoy perfectly crispy and fluffy twice fried french fries!
Pro Tips:
If your oil is dropping in temp when you add your fries, you're overcrowding the pot. You can turn up the heat, and/or fry in smaller batches. Try to maintain the oil temp within 10 degrees of the ideal temp.
Make sure you've cleaned as much water from your fries before frying. Water in oil causes splattering and can be dangerous. Please remember to smother grease fires, DO NOT PUT OUT WITH WATER.
The oven maintains the crispiness of the fries while you fry subsequent batches. Leaving at room temp or in a pile will lead to soggy fries.
FAQ'S
Why do I need to fry them twice?
To put it simply, for crispiness. Frying once will leave you with a cooked, but rather limp fry. Nobody wants that! Frying once at low temp allows a 'skin' so to speak to form, which means the second fry results in a robust, crispy, golden fry. Read more about the science here.
My fries are soggy! What did I do? Can I fix it?
It is ESSENTIAL when frying anything to cook at the proper temp (hence the thermometer), if you're at the right temp, also be sure to place finished fries in the oven at a low temp to maintain texture and heat. Overcrowding hot fries can also lead to steaming, and make them soggy.

If your fries are soft, you can quickly re-fry them if your oil is to hot, then be sure to follow the proper procedures to keep them crispy. Enjoy them right away, they won't keep for long.
So I can't make extras for leftovers?
Short answer…not really. They're best enjoyed right away. However, if you fry more than you can eat, you can store them in the fridge for a day or two. When you're ready to eat them, heat two to three tablespoons of oil in a rimmed skillet or pot, them drop in fries and stir until crispy again.
Can I use different potatoes?
While there are ways to fry the low starch potatoes, like golden or red new potatoes, for the double-fried process I recommend high starch. If you can't find russets, Idaho potatoes are great too.
Can I do the first fry, then store them until I'm ready to finish frying them?
Yes. If you want to do the oil blanching step then store them, I would let them drain on a layer of paper towels, then replace them with new paper towels, layer the fries in an even single layer, and cover my baking sheet with plastic wrap. Store in the fridge up to 24 hours.
Eat and Enjoy!
Now you know the trick to perfect homemade deep fried french fries. Do the double fry! It's certainly a process, but the satisfaction of pulling golden brown fries right out of the fryer without ever getting out of your pj's, hey, it's fun once in a while! Enjoy your fries with your dipping sauce of choice, here are a few of my faves, and until next time, Happy Eating!
If you liked this post, you may also enjoy these side dishes…
Twice Fried French Fries
Crispy outsides and fluffy interiors are waiting at the end of this simple double-fried french fry process.
Equipment
Heavy Duty Pot or Dutch Oven

Baking sheet with wire rack

Deep Fry Thermometer

Spider Strainer Spoon

Paper Towels

Bowl
Ingredients
8

cups

canola oil*

4

large

russet potatoes

1

tsp

salt
Instructions
Scrub or peel your potatoes. Slice them as desired, wedges, sticks, or shoestring.

Submerge cut potatoes into cool water for at least 30 minutes up to 24 hours.*

Meanwhile assemble your tools. Place frying pot with oil and thermometer on the stove. Line your baking sheet with paper towels and have extra nearby. Get your spider strainer, salt, and a bowl ready.

When fries have soaked for minimum time, drain off water and rinse fries. Place them on paper towels to dry. Turn your stove onto medium high and begin heating oil to 325°F.

When oil has reached the proper temp, blot any remaining water from the fries. Discard wet paper towels and reline the baking sheet with fresh ones. Begin blanching your fries in the hot oil in batches. For 4 potatoes worth, do in two batches, etc.*

For shoestring fries, blanch for 3 minutes, for classic fry sticks blanch for 5 minutes, for potato wedges, blanch for 7.

Remove fries to paper towels in a single layer and repeat until all are blanched. Now heat oil to 375°F and turn oven on to 200°F. When fries are cool enough to handle comfortably remove to a plate or bowl and discard oily paper towels. Place wire rack on baking sheet and place in oven.

When oil is up to temp, begin the second fry. Have paper towels next to your pot for blotting. Drop in hot oil in batches, frying for 3 to 5 minutes or until golden brown and crispy.

Using your spider strainer scoop fries from the oil and blot on paper towels, then immediately place in bowl, sprinkle with a healthy pinch or two of salt and toss.

Place fried french fries onto baking sheet in oven in a single layer and repeat until all the blanched fries are cooked. Enjoy immediately.
Notes
*Any high heat oil will do. Canola, vegetable, Grapeseed, Avocado, or Sunflower
*Refrigerate potatoes if you'll be soaking them for longer than an hour or so.
*If your oil drops in temp rapidly after adding fries and struggles to recover, your batch is too big. Don't overcrowd the pot. Let the oil return to temp before another batch.
Nutrition information and cooking times are provided as a best estimate. Values may vary based upon ingredients and equipment.