Pork Tenderloin Spinach Salad
This page contains affiliate links. For more information please read my Disclosure Policy.
Make salad for dinner exciting with this easy pork tenderloin spinach salad. Simple spinach topped with fresh apples, candied pecans, juicy sliced pork tenderloin and drizzled with a maple mustard dressing makes a satisfying, delicious salad for dinner or lunch.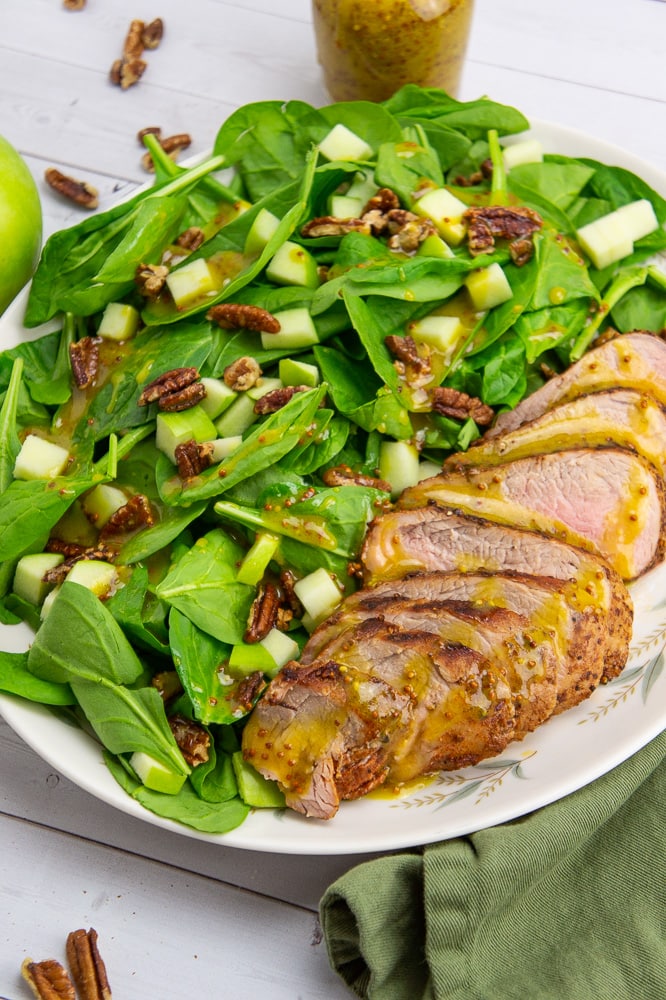 Salad is a struggle for me. I know I should eat it, I know they can taste good but for some reason when I contemplate dinner salads are low on the food chain as far as inspiration goes.
Then this salad happened. I officially love salad now. I might make this every week. Yes, it is that good.
PorK Tenderloin VS Pork Loin
One thing of great importance here, this is a pork tenderloin salad, not a pork loin salad. While I actively encourage experimentation and creativity with all recipes, mine or otherwise, the directions I provide work for a pork tenderloin.
Pork Tenderloin is a narrow, long cut of pork that averages between 1 to 2 lbs. It's extremely tender and works great at high heats/fast cooking. When cooked to the proper temperature, it's juicy and completely delicious.
Pork Loin is another beast entirely. Often large, wide roasts with fat caps, a pork loin needs to be cooked slowly at lower temperatures…so not so much a 30 minute salad cut we need here.
If you're staring in your fridge at a pork loin not a pork tenderloin and swearing under your breath, just check out my Pineapple Pork Loin instead, it's tasty!!
Ingredients
I find this salad to be incredibly simple. With just a handful of fresh ingredients and a few carefully chosen staples from your pantry, this salad comes together quickly and easily.
Pork Tenderloin – I used a 1 1/4 lb pork tenderloin here.
Spinach – You can use baby or regular spinach, you'll need about 7 cups (not packed).
Pecans – Unsalted, plain pecans
Apple – I generally use granny smith or pink lady because I prefer a tart apple, feel free to use your apple of choice, thought I recommend something with a good crunch.
Maple Mustard Vinaigrette – this is my favorite dressing at the moment, but feel free to use your preferred dressing if you don't want to make your own. You'll need maple syrup, apple cider vinegar, whole grain mustard, yellow mustard, and olive oil to make this. Find out how here.
Oil – Just a tablespoon or so for your pan.
Powdered sugar – This transforms pecans into salty/sweet candied pecans!
Ginger – This also goes on the pecans.
Paprika – You'll lovingly rub this on the pork tenderloin!
Salt and Pepper – Essential in almost every recipe, this one included.
Every flavor I chose here is designed to compliment. The tangy Maple Mustard Dressing pairs so well with the ginger in the pecans and the paprika on the pork tenderloin. Crisp and tart apple is a refreshing crunch and freshness beside the roasted candied pecans and flavorful dressing. Designing a salad this way ensures that every bite is a satisfying one.
How to Make Pork Tenderloin Spinach Salad
Since we're roasting a pork tenderloin, there's some cooking involved with this salad. It's very simple and easy, and since pork tenderloin cooks beautifully when done fast and hot, this is a perfect 30 minute meal!
First, combine your paprika, 3/4 tsp salt, and pepper in a bowl and give it a quick stir to create a rub. Get your pork tenderloin out and pat it gently dry with a paper towel and then apply the rub generously and thoroughly.
Preheat your oven to 350°F and place a large, oven safe, skillet over medium high heat. Meanwhile, combine the powdered sugar, remaining salt, powdered ginger and water in a small bowl and stir to make a syrup. Pour over the pecans and toss to combine them so they're all well coated.
When your pan is hot, pour in a tablespoon or so of oil. Place your rubbed pork tenderloin in and allow to sear on each side, roughly 2 to 3 minutes per side (about 8 minutes total).
When your pork is finished searing, remove the pan from the heat and slide the pork tenderloin to the side of the pan. Pour in the coated pecans and spread to create an even layer. Place everything on the middle rack of your oven.
While that cooks for the next 15 minutes, wash and dry your spinach, make your vinaigrette (it's as easy as combining the ingredients in a jar and shaking), and chop your apple.
Remove the pan from the oven and set the pork tenderloin aside to rest for 5 minutes or so. Transfer the pecans from the hot pan to a wide plate to cool in an even layer. This allows the sugar to harden and get crunchy.
Arrange your salad! Serve it family style on a large platter, or split the salad into 4 portions. Serve with a generous pour of dressing, and some garlic bread rolls!
Pro Tip: Cooking the pork properly is an important component to this salad. Pork should be cooked to the food safe temperature between 145°F and 160°F (medium rare to medium, we prefer about 150 for tenderloin followed by a resting period).
To ensure this happens in the 15 minute oven time, let your pork come closer to room temperature by pulling it out of the fridge 20 minutes or so before you cook, and by properly searing it. Sear over medium high heat in a hot pan.
FAQ'S
Can I use a different cut of pork?
While I prefer the tenderness of pork tenderloin, a boneless pork chop would substitute just fine.
I can't/don't want to make the maple mustard dressing, what can I replace it with?
I recommend any tangy, and slightly sweet dressing. Mustard and maple are both flavors that pair well with pork, so try to pick a dressing that compliments the pork similarly.
Can I use a different green?
Sure, arugula, mustard greens, a mix of baby greens, really any tender leafy green will do.
Can I use pre-candied pecans?
Yes. If you prefer to use pecans that are already candied, please do. The pecans I candy for this recipe are salty and sweet so anything similar (or even a little spicy) will do great.
Eat & Enjoy!
There you have it! A simple 30 minute dinner salad that has a tender cut of pork, a tangy, powerhouse dressing, and the perfect compliment of crisp apples, candied pecans, and fresh leafy greens. Serve with some bread and I think you'll find this to be a very satisfying meal. Enjoy, and until next time, Happy Eating!
You may also enjoy these salad recipes…
Pork Tenderloin Spinach Salad
Print Recipe
A satisfying, but quick dinner salad with fresh spinach, crisp apples, candied pecans, and a juicy pork tenderloin, all drizzled with a mustard maple dressing.
Ingredients
1 – 1.5

lb

pork tenderloin

7

cups

spinach

not packed

1

large

apple

3/4

cup

pecans, unsalted

1

cup

maple mustard vinaigrette*

1 1/4

teaspoon

salt

divided

3/4

teaspoon

pepper

3/4

teaspoon

paprika

1/4

teaspoon

ground ginger

3

tablespoons

powdered sugar

1.5

teaspoon

water

1

tablespoons

oil
Instructions
Preheat your oven to 350°F and place a large, oven safe skillet over medium high heat to get hot.

Combine 3/4 tsp of salt, pepper and paprika in a bowl and stir to mix.

Pat your pork tenderloin dry and apply the seasoning mixture, rubbing it in generously. Once pan is hot, add the oil, swirl the pan to coat it, and place in your pork tenderloin. Allow to sear on all sides, about 8 minutes total.

Meanwhile, combine your ginger, powdered sugar, remaining 1/2 tsp of salt, and water in a small bowl to form a syrup. Add in the pecans and toss to coat completely.

When pork is seared, remove from heat and move the tenderloin to the side of the pan. Pour in the coated pecans on the other side, pressing into an even layer. Place in preheated oven for 15 minutes.

Wash your spinach, make your dressing (please see recipe notes at bottom), and dice your apple into small cubes.

When pork and pecans are finished, remove from oven. Pork should be between 145°F and 160°F. Place on a plate or cutting board to rest for 5 minutes.

Transfer the pecans to a plate in a single layer to cool and harden.

Arrange spinach on a platter or 4 dinner plates. Top with apples and the candied pecans when they're cool.

Slice your pork tenderloin and arrange on salad. Drizzle with a generous serving of dressing and enjoy.
Nutrition
Calories:
824
kcal
|
Carbohydrates:
14
g
|
Protein:
62
g
|
Fat:
59
g
|
Saturated Fat:
11
g
|
Cholesterol:
184
mg
|
Sodium:
917
mg
|
Potassium:
1553
mg
|
Fiber:
5
g
|
Sugar:
8
g
|
Vitamin A:
5165
IU
|
Vitamin C:
17
mg
|
Calcium:
85
mg
|
Iron:
5
mg
Nutrition information and cooking times are provided as a best estimate. Values may vary based upon ingredients and equipment.