This page contains affiliate links. For more information please read my Disclosure Policy.
Decadent and silky, this easy frozen peanut butter pie is a no bake dessert recipe that utilizes only 8 ingredients to make the crust, filling, and toppings. Treat your loved ones to a gourmet treat that's surprisingly simple to make.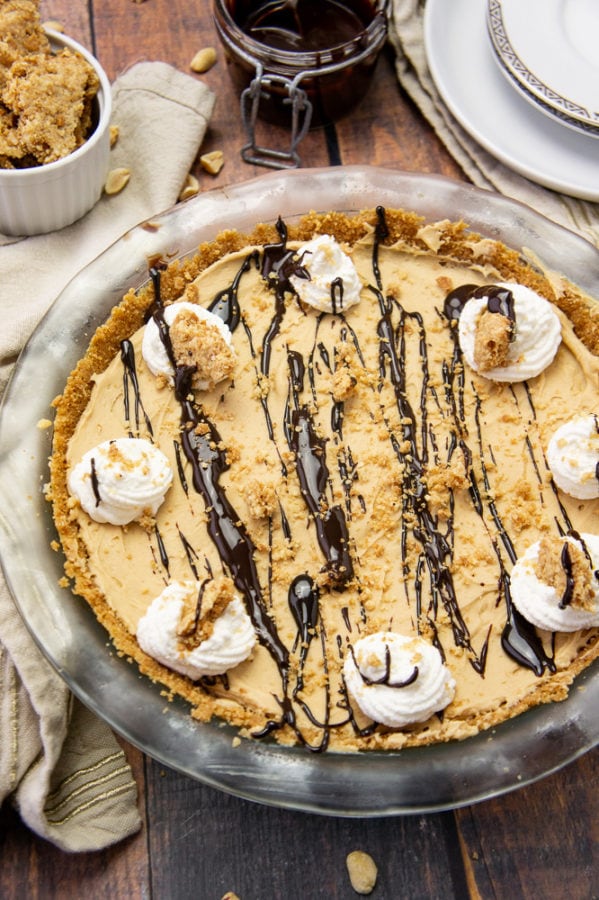 Peanut butter is one of those incredibly unique ingredients that can be made savory or sweet. I love it equally in both ways, but there's something special about pairing it with cream and sugar in a decadent dessert. Maybe it's a childhood love of Reese's peanut butter cups, we just love peanut butter desserts!
It also makes the perfect easy, no-bake pie. Since peanut butter is delicious, and acceptable to eat right off the spoon, there's really no need to bake it! A simple combination of whipped cream, butter, and sugar make the creamy filling that sits in a classic no-bake graham cracker crust.
Ingredients
The best part about this pie? From crust to toppings, you're using the same 8 ingredients in different ways, which means less steps and a smaller shopping list. Making a gourmet pie has never been easier!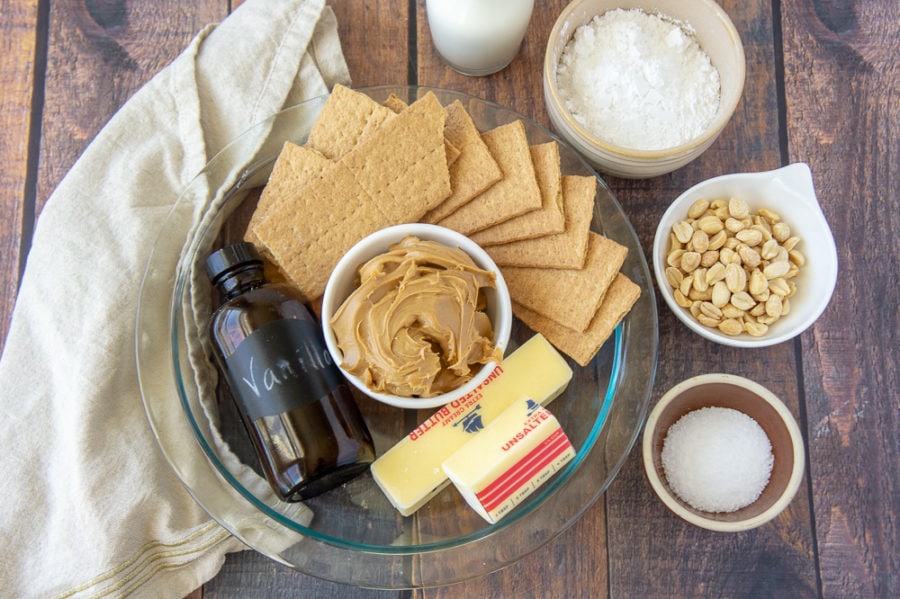 Graham Crackers – I use classic honey graham crackers here, you can of course use cinnamon or even chocolate for a fun spin!
Powdered Sugar – This is the sugar you need for this recipe.
Melted Butter – Go for a flavorful, unsalted butter (I prefer european butter).
Peanut Butter – yup you can even use your homemade peanut butter!
Heavy Cream – Heavy cream whipping is key, no substitutions for a lighter cream will work.
Salt – Salt enhances flavor, even in sweets.
Vanilla Extract – You can learn to make your own vanilla here!
Peanuts – I use these for the topping, but they're entirely optional!
PRO TIP: Smooth peanut butter is the way to go here! Crunchy peanut butter simply won't blend into the silky, creamy filling you want.
Let's Make Pie
I'm in love with this easy peanut butter pie. While there are several steps, none are complicated, and some are even optional if you want to make it even easier! The key to getting your pie chilling in the fridge in under an hour? Start by organizing your ingredients and follow the steps in order, you'll be surprised how easily it all comes together!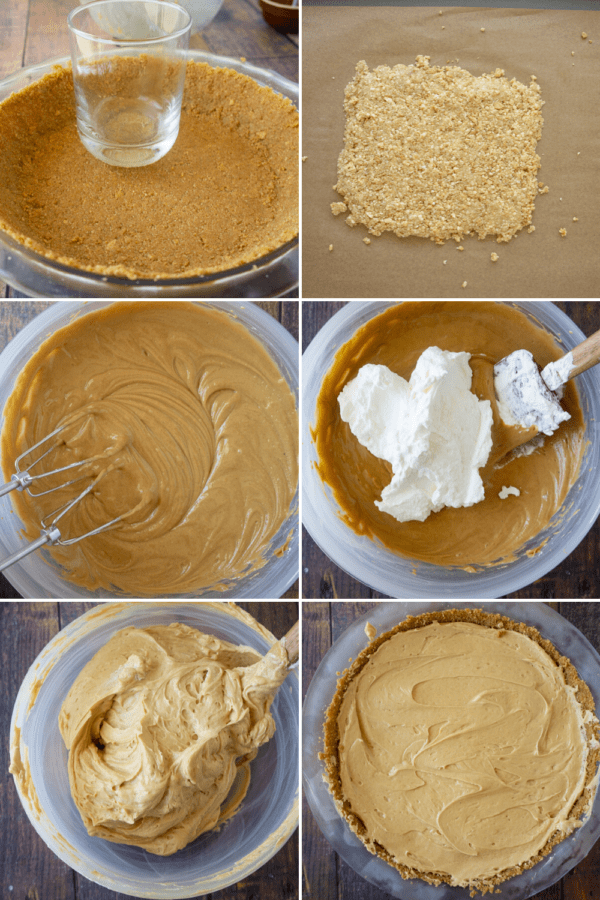 Tips for making Easy Peanut Butter Pie
Gather your ingredients on the counter with all your tools before you begin. Organization makes this fast and easy!
Chill your mixer bowl, or any large bowl, to make whipping the heavy cream easy and fast.
If making peanut crumbles for the top, preheat your oven to 350°F, so it's ready to go when you are.
A food processor makes the graham cracker crust and the peanut butter crumbles simple to make, but you can also use a plastic bag and a wooden spoon or rolling pin to crush and mix them.
Have space in your freezer for chilling the crust while you make your filling, it'll be ready to fill when you are!
Pop the finished pie in the freezer to reduce the wait time needed before you eat it! Or store in the fridge if you have a few hours to wait before enjoying.
If using salted peanuts for the peanut crumbles, don't add extra salt to the mixture.
Pro Tip: Want to eliminate a few steps? Making the peanut crumbles for the top are entirely optional! You can top with just whipped cream, just chocolate sauce, or even just chopped peanuts. You can also substitute full-fat cool whip in place of the whipped cream if you'd rather not make it yourself.
The first time we took a bite of this pie both my husband and I were totally in love. So creamy and rich, and it looked gorgeous! We loved topping it with the peanut crumbles, since it was hardly any extra effort while making the crust. We also highly recommend topping it with the extra whipped cream (you already made it!) and a delicious drizzle of fudge sauce or caramel.
It's great for any night of the week when you want a sweet treat, but it's also a showstopper dessert when you want to impress guests. It's such a decadent dessert that you can easily serve 10 with just one pie. Plus it keeps safely in the fridge for 3 days, or up to two weeks in the freezer!
FAQ'S
Can I use prepared whipped topping instead of making whipped cream?
Absolutely. Nothing compares to the delicious fluffiness of homemade whipped cream, but you can substitute a full fat cool whip in its place if you'd like too. You'll need ½ cup for the topping, and 2 ½ cups for the filling.
Can I use a pre-made graham cracker crust?
Sure, that will work just fine.
Can I use a box of graham cracker crumbs instead of whole sheets?
Yes, you'll need two cups, about 1 ⅔ cups for the crust and a ⅓ cup for the peanut crisps
Can I use a different size pie plate?
I used a 9 inch pie plate for this, you can use a smaller one and will simply have a thicker crust. Going larger may mean you don't have enough crumbs to make a solid crust so I don't recommend it.
Do I need to sift the powdered sugar?
Nope! Any lumps will get worked out as you use it.
Is it best to keep this in the freezer or fridge?
That depends! If you want to pull it out and immediately cut and enjoy a slice, the fridge will keep it at a temperature that allows for that. If you want it to last longer and don't mind waiting 5 to 10 minutes, keep it in the freezer. You'll need to slice with a sharp knife, and let it sit for a few minutes so that it's creamy and delicious.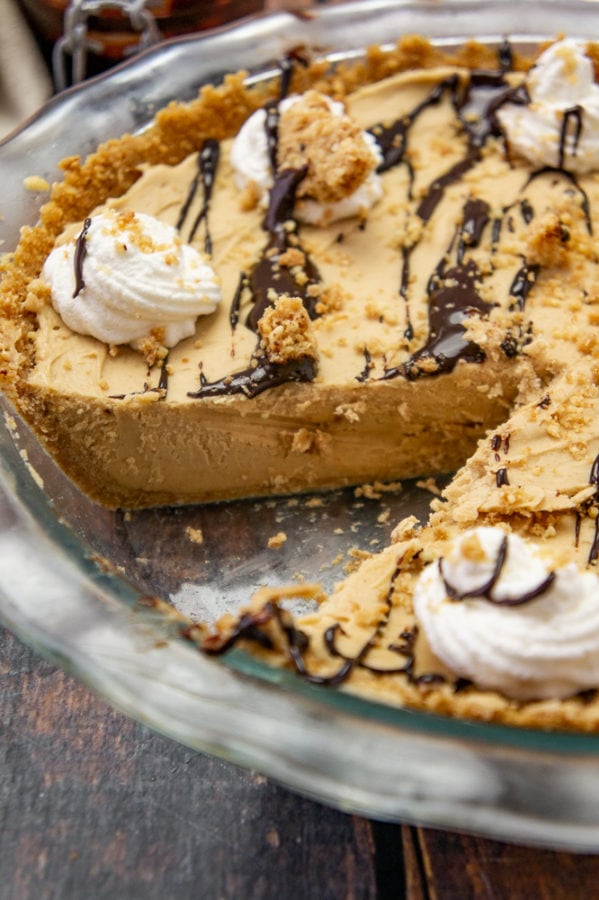 Eat & Enjoy
If you're feeling indulgent, this frozen peanut pie should definitely go on your 'make this soon' list. It's one of those decadent treats you only need a small slice of to feel satisfied, but you'll be tempted to eat more!
I'd love to hear what you think, feel free to tag me on Instagram @theflourhandprint so I can see how it went! Until next time, Happy Eating!
If you liked this recipe you may also enjoy these no-bake desserts…
Frozen Peanut Butter Pie
A creamy rich 8 ingredient no-bake peanut butter pie with a homemade graham cracker crust and topped with easy peanut cookie crumbles.
Ingredients
12

sheets

graham crackers

2 cups of crumbs

1

cup + 2 tablespoons

powdered sugar

divided

3/4

cups + 2 tablespoons

butter

divided

1 1/2

cups

smooth peanut butter

1 1/2

cups

heavy whipping cream

1

teaspoon

vanilla extract

1/4

cup

peanuts

pinch

salt
Instructions
Start by placing the bowl of your stand mixer, or any large bowl in the freezer.

If making the peanut crumbles for the topping preheat your oven to 350°F.

Melt your butter, it's easier to keep it separate so melt 1/2 cup, then 2 tablespoons, then finally 1/4 cup of butter in separate bowls.

Place 10 graham crackers in the bowl of your food processor (or a large zip top plastic bag) with 1/4 powdered sugar and a pinch of salt. Pulse until it resembles crumbs then remove to a separate bowl.

Add the 1/2 cup of melted butter to the crumbs and stir until they resemble wet sand.

Pour into a 9 inch pie plate and spread evenly across the bottom and sides, using your fingers to press firmly into the plate. Using a rounded glass, press firmly down until it resembles a smooth even crust. Be sure to go around the sides with your fingers to firmly pack it in. Place the crust in the freezer to chill.

Place the remaining 2 sheets of graham crackers in your food processor with 1/4 cup of peanuts and 2 tablespoons of powdered sugar. Pulse until it resembles coarse crumbs.

Pour into a separate bowl and combine with the 2 tablespoons of melted butter until completely moistened. Pour onto a parchment lined baking sheet and press into a square about 1/2 inch thick.

Bake for 8 minutes in your preheated oven.

Meanwhile combine your peanut butter, remaining melted butter, a pinch of salt, and 1/4 cup of powdered sugar in a bowl and beat until it forms a smooth batter.

Remove the bowl from the freezer and to it add cold whipping cream, remaining powdered sugar, and vanilla extract. Beat on medium speed until a light fluffy whipped cream forms.

Remove 1/2 cup of whipped cream for topping later and store covered in the fridge.

Add half the remaining whipped cream to peanut butter batter and fold gently to combine. Repeat with remaining whipped cream until a smooth, fluffy peanut butter filling forms.

Bring your pie crust out of the freezer and spoon in the peanut butter filling. Smooth until even on top. Return to freezer for at least 1 hour or the fridge for at least 4.

Break your baked peanut crumble into shards when cool, set aside for later.

When you're ready to serve, decorate the top of the pie with the 1/2 cup of whipped cream, the peanut crumbles and if an option a drizzle of chocolate or caramel sauce!

Slice and serve, cover the leftovers and store in the fridge for up to 3 days or the freezer for 2 weeks.
Notes
Steps 7, 8, 9, and 15 are optional if you choose to make the peanut crumbles for the top.
Nutrition
Serving:
1
slice
Calories:
696
kcal
Carbohydrates:
49
g
Protein:
13
g
Fat:
53
g
Saturated Fat:
23
g
Cholesterol:
93
mg
Sodium:
451
mg
Potassium:
340
mg
Fiber:
3
g
Sugar:
34
g
Vitamin A:
1042
IU
Vitamin C:
1
mg
Calcium:
62
mg
Iron:
2
mg
Nutrition information and cooking times are provided as a best estimate. Values may vary based upon ingredients and equipment.