Creamy Lemon Broccoli Pasta
This page contains affiliate links. For more information please read my Disclosure Policy.
This easy creamy lemon broccoli pasta is a quick one pot meal that will easily satisfy the whole family. An easy cream sauce, fresh broccoli, and tender pasta come together in just 30 minutes and is topped with a lemony, buttery breadcrumb for a perfect crunch.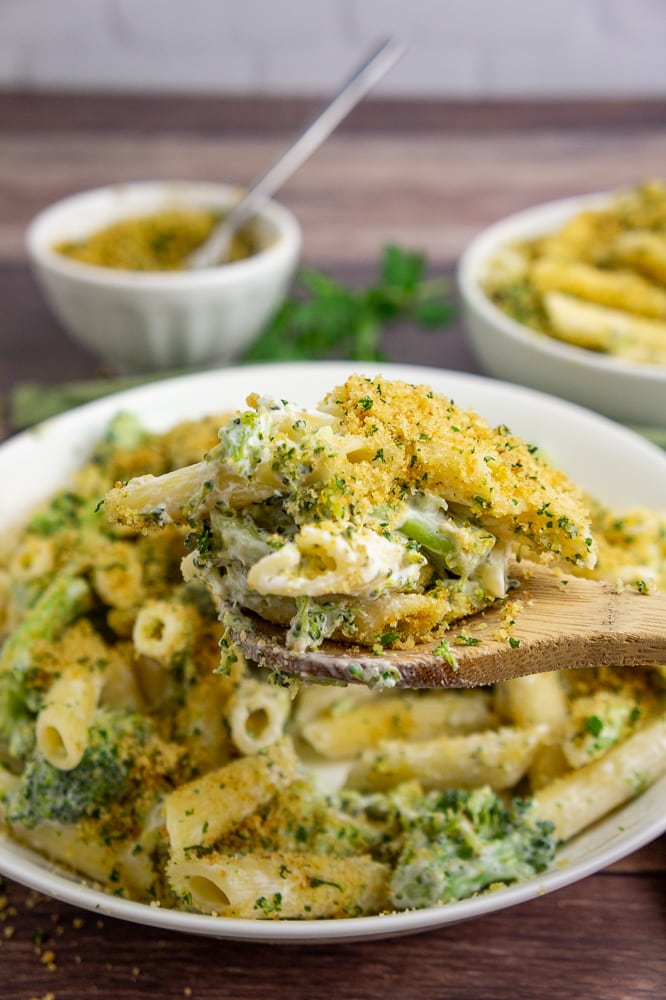 With everything going on in the world right now, and grocery market trips now being a luxury for essentials rather than a quick dash for a missing ingredients, I find myself filling our meal plan with simpler meals that stretch far.
That, however, does not mean skimping on flavor! Our 'meatless mondays' are now more like meatless monday, wednesday, and fridays, and this dish has made several appearances lately. With just a few ingredients, and plenty of options for substitutions, I hope this will make your family dinner table a delicious one too.
The secret to Creamy Pasta
Fun fact, there are a lot of ways to make a cream sauce for pasta. Perhaps the most classic is to make a roux, a mixture of flour and butter cooked together then whisked with milk for a thickened sauce. You can also use a high fat dairy like the heavy cream in my Asiago cream sauce.
This particular recipe uses a different high fat dairy, a full fat cream cheese combined with just enough milk to loosen it up into sauce. Why high fat? The higher the fat, the less likely your cream sauce is to break (curdle).
Ingredients
This really takes just a handful of simple ingredients to make, and I've also provided several suggestions for substitutions if you don't have what you need on hand!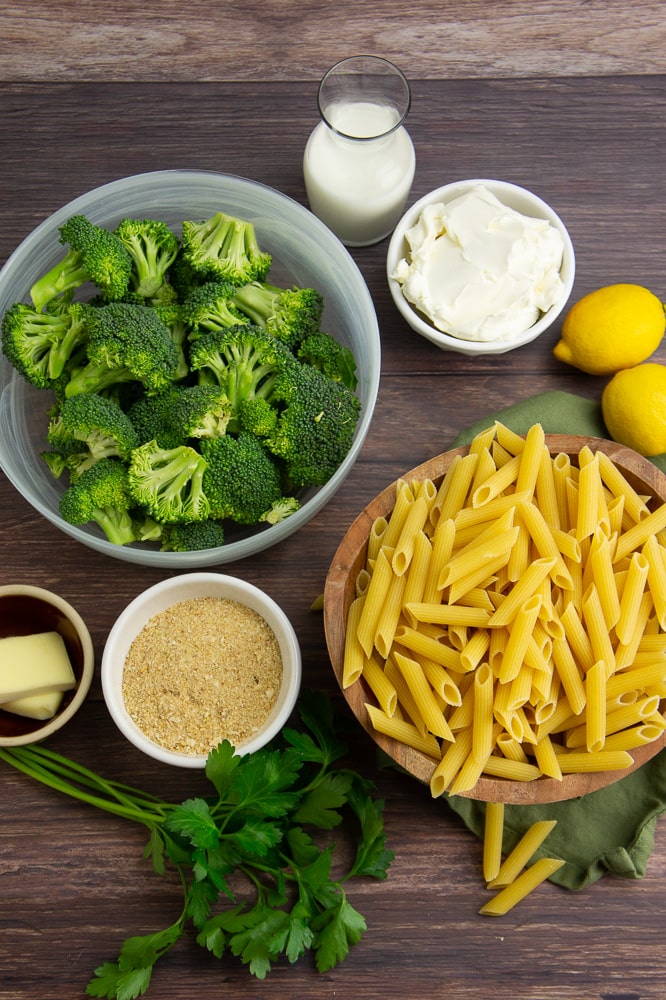 Pasta – I like a hearty noodle for this, like penne, but feel free to use anything you have on hand, I've also used fettuccine!
Broccoli – I use fresh broccoli in this recipe but you can also use any other hardy green veg like chopped asparagus.
Cream Cheese – not only does this provide the foundation for the sauce, but it adds a sweetness and a mild tang that's simply delicious.
Milk – A little extra dairy helps loosen up the cheese without watering down the flavor too much.
Lemons – you can't very well have a lemon pasta without it! I find that one large or two small lemons do the trick. Use bottled lemon if that's all you have, and simply skip the zest.
Breadcrumbs – what makes this dish special is the buttery breadcrumb topping, I use a plain, unseasoned homemade breadcrumb. You can use whatever breadcrumbs you have, so long as they're not seasoned.
Butter – Can't have buttery breadcrumbs without the butter! No butter? Sub olive oil.
Parsley – This is one of those things I always have on hand but if you don't feel free to leave it out.
Pro Tip: Sub frozen broccoli for fresh anytime! To prevent mushy broccoli, I suggest roasting your frozen broccoli and adding it to the final dish instead of blanching it in the pasta water.
How to Make Creamy Lemon Broccoli Pasta
This easy meal comes together all in one pot through a series of simple steps. Follow my tips and this can easily be on your table in 30 minutes.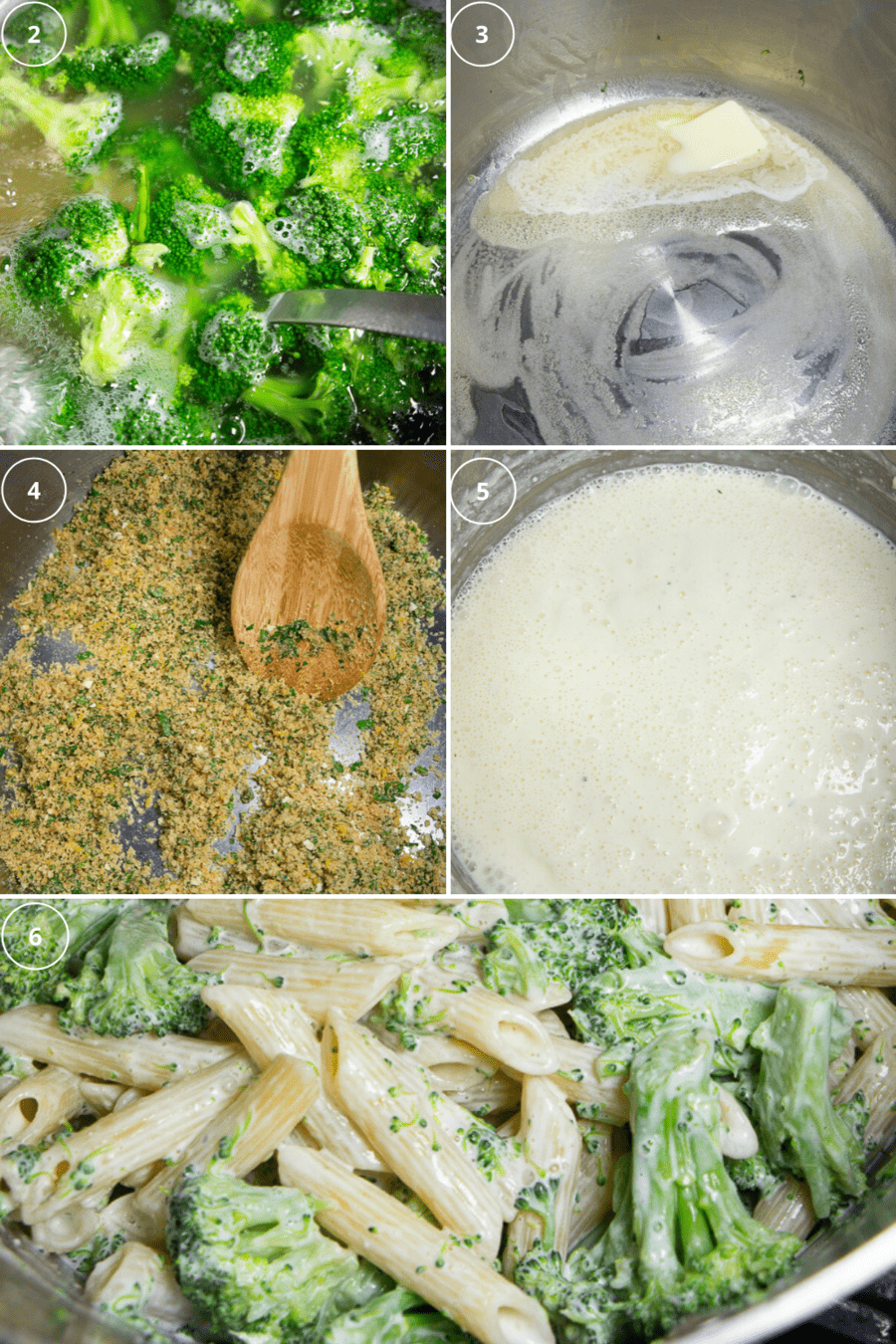 First bring a large pot with about 12 cups of water (3 quarts) to a boil over high heat. Make sure to salt your water with a tablespoon or two (you want it salty like the sea). Meanwhile zest and juice your lemons, and chop your parsley. When boiling, add in pasta and cook for recommended time.
While your pasta is cooking, wash and trim your broccoli into uniform pieces. I keep them relatively large. When your pasta has only 2 minutes left to cook, add your broccoli into the pot with the pasta.
Remove 1 1/2 cups of water from the pasta pot, then dump your pasta and broccoli into a large strainer. Return the empty pot to the stove over VERY LOW heat. Add in the butter.
When the butter is melted, add in your breadcrumbs, lemon zest, parsley, and a pinch of salt. Stir until well coated with butter and the parsley is evenly distributed. Cook for a minute or two, or until lightly golden and toasted.
Remove breadcrumbs from the pot and add in 3/4 cup of pasta water, the cream cheese, lemon juice, and milk, whisking until all your cream cheese is melted and you have a thick creamy sauce. Taste and season with another pinch of salt if needed.
Add in your broccoli and pasta, gently folding to coat (stirring vigorously can cause your broccoli to break down, totally edible but not as pretty). If you find the sauce to thick for your liking slowly add in the remaining pasta water until it's thinned to your liking.
Serve immediately and top with a generous scoop of breadcrumbs on top.
Pro Tip: Pasta water contains all the lovely starches from the pasta, meaning it helps the pasta sauce thicken and cling to the pasta when added to sauces. It also contains salt, helping to season!
FAQ'S
I don't have/use butter, can I substitute?
Sure, use equal amounts of olive oil instead.
Do I have to add breadcrumbs?
No, the pasta is creamy and flavorful on it's own, but the added crunch and extra kick of lemon is a nice touch!
Does this reheat well?
Any kind of cream sauce tends to thicken when stored. If you want to save leftovers, I usually store the pasta separate from the breadcrumbs, and pour a couple of tablespoons of the leftover pasta water into the bottom of the bowl. When I reheat it, the water helps the sauce loosen up without sacrificing flavor.
Can I freeze it?
I generally advise against freezing cream/dairy based pastas as the texture of the sauce tends to break down once frozen.
Eat and Enjoy!
This is a very simple but satisfying dish that we enjoy when this mama doesn't feel like standing in the kitchen too long. Plus I like that it's adaptable if I'm out of broccoli and want to toss in another green veggie instead.
I hope you enjoy it, and I hope you're staying safe and healthy. Until next time, Happy Eating!
If you liked this recipe, you may also like these…
Creamy Lemon Broccoli Pasta
A easy, one pot creamy pasta with broccoli, buttery breadcrumbs, and the perfect hint of lemon.
Ingredients
1

lb

dried pasta

pasta of choice!

3

cups

broccoli florets

8

ounces

cream cheese

1

large

lemon*

see notes

1/2

cup

milk

1 1/2

cup

pasta water

reserved after cooking pasta

2/3

cup

breadcrumbs

2

tbs

butter

1/4

cup

chopped parsley

salt, to taste
Instructions
Bring a large pot of salted water to a boil over high heat. You need about 3 quarts.

Zest and juice your lemon and set aside. Finely mince your parsley and set aside. Wash and trim your broccoli into similarly sized florets.

When water is boiling, add in pasta and cook for times indicated on packaging.

When only 2 minutes remain on the pasta cook time, add in the broccoli.

Reserve 1 1/2 cups of pasta water, then drain the pasta and broccoli in a large strainer. Return the empty pot to the stove over low heat.

Add in your butter. When the butter is melted, add breadcrumbs, lemon zest, parsley, and a pinch of salt. Stir to coat. Cook for 1-2 minutes or until lightly toasted and browned. Remove to a bowl and set aside.

Return pot to heat and add in 3/4 cup of pasta water, cream cheese, milk, and lemon juice. Stir over low heat until cream cheese is melted. Taste and add another pinch of salt if needed.

Return the broccoli and pasta to the pot and stir gently to coat. Add in more pasta water if the sauce is too thick for your liking.

Serve with a generous scoop of breadcrumbs on top.
Notes
*One large juicy lemon is usually plenty, but you may need two if you have smaller lemons. You want between 2-3 tsp of zest, and about 3 tbs of juice.
Nutrition
Calories:
525
kcal
Carbohydrates:
72
g
Protein:
16
g
Fat:
19
g
Saturated Fat:
10
g
Cholesterol:
54
mg
Sodium:
276
mg
Potassium:
454
mg
Fiber:
5
g
Sugar:
6
g
Vitamin A:
1151
IU
Vitamin C:
53
mg
Calcium:
129
mg
Iron:
2
mg
Nutrition information and cooking times are provided as a best estimate. Values may vary based upon ingredients and equipment.