This page contains affiliate links. For more information please read my Disclosure Policy.
When you just need an easy vanilla buttercream, this 3 ingredient American style frosting gets your cakes and cupcakes finished quickly. This recipe will frost 12 cupcakes, and is so easy to double or triple.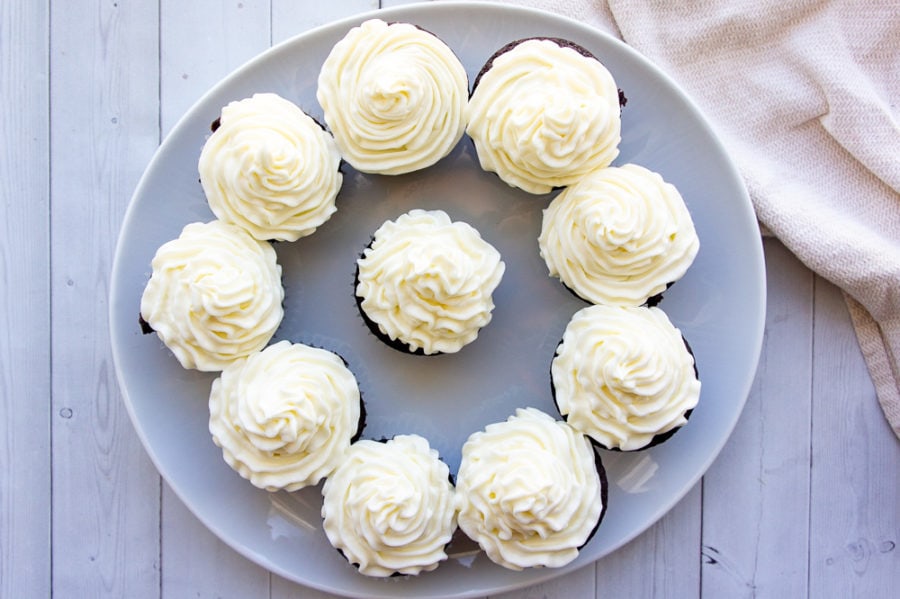 I'm not going to spend a ton of time raving about something as simple as a vanilla buttercream. At its core, this recipe is what I pull out when I need a simple vanilla frosting for cakes or cupcakes of basically any flavor.
It takes just 3 ingredients to make, you can easily double, triple, or quadruple it, and it's just sweet enough to be tasty without being cloying. Plus, since it's simple and white, you can color it, decorate it, or just slap it on your cake and call it a day.
3 Ingredient Vanilla Buttercream
I love fluffy Italian meringue frostings or tangy cream cheese frostings, but I'm a mom, a business owner…and I'm not a big decorator. Sometimes, we just need frosting.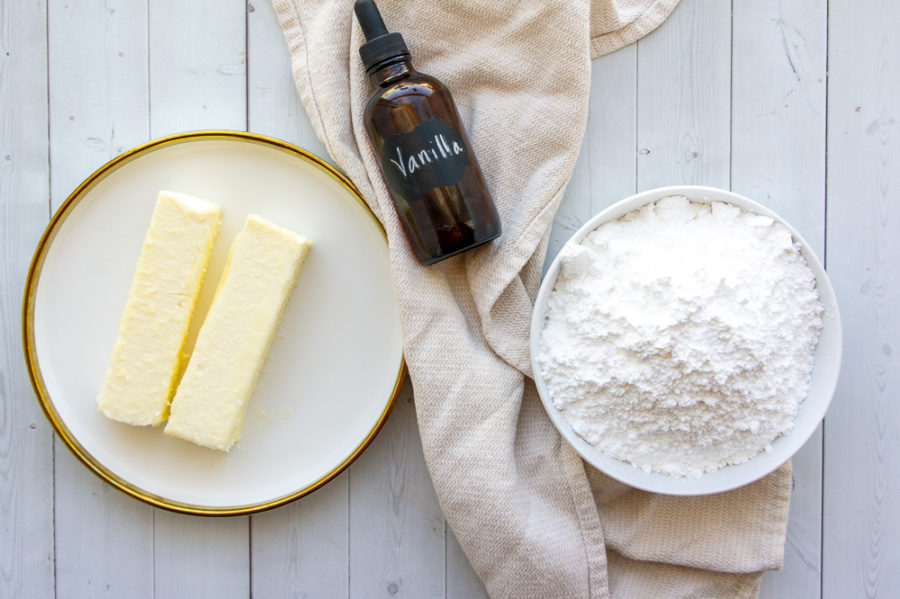 Instead of turning to the sickly plastic tubs of frosting, I whip this recipe out. It gets the job done every time and you'll only need:
Butter – Go for unsalted butter, but a better quality one will give you a better frosting. Note that if you use a very yellow butter (like grass fed) it'll affect the color.
Powdered sugar – This recipe uses ¾ of a pound, or 12 ounces. If you're making more than one batch, prep accordingly!
Vanilla – I use my homemade vanilla extract here, I strongly encourage using pure at least. Heck, if you're feeling spunky, go for maple or lemon and change the game! (Only add half the amount for those).
Making & Storing an Easy Vanilla Buttercream
It's really not hard to make, so I'll leave the step-by-step for the recipe card below. But one key thing to remember is: make sure the butter is softened, not melted, or cold. Melted butter will leave you with runny, gloopy frosting. Cold butter will leave you with odd chunks.
If for some reason you find the recipe too thick, you can add a ½ teaspoon of milk at a time, and it'll loosen up.
When you're done, decorate cooled cupcakes, cookies, or cakes with it. No need to refrigerate it, it's safe at room temperature for 3 days. A single batch is perfect for 12 cupcakes. If you're frosting a 2 layer cake (8-9"), I would triple it to be safe. I hate running out of frosting!
If you have leftovers, go ahead and freeze it. It'll keep in the freezer for 3 months. Let it thaw in the fridge overnight and beat it again until it goes back to the fluffy light texture.
With a simple vanilla buttercream you can literally top any flavor cake. Here are just a few suggestions from the blog, and feel free to experiment!
Easy Vanilla Buttercream
A simple 3 ingredient vanilla frosting that takes just 5 minutes to make and tastes great on any cake flavor.
Ingredients
8

ounces

butter, softened*

2 sticks

12

ounces

powdered sugar*

3/4 lb

1

teaspoon

vanilla extract
Instructions
Place the softened butter in a large bowl and beat with a mixer until smooth.

Add in the vanilla extract and 1/3 of the powdered sugar and begin beating it in on low. (To avoid plumes of sugar clouds).

Continue adding the sugar until all incorporated, then beat on high until light and fluffy.
Notes
*Use unsalted butter, and note that yellow butters will affect frosting color.
*Sift your sugar if it's very lumpy, I usually don't need to.
*If your frosting is thick, add 1/2 teaspoon of milk at a time and beat it in until you get your desired texture.
Nutrition
Calories:
247
kcal
Carbohydrates:
28
g
Protein:
1
g
Fat:
15
g
Saturated Fat:
10
g
Polyunsaturated Fat:
1
g
Monounsaturated Fat:
4
g
Trans Fat:
1
g
Cholesterol:
41
mg
Sodium:
136
mg
Potassium:
6
mg
Sugar:
28
g
Vitamin A:
472
IU
Calcium:
5
mg
Iron:
1
mg
Nutrition information and cooking times are provided as a best estimate. Values may vary based upon ingredients and equipment.