This page contains affiliate links. For more information please read my Disclosure Policy.
Learning how to roast peppers at home is a great way to enjoy sweet or spicy summer peppers at their peak of flavor. I've shared how to do it on the stove, grill, or in the oven, plus tips on storing and using them.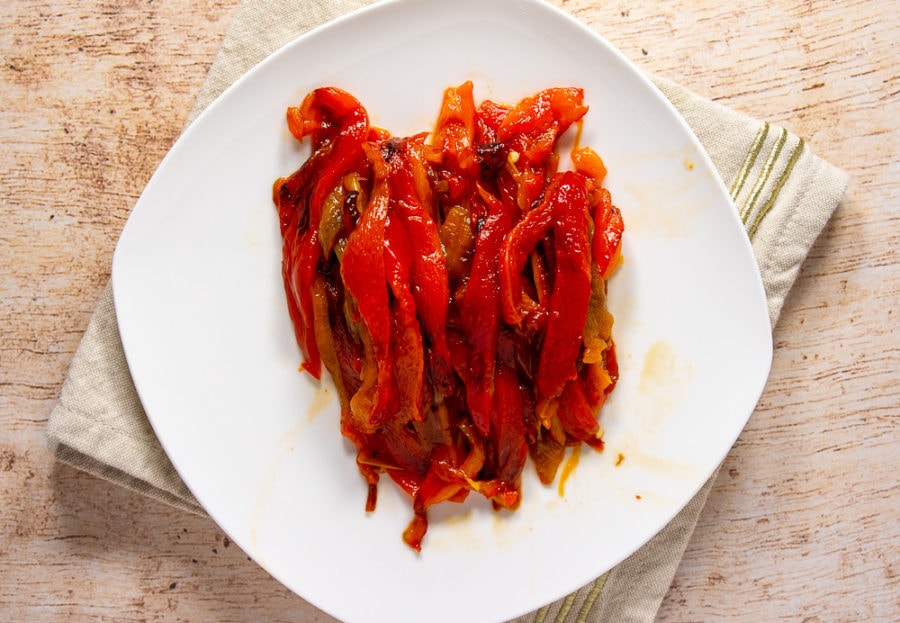 Roasting a fresh pepper isn't hard, and it's a great way to use up that harvest from your garden, or take advantage of the sale at the famer's market at the end of summer.
And they're so versatile! Whip up quick steak sandwiches, add a sweet pepper hint to creamy pasta, or make a spicy creamy dip for a party and more!
With technique and time, you can have a whole variety of roasted peppers in your cupboard – from poblano, bell peppers, jalapenos, and more.
The Process of Roasting a Pepper
Before I get into the three different heat sources you can use to roast a pepper, let's talk about how it works.
First, you char the outside. The idea is to blacken the skin, while steaming the inside to soften and release its water. Keeping the peppers whole and unpierced is key for this.
Next you steam them to release the skin. You'll know the peppers are ready to come off the heat when they're very soft, start to collapse in on themselves, and the skin is blackened.
Just place them in a paper bag, or a bowl covered with a heat safe lid, cling film, or a thick towel. Let them steam for 10-20 minutes, when the peppers are cool enough to handle, move on.
Pierce, peel and seed them. After they've steamed in a bowl the skin should be simple to peel off. Before you transfer them over to a cutting board however, pierce any peppers that are still whole and intact. Let the juice empty into the bowl and reserve it. This saves mess and is a super flavorful way to store them later.
The skin can be sticky, so a paper towel or kitchen towel you don't mind mucking up helps a lot. Just peel or wipe it away and discard it. Then remove the stem and as much of the seeds as possible.
If you're working with spicy peppers, I highly recommend wearing gloves, or at least VERY thoroughly washing your hands afterward. Don't rub your eyes!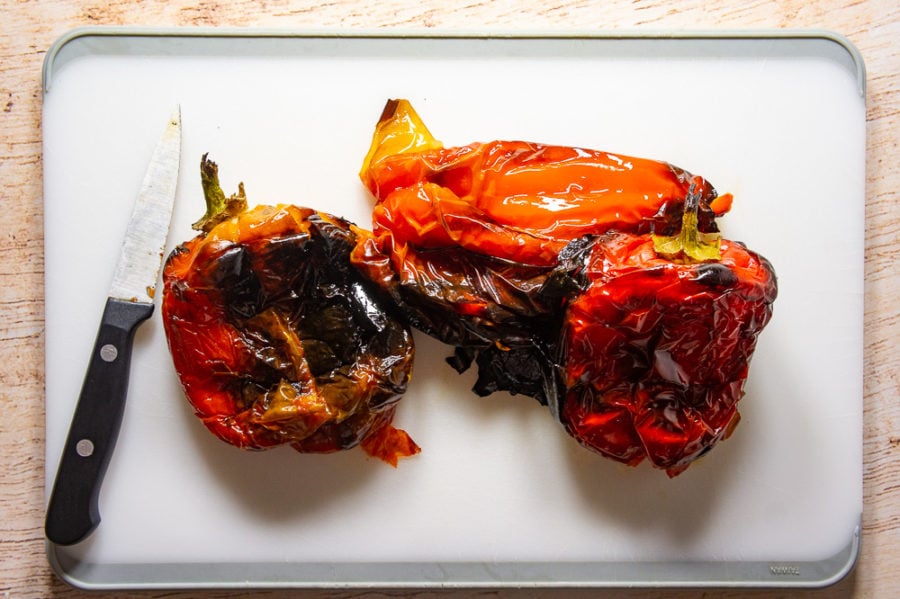 Slice or dice, and then store. I usually slice them into long strips, but you can dice them, or keep them in big sheets if you prefer. They can be stored in the fridge in a clean jar or airtight container for 1 week. I like to add in the pepper juice from the bowl to punch up the flavor.
They can also be frozen in a jar, bowl, or in a reusable silicone bag. I'd try to use them within 3-6 months for the best flavor. If you're interested in preserving them for longer, this post on preserving peppers in vinegar and salt is interesting and useful!
How to Roast Peppers on the Grill, In the Oven, and On the Stove
There are three approaches you can take to roasting peppers that will give you great results. They all take different amounts of time, and different amounts of effort on your part.
There are three approaches you can take to roasting a red pepper that will give you great results. They all take different amounts of time, and different amounts of effort on your part.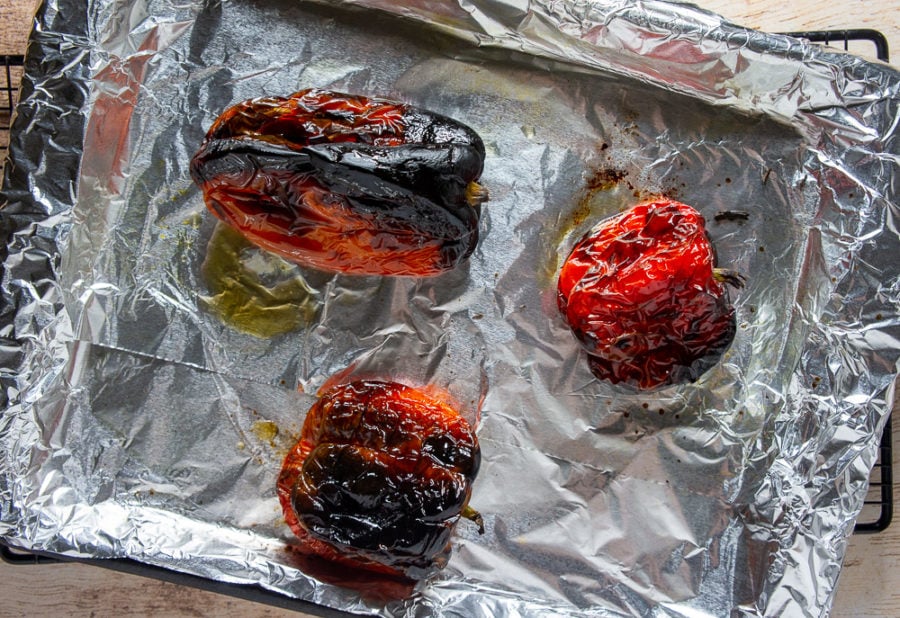 The Stove Top – This is very easy to do, just place them on the grate over the open flame of a gas stove, and turn every minute or two, until all the sides are blackened and the peppers are soft. Be cautious though, if the pepper bursts or leaks, the juices can cause some sputtering and flare ups.
The grill – Perhaps the most popular, both for the smoky flavor it delivers and that peppers are at their best during grilling season, roasting red peppers on a grill is easy. Just place them over direct heat and turn them every few minutes until they're blackened and soft.
The oven – This is actually my preferred method because it's hands off and really, really easy. You can bake them at a high 425°F if you want, but I actually recommend the highest broiler setting for quickest results. I give them a rub of grapeseed oil to enhances the browning and charring. Then place them in a high-heat pan, usually the bottom half of a broiler pan or enameled cast iron pan, and cook them for 20-30 minutes, turning every ten until they're charred and very soft.
For any of these methods, the next steps are the same – steam, peel, seed, and store.
How to use Roasted Peppers
One of the key tricks to managing from scratch cooking and you know…life, is to prep ahead and use what you cook. In this case I'm probably roasting 6 peppers on a Sunday, and finding ways to incorporate them throughout the week. (Or, I'm roasting a TON and freezing them).
There are so many ways to use a freshly roasted pepper, and there are so many types to roast! The sweet varieties like poblano or bell peppers are great for spreads, sandwiches, or fajitas. Spicy varieties like jalapeno or serrano are great in dips, sauces, and more.
Here are just a few of my favorites that I use with the red bell peppers I prefer to roast.
FAQ's
I've tried to think of every question I would have when roasting a pepper, but if I've missed answering one you have, please ask in the comments section below!

Can I roast yellow, orange, or green bell peppers too?
YES! You can roast any color of bell pepper, not just the red ones. Red bell peppers are the sweetest, so they often produce the loveliest roasted pepper flavor, but feel free to try the others.
What types of peppers can be roasted?
Any variety of sweet or spicy pepper can be roasted using these methods, bell peppers are simply the most common and popular. Smaller peppers will take less time, and the skin and sweetness may behave differently, but the process should be the same.
Can I trim and seed them before roasting?
You can remove the stems and seeds before roasting a pepper if using the oven method. Trying to roast individual pieces of pepper on the grill or over open flame would be tedious and dangerous. I prefer to wait, because the juice I get from the whole roasted peppers is delicious, but it's up to you!
Is it possible to can roasted peppers?
Roasted peppers on their own are a low acid food, so the only safe way to can them is to either add a significant amount of acid, which is more like pickling them, or by using a pressure canner. This post on pressure canning peppers is a great guide for anyone interested.
If you're a fan of roasted peppers I hope you find this post useful. It's so easy that once you get the hang of it, you'll find yourself roasting them for all sorts of things! If you're especially a fan of bell peppers, check out my Guide on Bell Peppers: Differences and How to Cook Them for info on levels of sweetness and best preparations for each color.
How to Roast Peppers
Print Recipe
How to roast sweet or spicy peppers on the stove, grill, or in the oven
Ingredients
4

Red Bell Peppers

Or peppers of choice*
Optional for oven method
1

tablespoon

oil

grapeseed or other high heat oil
Instructions
Oven Method
Turn broiler onto high and line a broiler safe pan with foil.

Rub outside of the peppers with oil and place on pan. Place in oven.

Cook for 20 to 30 minutes rotating peppers every 10 minutes until peppers are blistered and blackened and starting to collapse.
Stove Top Method (Gas Ranges Only)
Place peppers on grate above open flame, and turn frequently until well roasted. Be cautious of piercing the peppers, juices can cause flare ups.
Grill Method
Place peppers over direct heat on a grill and roast, turning every 5 minutes or so until the peppers are blackened and soft.
Prepping Peppers for Use & Storage
Transfer blackened peppers to a bowl and cover with plastic wrap. Allow to steam for 15-20 minutes.

Remove plastic wrap and lift peppers up and slice into them with knife while still over the bowl to release the juices.

Transfer to a cutting board and using paper towels or gloves peel off skin (it's sticky). Then pull up on stems to remove them.

Slice peppers open and lay flat, scraping inside to remove any seeds.

Slice into shape as desired and use, or store in fridge for up to a week or the freezer for up to 6 months.
Notes
*Any variety of sweet or spicy pepper can be used. Size and shape can affect the time it takes to roast them.
Nutrition
Calories:
18
kcal
|
Carbohydrates:
4
g
|
Protein:
1
g
|
Fat:
1
g
|
Saturated Fat:
1
g
|
Polyunsaturated Fat:
1
g
|
Monounsaturated Fat:
1
g
|
Sodium:
2
mg
|
Potassium:
126
mg
|
Fiber:
1
g
|
Sugar:
2
g
|
Vitamin A:
1863
IU
|
Vitamin C:
76
mg
|
Calcium:
4
mg
|
Iron:
1
mg
Nutrition information and cooking times are provided as a best estimate. Values may vary based upon ingredients and equipment.