This page contains affiliate links. For more information please read my Disclosure Policy.
Bring the county fair home with these delicious fried cheesecake bites. Learn how to make fried cheesecake and transform simple, easy ingredients into a gooey, golden deep fried dessert.
Oh fried cheesecake. When I bite into one of these golden fried cheesecake balls I'm instantly transported to the California State Fair, aka land of deep fried desserts. Every year we go, and every year I indulge in a little deep fried treat. But why wait?
As it turns out making fried cheesecake at home is easier than you think. Simple ingredients come together in a beautiful, decadent dessert that you'll be eating straight out of the fryer oil. In fact…I think I'm willing to bet this homemade version is better.
Please don't blame me for any growing waistlines after sharing this recipe. I'm way ahead of you.
The Essentials of a Fried Cheesecake Bite
Before we get ahead of ourselves here are a few key tips that I've learned through intensive testing. I mean seriously, thorough, repeat testing. As one of the originial recipes on the blog in 2017 (now shined and polished in 2020), there have been many a batch of deep fried cheesecake.
They must, without a doubt, be eaten hot!
DO NOT SKIP STEPS. Sorry, no shortcuts. Trust me when I say I've tested what happens if you leave out the graham crackers in either of the additions. Exploding cream cheese in hot oil is not the goal. Every step has a purpose.
They really are best with a drizzle of syrup or sauce. I like strawberry syrup, chocolate syrup, pomegranate syrup, or even just a simple warm maple syrup. Go ahead, it's okay to drool.
Deep Fried Cheesecake Ingredients
It really only takes common, simple ingredients to make these. You'll need two batches of ingredients, one for the cheesecake balls, and one for the deep fry batter. Oh, and don't forget the oil and powdered sugar!
For the Cheesecake Bites
Cream Cheese – a block style cream cheese, softened at room temp. Whipped cream cheese will not work.
Whipping Cream – I use heavy whipping cream to help the cheesecake get extra creamy.
Sugar – plain ole, white granulated sugar.
Vanilla – learn how to make your own vanilla here!
Graham Cracker Crumbs – That flavor is an essential part of cheesecake after all!
For the Deep Fry Batter
All-purpose flour – Keep it simple!
Sugar – that same granulated sugar.
Baking powder – for puffy beautiful crust.
Salt – Just a pinch
Milk – Water could be substituted, but milk gave better flavor!
And of course, you really cannot forget the oil! I use canola oil or Grapeseed oil for frying at high temps. Vegetable, soybean, avocado or sunflower work just as well. You'll need at least 4 cups.
I also HIGHLY recommend powdered sugar or as I suggested above, some sort of syrup or dipping sauce for extra delicious goodness.
How to Make Fried Cheesecake
While there is a small chilling period to allow the cheesecake bites to firm up, the actual process is easy! This yields about 20 cheesecake bites, and I'd say serves 4 to 5, depending on your generosity.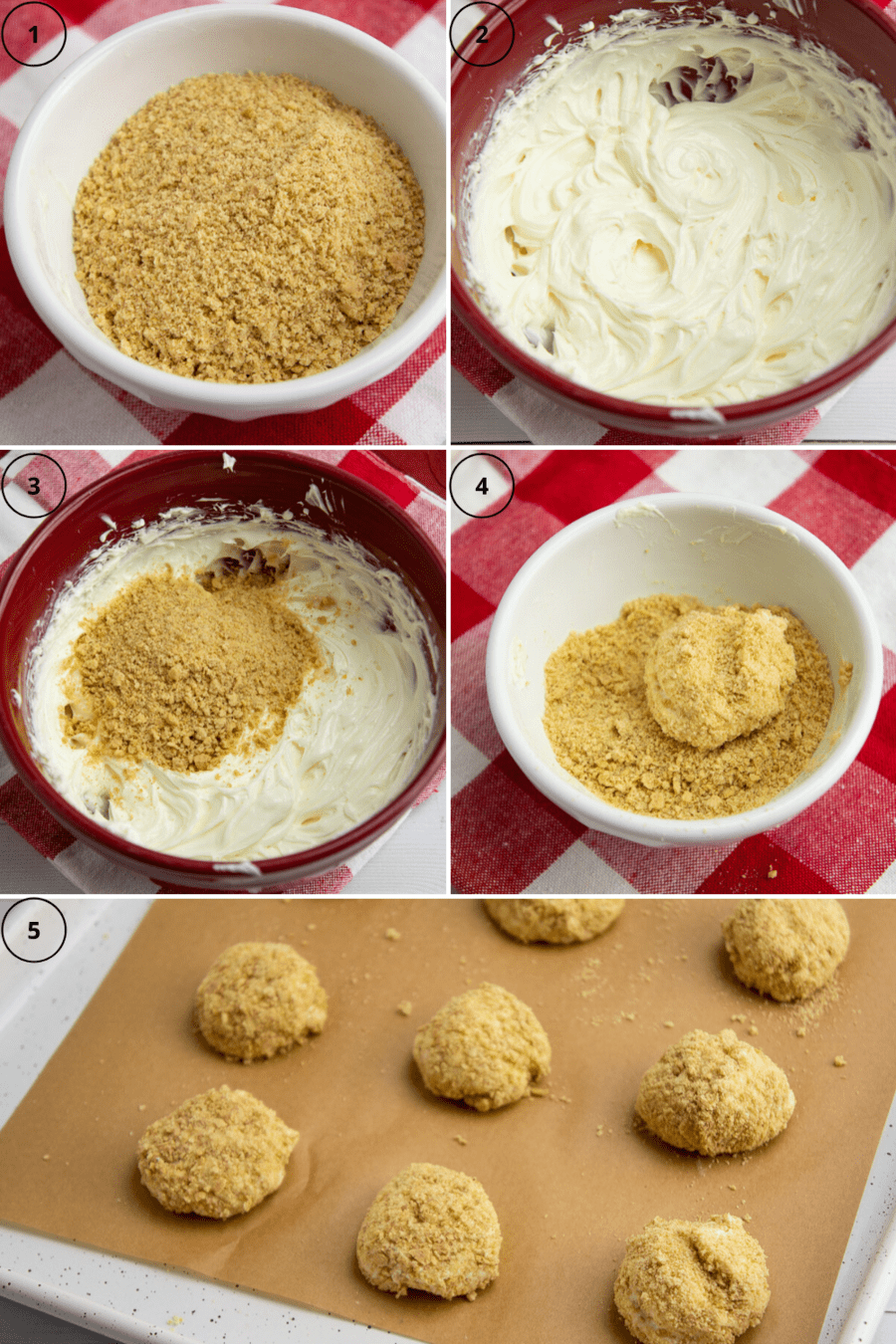 Making Cheesecake Bites
First crush 6 graham crackers into crumbs. You can use a food processor, or just a plastic bag and the back of a spoon.
Next, combine the cream cheese and whipping cream and beat with a mixer on medium speed until creamy. Add in the vanilla and sugar and repeat until fluffy.
Add in 1/4 cup of the graham crack crumbs (1/3 of the total crumbs) to the cream cheese, and fold in until evenly dispersed. Place remaining graham cracker crumbs in a bowl.
Scoop tablespoon sized balls of the cheesecake mixture into the remaining graham cracker crumbs and coat. I found that by gently shaking the bowl the cheesecake became both rounded and well coated. Be gentle, they'll be soft and delicate at this stage.
Using a spoon lift the cheesecake balls onto a baking sheet or plate. If needed, gently use your fingers to shape them. Repeat until all your cheesecake it done.
Chill in the freezer, uncovered, for 1 hour minimum, but up to 24 hours.
Pro Tips:
If you'd like to prep the cheesecake for frying in advance, you can. I've made triple batches before! Simply allow to freeze on the baking sheet until solid then transfer to a freezer safe container or bag. They'll keep for 3 months, and you can simply fry and enjoy on demand!
It's ESSENTIAL that you don't make the cheesecake bites any larger than the size of a tablespoon. The larger the bite, the more batter and cheesecake there is for the heat to penetrate during frying, mean extra large bites may have cold centers.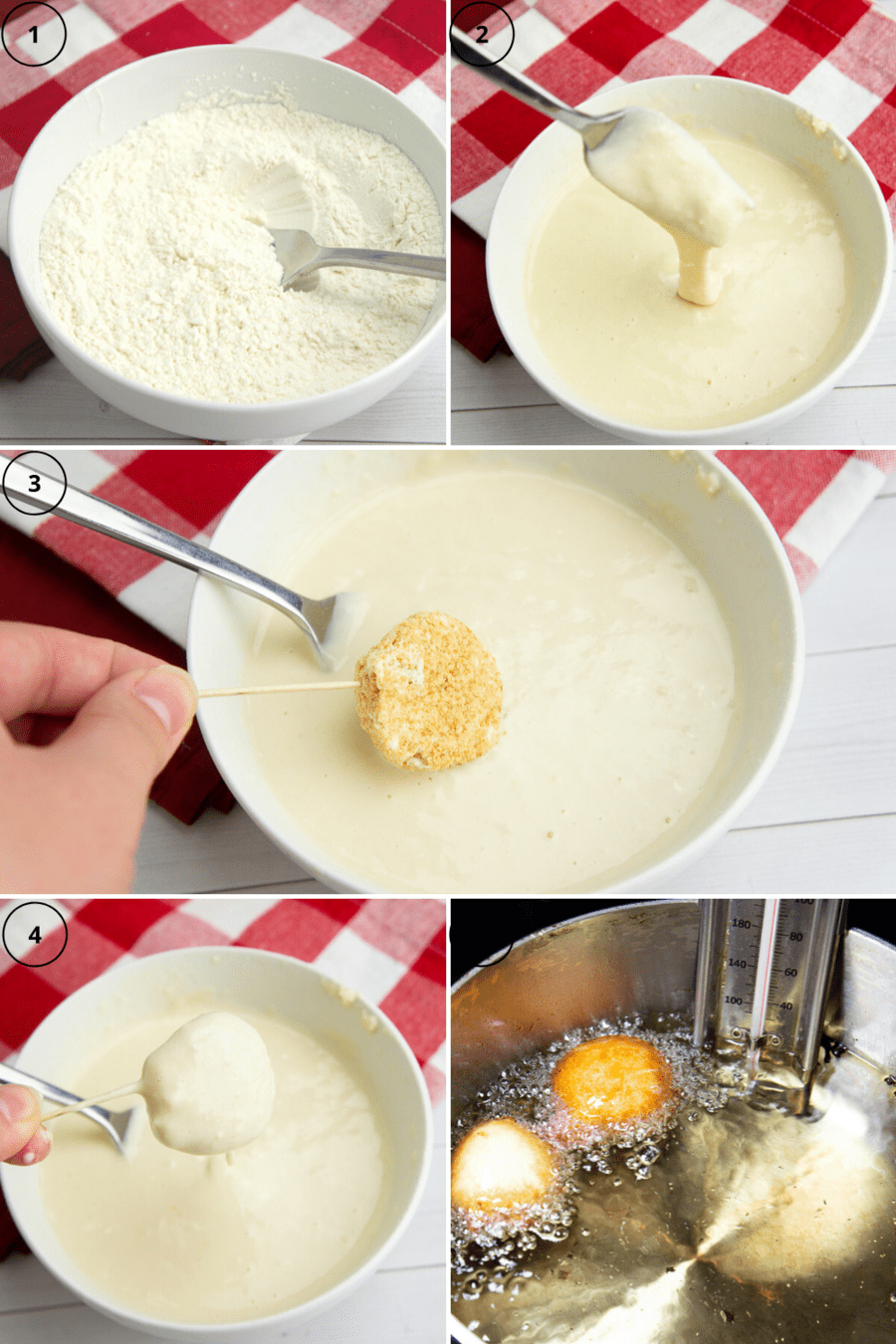 To Deep Fry your cheesecake bites
Once your cheesecake bites are frozen, go ahead and place your oil in a heavy bottomed saucepan or pot. Heat to 375°F.
Meanwhile, whisk together the dry ingredients of the deep fry batter.
Stir in the milk. Start with 8 ounces, and add more as necessary to loosen it up. You're looking for a thick pancake batter type of appearance here.
When your oil is hot, remove the bites from the freezer and begin to coat them in the batter. I find using a toothpick, stuck in just enough to hold the bite gives best coverage. I do this one at a time, dropping them off the toothpick immediately into the hot oil. (A fork will help release the toothpick). I usually have 5 going at once.
Fry for 4 to 5 minutes, or until the batter is a deep golden brown. I usually flip the bits halfway through to make sure the outside is evenly browned.
Use a spider strainer or a slotted spoon to remove bites as they finish. Let them sit for just a few seconds on a paper towel then move to a wire rack.
When they're done, dust with powdered sugar, drizzle with sauce if desired, and eat!
Pro Tip: If you must wait to eat them and are frying in batches, have your oven set to 200°F before you start frying. Then simply transfer the bites from the paper towel to a baking sheet topped with an oven safe rack. This keeps them warm and crispy!
Deep Frying Tips & Safety
As a quick aside, I want to share a few tips on how to efficiently and safely deep fry.
Use a sturdy, heavy bottomed pot for best temperature regulation.
Use a deep fry thermometer to make sure you oil is the correct temp and maintain it through the process. Too low and oily, soft bites, too high and the risk for burning and fire increase.
On that note, please remember that a grease fire is smothered. Please do not put water on a grease fire.
FAQ's
Can I skip the chilling?
No. Skipping the chill step will lead to the cheesecake leaking out when you attempt to fry them.
How much oil do I need?
I recommend 4 cups, or 32 ounces of oil. In a deep sauce pan or pot this is usually enough to cover the cheesecake bites by about half, and allows them to fry evenly.
Can I reuse the oil?
Yes! Simply allow to cool completely, then strain it through a fine mesh sieve or cheesecloth into a container that can seal. Store in a cool dark place until you need it again. This can be done twice, though I recommend not recycling oil that has fried fish.
Eat & Enjoy!
While I was inspired by the deep fried dessert decadence of the state fair, I'm willing to bet this is waaay better. As fresh as can be, golden brown, and we get to stuff our faces in the provacy of our own kitchens. What more can you ask for? Enjoy every bite of these gooey, fried cheesecake bites, and until next time, happy eating!
If you enjoyed this recipe, you may also like…
Deep Fried Cheesecake Bites
An indulgent treat of crispy fried batter around gooey, creamy cheesecake.
Ingredients
Cheesecake:
8

oz

cream cheese

softened

2.5

oz

whipping cream

5 Tbs

1

oz

granulated sugar

2 Tbs

1/4

tsp

vanilla

3

oz

graham cracker crumbs

divided (3/4 cup)
Deep Fry Batter:
8

oz

AP flour

1 3/4 cups

1

oz

granulated sugar

2 Tbs

1

tsp

baking powder

8-10

oz

milk

1-1 1/4 cups

Pinch

of salt

Powdered sugar
Frying ingredients
32

ounces

oil

canola, vegetable, or grapeseed
Instructions
Cheesecake
Pulse 6 graham crackers in food processor, or crush by hand to make fine crumbs.

Combine softened cream cheese and whipping cream in a mixing bowl. With and electric mixer, beat on medium speed until combined.

Add vanilla and granulated sugar and continue to beat on medium speed for 2 minutes, until smooth and fluffy.

Add 1/4 cup of graham cracker crumbs to cheesecake and stir to combine.

Scoop tablespoon sized balls into the remaining 1/2 cup of graham cracker crumbs.* Gently roll it around to coat in crumbs.

Gently place rolled balls onto baking sheet, shaping if needed, and put in freezer. Freeze for at least 1 hour. *
The Batter
After cheesecake bites have chilled at least one hour, heat oil over medium high heat until it reaches 375°F. Preheat oven to 200°F and place a baking sheet with an oven safe cooling rack inside.

While oil is heating, combine flour, sugar, baking powder, salt, and milk to make batter. Start with 8 oz of milk adding more to loosen batter as needed.

When batter is like a thick pancake batter, remove cheesecake bites from the freezer. Using a fork or toothpick pressed into the bite, coat with batter.

Use a second fork to gently release the bites from the toothpick or fork and drop the coated bites into the oil. Fry in batches of 5 to 6 to maintain oil temperature.

Fry for 4-5 minutes, or until batter is a deep golden brown, turning them over once. Be sure to maintain your oil temperature.

Remove from oil to a paper towel for a few seconds, then place on cooling rack in oven. Repeat until all bites are fried. Dust with powdered sugar and serve with sauce if desired.
Notes
*For cheesecake bites you're not frying that day, they can be kept frozen in an airtight container for up to 3 months. Allow to freeze on baking sheet for 1 hour then transfer to a storage container and return to freezer.
Nutrition
Serving:
1
g
Calories:
486
kcal
Carbohydrates:
52
g
Protein:
9
g
Fat:
27
g
Saturated Fat:
14
g
Cholesterol:
74
mg
Sodium:
595
mg
Potassium:
313
mg
Fiber:
2
g
Sugar:
21
g
Vitamin A:
891
IU
Calcium:
201
mg
Iron:
2
mg
Originally published 9/11/2017, Updated 4/23/2020
Nutrition information and cooking times are provided as a best estimate. Values may vary based upon ingredients and equipment.