This page contains affiliate links. For more information please read my Disclosure Policy.
Pomegranate Syrup is a tart, sweet topping for pancakes, French toast, waffles and more. Made with real pomegranate juice and only 2 other ingredients for delicious, easy flavor.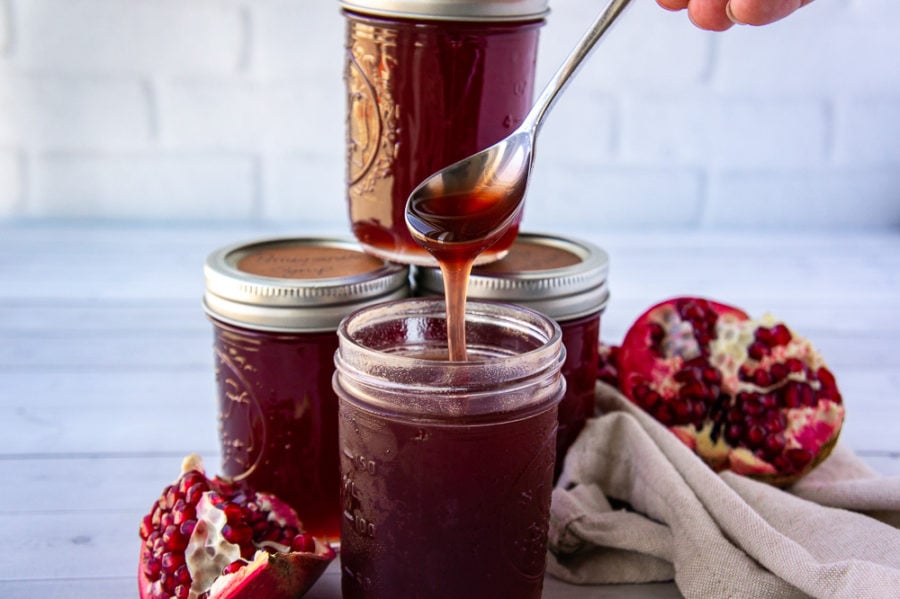 Pomegranates are a pretty big deal in my house, mostly because I get a huge amount of fresh fruit from my mom's tree every year. This thick, sweet and tart syrup is the latest addition to the growing collection of recipes to the blog, including my pomegranate jelly and pomegranate cranberry jam.
This pomegranate syrup recipe is really easy, it takes just 3 easy ingredients and a bit of time to make. Once thickened to your liking, it becomes a fantastic fruity drizzle for breakfast, dessert glazes, or as a sweetener for a unique cocktail. Plus, since pomegranates are so high in acidity, they can be safely water bath canned for long term shelf stable storage.
Ingredients for Pomegranate Syrup
I say it takes 3 ingredients for this pomegranate syrup recipe, but in truth it takes 2, with an optional third.
Pomegranate Juice – you can buy packaged pomegranate juice, it's convenient, I get that. Since I usually have POUNDS of seeds in the freezer, I juice them myself.
It takes about 5-6 large, fresh pomegranates to get the 20 ounces of juice we used for this recipe. That's 5-6 cups of seeds, each yielding between ½ cup to ¾ cups of juice.
The easiest way I've found to get the juice from the seeds is to pop them in a blender and blitz. Then strain it through a fine mesh colander or cheesecloth to get all the seed bits out.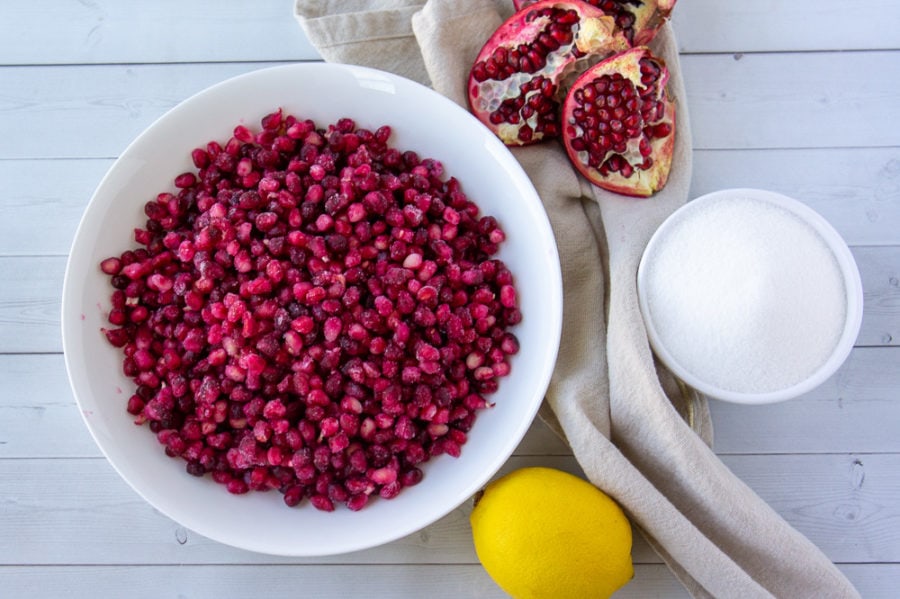 Sugar – Just classic granulated sugar, like I do in all my jam recipes. Brown sugar can also be used, but it will affect the otherwise pure pomegranate flavor.
Lemon – This I only added because I found that cooking the pomegranate juice and sugar long enough to make it a syrup, also took out that tang I really love about pomegranate. Just 1 teaspoon was all it took to fix it.
Canning Syrup Made From Pomegranates
Fun fact, pomegranates are in the top 5 most acidic fruits. They're pH is between 2.9-3.2 (for reference a lime is between 2-2.8), which makes them entirely safe to be water bath canned.
Yay for us! It's a great way to preserve that pomegranate flavor long term, and it makes a great shelf-stable gift for the holidays. You could even make it months in advance! It'll last a year on the shelf after canning.
You can read my detailed guide on Water Bath Canning for detailed instructions on how to do it. But for a few quick tips:
We used 5 half-pint jars (8 ounces).
You need new seals before water bath canning.
Get your pot of water boiling as you cook the syrup so it goes quickly.
Get your jars hot before adding the syrup. I usually just dip them in and out of the canning pot of boiling water.
Wipe down and dry the rims before placing on the seals, then tighten the bands as much as you can by hand.
Process your pomegranate syrup for 10 minutes for 8 ounce jars, adding 5 minutes for every jar size you go up.
I should not that you don't HAVE to can this. If you prefer, freeze it for up to 12 months. Once opened, or if not canned or frozen, keep it in the fridge for up to 1 month.
How to Make Pomegranate Syrup
Making fruit syrup is actually ridiculously easy, especially once you've got the juice strained (or poured from the bottle).
Just combine the juice and sugar into a large saucepan and turn the heat up to medium high. Stir until the sugar is all melted then reduce the heat to medium low and let it simmer. Remember to stir occasionally to prevent scorching or caramelizing on the bottom.
It can take a while for it to thicken. Usually I keep a few cold spoons in the freezer and when the syrup has reduced I put a few drops on a frozen spoon. When it sets up to a syrup consistency, turn off the heat.
You can make this go faster, or slower, depending on how much attention you want to give it. Keep it over a higher heat if you don't mind stirring more constantly. If you're gonna walk away, reduce it to low and let it simmer for an hour or more.
Uses for Pomegranate Syrup
Once you have these lovely jars of homemade pomegranate syrup made and canned, you might wonder what you're going to use it on!
Give it away! I guarantee you won't find pomegranate syrup on the store shelves. It's a fun and tasty treat to add to homemade food gift baskets.
Use it as a cake soak! Instead of plain simple syrup to keep those stacked cakes moist, use this to infuse your bakes with pomegranate flavor.
Make fun cocktails! I don't drink a lot of cocktails, but making a margarita with pomegranate syrup and limes sounds delicious to me!
You'll be hooked once you discover just how easy and tasty this pomegranate syrup recipe is to make, and I think you're loved ones will enjoy it too. Have fun making it, and check out my other syrups and shelf stable food gift ideas below for more ideas!
Pomegranate Syrup
A sweet and tart syrup made from pomegranate juice that can be preserved.
Ingredients
20

ounces

pomegranate juice

2 2/3 cups

10

ounces

white sugar

1 1/4 cups

1

teaspoon

lemon juice

optional
Instructions
Combine the sugar and juice in a large saucepan over medium high heat. Stir until sugar dissolves.

Reduce the heat to medium low and simmer, stirring every 5-10 minutes for 1 hour or until thickened.*

Taste and stir in lemon juice if you want more tang. Then transfer to storage jars.*
Notes
*You can use fresh pomegranates by blitzing about 6 cups of seeds in a blender and straining the juice through a fine sieve.
*Test thickness by watching how it pools off of a spatula (it does take practice, but it will seem to drip and pool more slowly and cling to the surface of it over time), or by keeping frozen spoons in the freezer and dripping some on them. Test the thickness as it cools and turn the heat off when you're happy with it.
*If you'd like to water bath can your syrup, please go to my water bath canning guide for detailed how to instructions. Otherwise, store in jars for 1 month in the fridge, or freezer for 12 months. (Allow to cool before storing.)
Nutrition
Serving:
1
tablespoon
Calories:
18
kcal
Carbohydrates:
4
g
Protein:
1
g
Fat:
1
g
Saturated Fat:
1
g
Polyunsaturated Fat:
1
g
Monounsaturated Fat:
1
g
Sodium:
1
mg
Potassium:
15
mg
Fiber:
1
g
Sugar:
4
g
Vitamin A:
1
IU
Vitamin C:
1
mg
Calcium:
1
mg
Iron:
1
mg
Nutrition information and cooking times are provided as a best estimate. Values may vary based upon ingredients and equipment.