Cream Cheese Cinnamon Rolls
This page contains affiliate links. For more information please read my Disclosure Policy.
These soft, fluffy, yeast raised cream cheese cinnamon rolls are the perfect treat for brunch. Follow the easy, step by step picture instructions to bake up a batch of homemade cream cheese sweet rolls, with sweet tangy cream cheese inside and out.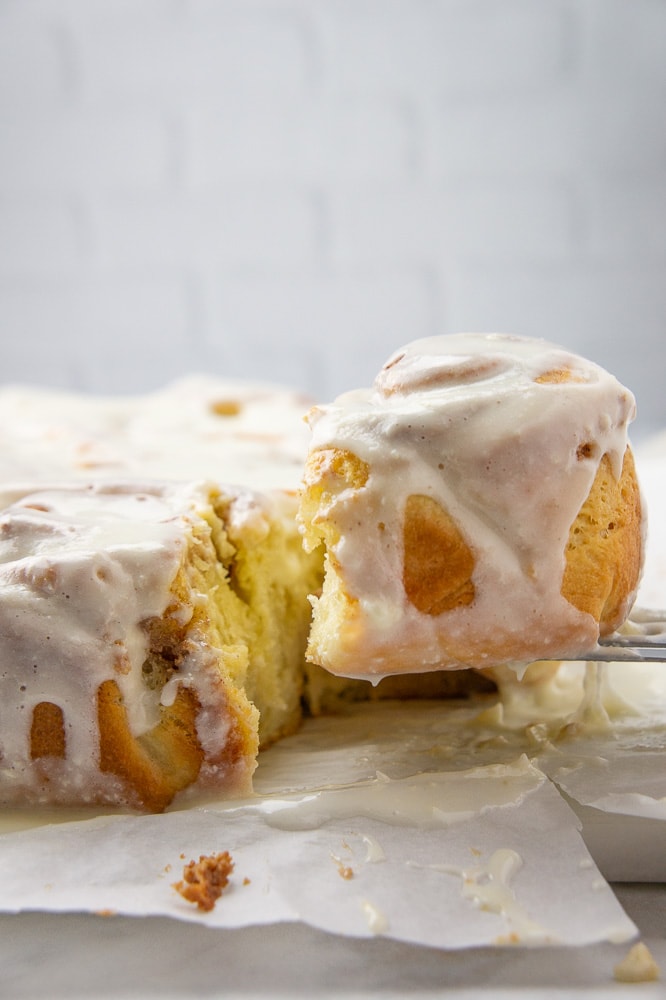 Ohhh cinnamon rolls. Or cinnamon buns, or sweet rolls, or whatever it is you want to call them, the fact is they're delicious and universally loved. I've always had a soft spot for a gooey, warm cinnamon roll, especially homemade right out of the oven.
I'm not even picky, I love them in all their forms! There are really tons of ways to make them, variations of flavor, size, texture, and all are delicious and satisfying in their own way. This week I'm bringing you a recent variation from my kitchen, a cream cheese infused cinnamon roll. With cream cheese baked right into the filling and lovingly slathered on top, it's a soft, fluffy, and oh so sweet version of a sweet roll I think you'll have no problem getting behind.
The origin of Cinnamon Rolls
The iconic spiral yeast bun we all know and love was developed from a slew of cultural influences coming together just right. Sometime back in the 1700's, European bakers were experimenting, and mastering the art of the buttery yeast dough. Each country and culture had their take, from the yeast buns in france to the currant filled chelsea buns in Britain.
But the cinnamon roll is thought to have truly begun in Sweden, when bakers decided to add cinnamon (and often cardamom) to a rolled, sweet bun made from that butter enriched yeast dough. Still, these original, traditional cinnamon rolls are not what I as a Native North American know. Rather than the simple sprinkle of pearl sugar on top, we like ours slathered with a sweet icing or glaze.
Arguments about the right or proper way to make and enjoy a cinnamon roll may never be settled, frankly I'll happily try them all!
Ingredients
Making homemade cream cheese filled cinnamon rolls takes a number of ingredients to get just right. Each one serves a specific purpose and in the end transforms into a delectable treat.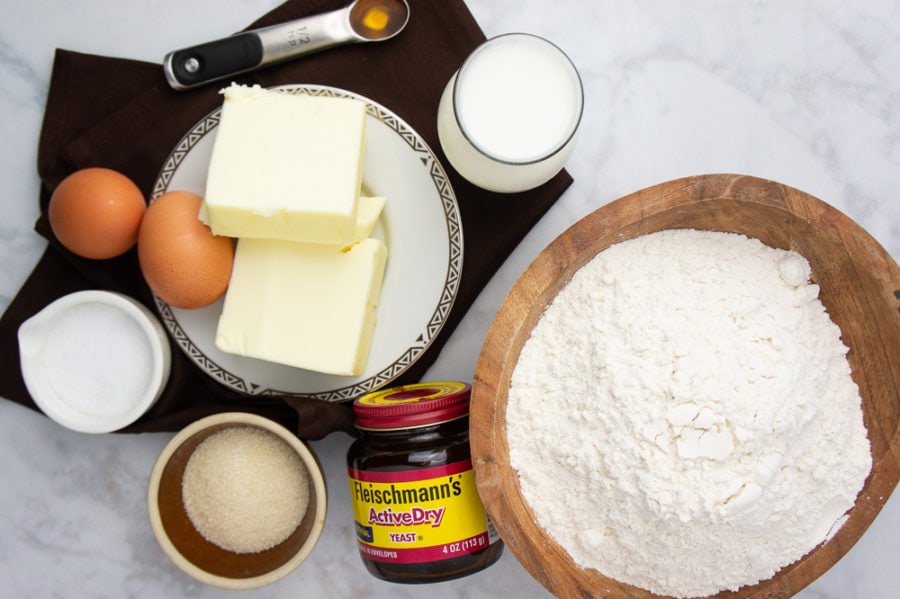 All purpose flour – Just standard white flour for this.
Milk – I prefer whole milk whenever possible for baking, but use the milk you prefer.
Butter – Unsalted butter is always preferred!
Active Dry Yeast – I like active dry because it's cheaper, and I know that it's working when I activate it. If you prefer instant, simply skip the proofing step.
Sugar – I actually like cane sugar best for this, but if you don't have it, use white granulated sugar.
Eggs – You'll need one whole large egg, and one yolk.
Vanilla – Make your own homemade vanilla easily! Learn how here!
Salt – Salt amplifies other flavors, so just a pinch is essential even in baking.
Those are the dough ingredients, a simple combination of pantry staples that come together into a soft, easy to work with dough perfect for rolling. Now for the filling and icing…
Cream Cheese – Kind of essential for homemade cream cheese cinnamon rolls! You'll need 1 block, or 8 ounces, divided. I'd go full fat, traditional cream cheese here. No whipped or fat free!
Butter – Yup, more butter. It's delicious and you know it.
Brown Sugar – Combined with cream cheese in the filling, it makes the perfect sweet bite.
Cinnamon – Just enough to let you taste it, without overwhelming the cream cheese flavor.
Milk – This is for the icing, you can use whatever milk you prefer but please be aware that non-dairy milk will likely affect the final flavor.
Vanilla – For flavoring the icing.
Powdered Sugar – The base of the icing, it helps make a dripping beautiful topping.
There you have it, nothing terribly complicated, and things I'm willing to bet most home bakers have on their shelves!
How to Make Cream Cheese Cinnamon Rolls
I'm going to shoot straight with you, there are steps involved into making any yeast risen dough, these cinnamon rolls are no exception. The good news is, that they aren't complicated steps. I'll walk you through each one and you'll quickly discover how enjoyable it is to watch a dough form and become something gooey, delicious, and sweet at the end.
Part 1 – Making the Dough and Filling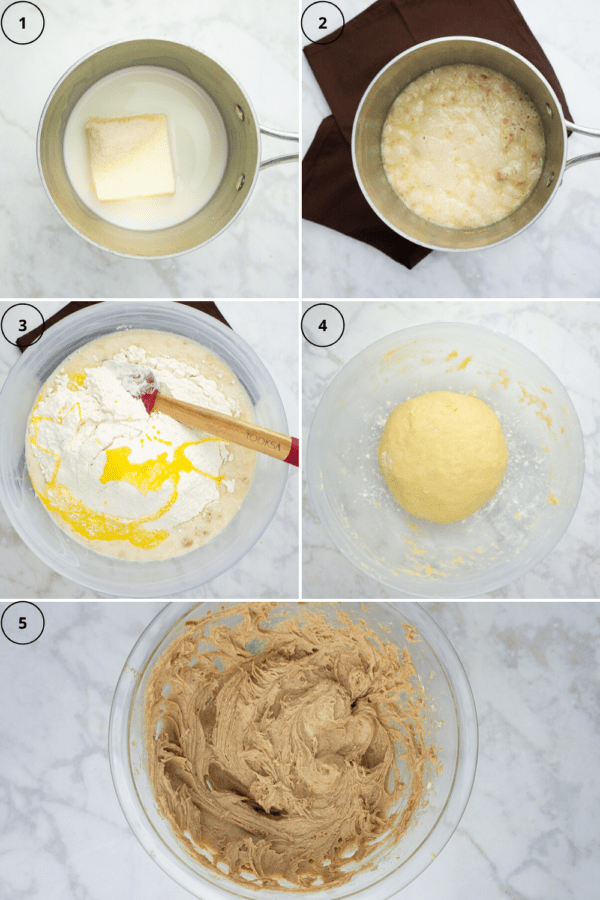 Start by activating your yeast. To do so, heat the milk, butter and white sugar over gentle heat. Remove when the milk reaches 110°F, or feels as warm as a baby's bottle to the touch (just warm). Let the butter melt. You can swirl it around to help.
Stir in the yeast, and let it proof for 10 minutes. You should have a foamy, bubbly pot by then. Be sure you let the milk cool to 110°F or cooler before adding the yeast, or you may kill the yeast and therefore any hopes of rising.
Combine the yeast mixture with the eggs, vanilla, flour, and salt and mix gently until a smooth but tacky dough forms. Don't work it too hard or do any excessive kneading but add sprinkles of flour if the dough is very sticky.
Lightly flour your dough, then cover loosely and let rise until doubled, about an hour.
When your dough is rising, make your filling. This is a simple process of combining half your cream cheese, the remaining butter, brown sugar, and cinnamon in a bowl and beating it together until creamy. Do NOT chill.
Pro Tips: Always use room temperature ingredients whenever possible. This helps them incorporate better into the dough and lets the dough rise nicely. For the first steps of melting the butter in the warm milk, chopping the butter into pieces will expedite the process.
Part 2 – Shaping your rolls and the second rise.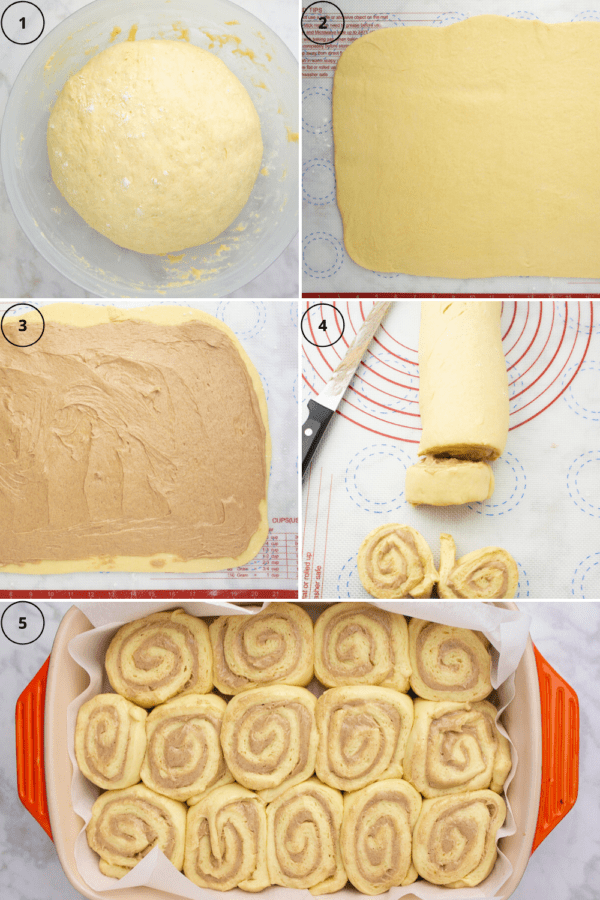 Once your dough is nice and poofy, go ahead and prep a surface for rolling out. I prefer a non stick silicone baking mat. It has measurements so I know how large my dough is, and makes quick and easy clean up. If non using one, lightly flour your surface.
Turn the dough out onto your surface and press it gently to deflate. Shape into a rectangle, then begin rolling it out with a lightly floured rolling pin. You're looking for a 16×12 rectangle.
Once rolled out, spread on your filling. Do this carefully so as not to pull or tear dough. Spread it evenly, leaving only a half inch or so empty on either long edge.
Begin to roll the dough up tightly along the long edge. Don't rush and try to make it as tight as possible. I find lifting the edge, then gently rolling forward with slight pressure with my palms works best. You'll have to work up and down the dough to keep it even. When rolled, slice it into 1 1/4 inch rolls, or close to it (keep them even). I usually end up with 14.
Gently lift the slices into a 13×9 baking dish, leaving a small space between them. Then gently cover and let rise until the gaps have closed between the rolls and their puffed up. Between 45 minutes to an hour.
About 30 minutes into your second rise, preheat your oven to 350°F. When your rolls are risen, bake for 30 minutes or until golden brown and baked through.
Pro Tips: To slice your cinnamon rolls you want to apply swift, gentle pressure without smashing them and losing that rolled look. Many advocate for using unflavored plain dental floss. I simply use a very sharp thin knife and cut with gentle sweeping motions (don't saw or push down).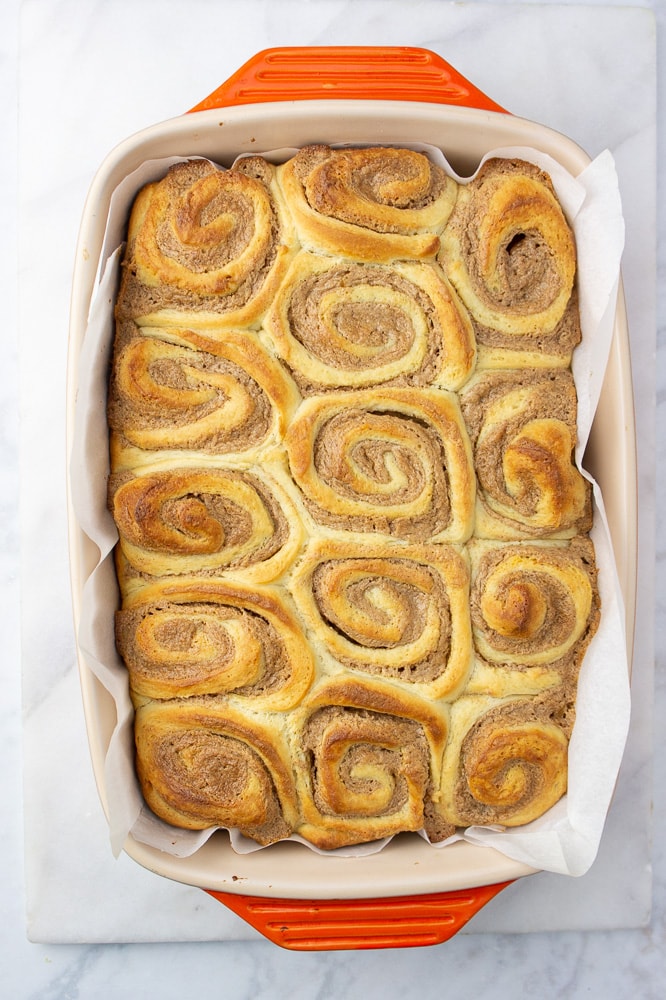 When your rolls are out of the oven, go ahead and make your icing. This is a simple process of combining the cream cheese, vanilla, and powdered sugar in a bowl and beating until smooth. Then slowly add in milk, mixing all the while, until drizzly icing forms. (Like a thicker frosting? Check out my EASY cream cheese buttercream as an alternative!)
Once your cream cheese filled cinnamon rolls have cooled for 15 minutes or so. Go ahead and drizzle away! The result? A seriously fluffy, rich sweet roll that's infused with sweet and tangy cream cheese and just the perfect hint of cinnamon.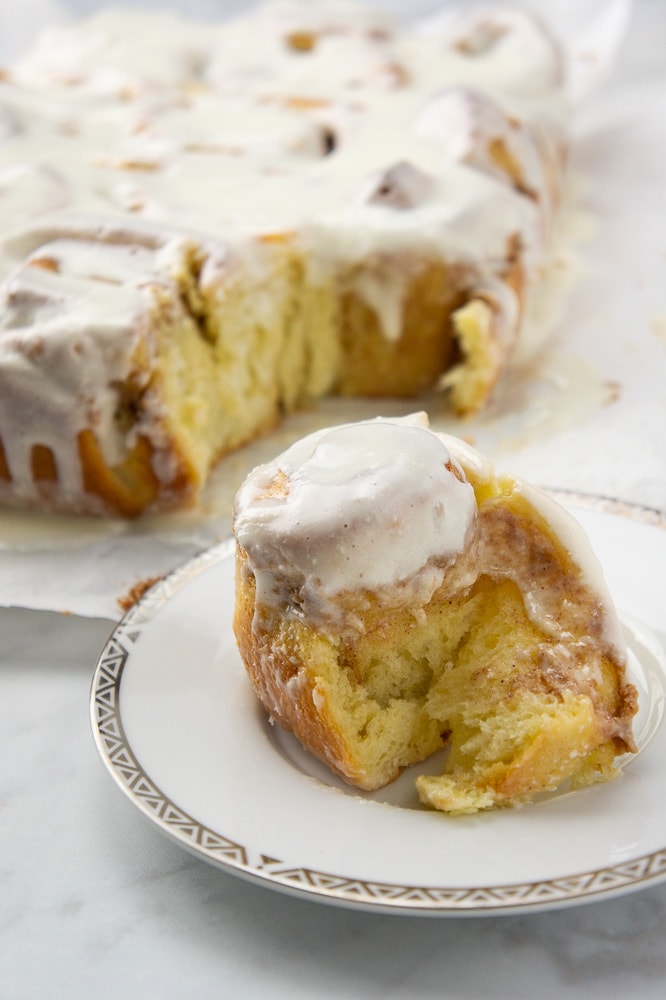 FAQ's
What does adding cream cheese to the filling do?
Traditional cinnamon rolls use just butter, sugar, and cinnamon as a filling. Adding cream cheese adds that unique sweet, tangy flavor and also makes the dough richer and softer as it melts during baking.
Can I add more cinnamon?
Sure! If you like a BIG cinnamon kick, feel free to double the cinnamon in the filling.
Can I make these the night before?
Yes! To make them the day before, prep them all the way to the point of placing the sliced cinnamon rolls into your baking dish. Then cover and place in the fridge. The next morning, pull them out of your fridge and set them in a warm place to rise. I like to set them on the stove while my oven preheats, which kickstarts the rise on the cold dough. This can take anywhere from 1 to 2 hours. Once risen simply bake as directed.
How do I substitute instant yeast?
If using instant rather than active dry yeast, simply skip the proofing. Instead, slightly warm your milk and gently melt the butter (this can be done separately if not proofing yeast.) Let the butter cool as you melt the sugar in the warm milk. Then combine the milk and butter in your bowl with flour, eggs, vanilla, salt, and instant yeast. Form into dough as directed.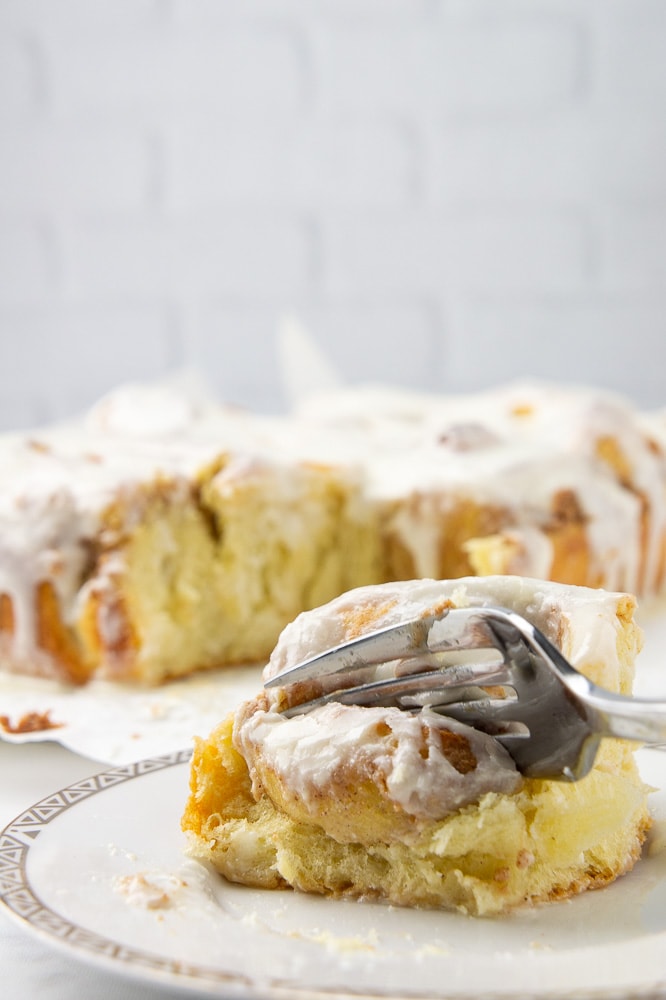 Eat & Enjoy!
I hope you enjoy this cream cheese filled variation on a cinnamon roll. It melts into the buns for a seriously fluffy, rich bite of sweet bread. These are great special occasion treats, or just when your breakfast (or dessert) needs some sweetness and homemade love. Enjoy, and until next time, Happy Eating.
Like this recipe? You may enjoy these other brunch recipes..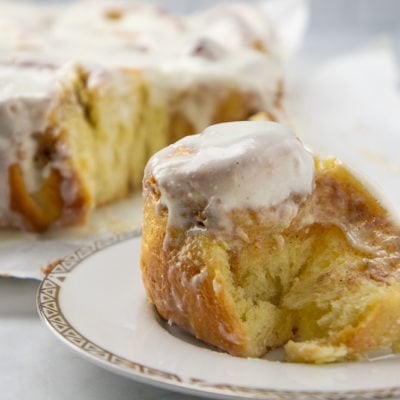 Cream Cheese Cinnamon Rolls
Soft, rich, and fluffy homemade cream cheese cinnamon rolls with cream cheese icing drizzled on top.
Ingredients
For the Dough
8

ounces

milk

1 cup

4

ounces

butter, unsalted

room temperature, or cut into chunks, 1/2 cup

1 1/2

ounces

white sugar

3 tbs

2 1/4

tsp

active dry yeast

1 packet

13-15

ounces

all purpose flour

3 to 3 1/2 cups

1

large

egg

1

large

egg yolk

1/2

tsp

vanilla extract

3/4

tsp

salt
For the Filling
4

ounces

cream cheese, softened

4

ounces

butter, unsalted, softened

1/2 cup

6

ounces

brown sugar

1 cup, not packed

2

tsp

cinnamon
For the Icing
4

ounces

cream cheese, softened

1.5

cups

powdered sugar

1/2

tsp

vanilla

2

ounces

milk

1/4 cup
Instructions
In a pan set over low heat, combine your milk, 4 ounces of room temperature butter, and white sugar. Heat until just warm (110°F), then remove, swirling to melt butter. Add in yeast and stir. Let proof 10 minutes.

When yeast is foamy and proofed, beat together the egg and egg yolk. Combine the eggs, yeast/milk mixture, 3 cups (13 ounces) of flour, salt, and vanilla in a large bowl.

Fold together ingredients until a sticky dough forms. Continue to gently work until it becomes a tacky but manageable ball, about 5 minutes. Sprinkle in remaining flour 1 tablespoon at a time if it's too sticky, but only add as much as needed.*

Lightly sprinkle the ball of dough with flour then cover and set in a warm place to rise until doubled. Between 45 minutes to 1 hour.

When dough has risen, combine the remaining 4 ounces of softened butter, 4 ounces of softened cream cheese, brown sugar, and cinnamon in a bowl and beat together until creamy.

Turn out dough onto a clean, lightly floured surface and press into rectangle shape. Lightly flour your rolling pin and roll into a 16×12 rectangle.

Spread your filling gently on the rectangle of dough, leaving only 1/2 inch of dough exposed on either long edge.

Beginning on one long edge, begin to tightly roll the dough into a log, rolling forward with the palm of your hands and working from one end to the other to keep it even.

Once rolled, gently slice into rounds about 1 1/4 inch thick.* Place rounds in a 13×9 baking dish, leaving a small gap between each roll.

Cover loosely and let rise again, 45 minutes to one hour, or until puffy and the gaps between the rolls have filled in.

After 30 minutes, preheat your oven to 350°F. When rolls are risen, place on middle rack and bake for 30 minutes, or until golden brown on top.

While your cinnamon rolls cool, combine the powdered sugar, remaining cream cheese, and vanilla in a bowl and beat until smooth. Add half the milk and beat, adding the remaining milk slowly until icing is at desired consistency and smooth.

Liberally spread icing on the tops of the cinnamon rolls. Serve and enjoy! Cover, and store in the fridge for up to 3 days.
Notes
*I ended up using 15 ounces, about 3.5 cups of flour for this. Start with three and add up to the remaining half cup as you mix the dough.
*You can use unflavored dental floss or fishing line to slice the cinnamon rolls, or use a very sharp knife with a gentle sweeping motion. Do not press or saw the dough to avoid crushing the shape.
*If making these the night before, please see the FAQ section for detailed instructions.
Nutrition
Serving:
1
roll
Calories:
405
kcal
Carbohydrates:
51
g
Protein:
6
g
Fat:
20
g
Saturated Fat:
12
g
Cholesterol:
81
mg
Sodium:
312
mg
Potassium:
117
mg
Fiber:
1
g
Sugar:
29
g
Vitamin A:
692
IU
Calcium:
64
mg
Iron:
2
mg
Nutrition information and cooking times are provided as a best estimate. Values may vary based upon ingredients and equipment.