Ultimate Hot Dog Bar Ideas List with Toppings
This page contains affiliate links. For more information please read my Disclosure Policy.
With this Ultimate guide to a Hot Dog Bar you'll be able to create a delicious and creative DIY spread for your next summer party, birthday party, or any other occasion! With tons of hot dog topping ideas, tasty recommended combos, and other helpful hints, learning how to make a hot dog bar will be fun and easy.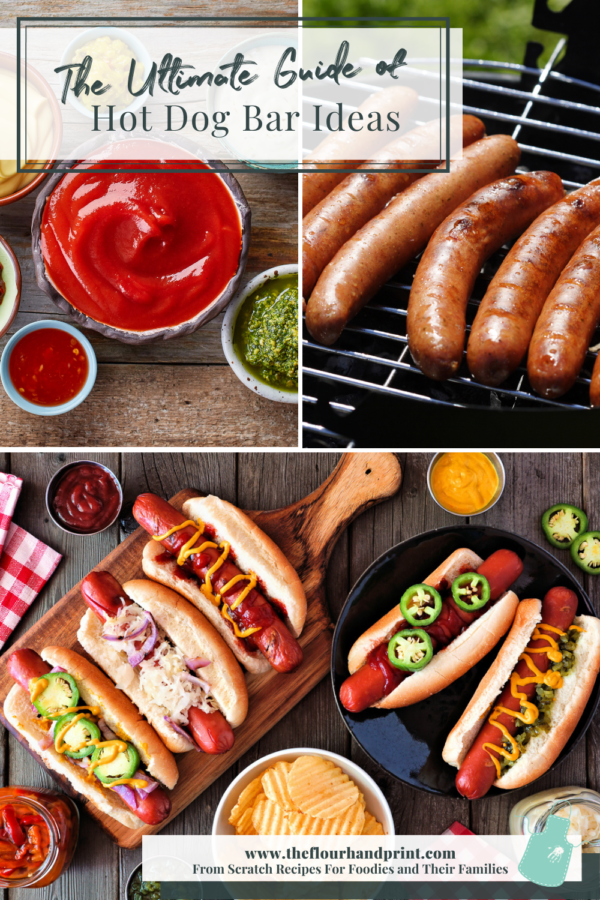 I'm all about quality, from scratch food, but I'll openly admit I love a good hot dog (something I haven't mastered making myself). Of course, I'm talking gourmet dogs, with fun and tasty toppings piled onto sausages and frankfurters that are flavorful too. Which is why when it comes to things like birthday parties or summer bbqs, I'm always up to creating a fantastic hot dog bar.
It's fun, kid-friendly, and easy. You can provide unique and varied toppings so your guests can create inventive dogs suited just to their tastes.
Since the options are endless, I've created this Ultimate Hot Dog Bar Ideas List, complete with toppings, condiments, bun and link suggestions, serving sizes and much more. Planning will be a fun and tasty experience.
Endless Options: Hot Dogs, Buns, Toppings & Condiments
There really is no wrong way to build a hot dog bar. From Mexican and Asian flavors to classic chili cheese, you can have a wildly creative spread without much hassle.
The Hot Dogs
Since these are the main components to a hot dog bar, it makes sense to start here. I recommend choosing 2-3 varieties, including one familiar option, and a veggie option
It's certainly a personal opinion, but I choose quality every time. All beef, uncured franks are my go to, but the jumbo pack of inexpensive turkey dogs are great if you're serving a crowd of 6 year old's at a birthday party.
Beef hot dogs
Turkey dogs
Linguica
Hot Links
Bratwursts (and all the fun flavors they come in)
Italian Sausage (Sweet, mild, or spicy)
Polish Sausage
Chicken Sausage (These also have tons of options these days)
Veggie Dogs (Or go with the Impossible sausage or other vegan options)
Cooking method tip: I prefer a grilled or pan seared dog, but you can also use the microwave, boiling water, or even the air fryer to get your options cooked.
The Buns
Don't overlook the importance of the buns! In order for all those fabulous hot dog toppings to make it from the plate to your mouth, you'll need a sturdy (and preferably delicious) bun to deliver it. There are also lots of creative options you can use too.
Regular or Whole Wheat Hot Dog Buns
Brioche Hot Dog Buns
Pretzel Buns
Crescent Rolls
Baguettes
Tortillas
Pita
The Toppings!
Here's where the real fun begins! I've shared some really fun combos later in the post that can help you decide what types of toppings you'll want, but here is an example of just how limitless it can be. There are many more than I've been able to think of I'm sure!
Meat: bacon, chili, shredded chicken, chorizo, Spam.

Veggies: corn, tomato, jalapeno, bell pepper, kimchi, coleslaw, pickles, onions (raw, pickled, or caramelized), sauerkraut, relish, avocado, bean sprouts, shredded carrots, cucumber, lettuce, salsa, pico de gallo, guacamole, roasted red peppers.

Cheese: cheddar, mozzarella, pepper jack, cotija, queso fresco, goat cheese, feta, nacho cheese sauce, bleu cheese crumbles.

Fruit: Pineapple, mango, passion fruit, guava, kiwi, apple.

Other: baked beans, gravy, chips, cilantro, parsley, dill, mac and cheese, ramen noodles, eggs.
Condiments to Finish it Off
When the toppings are assembled all that's left is that perfect finishing touch – the condiments. There's the classic three, but also a huge variety of other options that can make each bite heavenly.
Ketchup
Mustard
Mayo
Peanut butter
Teriyaki sauce
Hot sauce
Sweet chili sauce
Ranch Dressing
1000 Island Dressing (or Russian)
BBQ sauce
Bleu Cheese dressing
Sour Cream
Buffalo Sauce
Key Tips for Creating Your Hot Dog Buffet
When it comes to setting up the hot dog assembly station I have some tips to help it go as smoothly as possible. My approach to feeding a crowd is to have a little extra, rather than run out. Unless you have big eaters:
Choose 2-3 hot dog styles, then 1 or 2 buns that will go with them ALL.

Average about 1 ½ hot dogs per person. Obviously not everyone will eat ½ a hot dog, but it will make sure there are just enough extras for those who want two.

Most toppings are used in about 1-2 tablespoon portions per hot dog. Not everyone will use every topping. Prep more of the popular ones like cheese or chili, and less of things like shredded lettuce which you don't use much off.

Most condiments are used in 1/2-1 tablespoon amounts per dog. Estimate the amount you need by portioning a 1/2 tablespoon per hot dog. Not everyone will use every condiment!

Prep ahead! Anything that can be chopped ahead of time is a win. All you have to do is set it out and cook dogs to get going.
Take Inspiration from Gourmet Hot Dogs
One great way to figure out what toppings and condiments you'll need is to pick 2-3 classic or creative combos. Provide the ingredients to make each, and guests will naturally create their own combos too!
These tasty options come from bloggers like myself, check each link out to get their helpful tips on making the gourmet dogs perfect and how to prep the toppings!
Make it a Meal with Sides
Once you have the grill preheating, and the toppings set out, add a few sides to make your hot dog bar complete. My favorites are make ahead or slow cooking ones that are hands off when it comes time to socialize with guests.
Baked Beans (doubles as a topping!)
Coleslaw (also a topping!)
Grilled Corn
Fruit Salad
With that you'll definitely have created the ultimate hot dog bar! I hope these ideas have inspired you and you're imagining which toppings would taste best together. It's an easy party idea that will please adults and kids alike, just remember to have fun with it!
Ultimate Hot Dog Bar Ideas List with Toppings
Combine toppings, condiments, hot dogs, and buns to create a creative and fun buffet at any party or bbq! These tips make creating a gourmet hot dog bar easy!
Ingredients
18*

hot dogs

or your chosen combination of links/sausages

18

Hot dog buns

or the bread you choose
Toppings – Choose as many as you like, about 1-1.5 cups of each! Here are some examples…
Cheese

Onions

Chili

Tomatoes

Corn

Relish

Bacon

Pico de Gallo

Guacamole

Sauerkraut

Roasted red pepper

Coleslaw

Jalapenoes
Condiments – As many as you like, provide about 1/2-3/4 cup of each, here are some examples
Ketchup

Mustard

Mayo

Sour Cream

Ranch

Buffalo Sauce

Teriyaki

1000 island

Bleu Cheese dressing
Instructions
Prep all the toppings, and store up to 24 hours ahead.

Arrange all your toppings, condiments, and buns on a table. Provide a few combination suggestions!

Grill or sauté the hot dogs.

Let your guests build they're favorite combinations and enjoy!
Notes
*I like to estimate 1.5 hot dogs per person at a party so that I account for the few that will want more than one (I always have plenty of sides too!). But this depends on your group and the size of the links. If you're serving very large hot dogs, feel free to estimate 1 to 1 1/4 per person. If you're not serving many sides, provide 2 per guest.
Estimate 1-2 tablespoons of each topping per hot dog, and 1/2-1 tablespoon of condiments per hot dog.
Nutrition
Serving:
1.5
g
Calories:
345
kcal
Carbohydrates:
44
g
Protein:
13
g
Fat:
13
g
Saturated Fat:
4
g
Polyunsaturated Fat:
2
g
Monounsaturated Fat:
5
g
Cholesterol:
30
mg
Sodium:
777
mg
Potassium:
176
mg
Fiber:
1
g
Sugar:
5
g
Vitamin A:
1
IU
Vitamin C:
1
mg
Calcium:
108
mg
Iron:
4
mg
Nutrition information and cooking times are provided as a best estimate. Values may vary based upon ingredients and equipment.