Green Bean and Tomato Salad
This page contains affiliate links. For more information please read my Disclosure Policy.
This fresh, crisp Green Bean and Tomato Salad is the perfect side dish on hot summer days. Blanched fresh green beans, sweet cherry tomatoes, and a tangy lemon dill vinaigrette make a refreshing addition to any meal.
Enjoying summer produce is one of the few reasons I can endure the blistering heat of California. Green beans are one of my family's favorites and we're always looking for ways to enjoy them that don't require us to turn on the oven for roasting in the middle of summer.
Lately we've really been enjoying them blanched and crisp, and this green bean and tomato salad is one of our favorites. It uses my simple lemon dill vinaigrette to transform green beans and sweet summer cherry or grape tomatoes into a cool side dish that is satisfying, but healthy and easy.
Ingredients and Substitutions
There's nothing complicated about making this! It's just 3 ingredients total – the veggies and the dressing.
I use my lemon dill vinaigrette which is made with lemon juice, dill, garlic, honey, Dijon, and oil. But, feel free to use your favorite oil based vinaigrette, something like a fresh basil balsamic dressing or anything with tang would be great.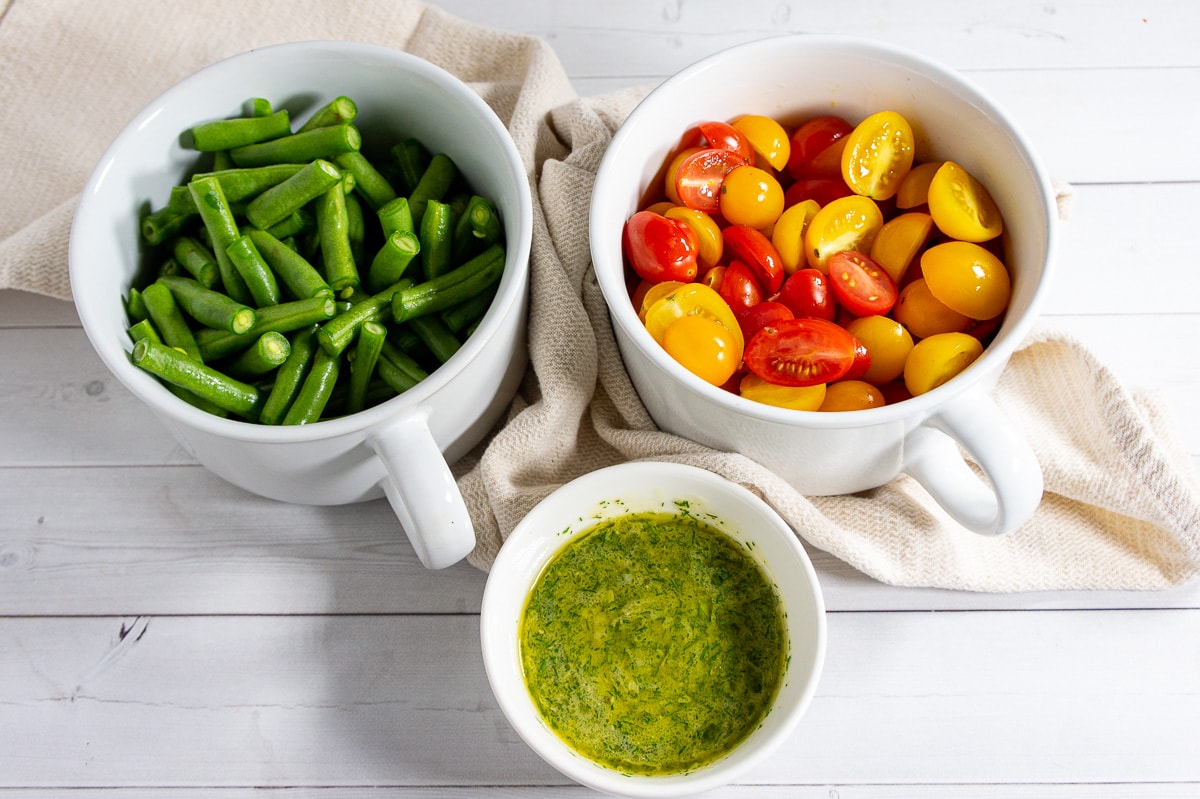 When it comes to green beans, use the freshest variety available to you. Farmer's markets often have different types to try, from classic green to purple or long beans. I don't recommend frozen or canned for this, instead choose firm, unblemished beans that are a vivid color.
For cherry tomatoes, use whatever small variety that's fresh. I've used grape or cherry varieties from my local market and as long as they're ripe, juicy, and sweet, the salad will be great.
In a pinch you could even dice a larger tomato, just be sure to choose a local, fresh, summer one for best overall flavor!
Cooking Tips
The secret to this salad is blanching and shocking the green beans. It's very easy to do.
Just fill a pot with salted water and bring it to a boil. Then drop in your trimmed and halved green beans for 2-3 minutes. When they're bright green but still firm, transfer them into a large bowl of ice water.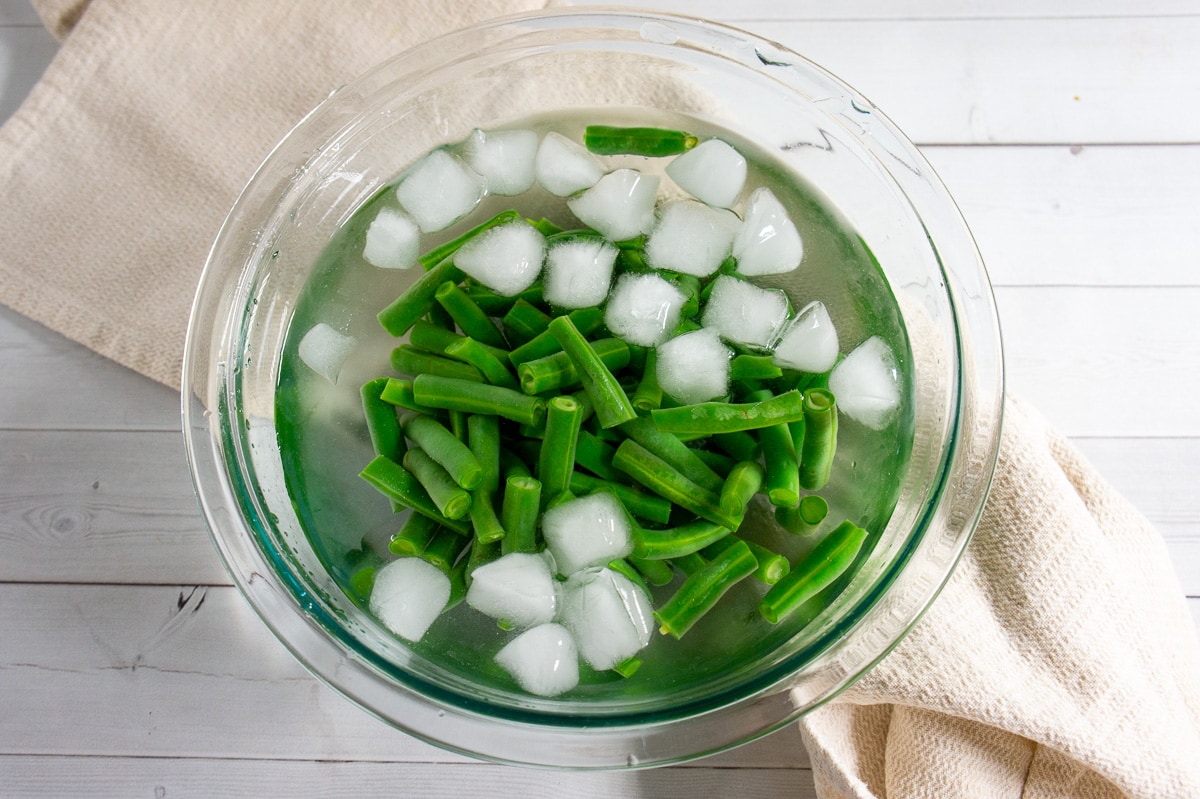 While you're working on that, it's super easy to add all the dressing ingredients into a jar and shake them up. The tomatoes require just a quick slice.
Once the green beans are cool to the touch, transfer them to a towel and gently pat them dry. Then toss everything together and bam, a fresh, cool green bean and tomato salad is ready to serve. It can hang out at room temperature, or go into the fridge until you're ready to serve.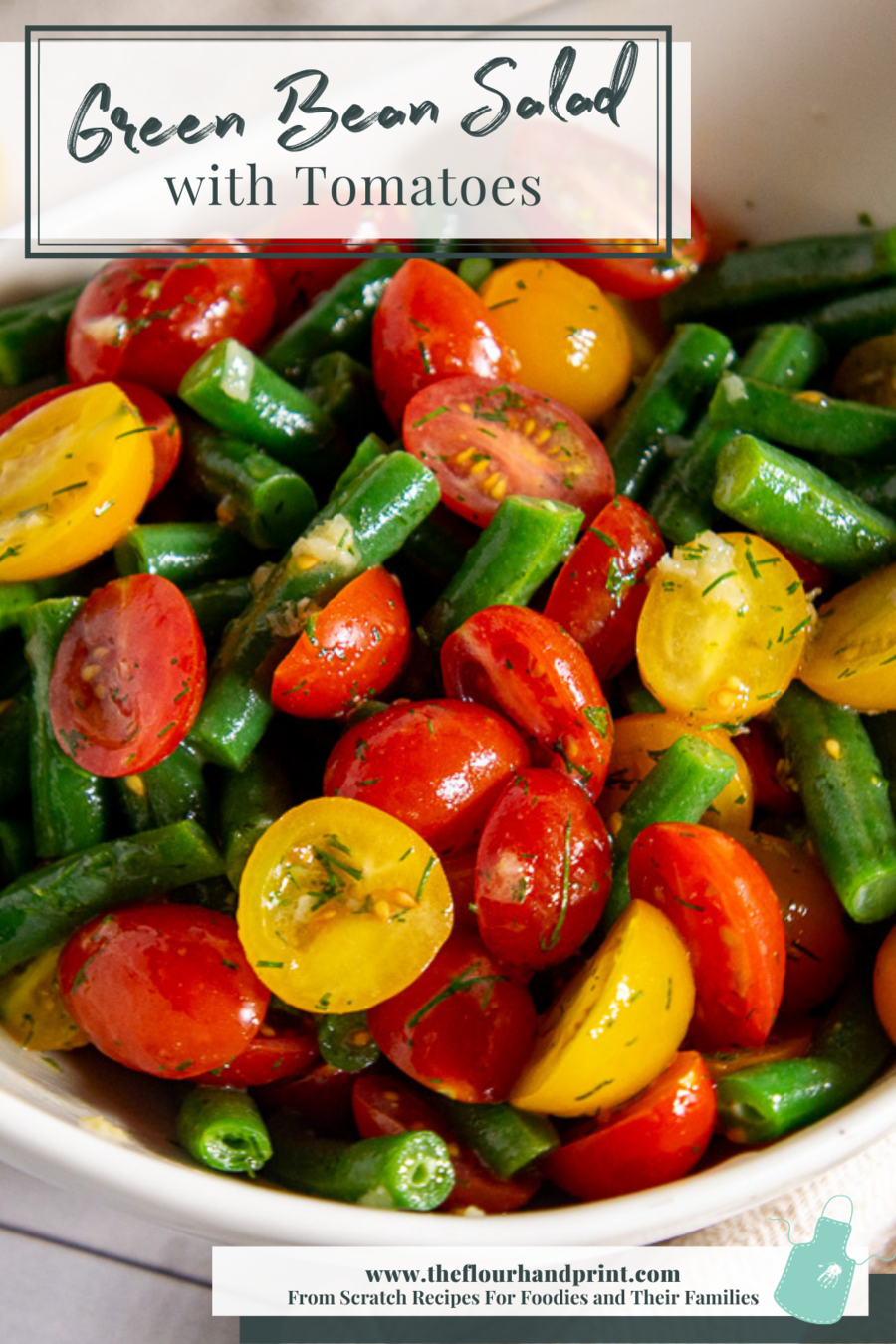 Serving and Storage Suggestions
It's not hard to find yummy things to serve with this. I often make this salad when we're grilling up things like our lemon soy chicken or grilled steaks with chimichurri. But it could definitely be a nice healthy side for hot dogs, burgers, or anything else you want.
If you're looking for another side or two to add to the meal, try out a classic potato salad, garlic bread rolls, or a summer squash pasta salad.
A green bean salad with tomatoes like this one will keep for 2 days in the fridge, but the texture of the sliced tomatoes tends to change the longer it's chilled. I prefer to eat it the day I make it, or the next day at most.
However you choose to serve it, I hope you enjoy this veggie focused summer side as much as we do. Don't forget to check out my other seasonal sides while you're here, and Happy Eating!
Green Bean and Tomato Salad
Crisp, tender blanched green beans and sweet summer cherry tomatoes are tossed in a vibrant lemon dill vinaigrette to create a refreshing, summer side perfect for hot days.
Equipment
1 Pot

1 Mason Jar

1 Large bowl

1 serving bowl
Instructions
Bring well salted water to a boil in a pot over high heat while you trim and halve your green beans.

Prepare a large bowl with ice water.

Slice your cherry tomatoes and make the dressing by shaking the ingredients together in a jar.

Drop the green beans into the boiling water and cook for 2-3 minutes or until bright green and barely tender.

Transfer quickly to the ice water to stop the cooking (shock them). When cool to the touch, remove from the water to a towel and gently pat dry.

Combine tomatoes, dressing, and green beans in a serving bowl and toss to combine. Serve immediately or chill up to 2 days.
Notes
*I used a half batch of my lemon dill vinaigrette. To make it, combine these ingredients in a jar and shake:
1/4 teaspoon of finely minced garlic,
1 teaspoon of Dijon mustard
1.5 tablespoons of lemon juice
1 tablespoon of finely minced dill
1/2 tablespoon of honey
2 tablespoons of olive oil
pinch of salt
Nutrition
Serving:
1
cup
Calories:
77
kcal
Carbohydrates:
7
g
Protein:
2
g
Fat:
5
g
Saturated Fat:
1
g
Polyunsaturated Fat:
3
g
Monounsaturated Fat:
2
g
Sodium:
12
mg
Potassium:
279
mg
Fiber:
2
g
Sugar:
4
g
Vitamin A:
744
IU
Vitamin C:
24
mg
Calcium:
29
mg
Iron:
1
mg
Nutrition information and cooking times are provided as a best estimate. Values may vary based upon ingredients and equipment.