This page contains affiliate links. For more information please read my Disclosure Policy.
These orange ginger pork chops are easy and full of flavor. A simple stove top recipe for pan seared pork chops in a sweet, sticky, orange and fresh ginger sauce all cooked in the same pan. They make a fantastic dinner, especially served over rice.
Oh pork. I have a serious love hate relationship with pork. On the one hand, bacon, pork belly, and pork butt are among my absolute favorite cuts to work with…on the hand other pork chops and loin are temperamental to cook. I've made it a personal challenge to master them, and this recipe, along with my pork tenderloin in mushroom sauce, pork tenderloin salad, and crockpot pineapple pork loin are testaments to what happens if you keep trying!
This simple recipe for orange ginger pork chops was inspired by a recipe given to me by my aunt, and I tinkered and tested until I finally had a delicious, moist pork chop, seared to perfection then simmered in a sticky orange sauce infused with fresh ginger.
A Note on Pork Chops
One of the main reasons I keep coming back to pork chops is that they're an inexpensive and quick cooking protein. I recommend one of these types of chops:
Bone in rib chop – Most inexpensive, good fat, and my usual choice.
Bone in center cut chop – Good fat, more expensive, with a nice small piece of tenderloin.
Boneless chop – Least fat, hardest to cook, and arguably the least flavorful.
Regardless of your choice, look for a bright pink color with decent marbling.
For all pork chops the KEY to moist tender meat , is cooking to the proper temperature. Pork should be cooked to 145°F. Many years ago, due to fear of food borne illness, cooking pork well-done was standard and recommended. The risk of that has long been eradicated and it is now not only safe, but recommended to cook to a nice medium.
Go over that and that's when you get dry tough pork. The best way to accomplish that is to cook your chops quickly with high heat. Broiling, grilling, or in this case, pan searing.
The Ingredients
I love a good simple recipe with simple ingredients, but I often find that going with simple ingredients makes choosing them even more important.
Pork Chops – Any chop of your choice, I went with a bone in rib chop.
Oil – Just enough to sear off your pork chops.
Salt & Pepper – This is all you need to season your pork chops for searing
White Wine – Choose a light, white wine with citrus notes to compliment the orange juice, Pinot Grigio or Sauvignon Blanc are my recommendations.
Orange Juice – You can use freshly squeezed orange juice from 2 to 3 large oranges, or no pulp, natural orange juice (not from concentrate) for best flavor.
Brown Sugar – Essential for the sticky, sweet notes of the sauce that you definitely want!
Ginger – About 2 inches of fresh ginger, peeled (like your thumb length and width), is perfect.
How to Make Orange Ginger Pork Chops
With those simple ingredients a similarly simple cooking process follows.
Heat a pan over medium high heat until very hot. Salt and pepper both sides of the pork while it heats.
Add 2 tablespoons of oil to the pan when it's ready, and when the oil begins to shimmer, add the pork. Sear for 2-3 minutes on both sides, or until both sides are caramelized. If your chops have a thick cap of fat along one side, sear that as well.
Remove to a rack set over a baking sheet. (This prevents soggy or steamed sides from forming)
Reduce the heat to medium and add in the wine, using a flat edged spoon to scrape the brown bits from the pan.
Add the orange juice, sugar, and ginger, then bring the entire mixture to a boil. Stir occasionally, until reduced by 2/3.
When the sauce is reduced (darkened in color, and the consistency of a loose syrup), return the pork to the pan and cook another 2 to 3 minutes, turning to coat both sides of the pork.
When the chops reach 140°F, remove the pan from the heat.
Serve, spooning sauce liberally over each chop.
That's it! One pan, no problem pork chops with orange and ginger sauce that is lick your spoon clean good!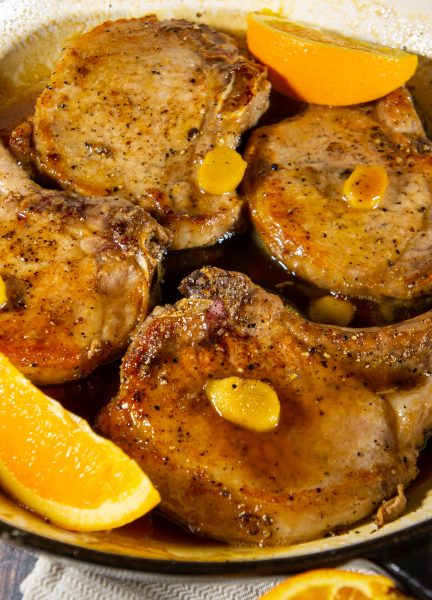 Tips for the perfect Orange Pork Chops
Just a few final tips to make sure you enjoy these pork chops!
Sear in a pan that retains heat well and can sear properly. If at all possible, try to use something other than nonstick, like a heavy duty cast iron or enameled cast iron pan.
Do not cook your pork cold. Remove from fridge 30 mins before cooking. This ensures even cooking within and without.
Don't overcrowd your pan when searing, if you pan isn't large enough to leave room between the chops sear in 2 batches instead. This avoids steaming the meat. When you return to the pan with the sauce later you can add them all at once.
When in doubt, use a thermometer. A quick instant read thermometer will make it much easier to remove the pork at the correct temp. It takes only a minute to over cook, so if possible use one!
Don't have a thermometer? Touch the tip of your thumb to the tip of your ring finger and touch your palm at the base of your thumb. This is how a medium cook feels when touched.
Remove pan from heat BEFORE the pork reaches 145°F. Residual heat from the pan and sauce will bring the pork up 5° or so.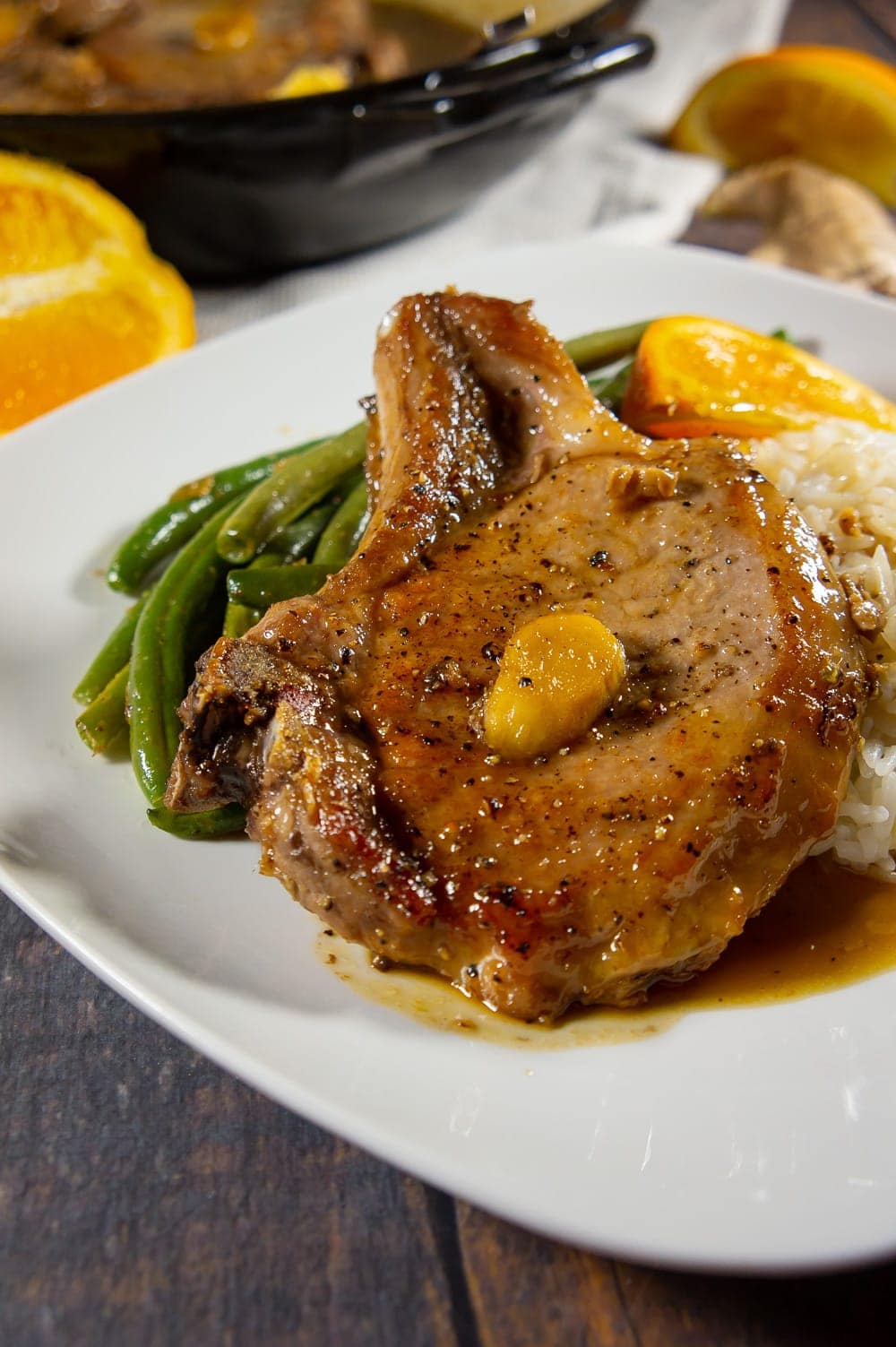 FAQ's
Can I use ground ginger instead?
Yes, technically you can. About 1/2 a teaspoon should do. However this may leave a slight texture to the otherwise smooth sauce.
Can I use another sugar?
If you don't have brown sugar I'd recommend turbanido, or white sugar and a small drizzle of honey as a substitute.
I hope you enjoy these pork chops as much as my family does! Here are some recommendations for sides to serve with your orange ginger pork chops, and until next time, Happy Eating!
Stove Top Pork Chops
Quick and simple stove top pork chops with a sticky, citrus orange ginger sauce.
Ingredients
4

2 in thick

pork chops

Bone in Rib Chop suggested

2

Tbs

grapeseed oil*

2

tsp

salt

2

tsp

black pepper

1

cup

dry white wine*

1

cup

orange juice*

1/2

cup

brown sugar

8

1/4 in

slices of fresh ginger
Instructions
Pull pork chops out of fridge 30 minutes before cooking.

Heat a heavy duty pan over medium high heat. When very hot, salt and pepper both sides of all 4 pork chops. Add oil to hot pan then carefully lay in pork.*

Sear each side 2-3 minutes. Remove from pan and set on a rack to rest while you prepare the sauce.

Reduce heat to medium, add the wine and use a spoon to gently lift brown bits from the bottom of the pan.

Add orange juice and sugar and stir to combine. Peel and slice your ginger then add to the pan.

Bring the sauce to a rapid simmer (increase heat if necessary), and reduce by 2/3, stirring occasionally, 15 minutes or so.

When sauce is a dark caramel color and thickened to a loose syrup, carefully taste and if necessary adjust salt with a few pinches.

Return pork to pan and simmer until pork reaches an internal temperature of 140°F, turning the pork over occasionally to coat. Remove pan from heat.
Notes
*Any high heat oil is okay for searing, grapeseed, canola, vegetable, or avocado.
*I recommend Sauvignon Blanc or Pinot Grigio, look for one with citrus notes.
*Use 100% pure, no sugar added orange juice or fresh squeezed oranges.
*It's important not to overcrowd your pork in the pan when searing. Sear in 2 batches if necessary to avoid steaming the meat. If there is a thick fat cap on the chop, you can also use tongs to press the fat cap against the pan and sear it to a nice crisp.
Nutrition
Calories:
249
kcal
Carbohydrates:
36
g
Protein:
1
g
Fat:
7
g
Saturated Fat:
1
g
Cholesterol:
1
mg
Sodium:
1175
mg
Potassium:
216
mg
Fiber:
1
g
Sugar:
33
g
Vitamin A:
125
IU
Vitamin C:
31
mg
Calcium:
39
mg
Iron:
0.6
mg
Recommended Tools
Originally published 7/10/19, Updated 1/6/20
Nutrition information and cooking times are provided as a best estimate. Values may vary based upon ingredients and equipment.