This page contains affiliate links. For more information please read my Disclosure Policy.
Learn how to steam eggs for the perfect, easy-peel hard or soft boiled egg every time. Hard steamed eggs are a gentle alternative cooking method to boiling eggs that reduces cracking, overcooking, and difficult peeling.
With my first Easter as a mommy approaching rapidly, thoughts of dyeing Easter eggs, hunts in the morning dewy grass, and pastel baskets full of goodies are on my mind. With my son only a mere 5 months old…I'll probably be waiting another year yet, so I figured, let's celebrate the season in another way! I'm starting off my egg-spiration with a recipe/technique that produces perfect hard cooked eggs every time.
It's Hard Cooked – Not Hard boiled
Allow me an English major moment here…have you ever heard of proprietary eponyms? It means referring to a brand name as the general term for a product. Like saying kleenex, instead of tissue. Or Chapstick instead of lip balm. You get the point.
I feel like hard cooked eggs are kind of like this. Sure, 'hard boiled' isn't a brand name, but it is just ONE technique for making a hard cooked egg. Hard cooked describes an egg that is cooked in it's shell until the white and yolk have set to a desired point. It can be done through several processes: boiling, baking, and steaming.
Okay, rant over. My point is that while boiling is traditional, and while I'll probably call them hard boiled eggs for simplicity sake, steaming is definitely the way to go.
How to Steam Eggs
Steaming is even quicker and easier than boiling in my opinion, with only a teeny bit of water that needs to boil, your eggs are cooking in less time. The only difference is adding a steamer basket to your tool kit.
Get your eggs, steamer insert, and pot out. Fill the bottom of the pot with an inch or two of water. You don't want the water to be seeping through the bottom of the steamer basket at all.
Cover with a lid and turn the heat on to medium high. Once the water is boiling (tons of steam under the lid), place your eggs in the steamer basket. Watch out for hot steam.
Cover tightly with a lid again and set a timer. Here are your times:

6 minutes for steamed soft boiled eggs
8 minutes for slightly set yolks
10 minutes for a very soft, but set yolk
12 minutes (my golden spot) for a soft, but creamy set yolk
15 minutes for a traditional hard boiled, dry, set yolk.

Meanwhile, get a bowl with ice water ready and a slotted spoon.
Remove the eggs with a slotted spoon into a bowl of ice water to stop the cooking process and let them remain there until cool to the touch.
Store or peel and eat!
That's it, perfect steamed hard boiled eggs. There are numerous advantages to this cooking method, aside from how quick it is.
Seriously easy peel – Alton Brown suggests in his book I'm Just Here For the Food that this is because a small amount of egg white is pushed through the pores of the egg while cooking but is washed away by the steam, meaning no shell sticking to the interior.
Steam creates a consistent temperature for cooking, meaning less risk of over or under-cooked eggs (no green yolks).
Steam is a less volatile/active cooking method. No boiling water to move your eggs around means no cracked shells.
Pro Tip: To further ensure no cracked eggs:
Make sure there's enough water to last the entire cooking process, too little and the bottom of your pan will get hot, and your risk for cracked eggs increases.
Pull your eggs out of the fridge when you first fill up your pot. This brings them closer to room temp by the time they hit the hot steam.
No Steamer Basket? Hard Steamed Egg Hacks
A colander that fits inside your pot will work. If your colander has a handle that prevents the pot lid from fitting snugly don't worry too much. As long as most of the steam stays in the pot it will work. According to food scientist Harold McGee, allowing some steam to escape will produce a more tender white. You may need to add a few minutes to your cook time.
Place a heat proof plate on top of three aluminum foil balls inside the pot can work. Be advised, the plate can affect the transference of steam around the eggs so it may affect cook time.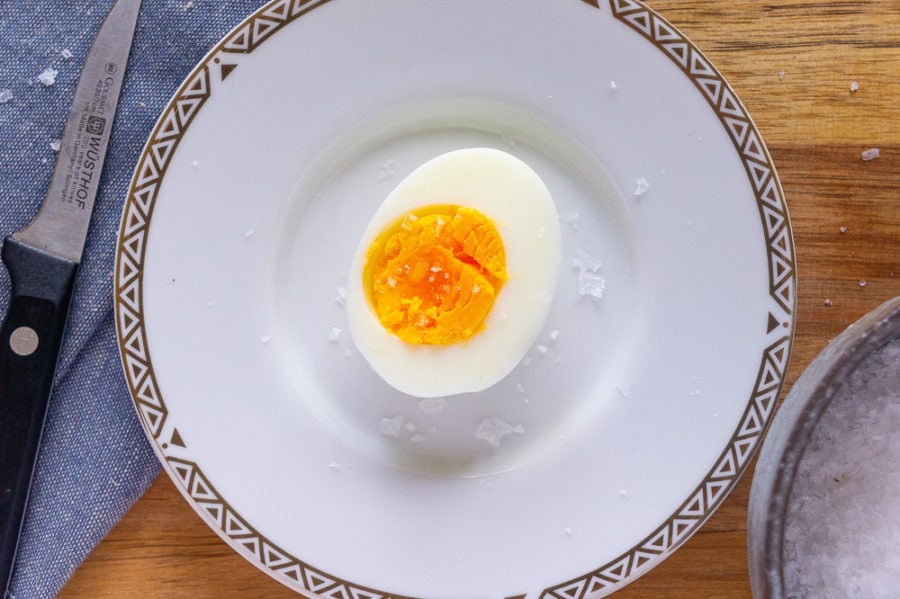 FAQ'S
Can I cook some soft boiled and some hard boiled in the same batch?
Anytime you release steam from the pan during the process by lifting the lid, you release heat. This will affect the eggs. I personally would just do it in two batches. Soft boiled first, put them in ice water, add more water to my steaming pot and begin my second batch.

If however you're determined, be quick. Remove the soft boiled eggs, immediately place the lid back on, and add two minutes to the remaining cook time.
How long are steamed eggs good for once cooked?
They stay good just as long as they would if boiled, about a week if kept in the shell.
Are they harder to peel once cold?
Sometimes the shell begins to cling a little once they've chilled in the fridge for a few days. I have a lot less trouble with steamed eggs, but to counteract any potential problems, simply run them under warm water for a few moments and then peel.
Perfect Hard Cooked Eggs
So there you have it, the secret to how to steam eggs for perfect hard steamed eggs every time. This was a fun experiment for me to do, and now I know that next year, when my son is of egg dyeing age, I'll be ready. No cracked eggs, no green insides, just beautiful eggs that we'll be able to enjoy long after the hunt is over.
I hope you have a happy Easter, and enjoy this steaming method for hard cooked eggs even when the Easter bunny has come and gone!
Use your Hard Steamed Eggs in these recipes…
Perfect Hard Cooked Eggs
Print Recipe
Stop boiling and start steaming for perfect hard cooked eggs every time! It's an easy technique for easy to peel, perfectly cooked eggs.
Ingredients
Eggs – However many you choose/your pan can fit!
1/2

Cup

water

2 1/2

Cups

ice water

6

eggs
Instructions
Add a couple of inches of water to the bottom of a large pot. Place steamer basket into the pot. The water should not be high enough to come through the bottom of the steamer basket, if it is, remove some water.

Bring water to a boil over medium heat.

When water is boiling, place eggs in the steamer basket. Place lid on top of the pot.

Steam eggs for 15 minutes. (12 minutes if you like softer yolks).

After 15 minutes, remove eggs and place in a bowl of ice water. Let cool in water until chilled to touch. Peel and enjoy, or store in fridge and peel when ready to eat!
Notes
When you place the lid on the pot, leave the pot on the burner, DO NOT turn off the heat.
Do not remove the lid at any point during the 15 minute cook time, releasing steam will affect cook time and the way the eggs cook.
Nutrition
Calories:
63
kcal
|
Carbohydrates:
1
g
|
Protein:
6
g
|
Fat:
4
g
|
Saturated Fat:
1
g
|
Cholesterol:
164
mg
|
Sodium:
69
mg
|
Potassium:
61
mg
|
Sugar:
1
g
|
Vitamin A:
238
IU
|
Calcium:
28
mg
|
Iron:
1
mg
Originally published 4/2/2019, Updated 4/10/2020
Nutrition information and cooking times are provided as a best estimate. Values may vary based upon ingredients and equipment.