Mussels in Cider and Cream
This page contains affiliate links. For more information please read my Disclosure Policy.
These mussels in cider and cream are a delicious alternative to the usual white wine sauce. Hard cider (or apple cider), bacon, and onion build a sauce to steam mussels, that's finished with cream.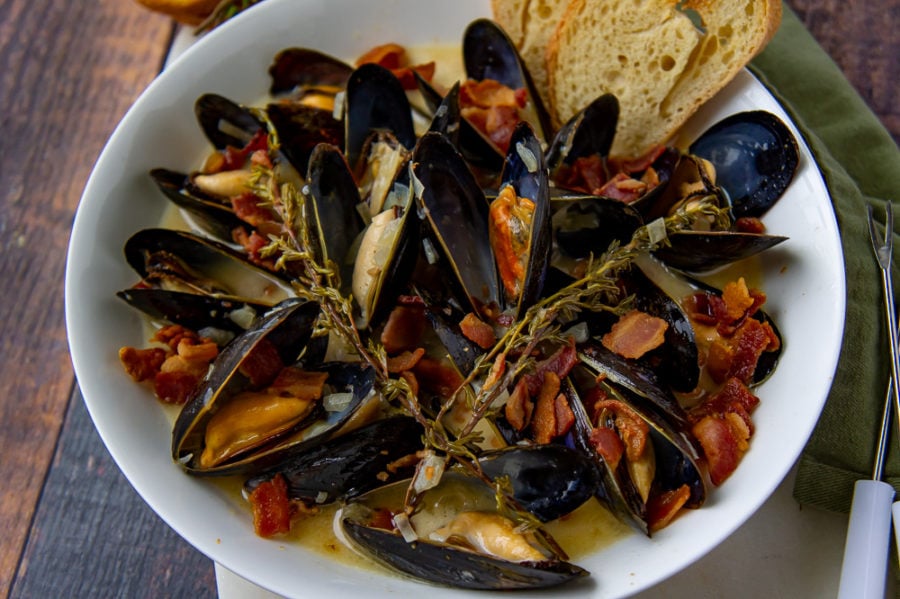 Fresh mussels are one of those fun things we cook at home when we want to feel a little fancy, but don't want to take a lot of time to do it. They take just minutes to prepare, and all they need is a delicious sauce and a hunk of bread to make them perfect.
Bonus is that they're good for you and really sustainable. Farm-raised mussels have no negative environmental impact – in fact they clean the ocean as they grow. LOVE IT! They happen to be fairly inexpensive too.
These mussels cooked in cider are a family favorite when we want to switch it up from the white wine broth they're usually served in. Cider, bacon, onions, and just enough cream to make it luscious make it a quick lunch or dinner.
Ingredients & Substitutions
I always hope to inspire home cooks to make delicious from-scratch food, and hope my recipes satisfy! But I'm also an advocate for making them your own and working with what you've got, so check out my ingredients, and suggestions on substitutions if you're missing something.
Fresh Mussels – They're usually available at a fresh seafood counter at the grocery store. Get ½ lb per person you're serving, and keep them cold while you transport them home.
Hard cider – I highly recommend using a dry, hard cider that's not overly sweet. But if you're cooking for a non-alcoholic crowd, you can use an alcohol free apple cider. One blended with something tart like cranberry would be best.
Bacon – for 1 lb. of mussels, I used ½ lb. of Applewood smoked bacon. The better quality bacon, the better flavor you'll get.
Yellow onion – I've used both yellow onion and shallot for this. You can use white even, just get some onion flavor in there, it's key!
Fresh Thyme – the subtle herbaceous note is delicious. You could also use rosemary.
Heavy cream – Just a meager ¼ cup finishes the broth. You could use half and half, but I recommend full fat cream. Unfortunately, I've not found any non-dairy milks that work without altering flavor.
Tips on Prepping & Cooking Fresh Mussels
A lot of people feel intimidated by handling fresh shellfish, especially once they learn they're alive (and absolutely must be) until they hit the pan.
But there's no need to be intimidated! They're actually easy to work with, and even store. Here are my tips for making your mussels cooked in cider stress free.
Keep them cold, but not frozen – We have our fishmonger wrap them with ice to get them home. Then they go into a bowl(without ice) with a damp towel gently laid over the top before being placed in the fridge. Don't seal them inside anything or wrap the towel too tightly – they'll suffocate and die.
Check that they're alive before cooking – When you pull them from the fridge (no more than 20-30 minutes before you're ready to cook), some may be slightly open. Simply fill the bowl with cool water and wait. If they're alive, they'll close. If any stay open, gently tap it. It should close, if not it's dead and needs to be discarded.
Floating doesn't matter – If a few float in the water, but are closed, that's okay. They sometimes have air trapped in the shell and it makes them float.
Check for damaged shells – If any shells are cracked or chipped to the point of exposing the interior, discard them.
Debeard them – this is easily the grossest part, sorry! Some (usually not all) will have a little hairy tendril hanging from between the shells. That's the beard. Grip it and yank it toward the back of the shell to tear it off. If it grosses you out, use a good pair of fish tweezers.
Do not leave them sitting in tap water – If they're submerged in tap water for more than 10 minutes, they can die. Drain it off once they're clean and they'll be fine.
Cover gently and keep away from your stove – Put the damp towel back on top, then put them a few feet from your stove to keep them good while you get the cider and cream broth ready.
Tips for Cooking Perfect Cider Mussels
With your mussels prepped, it's really easy to make the rest. Get your bacon chopped, your onion prepped, and then it's on to cooking.
Leave ½ piece of bacon whole – When I make a bacon infused sauce, like my smoky gouda pasta, I prefer to leave a piece of bacon in the simmering liquid. It gets soft and chewy and will be discarded, but will bring that smoky flavor to the sauce. The rest gets crisped and set aside for finishing.
Let the cider reduce – Don't rush this. If you leave too much you'll have a really watery broth and a strong cider flavor.
Cook the mussels for only 4 minutes, covered – as soon as the mussels hit the pan, cover it. Set the timer and remove the lid as soon as it goes off, overcooking mussels will make them chewy. If any do not open during cooking, they need to be discarded.
Taste the sauce – Once you've added the cream, taste the broth and add a pinch of salt or pepper if you think it needs it.
Serve immediately with crisp bread – I love a good sourdough slice or baguette served with this. No need to do anything fancy, I just toast it up and dip to my heart's content.
FAQ'S
I've tried to predict what a home cook might ask me if they're making this for the first time. If I missed your question, don't hesitate to email me or ask in the comments section!
Can I use clams instead of mussels?
Yes, feel free to swap in clams for mussels, they'll taste great too. You could even use a good shrimp or poach a nice white fish filet in the bacon cider cream sauce.
Can I use frozen mussels instead of fresh?
I've never cooked or used canned or frozen mussels. I imagine they're pre-cooked, so I'd recommend making the sauce completely, finishing it with cream, then adding the mussels and letting them warm that way.
How long can I store fresh mussels?
I prefer to cook them within 48 hours of purchase. Once cooked, I don't recommend trying to store and reheat them – eat them fresh.
Can I make this into pasta?
I bet that'd be delicious. I'd reduce the cider even further, that way when you add the cream, you have a thicker sauce to ladle over pasta, rather than a broth.
Can we eat mussels that don't open?
No, any mussels that don't open during the steaming need to be tossed.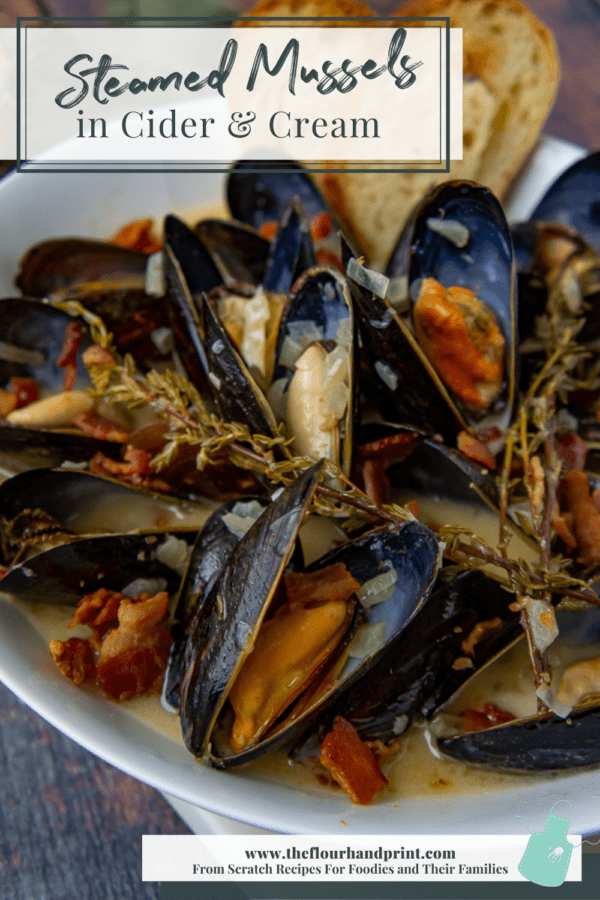 Enjoy Mussels in Cider!
I sincerely hope you love this recipe, cider mussels are so good and so quick to make. Plus eating sustainable proteins that are inexpensive is always a win!
If you're a lover of seafood like we are, be sure to check out these other delicious recipes to get some yummy food on the table. As always, happy eating!
Mussels in Cider and Cream
Fresh mussels steamed in a cider bacon sauce finished with cream
Ingredients
1/2

pound

bacon

1/2

large

yellow onion*

16

ounces

hard cider*

dry

2

ounces

heavy cream

2

sprigs

fresh thyme

1

pound

fresh mussels
Instructions
Dice the onion and the bacon, leaving 1/2 of 1 strip whole.

Clean and debeard the mussels by tugging sharply toward the back of the shell. Discard any mussels that don't close when submerged in water or when lightly tapped. Drain off tap water and cover with a damp towel until ready to cook.

Crisp bacon in a large, wide sauté pan, about 8 minutes. When crisp, remove all but the 1/2 piece from the pan.

Add the onions and cook until softened, 2-3 minutes.

Add in the cider with the fresh thyme and bring to a rapid simmer. Cook until reduced by 1/2, about 8-10 minutes.

Add mussels to the pan and cover immediately. Cook for 4 minutes.

Remove the lid and discard any mussels that did not open. Pour in cream and allow to simmer 1-2 minutes.

Taste the broth and add pepper, or salt if needed.

Serve with the crisp bacon sprinkled over top and bread for dipping if desired.
Notes
*you can also use 1 large shallot, or white onion
*If you want non-alcoholic, choose apple cider, preferably not too sweet.
Nutrition
Serving:
0.5
pound
Calories:
681
kcal
Carbohydrates:
15
g
Protein:
29
g
Fat:
48
g
Saturated Fat:
16
g
Polyunsaturated Fat:
8
g
Monounsaturated Fat:
20
g
Trans Fat:
1
g
Cholesterol:
107
mg
Sodium:
1092
mg
Potassium:
656
mg
Fiber:
1
g
Sugar:
8
g
Vitamin A:
275
IU
Vitamin C:
14
mg
Calcium:
48
mg
Iron:
5
mg
Nutrition information and cooking times are provided as a best estimate. Values may vary based upon ingredients and equipment.