This page contains affiliate links. For more information please read my Disclosure Policy.
For some reason I've isolated pie making for the colder winter months, when holiday traditions fill the kitchen with warm spices. But truthfully, it's completely silly not to be baking pies all year! They're an excellent way to use and highlight the delicious fresh fruits of spring and summer. So I decided to break free of that silly tradition and dive into some warm weather pie making! I went mini, and let the pounds of peaches in my fridge from a recent U-pick farm trip inspire me. Before I knew it I had a new favorite peach recipe, Peach Hand Pies.
They're simple, but delicious. No winter spices, just a quick mix of peaches and sugar in a flaky dough that's easy to make from scratch. They're truly a celebration of peach flavor, and an easy dessert to make ahead for your next summer cookout.
Ingredients
The ingredients that come together to make peach hand pies are a simple combination of pantry items most of us have on hand. Add in a few peaches and you can whip these up!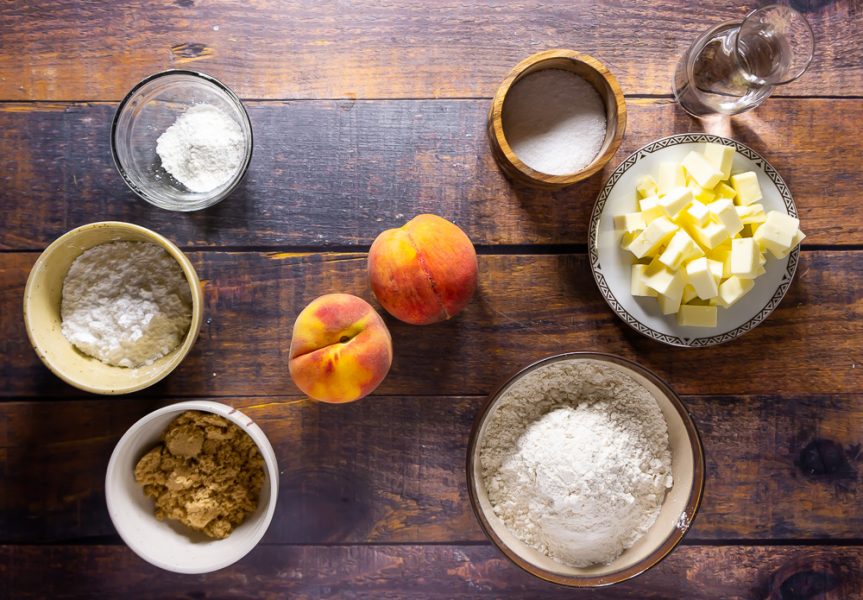 Short Crust
There are as many ways to make pie dough as there are people making them. Sugar, no sugar, shortening, butter, or a combination of the two, adding vinegar or milk, or even an egg…variation all have some effect on either flavor or texture. Maybe you have a family favorite you'd prefer to use. That's fine! I prefer suiting my dough to the recipe I'm working with, so this simple dough is one I particularly like for mini peach pies.
Flour – A good all purpose does the trick every time. Different flours absorb water differently, so if you decide to throw caution into the wind, just make sure you have a good sense of what a proper dough should look and feel like.
Butter – I almost never have shortening on hand, and since I like the color and flavor of butter pastry better, that's my go to. Shortening will work, but will taste different. Use an unsalted very cold butter for this recipe.
Brown Sugar – The first time I made this I used white sugar, but since I was already using brown to go with the peach pie filling, I decided to just use it in the dough too. The flavor is identical, but it requires one less ingredient to measure.
Salt – Always, always, add a pinch of salt to your pastry dough or bakes. It makes a world of difference in heightening the finished flavor.
Whether you decide to use my pie dough recipe, or to run with your own I find it useful to keep this simple ratio in mind: 3 parts flour, 2 parts fat, 1 part liquid. This ratio will yield a short crust that will work for most recipes, just keep in mind ratios usually work best with weight not volume measurements, so be sure to use your kitchen scale!
Peach Pie Filling
The love how simple this filling is. It just lightly sweetens the peaches and thickens any juices, without compromising or hiding that natural sweetness of the fruit.
Peaches – I used fresh, yellow peaches for these mini peach pies. You can use white but they won't have the same sweetness. Either way look for ripe but not mushy fruits. Don't bother with the skins, they bake fine will them on.
Brown Sugar – Just a little to enhance the the peach.
Cornstarch – When fruit is cooked it releases natural juices. While delicious, they make for soggy baked goods if not treated correctly. A little cornstarch solves the problem.
Method
While filling and sealing peach hand pies can be fiddly work, it's not complicated. From start to finish it's just a series of simple steps that come together in a delicious dessert.
Step 1 – Make your short crust dough
I really prefer to make my dough by hand. But there are several methods you can use.
Food Processor – place flour, sugar, salt and butter into the bowl of your food processor and pulse lightly. Once your mixture resembles coarse crumbs with pea sized chunks. Then pour in half the water and pulse, add in more water, pulsing 2-3 seconds, until dough comes together in a damp crumble. Turn out onto board and gently form dough into ball.
Pastry Cutter – Perhaps easier than your hands, you can use the cutter to chop cold chunks of butter into your flour mixture until they resemble crumbs. Then add in most of the water, reserving a little. Bring together with your hands, and if too dry add remaining water. Bring together in a ball.
By Hand – Just rub the cold chunks of butter between your hands and press between your fingers until its broken down into the flour mixture. Then the process is the same, add water bit by bit until it comes together in a ball.
I choose the by hand method because it's ESSENTIAL that you don't over mix the butter. If it gets too warm or broken down too much, the dough will be tough and chewy rather than flaky and light. My hands are warm enough to help the butter break down, without over mixing it. The food processor is absolutely the fastest, but be cautious.
Start with very cold butter, and cold water, and you should be good to go.
Once your dough comes together, press it together and wrap it in plastic, then stick it in the fridge for about half an hour at least.
Step 2 – Make the Peach Filling
While you dough is chilling you can easily throw together the filling with just a few simple steps.
Simply pit, slice and dice the peaches then mix with the remaining brown sugar and the cornstarch, toss to combine and set aside.
Step 3 – Roll Out and Fill dough
After your dough has chilled it's time to roll it out. I usually work in two sections by cutting the dough in half and sticking one back in the fridge.
Just as it was important not to over-mix the dough while making it, it's equally important to not let the dough get too warm or overworked now.
First prepared an egg wash, 1 egg beaten with 2 tbs of water. Then, roll the dough out until about 1/4″ thick. Then using either a large round biscuit cutter, or free hand with a knife, cut circles through the dough. I like to use a wide mouth mason jar lid (you can use a standard one too, if that's what you have). With the mason jar lids I used, this recipe yields about 8 four inch pies. Depending on the size it will yield between 8 and 12.
I use a knife to cut a circle about 1 1/2″ wider than the mason jar lid. I then lift one circle into the lid, and gently press down into the lid to make a pocket. Then it's easy to fill with peach pie filling.
Brushed the exposed edges with egg wash, then take a second circle of dough and press the edges of the two together. Flip it over onto your work surface.
Trim any excess dough if needed, and press the edges firmly together and crimp the edges. I use my finger and create little flutes around the edge. You can also use the tip of a fork to do the same.
Finally place the pies on a parchment lined baking sheet. Brush the tops with more egg wash to aid browning in the oven. Slice a few decorative cuts in the top to release steam while cooking.
Step 4 – Bake and Glaze
When all your pies are filled and prepped. Pop them into a 350°F oven for 35 minutes. They should be golden and crisp when you remove them from the oven. If you're nervous you can carefully lift with a spatula and check that the bottom is crisp and golden.
Remove from the baking sheet and set on a cooling rack to cool.
While they're cooling, go ahead and make your peach pie glaze. To do so simply mix 1/2 cup of sifted powdered sugar and 1/4 cup of water. It should be thin but sweet.
When your mini peach pies are completely cool apply the glaze. I recommend sliding a piece of parchment paper underneath the cooling rack to catch dripping glaze. Using a spoon or pastry brush apply the glaze to the entire top of the pies. I don't glaze the bottoms, but if you want to, go for it. I'd make more of your peach pie glaze if you'd like to do that.
Allow to set! Then Eat and Enjoy!
Questions
I've heard I should freeze butter for doughs like this, should I do that?
You can chop your butter into small chunks and place in the freezer to get cold, but do NOT freeze the butter completely. I recommend no longer than 3-5 minutes in the freezer.
If mixing by hand as I do, freezing the butter isn't necessary. Have your flour ready to go, and then take the butter from the fridge, chop and work in.
Can I make these into different sizes or shapes?
Yes! You can absolutely make these shaped and sized however you like. I've made them in half moon shapes like empanadas, and you can even scratch the mini peach pie idea and bake it in a traditional pie dish! Just be aware the baking time will change depending on the size. For half moon shapes, check them at 25 minutes, for a whole pie, you're looking at least at 45 minutes.
Can I use milk in the glaze?
You bet! You can also use peach juice if it makes you happy! It will change the clarity of the glaze, but overall it won't affect the flavor much at all.
Do I have to use an egg wash?
No, you can also use milk or even just water to aid the sealing of dough. I prefer an egg wash because it reduces the risk of burst pies and gives a really nice shiny gold crust to the finished pies.
Can I use frozen peaches?
You bet! I would up the cornstarch to 2 tbs, but otherwise use as a 1 for 1 replacement.
How do I store these?
I found that keeping these pies at room temperature for 3 days is best. Do not seal into a plastic bag or container, as they get soft and soggy. Simply lightly cover on a plate with plastic wrap, leaving enough room for airflow.
Can I freeze these?
Yes! I recommend freezing these before baking and glazing. Simply form and place on a baking sheet as usual, then stick the entire baking sheet into the freezer. Once your hand pies have frozen solid you can wrap in plastic wrap and store in a large ziploc bag or other freezer safe container for up to 4 months. I recommend baking from frozen, do not thaw, and add an additional 5-10 minutes to your bake time.
Peach Hand Pies!
Yum! These peach hand pies are simple as you can see, but they really are a true celebration of peach flavor and I think you guys are going to love them. They're easy to double, or make smaller if you're serving them at a summer cookout. Enjoy your peach hand pies, and as always Happy Eating!
Peach Hand Pies
All the delicious flavor of a peach pies in mini form. Peach hand pies made with simple ingredients and baked to perfection, finished with a sweet glaze.
Ingredients
Pie Dough
9

ounces

flour, all purpose

2 cups, minus 2 Tbs

6

ounces

butter, unsalted

12 TBS

3

ounces

cold water

5.5 TBS

1

tbs

brown sugar

1/2

tsp

salt
Peach Filling
2

large

yellow peaches

1/4

cup

brown sugar

1 1/2

tbs

cornstarch

1/8

tsp

salt
Glaze
1/2

cup

sifted powdered sugar

1/4

cup

water
Instructions
Pie Dough
Combine flour, sugar, and salt in a bowl. Cut cold butter into cubes and rub into the flour with your fingers or a pastry cutter until the mixture resembles coarse crumbs, no bigger than the size of peas.*

Add in half the water and mix together, add in remaining water a little at a time until dough just comes together.

Turn out onto a clean surface and press gently together to form dough. Wrap in a plastic and place in fridge for 30 minutes, up to 2 days.
Peach Filling
Wash, dry, and slice your peaches, removing the pit. Cut into slices then dice.

Combine brown sugar, cornstarch and salt and whisk together.

Toss diced peaches with sugar mixture until well coated. Set aside.
Filling Pies & Baking
Make egg wash by combining 1 egg with 2 Tbs of water and beating together and preheat oven to 350°F.

Split dough into 2, place one half back into the fridge and roll out other half to 1/4" thick on a lightly floured surface. Cut 4 inch circles into the dough.

Place 2 Tablespoons of filling into the center of one dough circle, leaving 1/2" of dough around the outside. Brush edges with egg wash and place a second dough circle on top. Press edges on together and crimp using fingers or a fork.

Continue until all the dough, including the second half from the fridge, and the filling is used. Should yield 8 pies if using the 4 inch circles.

Place finished pies on a lined baking sheet and brush tops with egg wash. Cut small slits in top of pies to vent. Bake in oven for 35 minutes or until golden brown and crispy.
Make Glaze
Once your pies are done, remove from baking sheet to a cooling rack.

Make your glaze by mixing water and powdered sugar together until smooth.

When pies are completely cool brush tops liberally with glaze and allow to set up before moving.

Enjoy immediately or store at room temperature for up to 3 days.
Notes
*Can also be made using food processor, by pulsing lightly to combine flour and butter.
Nutrition
Calories:
362
kcal
Carbohydrates:
46
g
Protein:
5
g
Fat:
18
g
Saturated Fat:
11
g
Cholesterol:
72
mg
Sodium:
348
mg
Potassium:
141
mg
Fiber:
2
g
Sugar:
19
g
Vitamin A:
710
IU
Vitamin C:
2.9
mg
Calcium:
22
mg
Iron:
1.8
mg
Need other cookout ideas?
Citrus Soy Easy Grilled Chicken
Great Grandma's Easy Potato Salad
Avocado Corn Salad with Roasted Red Peppers
Like Fresh Fruit Desserts? Try…
Recommended Products
Nutrition information and cooking times are provided as a best estimate. Values may vary based upon ingredients and equipment.